Champions League winner Luis Garcia insists there is no reason for former club Liverpool to fear Manchester City in their upcoming European quarter-final.
The all-English affair will see Pep Guardiola's side travel to Anfield – where they have already lost this season – on April 4 with the return leg the following week.
City are favourites courtesy of their form in the Premier League, which they are only a few matches away from winning, but Garcia was a member of the Liverpool team which beat domestic champions Chelsea in a semi-final on their way to their 2005 Istanbul triumph and he is confident ahead of the City game.
Asked whether his old side should be worried by Guardiola's all-conquering team the Spaniard, who played for Liverpool Legends in the entertaining 5-5 draw with their Bayern Munich counterparts in a match in aid of the LFC Foundation, said: "No, I don't think so. People won't be thinking about that.
"It's great to see the team back on this stage, the history of the club shows how important Liverpool are in the Champions League.
"People know everything the team has done in the past.
"It's difficult to talk about predictions right now. It's a fantastic game that we are all going to enjoy.
"It will be tough because City are doing well, but so too are Liverpool. I'm sure the first game is going to be very important."

On facing English opponents in a crucial European tie, just like he did against Chelsea 13 years ago, Garcia added: "These kind of games are totally different. You cannot expect what is going to happen, because anything can happen.
"The most important thing is not to be out of it after the first game. After that, we will see what happens."
Garcia was not able to get on the scoresheet against Bayern but some famous well-known former players did, although the unlikely hero was defender Bjorn Tore Kvarme, much maligned during his two seasons at Anfield, who smashed in the unlikeliest equaliser with three minutes to go.
Dirk Kuyt, Michael Owen and Robbie Fowler gave the hosts a 3-0 lead inside 17 minutes only for Luca Toni, Alexander Zickler (two) and Paulo Sergio to turn things around.
Fowler's deflected free-kick made it 4-4 just before the break, during which former Reds midfielder Xabi Alonso changed from a Liverpool to a Bayern shirt and after attempting to beat substitute goalkeeper David James with a trademark shot from the halfway line eventually did so with a 73rd-minute free-kick.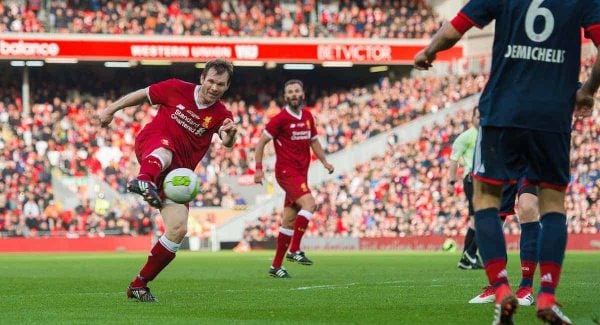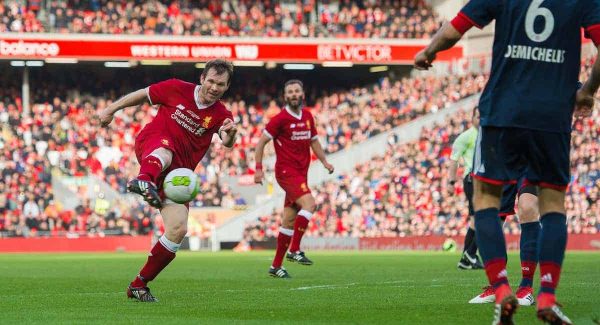 Kvarme ensured the spoils were shared in a match which will raise over £1million for the LFC Foundation, the club's official charity, and Steven Gerrard almost snatched victory when his shot was tipped onto the post by Uwe Gospodarek.