Liverpool have been drawn to face Manchester City in the Champions League quarter-finals and fans should be confident progression is possible.
Jurgen Klopp and his backroom staff will be devising a plan to see the Reds past Man City and into the last four, but it won't be easy given Pep Guardiola's men are the runaway leaders of the Premier League.
There's also the small matters of City having lost just once in the league all season, having perhaps the deepest squad around and being one of the favourites to lift the trophy itself.
But there are circumstances that go against even all that and point to positivity for Liverpool—starting, of course, with the fact that they were the team to see off City in league play.
It's not, it must be said, ideal to play the first leg at Anfield.
Liverpool need to be near-perfect—and they can be, they've shown it before—and pick up a positive scoreline…and then have to go to the Etihad, where City are even more ruthless and free-scoring than the Reds are on home soil.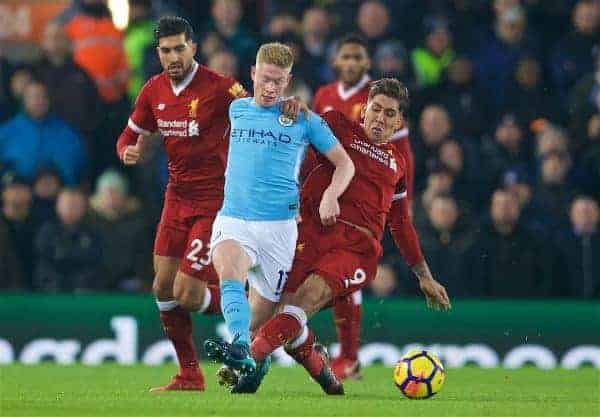 But winning the Champions League is never easy, never should be easy.
As ever, there are sub-plots to consider, small (and big) details which could go a long way toward providing the overall outcome.
In the midst of the two legs, both Liverpool and Man City will face derbies: the Reds at Everton, City hosting United.
There won't be much opportunity for either club to rest players or have an easy afternoon, but do matters go slightly in the Reds' favour here?
City could feasibly win the title that day against their bitter rivals—meaning United should be putting everything into the match to try and avoid that scenario. Obviously Everton have the derby itself as motivation, but mid-table mediocrity means they'll have nothing to actually play for.
This term, the Reds have beaten Man City once and lost once—but in the minds of City players, there may well be an uneasy tinge of "what if…" in this case, what if Sadio Mane hadn't been shown a red card at the Etihad.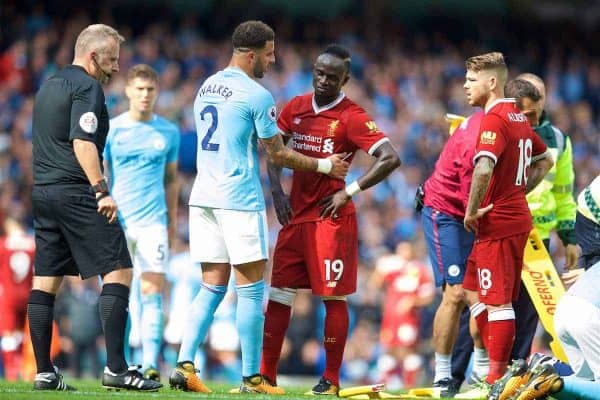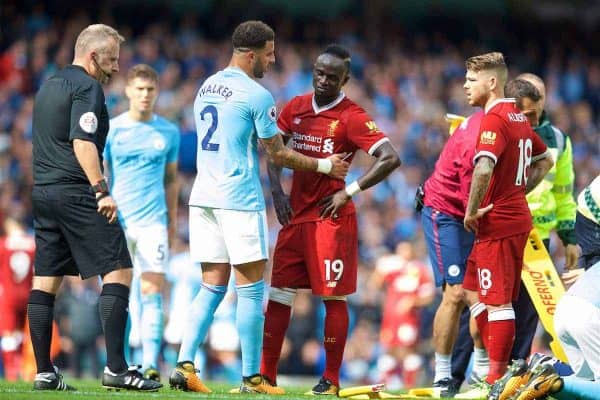 Liverpool were on top, despite being a goal down, and constantly hurting City down the flanks. Going down to 10 men changed everything.
The Reds were undoubtedly the better side at Anfield, even with the madness of the last 10 minutes, and since then there have been changes: Virgil van Dijk more fully established, Loris Karius much-improved, Mane himself back in form.
In more historical terms, across the last eight matches between the two, that 5-0 loss with 10 men is the only loss Liverpool have suffered.
Even in the most high-pressure of environments, in a cup final at Wembley, the Reds drew 1-1 with City across 120 minutes before succumbing on penalties. That's the sort of resolve, belief and opportunism which will be required to progress any further this time, too.
There is history waiting to be written.
Liverpool and Manchester City have never faced off in European competition against each other.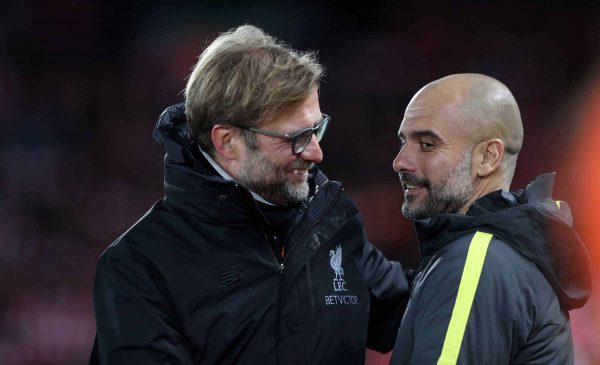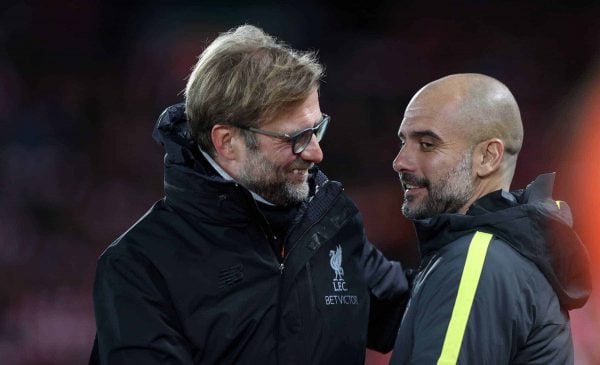 It's fitting, perhaps, that the two finest footballing sides in England this season have gone furthest in Europe's premier competition.
But once this close to glory, everyone always wants to take another step.
Man City is a ferociously difficult tie, arguably the very hardest—given the first leg at home—draw the Reds could have received on Friday.
But it's not utterly insurmountable, and a hard path must always be fought to make glory worthwhile.
It's already a successful season for Klopp and his team to have reached this point; in the space of one short week—City, Everton, City again—it could become a memorable one to rank alongside the likes of 2009, when Liverpool saw off Real Madrid and Manchester United in quick succession.
And after that, as 2005 proved, anything is possible, even for a team not as good as the one currently directed by Jurgen Klopp.