The Italian press believe Roma are capable of pulling off yet another "extraordinary" comeback to overturn a three-goal deficit and knock Liverpool out of the Champions League semi-finals.
Braces from Mohamed Salah and Roberto Firmino, and a goal from Sadio Mane, meant Roma were 5-0 down at Anfield before Edin Dzeko and Diego Perotti struck late on to give the Giallorossi a glimmer of hope.
In the quarter-finals unfancied Roma reversed a 4-1 defeat to Barcelona to shock the Catalans at the Stadio Olimpico with an historic 3-0 win.
And the consensus in the Italian sport dailies is that Eusebio Di Francesco's men have every chance of subjecting Liverpool to the same treatment when the clubs reunite next week.
"Roma: three reasons to believe," read a headline in La Gazzetta dello Sport, with the paper first noting that the capital club have already pulled off comebacks against Shakhtar Donetsk and Barca.
"'It can be done' is the mantra to be repeated between now and May 2."
#BuongiornoATutti! Your front pages for Wednesday's Italian sports papers in English: https://t.co/Y9mpQvrYzl #LiverpoolRoma #LFC #ASRoma #LFCASR #LIVROM #UCL #Juventus #FCIM #SerieA #Udinese #Torino #Ancelotti #ACMilan #Napoli pic.twitter.com/q9RKFPWdSh

— Football Italia (@footballitalia) April 25, 2018
Secondly, it claimed that Roma's tactical approach was right – "the road to follow is that of the first 20 minutes at Anfield, when we saw a tight, attentive and rather aggressive approach in midfield."
"To overturn the result will require that same intensity during the whole 90 minutes."
Gazzetta concluded by identifying Liverpool's relative fragility in defence. The third point read: "The Giallorossi goals came after Salah was taken off and Liverpool relaxed a bit, but if there is a weak point in (Jurgen) Klopp's team it is hidden behind them – it is their defensive lapses."
Il Corriere dello Sport called for a "push" at the Olimpico, simultaneously blaming "referee errors" in citing an early unpunished foul on Kevin Strootman and a possible offside for Liverpool's third goal.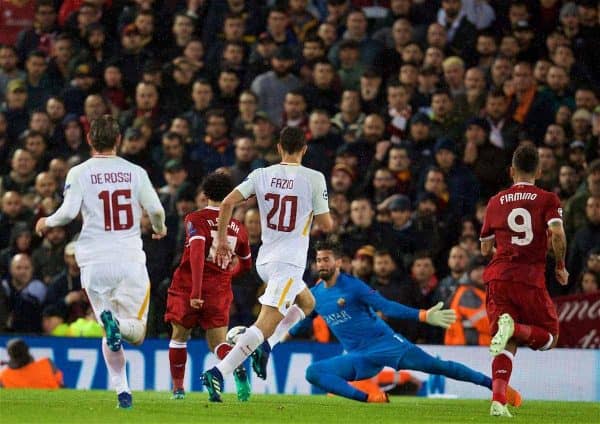 An editorial piece read: "It will certainly not be easy to repeat that display against Barcelona, because the English side have legs, brains and an ability to get the ball forward which can be deadly even when they are playing away from home.
"But Roma have the right and the duty to dream that they can produce a fantastic double of comebacks in the Champions League.
"The 70,000 who will gather in the Olimpico will be the first to believe and they know that doing it against this Liverpool team would be even more extraordinary.
"If they could be there already, those 70,000 fans, they would be. To fire up Roma."