On the 29th anniversary of the Hillsborough disaster, football clubs, current and former Liverpool players paid their respects to the 96.
With no memorial service at Anfield, manager Jurgen Klopp and captain Jordan Henderson placed a wreath in remembrance at the memorial in the morning, and players and staff will fall silent at 3.06pm.
Hillsborough survivors will also gather at the memorial in the city centre this afternoon.
Meanwhile, football clubs, former and current players used social media to pay their respects.
Clubs around the country and some of our friends from Europe paid their respects:

Remembering the 96 today. pic.twitter.com/zn3J78nzqt

— Manchester City (@ManCity) April 15, 2018
You'll Never Walk Alone. pic.twitter.com/G6eKSxItiM

— Celtic Football Club (@CelticFC) April 15, 2018
Our thoughts are with the 96 football fans who went to a match on April 15, 1989 and never came home.

— AS Roma English (@ASRomaEN) April 15, 2018
Today we stand with @LFC and remember the fans who tragically lost their lives at the Hillsborough disaster, which occurred on this day in 1989. pic.twitter.com/97uZSq8pQS

— Manchester United (@ManUtd) April 15, 2018
Today, we too remember those 96 @LFC fans who tragically lost their lives 29 years ago. #YNWA #fohlenelf pic.twitter.com/LpSwynneGL

— Gladbach (@borussia_en) April 15, 2018
29 years, never forgotten. We remember the 96.

Our thoughts are with you today, @LFC. pic.twitter.com/PCEPgX6lmU

— Swansea City AFC (@SwansOfficial) April 15, 2018
Today we join the rest of the footballing world in remembering the 96 fans who lost their lives in the Hillsborough disaster.

Our thoughts are with @LFC and all those affected. #YNWA pic.twitter.com/Xt3ROetbY4

— Sevilla FC (@SevillaFC_ENG) April 15, 2018
Current players used social media to remember the importance of the day:

?? #JFT96 pic.twitter.com/IMjroLa6CX

— Alberto Moreno (@18albertomp) April 15, 2018
The lads did a great job today. Now thoughts turn to tomorrow's anniversary #JFT96 #NeverForgotten pic.twitter.com/JCerbvMhBY

— James Milner (@JamesMilner) April 14, 2018
29 years ago today, 96 children, women and men lost their lives at Hillsborough. We will never forget them #JFT96 #YNWA pic.twitter.com/FY2A5qSaqZ

— Virgil van Dijk (@VirgilvDijk) April 15, 2018
Former players also paid their respects: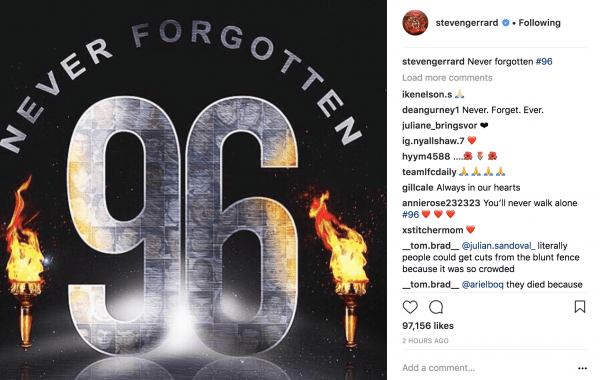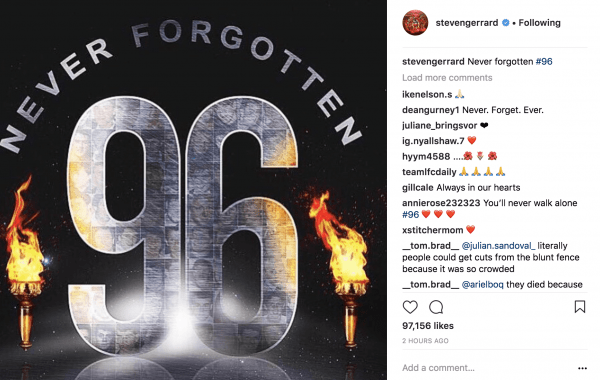 R.i.P #JFT96 pic.twitter.com/xKHoO0nJ5e

— Luis Garcia (@luchogarcia14) April 15, 2018
YNWA #96 ??? pic.twitter.com/GIJMBiF7Ue

— Lucas Leiva (@LucasLeiva87) April 15, 2018
R.I.P #JFT96 pic.twitter.com/J3tEWz3LOG

— John Arne Riise (@JARiiseOfficial) April 15, 2018
Never ever forgotten!!??#JFT96 #HillsboroughDisaster #YNWA96 pic.twitter.com/CX6evP87Jh

— Pepe Reina (@PReina25) April 15, 2018
Never forgotten #96 #YNWA #LFC ?? pic.twitter.com/XIKPczJ6E5

— Stephen Warnock???? (@StephenWarnock3) April 15, 2018
Gone ,but never forgotten #jft96 #ynwa pic.twitter.com/BLv3qPRe6c

— Fernando Torres (@Torres) April 15, 2018
https://twitter.com/Carra23/status/985410254841278464