Ukrainian sports writer Nestor Watach provides everything you need to know about the host city for Saturday's Champions League final.
The infrastructural issues surrounding Kyiv's hosting of the Champions League final are well established at this point. It's something that shouldn't be overlooked. Fans being able to get to a host city, without being subject to flagrant profiteering from travel operators and hotel owners is the most important thing.
Having said that, for the thousands of Liverpool and Real Madrid fans who have managed to make arrangements to be there, they will enjoy the hospitality of a wonderful and historic city. Somewhere that is honoured to host the event and eager to demonstrate how welcome visitors from far and wide are, as it did for Eurovision and for Euro 2012.
In the debate about host cities suitability, the latter point gets lost. Of course, practicality should be of paramount concern to UEFA but there are arguably only half a dozen cities in Europe that are suitably big enough to host such events.
Take Kyiv, for example – it's 20 years since Veleriy Lobanovskiy crafted one of the best teams in Europe with a Dynamo Kyiv side featuring a young Andriy Shevchenko and Serhiy Rebrov. Not far from beating Bayern Munich to book a place in the 1999 final, it's something unthinkable now as economical developments have pushed out teams from the smaller countries.
Liverpool fans need not be told that their place in the final is something of a shock, rocking the established new order – and that's from one of the biggest clubs in the richest league in world football.
Do we really want the host cities to reflect this elitist and hierarchical reality – or to throwback to a different era?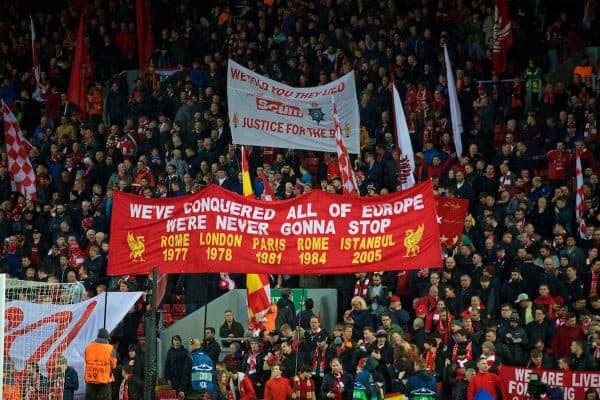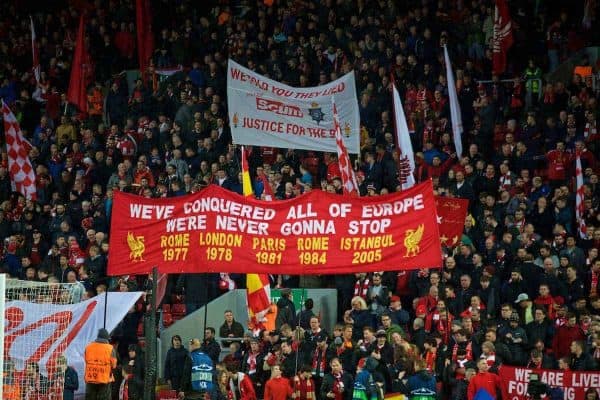 For the supporters that are fortunate and privileged enough to make it to Kyiv, they will have an unforgettable time. Their club taking them to experience a land and culture they otherwise wouldn't have. That's the beauty of European football, and another cornerstone in the lineage of Liverpool's history – an opportunity for a new generation to walk in the footsteps of those who went to Rome, Paris or Istanbul.
With that in mind, here's what I recommend to see and do in Kyiv:
WHAT TO SEE & DO
The good thing for Liverpool fans is that the vast majority of where they'll want to be is located centrally. The main street of Kyiv, Khreschatyk, leads to Independence Square, which has long been a hub for mass gatherings – reportedly, over a hundred thousand marched there during the Orange Revolution in 2004 and again in the Euromaidan protests 10 years later.
Somewhat calmer now, it will act as the main fanzone for football supporters with big screens and bars as it did in Euro 2012, and just a short trek to the Olympisky Stadium. A second fanzone for those without tickets to the final will be held close by at Poshtava Ploshcha.
From there, it's also a short walk to some of Kyiv's attractions: Zoloti Vorota ("the golden gate"), a reconstruction of the 11th century fortifications, when the Ukrainian capital was the centre of the Kyivan Rus empire. There's also the statue of Bohdan Khmelnytsky, Ukraine's most famous cossack, and St. Sophia's Cathedral, one of the most iconic structures of the city that dates back to the Kyivan Rus empire.
From there, there's Volodymyrska Hill, which features scenic views of Kyiv's landscapes and can lead you down to the trendy Podil district, which features a number of nice bars and restaurants.
It's also worth walking down the Andriyskiy Uzviz?, which is one of the most historic streets in the city and has market traders selling handcrafted art and soviet kitsch.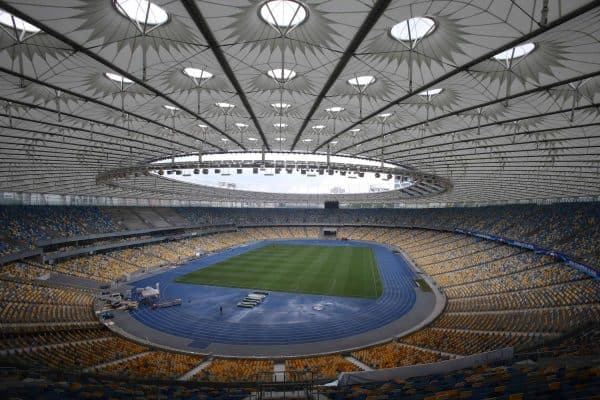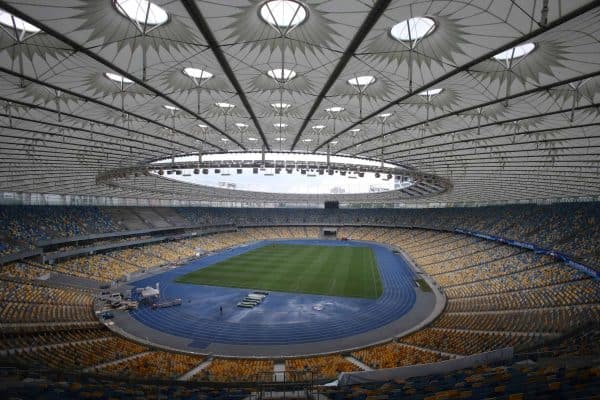 All of this is within walking distance, along with a lot of places to eat and drink, and can be done in an afternoon. A little further away, it's worth getting a metro to Arsenal (the deepest station in the world – fun fact) in order to see the Pechersk Lavra – a UNESCO World Heritage site, which is a complex of Orthodox monasteries and interlinked caves. It's sacred spot considered a sanctuary, demanding a solemn respect, so maybe one to visit before you hit the beers. From there, it's just a walk to the Motherland Monument, a giant Soviet-era sculpture which overlooks the city – as Kyiv's most iconic sculpture, it's a must-see. This spot also has monuments to the fallen in the war and features some of the most stunning views of the city.
That's more than enough for a weekend, but if you're lucky to have a few days in the city, you might consider visiting Kyiv's Hydropark – an island located in the middle of the Dnipro river, with city beaches. With temperatures set to hit 27?°, it could be the best idea – although whether you trust swimming in the water is your own judgement!
The Women's Champions League final also takes place in Kyiv two days before Liverpool take to the pitch. Taking place at the more historic stadium named after Valeriy Lobanovskiy, tickets are as cheap as €3 and will let you see the all-conquering Lyon side with Lucy Bronze take on Wolfsburg.
EATING AND DRINKING
Two words: Vereniki & Borscht. Two staples of the Ukrainian diet, they're essential if you're looking to sample the local culinary delights.
Known more commonly in English as Pierogies, Vereniki are little dumplings with either sweet or savoury fillings, served with sour cream and fried onions.
My advice is to try the classic style with potato and cream cheese. You can't go wrong with Borscht – a beetroot soup with a dollop of sour cream for good measure. You can order these staples in also any Ukrainian restaurant, but most conveniently you'll find them in Puzata Hata – a buffet-style chain, with a traditional folk decor, where you can get by the language barrier by pointing and smiling.
Ridiculously cheap, you can pick up a soup, main, sides and a dessert, all with a decent sized beer, for about a fiver. If you want a bit more upmarket Petrus-B is a well-rated Ukrainian restaurant a stone's throw from the stadium.
In terms of drinking, almost every bar will serve in more continental-style, small and large servings that are very cheap. A warning: the local beer isn't the best.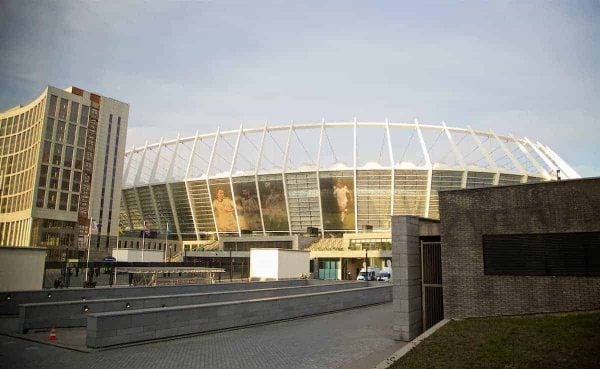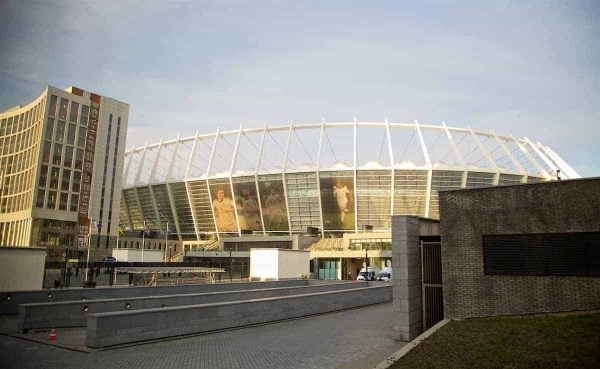 Obolon and Lvivske are the most widely available beers and aren't too dissimilar to the watery lagers you might avoid back home. Still, they do the job.
As is the natural order, Irish bars O'Briens and the Golden Gate will be full of Liverpool fans and are a short walk from Khreschatyk.
If you want something a little different, there's a burgeoning craft beer scene in Ukraine – Pravda Beer Theatre, just off the main street, serves beers brewed by Lviv's iconoclastic Pravda brewery, with designs that mock Trump, Obama and (of course) Putin. There's also Craft vs Pub.
MONEY
The local currency is called Hryvnia and with an exchange rate of 1:35, your money will go extremely far in Kyiv.
The metro fee is the equivalent of about 10p, it's unlikely a large beer would cost you more than £2 and a good meal out, with everything included, should be about £10.
Unless you've already got your currency sorted, it's best not to exchange too much at the airport as you'll just be ripped off. You might need to get out just £20-£30 to get started, before sorting out money centrally.
If you're flying into Kyiv's main airport, Boryspil – located miles from the city – the best option is to take the Sky Bus into the centre.
If you're flying into the city-based Zhulyany airport, it's probably best to get a taxi rather than attempting to navigate using the local minibuses – but make sure you're not paying more than 200 UAH (about £5). Uber has come to Kyiv, and that offers a much less extortionate alternative, if you can get it.
Ukraine's economy has taken a big hit since the conflict with Russia started a few years ago, so if you're in a position to, please tip generously – it would go a long way in helping the service industry in a country that is going through difficult times.
You might get an opportunity to donate or buy things that support the troops defending the border in the east – something worth doing.
LANGUAGE & CULTURE
You might be a little confused about how to spell the name of the city you're visiting – UEFA have adopted the more Ukrainian based "Kyiv" whereas traditionally westerners have used "Kiev".
This is more than just a translation or style issue, like with Munchen or Munich, as it has a deeper meaning. Kyiv is more tied to Ukrainian language or history, whereas many argue Kiev is a more Russified hangover from Soviet times.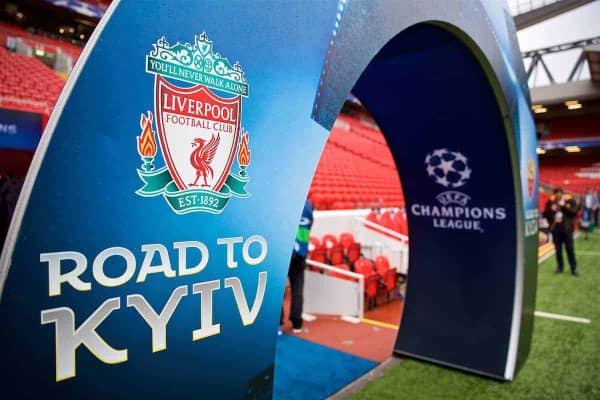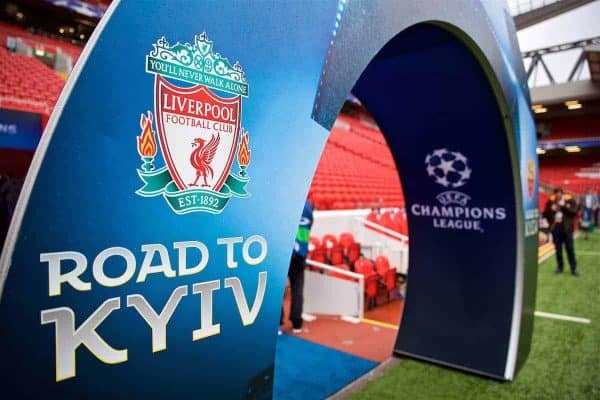 It's not the worst mistake to make, and even some locals don't mind the spelling, but as a gesture using the spelling "Kyiv" is one that would mean a lot for a country who is striving hard to establish its independence internationally since the fall of the Soviet Union.
For example, the indefinite article of "the" ahead of Ukraine is part of the same issue – there's an implication it's a part of something, rather than an independent state. "Ukraine" rather "The Ukraine" please!
If anybody was concerned after violent conflict between protesters and police officers that killed over 100 people during the Euromaidan movement, they need not be: Kyiv is a stable and peaceful city, and while the conflict with Russia is ongoing, it's happening in the east of the country, hundreds of miles from Kyiv.
You might also have heard about the emerging far-right, and while this is an area of concern, it's been somewhat overstated and largely restricted to fringe groups with political support for such ideologies minimal.
Euro 2012 passed without incident and it's unlikely any concerns about local hooliganism would come to pass this time around either.
In terms of language, there might be a bit of a barrier as English is lesson common than in some Western countries. As with anywhere else, patience and politeness will help. Russian, or a mix of Ukrainian and Russian known as Surzhyk, is common within Kyiv – but a few stock phrases would get you far. For example, saying the Ukrainian "Dyakuyu" instead of the Russian "Spasiba" for 'Thank You' would be appreciated.
* Thanks to Nestor Watach for this guide to Kyiv; you can follow him on Twitter @NestorWatach.