Andy Robertson and Dominic Solanke relished their maiden Liverpool goals after the squad sealed a top-four finish with a 4-0 win over Brighton.
The Reds cruised to a 4-0 win over the Seagulls, with goals from Mohamed Salah, Dejan Lovren, Solanke and Robertson ensuring they finished the Premier League season in fourth place.
There had been some nerves in the lead up to the game, with defeat potentially costing Jurgen Klopp and his players a place in the top four, but the victory was never in doubt and rivals Chelsea also lost 3-0 at Newcastle United.
It was the perfect preparation for the Champions League final against Real Madrid on May 26, with Liverpool one win away from one of the greatest achievements in the club's history.
After the Brighton game, a number of squad members were on media duty, with positivity the order of the day.
Robertson scored his first-ever Liverpool goal, and he spoke to beIN Sports about his joy at opening his Reds account, and the quality of the team's performance:
"It's always nice to get a goal. They're few and far between for me. But it was a nice moment. To get it at Anfield is always special.

"From the kick-off we were spot-on. We were all over Brighton and we were just too much for them. Credit to all the lads, we've done it comfortably on the last day.

"That's the [kind of] performance we've been used to. In the last couple of weeks we've dropped a bit, but we were back to our best."
The Scot also had some special praise for Solanke, who after a tough season finally managed to get his first Liverpool goal:
"I'm absolutely delighted for him.

"He came here at the same time as me; he has probably not got as much game time as he'd like. But credit to him on the training pitch, he works so hard and waits for his chance.

"His finish was typical Dom. Maybe the Liverpool fans haven't seen a lot of that but he was different class."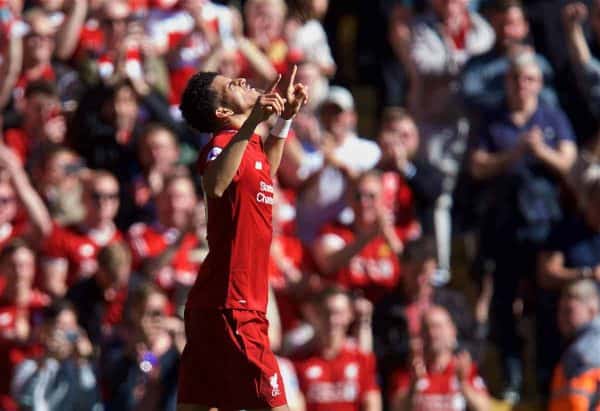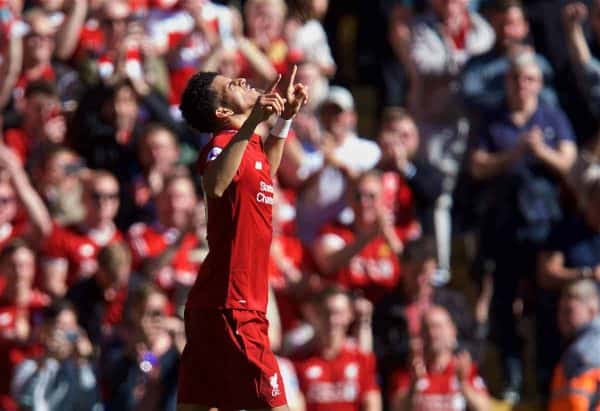 Solanke himself was understandably delighted, describing the moment as "amazing":
"I saw Mo pick up the ball and beat his defender like he always does.

"I made a dart across the opposite way and he slipped me over a great pass. I hit it, and after that, it was just amazing.

"Especially to do it here at Anfield in front of all of our fans. We knew we had important games at the end of the season, we knew we had to get a result and we did that so everybody is really happy."
The young striker also admitted he is very happy at the club, thanking Klopp for helping him during a tricky debut season:
"It's always hard when you're not scoring, you get a few chances here and there, and it doesn't quite go for you.

"You've just got to keep your head up and keep going. It paid off.

"It has been fantastic. The faith the manager has had in me is amazing, I'm so thankful for that and for him to play me in this game again. I managed to get my goal for the team, I'm really happy to be with this team."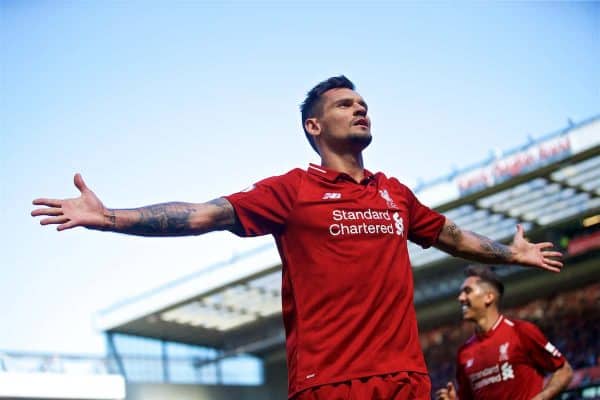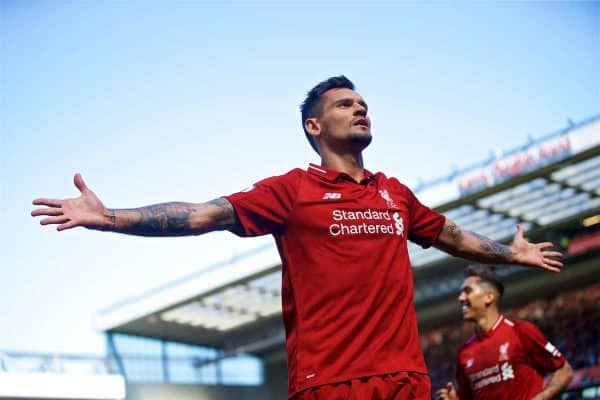 Dejan Lovren was commanding at the back, and scored his maiden home league goal for Liverpool, and he told LiverpoolFC.com he feels teamwork is key to the club's success:
"Every year it's getting more difficult to get into the top four. It's about teamwork.

"We have a squad that can compare with every team in the world; we showed it in the Champions League [against] Porto, Manchester City and Roma in the first game.

"It's the team."