For so much of Roberto Firmino's career at Liverpool Football Club, he has been defined by what he is not, writes Samuel Cox.
He's not a centre-forward, he's not a goal scorer, he doesn't have pace, he's not top class, he's not Suarez, he's not Coutinho. Well let me tell you what he is, Roberto Firmino is the best centre-forward in the league.
Firmino has always been rated highly by those inside the club, and he is the first on Jurgen Klopp's team sheet without exception. While Christian Benteke and Daniel Sturridge were both bigger 'names' when Klopp arrived, both found themselves dislodged by 'Bobby'.
Why? Because Roberto Firmino is a combination of brains and brawn, he'll press the defence then undress them as only a Brazilian can.
Bill Shankly once famously said, "I was made for Liverpool and Liverpool was made for me." I would argue Firmino was made for Klopp's Liverpool and Klopp's Liverpool was made for Firmino.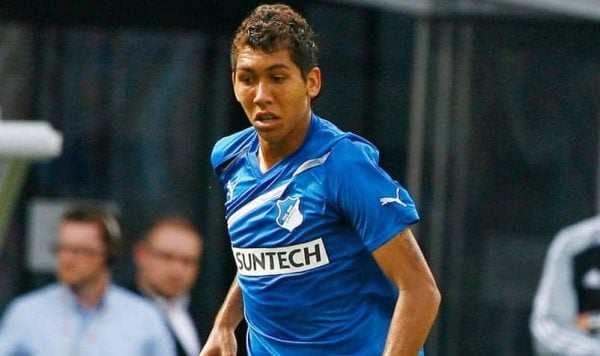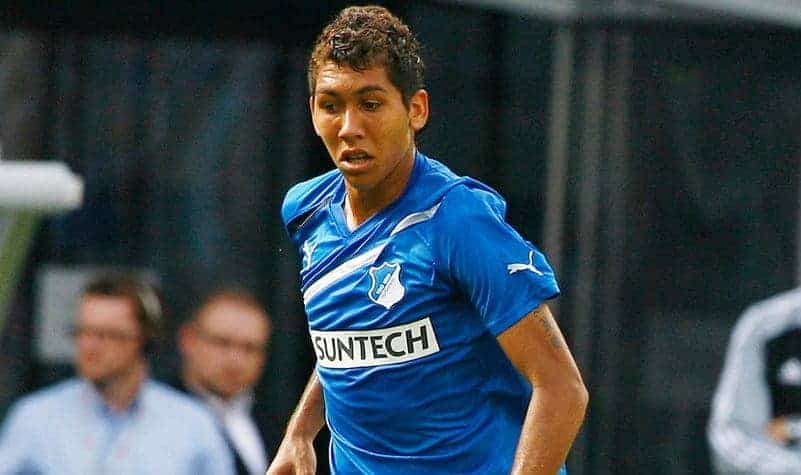 Klopp had a familiarity with Firmino from his knowledge of the Bundesliga and in him I have no doubt he saw the beginnings of his team, the start of a potential dynasty, a team built in his own image and worthy of Liverpool's illustrious past.
Klopp recognised a great player in a good players skin: Bobby's work rate is superhuman, putting in the defensive shift of a midfielder, yet making the attacking runs of a forward.
He is forever dropping deep, yet he simultaneously manages to gleefully charge into the box on every counter attack. The stats reinforce what the eye says is true, Bobby is the only player in the Premier League this season to win over sixty tackles (65) and create more than fifty chances (53).
Indeed, from the big clubs, only Alexis Sanchez (41) comes even close to entering the same realm as Firmino. Even the defenders from the top six clubs can't compete, with only Chelsea's Azpilicueta (80) besting him.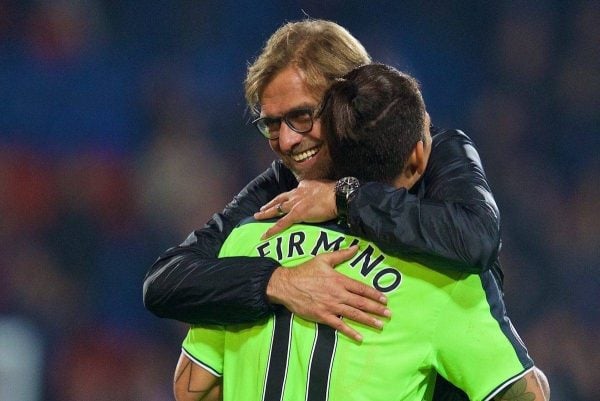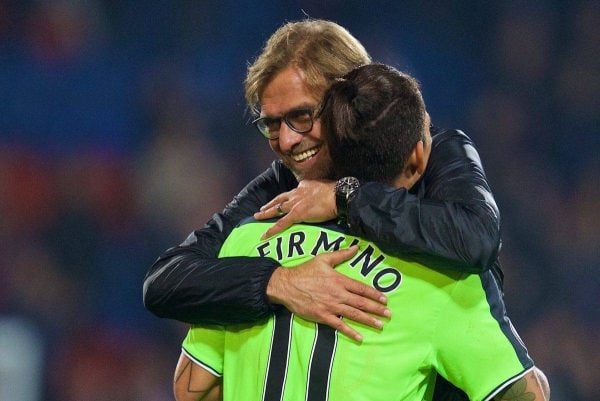 These unusual stats recognise Firmino as equal parts silk and steel.
Despite claims of Firmino 'not being a goal scorer', he arrived at Liverpool with a very respectable goalscoring record for a midfield player, continuing to enhance this aspect of his game.
The title of highest scoring Brazilian Premier League season ever now rests with Firmino, with fifteen goals and seven assists. In the Champions League he has ignited with ten goals and another seven assists in just 12 games.
To paraphrase the great Hunter S. Thompson, he is Klopp's own prototype, some kind of high-powered mutant never considered for mass production.
Bobby does not have electrifying pace, few do, but he does have speed and the running power to maintain it. Our Number Nine will not beat a player over the first few steps but rather run down the cover and raid into the box unmarked on the counter.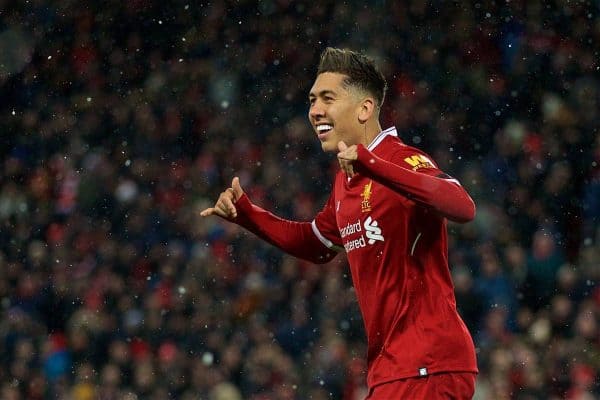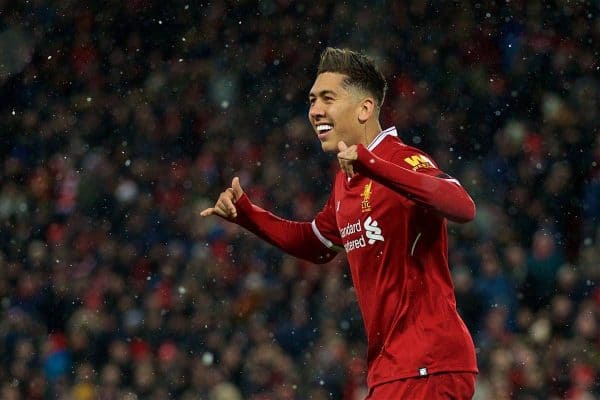 When speed and determination don't suffice, Firmino uses his superior touch and judgement. He can bring a ball down from the heavens with a nonchalant feathering of the boot. He also has phenomenal judgement on where to position himself to wreak havoc.
At a glance, Firmino appears every inch the new age player, personifying so many terms in the new techno-football lingo: 'operating between the lines,' 'false nine,' 'gegenpressing.' This is no illusion, he is an incredibly smart player, often cutting off two or three passing options by utilising angles to ruthlessly close the opposition players.
However, he is in many ways a throwback, a call to Liverpool's monolithic past. Liverpool has remained a working-class club, where hardworking players are beloved. The great Liverpool dynasty's, from Bill Shankly onwards, epitomised a team-first mentality. It was in their blood; a mentality Roberto Firmino inhabits.
If that was all I had to say on the matter I could quite rightly rest my case, but what truly elevates Firmino is something less statistically tangible: his tactical interplay. Firmino improves the whole forward line, he turns it into a fluid, multi-headed beast.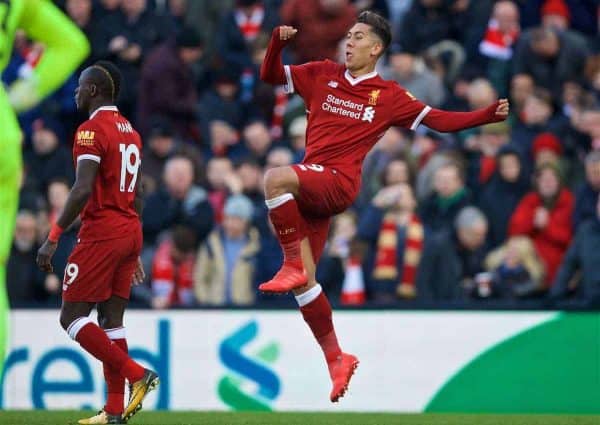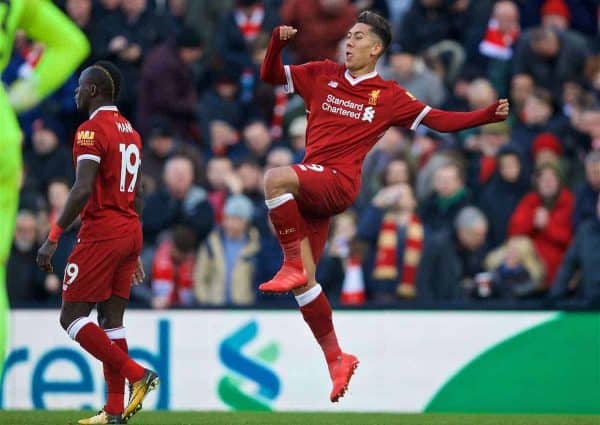 Bobby drops deep, he pulls out wide, he starts the press, he wins the ball back in our defensive half and then burns towards the goal on the counter-attack. He does it all and crucially he does it more than any other forward in England.
This turns Liverpool into a footballing Hydra; cut off the head and two more replace it. This is what makes Firmino potentially the best centre-forward in Europe; he transforms Liverpool into a practically unstoppable attack.
It is no coincidence that Sadio Mane and Mo Salah have enjoyed career-best form since donning the famous red shirt. It is the unpredictable dynamism which Firmino infuses, dovetailing in beautiful fluidity with his partners in crime.
---
* This is a guest article for This Is Anfield. If you'd like to contribute a piece for consideration please see this page. Follow Samuel J. Cox on Twitter, @samueljessecox.