Liverpool supporters have produced a mixed reaction to reports that Stoke City winger Xherdan Shaqiri is being considered for a cut-price summer signing.
Reports on Wednesday explained that Shaqiri was a legitimate transfer target for the Reds this summer.
The Switzerland international is thought to have a release clause of around £12m-£13.5m, with Jurgen Klopp seemingly keen on pursuing a deal for him.
The news hasn't been met with overriding positivity from Liverpool fans, but there are also those who see lots of sense in a potential deal.
Xherdan Shaqiri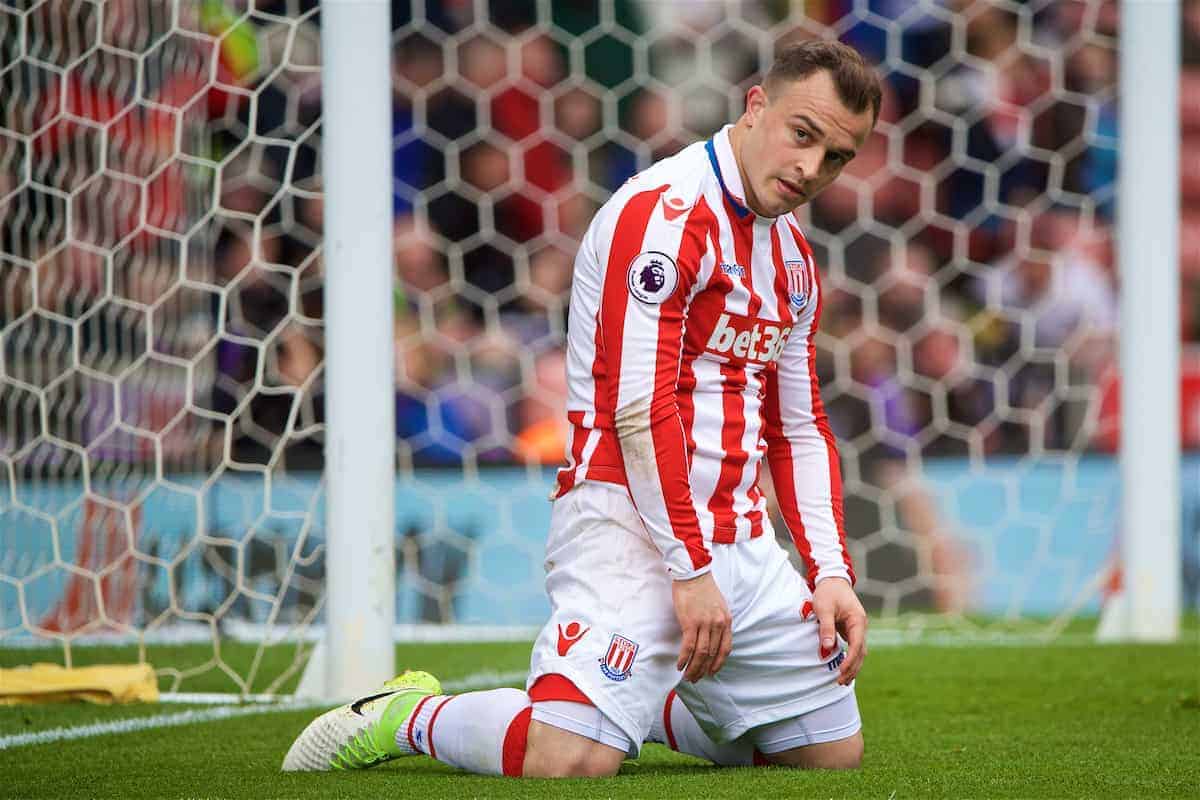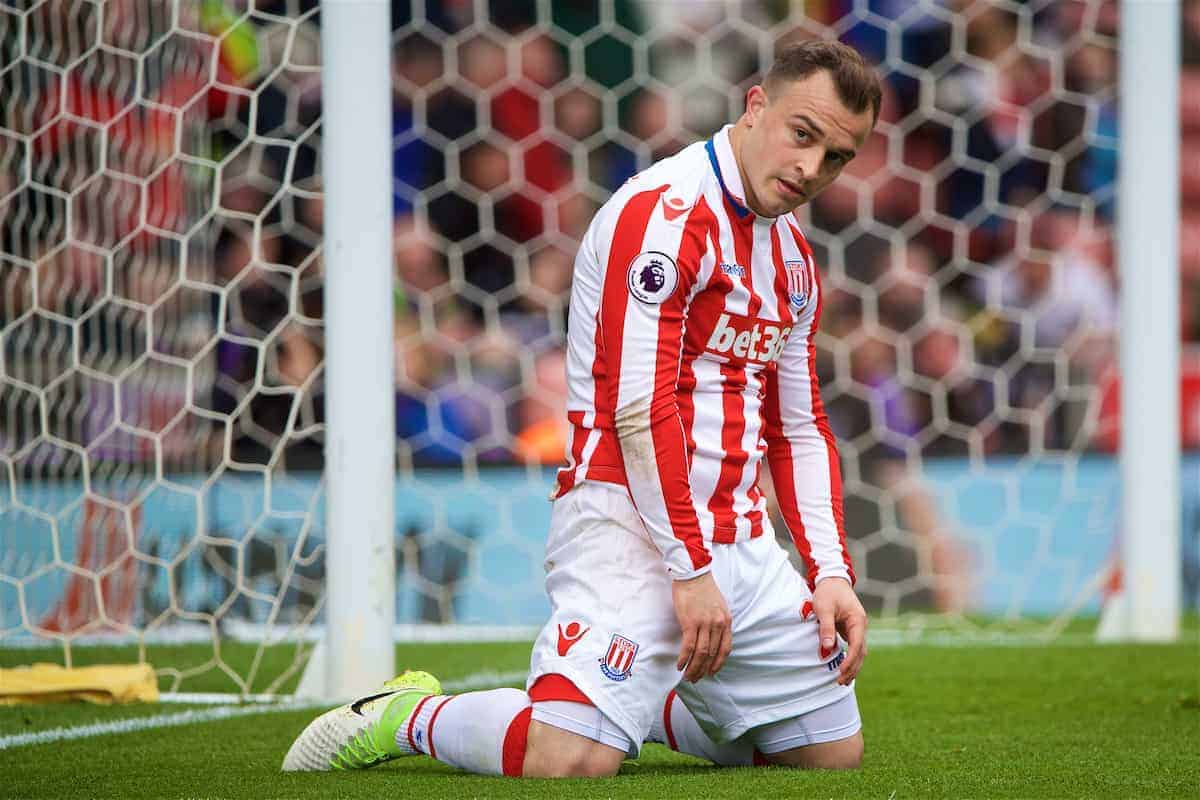 Position: Right Winger
Nationality: Swiss
Age: 26
Potential fee: £12m (release clause)
First reported by: Guardian
Also reported by: Times, Mirror, Mail
Previously linked: In 2014.
Here's a look at the best of the reaction.
To some, the thought of buying Shaqiri received a big thumbs up:
https://twitter.com/jacklusby_/status/1004397340344635393
Shaqiri's numbers are decent considering he played for a really bad Stoke side last season. £12m wouldn't be a bad price at all. pic.twitter.com/q2oJ2ex7s8

— Sam McGuire (@SamMcGuire90) June 6, 2018
"At the prices being quoted Shaqiri would be a steal. He's got the quality. He would suit our set up of a fluid front 3."

– AJM86 on the forums.
Shaqiri would be a great addition for Liverpool, 12 million for him would be a steal ?

— Darren Farley (@DFImpressionist) June 6, 2018
Wait… we can get Shaqiri for £12m and people are genuinely upset by it? He's only 26, played everywhere, and can make moments of brilliance like this on the biggest stage. I'm absolutely behind it! https://t.co/KPHjEppZGB

— The LFC Couch (@LFCCouch) June 6, 2018
On flip side, others aren't convinced and some pointed at how it would mean the end for the likes of Harry Wilson:
Genuinely would play Wilson over signing Shaqiri, think it's a transfer we'd regret making.

— Rory Greenfield (@RoryGreenfield) June 6, 2018
It's not that Shaqiri is bad, just meh. He's neither a prospect nor an upgrade

— John O'Sullivan (@NotoriousJOS) June 6, 2018
What is Shaqiri going to bring to the team? I don't care about his price tag, the guy is just trash.

If you're not good enough, you're not good enough.

— Rich Porter (@RichPorterN16) June 7, 2018
So it seems we're in for Shaqiri from Stoke. Whilst not totally overly keen about the move, just remember the last player we signed from a relegated club…Andrew Robertson from Hull, and he's turned out to be a gem! So, with that said, I'd rather just be hopeful about it #LFC

— Derek Carter (@DMGcarter) June 7, 2018
"Is he really capable as a bench impact player?"

– nikz200 on the forums.
Fee of £12m for an international & experienced player might seem good but Shaqiri has wages of around £100K per week meaning £5m per annum. He'd require a three year contract and on those wages would be hard to shift if #LFC decided to get rid.

— Paul Grech (@paul_grech) June 6, 2018
Liverpool interested in Shaqiri then.

Can't say I'd be overjoyed by him signing, but then again I was similar with Mane and Salah when they were linked.

Klopp and the committee know more about football than me, you and most people.

— Henry Jackson (@HenryJackson87) June 6, 2018
Why on earth are we favourites to sign Shaqiri? Be terrible if we get him. Waste of money

— Lee Hammond (@LeeHammond1987) June 6, 2018
Cba with Shaqiri. Would rather give Wilson a chance ffs.

— – (@AnfieldRd96) June 6, 2018
Adding much-needed squad depth was a key reason for positivity, though:
Genuine interest from #LFC in Xherdan Shaqiri, who would provide depth across the attacking positions. Danger from set-pieces, creative, can be decisive in the final third. Release clause of around £12 million makes it low risk.

— Melissa Reddy (@MelissaReddy_) June 6, 2018
Very difficult to upgrade on the current front 3, so the emphasis should be on improving the backup options. There aren't really any wide forwards in the squad other than Salah & Mané. For £12m, Shaqiri would be a decent squad player.

— Joel Rabinowitz (@joel_archie) June 6, 2018
Shaqiri with a £12m release clause? Complete no-brainer. Hard worker, solid squad player, 26-years-old, PL proven. For financial comparison #LFC paid £20m for Markovic.

— Danny Gallagher (@Danny7Gallagher) June 6, 2018
"Shaqiri may not be a starter but we need more quality to come from the bench."

– Karl Smales on Facebook.
On Shaqiri, people are suggesting he's not an upgrade on what Liverpool have already got. True, but he's an option, and they sure as hell could have used the pace option from the bench in the Champions' League final. #LFC

— David Maddock (@MaddockMirror) June 6, 2018
Why would you not want Shaqiri for only £12m? Just look at our bench options in Kiev, we had to put Lallana on the wing which disrupted our entire game plan and rhythm.

When he's on it he's an absolute quality player and a matchwinner. Adds quality depth to our squad too. pic.twitter.com/judNIyR8cA

— LFC NEWS (@LFCTransferNRS) June 7, 2018
https://twitter.com/LegendEskimoBoy/status/1004406422979964928
While some questioned Shaqiri's attitude:
https://twitter.com/IndigoLFC/status/1004425053612707840
I'm more onboard with Shaqiri than I am with Moses Simon. Very hard to find that quality for £12 million in this market, main concern is that he's injury prone and potentially has attitude issues.

— Tom McMahon (@tomjpmac) June 6, 2018
Quality over quantity for me. Shaqiri has shitloads of talent but I'm wary of his attitude. I'm sure Kloppo will decipher if hes fit for purpose or not, but I won't be surprised if all the Shaqiri talk is BS and/or a diversion.

— B-Rad ??? (@ImOneWithTheKop) June 7, 2018
Whilst I do trust Klopp on transfers as his success rate is certainly better than most. I really don't want Shaqiri anywhere near #LFC. Bad attitude and inconsistent. Plus you won't get consistency mostly sitting on a bench.

— Chris Searle (@SearlyC82) June 7, 2018
Shaqiri is too lazy to play in a Klopp side. No thanks

— LFC (@BillyHughes555) June 6, 2018
Extremely surprised that there is genuine interest in Shaqiri from #LFC. He just doesn't seem to fit the Klopp mould: His attitude is poor, he's quite lazy and extremely inconsistent.

I personally can't see anything materialising from this 'interest'.

— Jack Gill (@jacklfcgill) June 6, 2018
Not sure how to feel about Shaqiri. Decent alternative to the front three for only £12m & arguably better than any of our current options, but he's hardly consistent and can often be accused of laziness. Would be a little underwhelming, but Klopp knows best.

— Leanne Prescott (@_lfcleanne) June 6, 2018