As seasons go, Trent Alexander-Arnold has had one to remember. It's been a hell of a ride for the 19-year-old who came of age on the biggest of stages.
When you're a young lad growing up in the city of Liverpool, the thought of running out in front of the Kop week in, week out, is the stuff of dreams. For one particular dreamer this season, fantasy became a regular reality.
On the fringe of the squad to scoring a blinding free-kick against Hoffenheim in the Champions League playoff, few could have predicted the instant impact the 19-year-old would have this season for the Reds.
Although he made his debut back in 2016/17, Alexander-Arnold was hardly a regular.
Jurgen Klopp knew the rough diamond could be polished into a shining example of 'local boy does good', but for his part the young defender just needed a smattering of patience—something rare in the modern game.
Trent Alexander-Arnold, 2017/18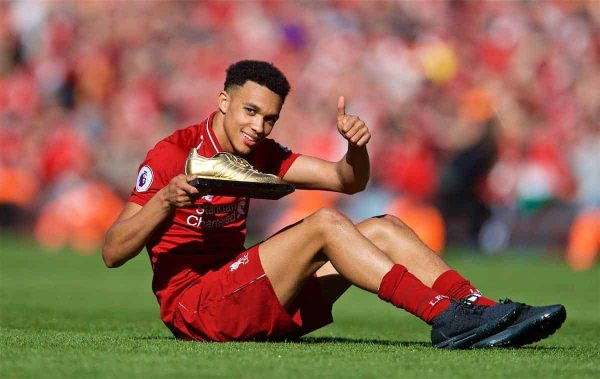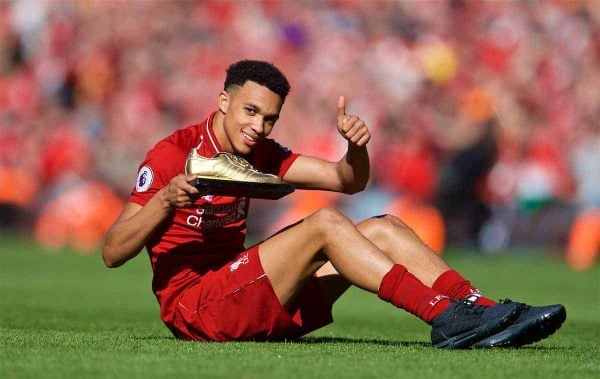 Started: 30 (All competitions)
On as a substitute: 3
Unused sub: 19
Goals: 3
Assists: 3
Average TIA Player Rating: 6.79 (Rank = 7th)
From acorns grow oak trees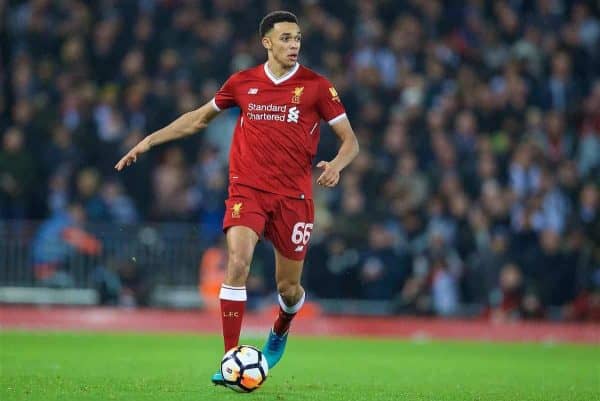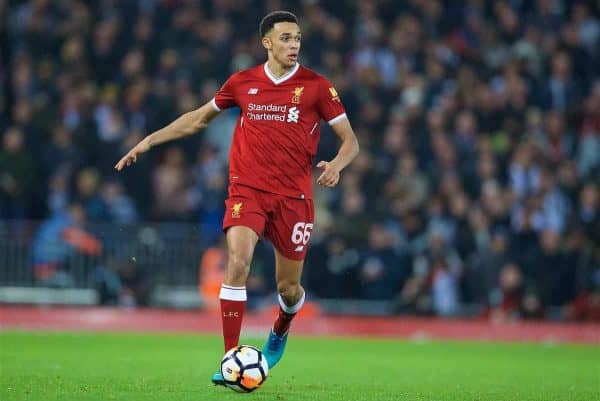 As the campaign got underway in August, Alexander-Arnold was very much the alternative to both Nathaniel Clyne and Joe Gomez.
The then 18-year-old had seen first-team action the season previous, most notably away at Old Trafford, but it was still a given that the Liverpool-born defender was a prospect, not a regular.
Handed an early chance, he took it; Liverpool's late collapse at Watford on the opening day of the 2017/18 was season hardly reflective of his personal performance.
When Liverpool's defence forgot its duties, and Miguel Britos' controversial injury-time equaliser hit the net, the young defender had been substituted and was watching on from the bench.
It was his next match, though—just days later away at Hoffenheim—that introduced Alexander-Arnold to a wider audience.
When he placed the ball down some 25 yards from goal, no one expected what was to come next.
With a two-step walk up he bent the ball into the far corner of the net, it was a glorious strike and an indication of his now bubbling potential.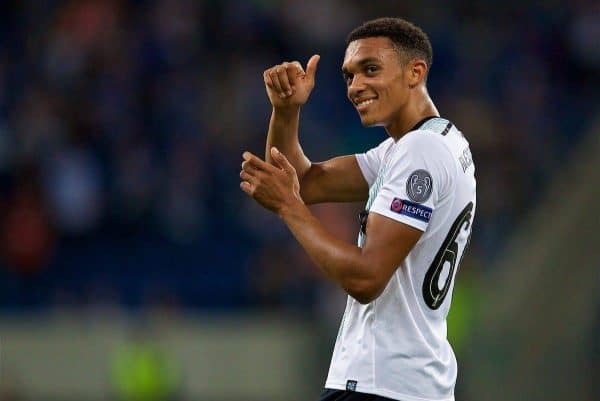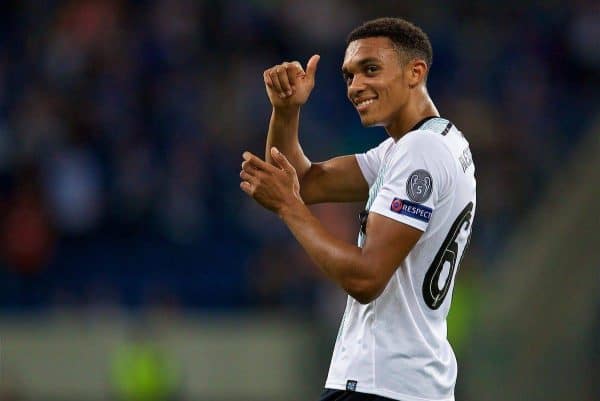 The Champions League became his mainstay; as domestic appearances became fewer it was his continued performance on the biggest of stages that began to catch more than the passing eye of those watching.
Not content with his goal away at Hoffenheim, the right-back then added to his tally in the destruction of Maribor.
His goal capped off a seven-star display in Slovenia; it may have taken a slight deflection but once again he'd found the net from some considerable distance—not bad for a supposed defender.
Football often provides youth with the chance when injury hits a more senior player, and for Alexander-Arnold he took full advantage of his opportunity once it was handed to him.
From the turn of the year the defender made the right-back position his own—a situation he will be unlikely to hand over lightly now he's established himself.
While 2018 would see Alexander-Arnold become a regular it was his Boxing Day present that might stay in his memory the longest.
An observer for the rout away at Bournemouth and a see-saw game at The Emirates, it was the Christmas visit of Swansea to Anfield, and a return to the starting XI, that allowed him to see dreams become a reality.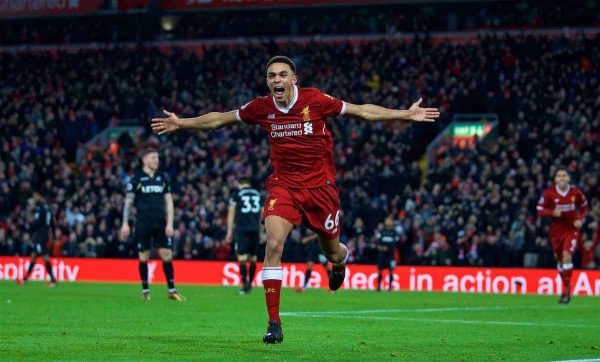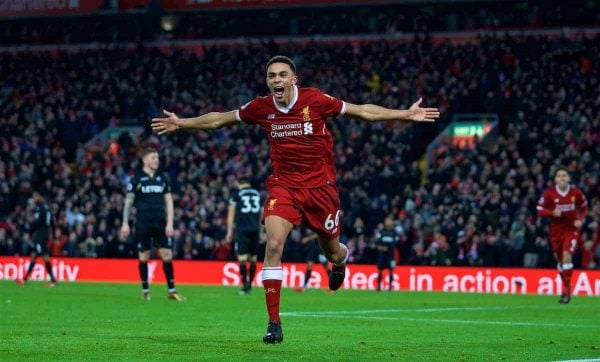 Having already scored twice in UEFA competition it was a home goal, in front of the Kop, that had so far evaded the right-back.
The converted youth midfielder wanted to taste the thrill of seeing his boyhood wish materialise and what better time than Christmas, the season of goodwill?
In a performance beyond his years he latched onto a loose defensive header, controlled the ball with his studs and smashed a half-volley into the top corner.
Lukasz Fabianski could only watch on at full stretch as the Kop behind roared. Alexander-Arnold had done it; under the lights, his dream had been fulfilled.
"That's what dreams are made of, under the floodlights, to score that goal was a dream come true" – Trent Alexander-Arnold
The New Year heralds a full arrival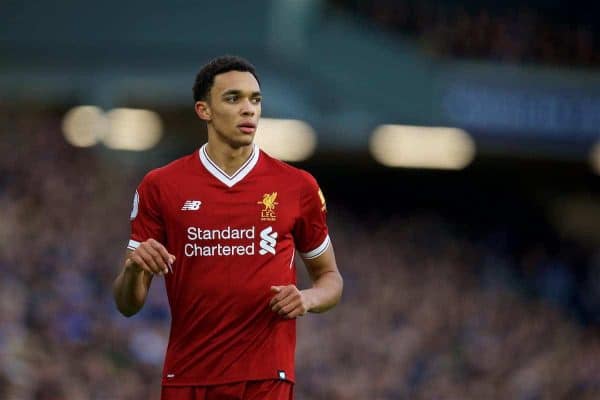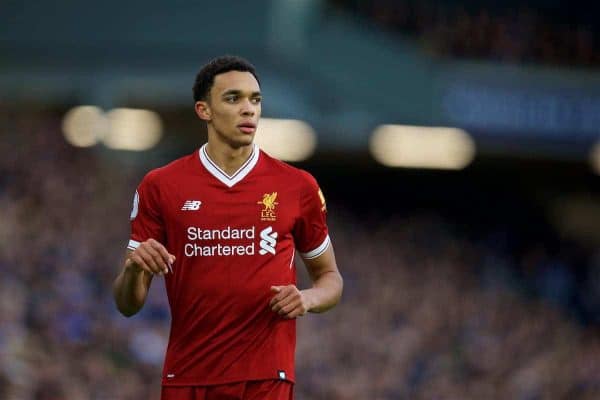 January continued to offer the now-19-year-old little solace in the way of Premier League action, but as February got underway Klopp turned to his European right-back to fix Liverpool's wingback issues.
Joe Gomez fell out of favour and soon became injured, Nathaniel Clyne was seemingly out for the season—it became now or never for the lad from West Derby.
In his next eight Premier League appearances he left the field at full-time with a clean sheet to reflect on four times, with a lack of concentration away at Old Trafford the only sour note on what had been a list of solid performances.
Vilified by certain sections of the media for two—what had been until now—uncharacteristic mistakes, it was a sobering 80 minutes for the youngster.
Caught out by Marcus Rashford's tenacity, the Liverpool defender was turned inside-out for Manchester United's opening goal.
Unfortunately, the script repeated itself just 10 minutes later.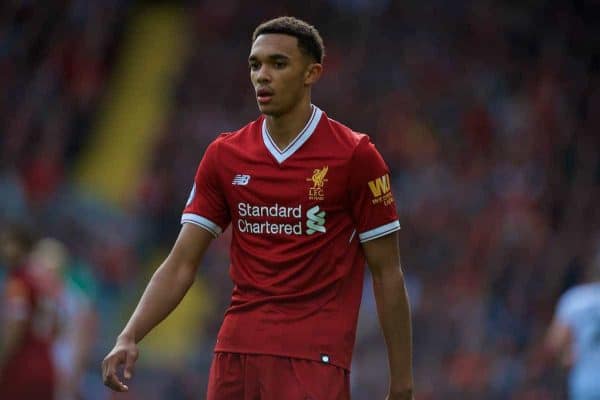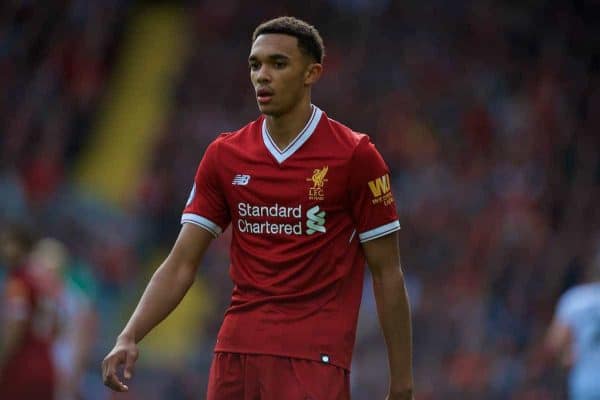 The furore that surrounds any meeting with Liverpool's old enemy only added to the effect his errors had on the game.
The reaction in part showed just how far he had come, he was still a teenager but more was expected. With every meteoric rise comes a dusting of unwanted reality at some point, and the youngster chose not to hide, but to face the criticism head-on.
"I just want to apologise to all the fans! The support today was amazing and our performance was not good enough to get the result we wanted. We will learn from this and come back stronger" – Trent Alexander-Arnold
It was, though, the Champions League that he seemed the most at home in.
Porto, Manchester City and Roma were all seen off in spectacular fashion as Liverpool's march to the final in Kyiv began to be a formality.
Be it home or away, Alexander-Arnold began to epitomise everything Liverpool stood for, and when placed in front of the world's media it was his down-to-earth character and focus that shone through.
A season-capping Champions League final win wasn't to be.
It would have been the cherry on top of his cake. The season in which Alexander-Arnold went from an occasional to a regular and earned himself a World Cup spot.
Liverpool had finally found a 'definitely' after a spell of Academy 'maybes'.
Improvements & Future Role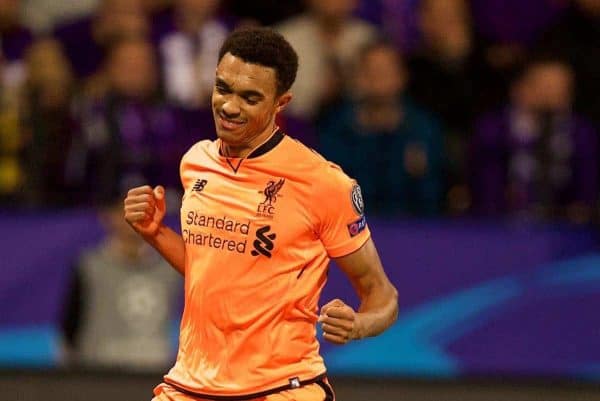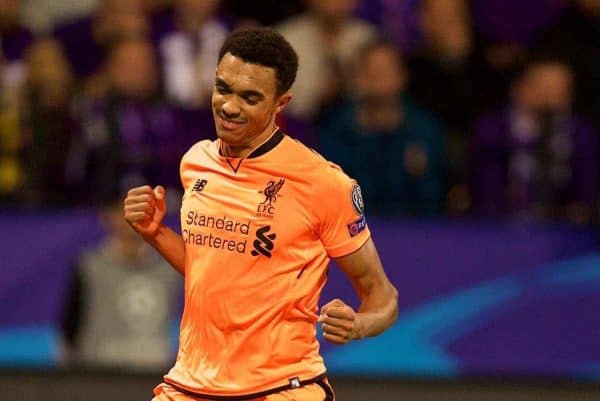 As with every attack-minded defender, there will be occasions when the required high line is caught out, but with his current back-four partners Liverpool look to be building a reliable defensive unit.
Together with Andy Robertson the wing-back duo look to be Klopp's, and Liverpool's, best options for the foreseeable future.
Lapses of concentration have been ironed out for the most, and when he breaks forward the right-back is able to deliver a cross that frightens opposition defences rigid.
With three assists this season and his potential now replaced by a reality, you'd expect Alexander-Arnold to double his tally next time out.
A cameo in centre of midfield against relegated Stoke City could have been an insight into future roles.
But with the addition of two midfielders already, and another touted to arrive before the start of the World Cup, you'd expect that a move further forward would now only be in an extreme emergency.
---
Best Moment: Take your pick from almost any of the Champions League's latter stages but his goal in front of the Kop against Swansea filled him full of the pride needed to wear the red shirt.
Worst Moment: March's visit to Old Trafford.
Role next season: To continue on the same trajectory as this season, just double the assists though!
2017/18 player-by-player reviews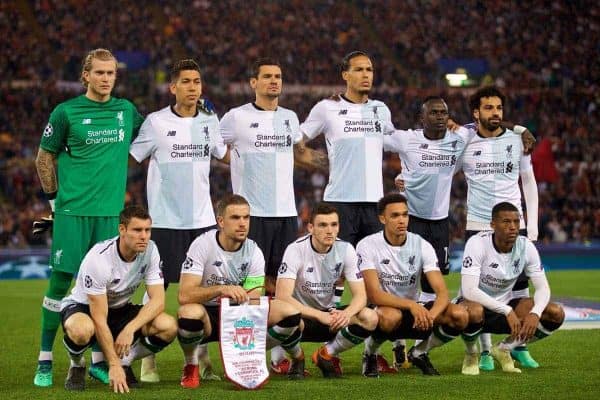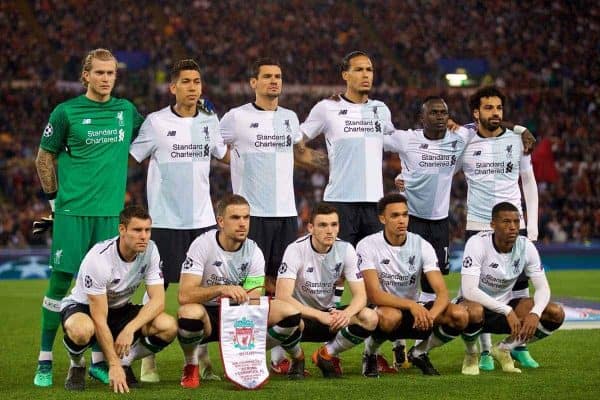 Karius | Lovren | Van Dijk | Matip | Gomez | Henderson | Milner | Oxlade-Chamberlain | Firmino | Salah