Despite 280 appearances across seven years for Liverpool, Jordan Henderson remains a player who still very much splits opinion among the fan base.
The debate around Henderson is amplified to an even greater extent on the international scene, as his performances for England tend to draw extreme reactions from fans of other clubs, regardless of how well he actually plays.
There appears to be a somewhat fixed opinion for many people that Henderson lacks the quality to be England's first choice central midfielder — and for many Liverpool fans, he's a player who should be upgraded upon in terms of the starting XI.
All-change under Klopp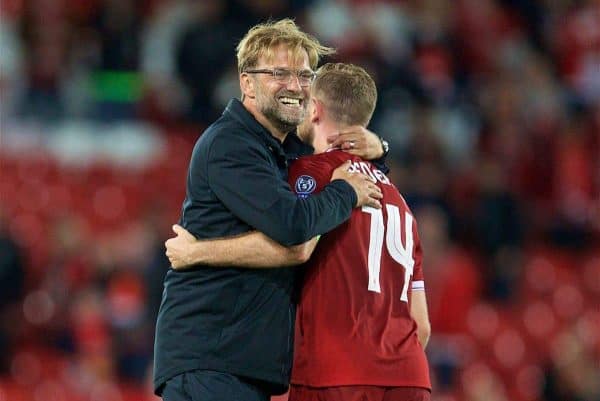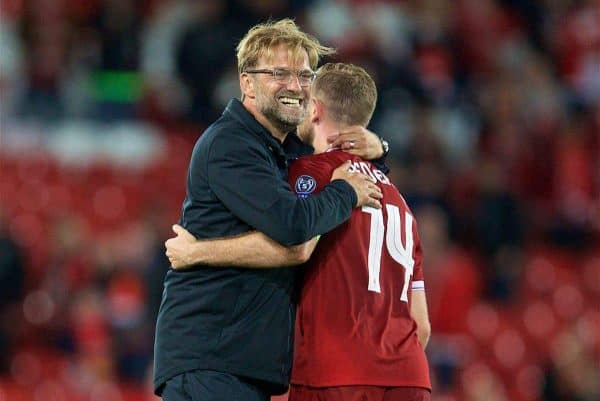 Undoubtedly, the past few years under Jurgen Klopp have not been easy going for Henderson, with a chronic heel injury severely limiting his game time and consistency.
Under the German's management, he has also undergone a significant positional transition into a holding midfielder, rather than the all-action, box-to-box role he fulfilled under Brendan Rodgers.
It's easy to forget just how integral Henderson was to Liverpool's title challenge in 2013/14 and how much the side suffered in his absence following his suspension against Man City at the back end of that season.
The following campaign, he went on to record an impressive 14 assists and seven goals, despite a disappointing season for the team overall.
Since taking on the captaincy role from Steven Gerrard in 2015, there have been recurrent questions around his leadership credentials. Much of that, however, stems from the fact that his predecessor was arguably the greatest player in Liverpool's history and set a standard which was impossible to maintain.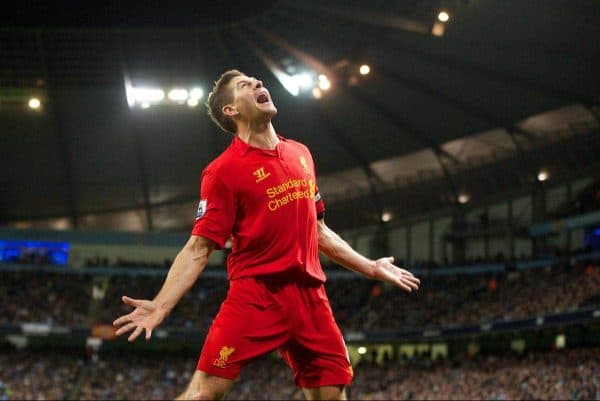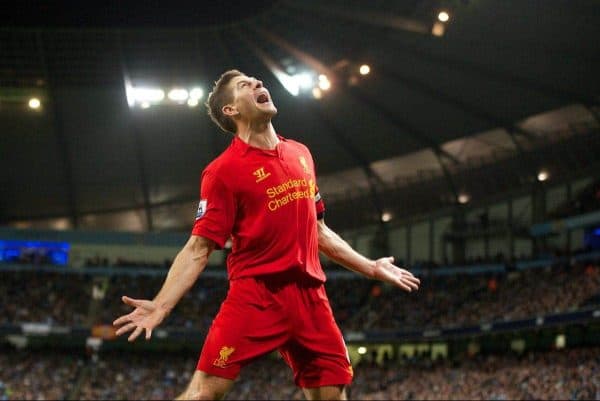 It's unfair to measure Henderson against such a legendary figure, as he is a different player in his own right.
Throughout the first half of 16/17, Henderson grew into the No. 6 role and began to demonstrate his ability to dictate games from a deeper position. Using his mobility and intelligence to shield the defence, he also provided a solid base to allow Liverpool's more attacking players to flourish from.
Although perhaps not his natural role, Henderson has undoubtedly matured under Klopp both as a player and as a captain.
He demonstrated this throughout the 17/18 campaign, with standout performances against Porto, Man City and Roma, as he led his side by example to the Champions League final.
From a leadership perspective, it's clear to see how Liverpool's players look up to Henderson and respect him as a senior figure, and he's often seen directing his team-mates where to be on the field.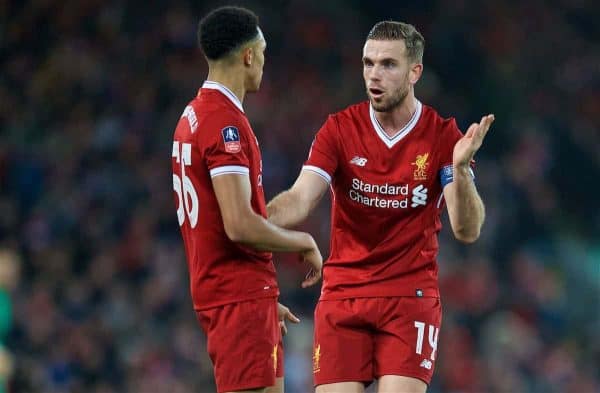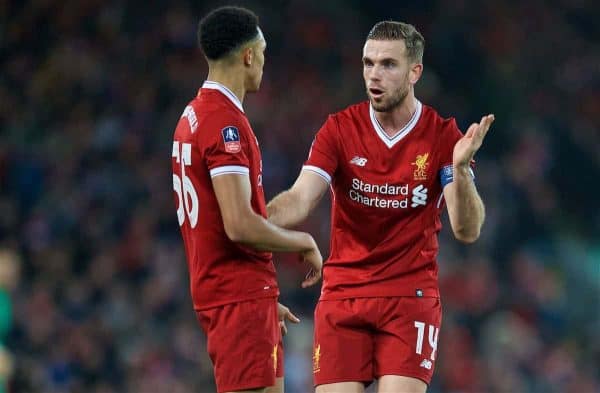 Additionally, it's clear he has been offering advice to guide younger players like Trent Alexander-Arnold through games, as well as being the most likely player to get in the referee's ear when he feels necessary.
You only have to listen to how he speaks in his post-match interviews, or the way in which he went out of his way to make sure the players celebrated with the Sean Cox banner in front of the away supporters in Rome, to see how Henderson understands and embodies the values of the club.
He might not be Gerrard, but all he does is about putting the team first, and in that sense, he's everything you would want a Liverpool captain to be.
Multiple roles in one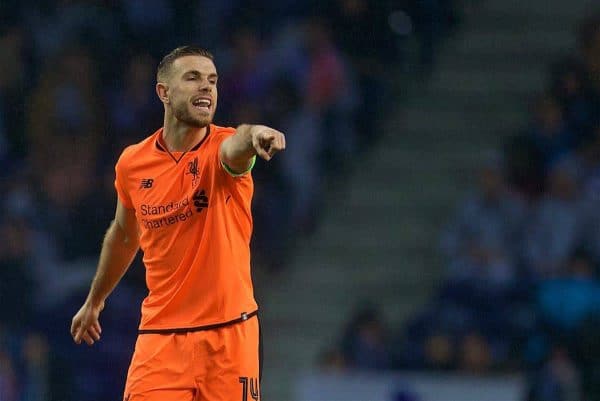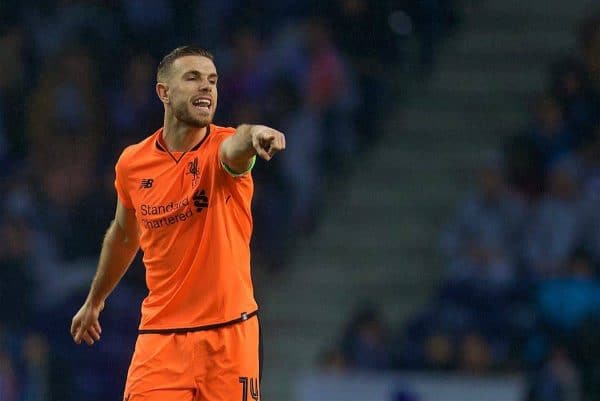 In terms of his role in the side, Henderson's job is an extremely demanding one as it is largely his responsibility to provide defensive cover in midfield—while also allowing the likes of Sadio Mane, Roberto Firmino and Mo Salah to play with such freedom.
Not only does Henderson read the game well and make important tackles and interceptions to break up play, he is also tasked with setting the tempo and keeping the ball moving quickly through the midfield.
This is a role he performs better than any other midfielder at the club, or for his country.
A common criticism levelled at Henderson is that he plays far too safe on the ball, only passing sideways or backwards rather than making incisive forward passes.
Yet you only have to watch him on a weekly basis for Liverpool — or for England against Tunisia — to see how this narrative doesn't hold up in reality.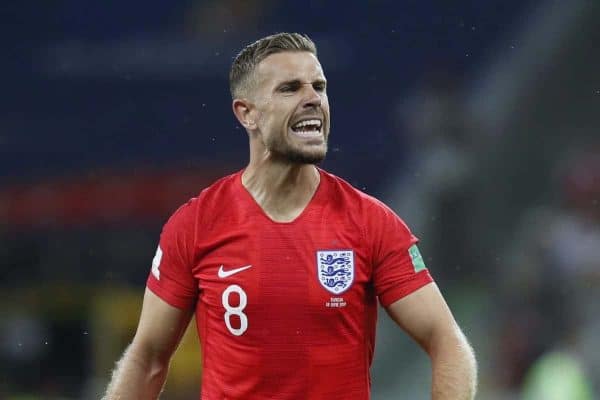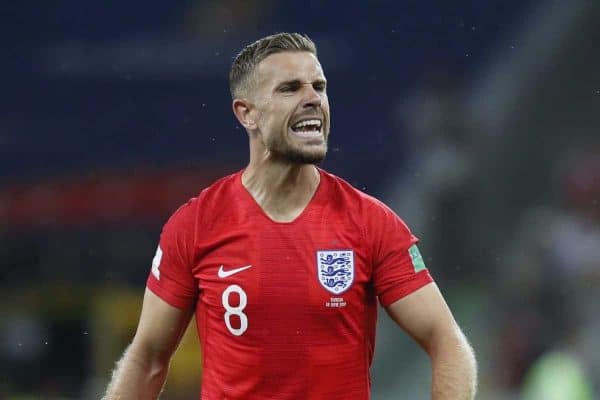 In England's opening World Cup game against Tunisia, Henderson was one of the standout performers for Gareth Southgate's side, selected to start as the lone holding midfielder in a 3-3-2-2 set-up.
He played several exceptional, pinpoint, long-range forward passes to create dangerous attacking situations, and had a superbly struck 25-yard volley well saved.
He also provided energy and drive from midfield throughout the game as England chased a late winner.
All midfielders pass sideways and backwards, as it's an inherent part of the job.
What Henderson does well is to wait for the right opportunity to play an ambitious forward ball, rather than aimlessly firing long passes at any opportunity in the vague hope of finding a team-mate.
The likes of Frank Lampard, Gary Neville and Rio Ferdinand all rightly praised Henderson's performance.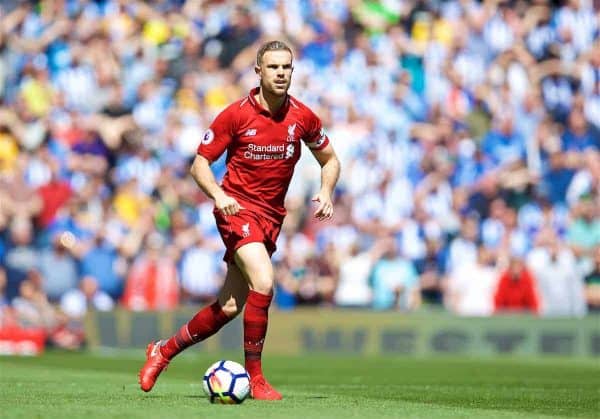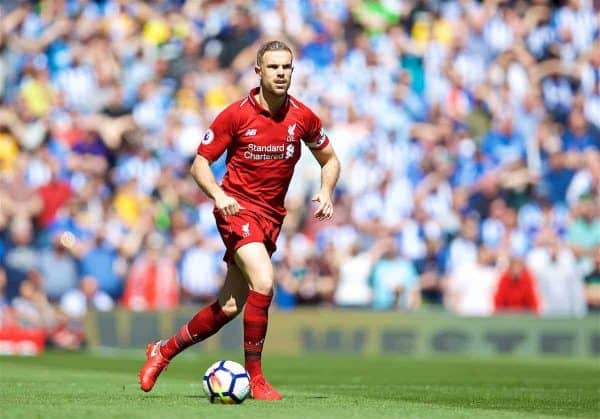 And yet, the bizarre phenomenon of England fans still criticising him was evident all over Twitter after the game, despite having fulfilled his role in the side to very good effect.
Henderson has surely cemented his place as England's first-choice midfielder for the remaining two groups games, ahead of Tottenham's Eric Dier.
He was able to replicate the kind of form he showed for Liverpool at the back end of last season on the international stage, where he has struggled to do so at times in the past.
Anfield future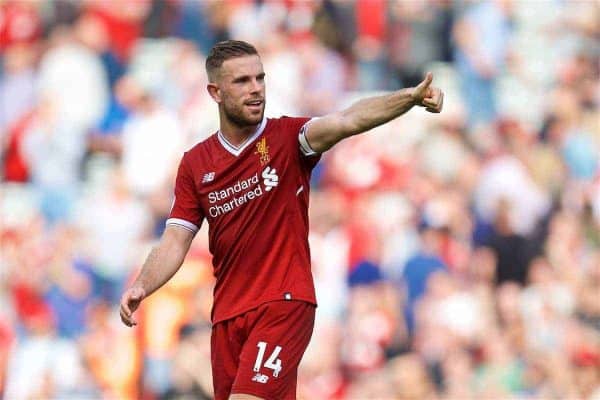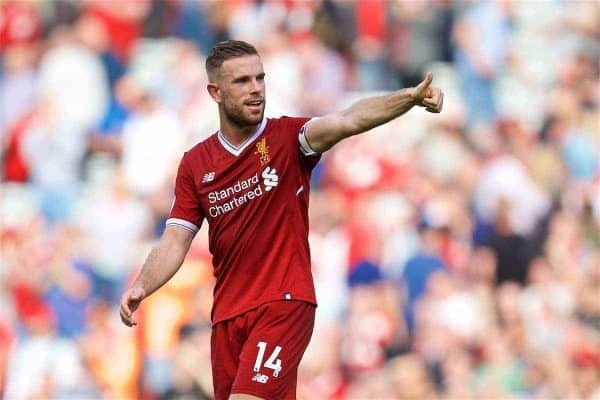 Regarding his future at Liverpool, Henderson faces greater competition for his starting spot than he has done in a long time following the arrival of Fabinho from Monaco; the Brazilian is widely regarded as one of the best specialist defensive midfielders in Europe.
While Henderson has performed the anchoring role admirably, it is not his most comfortable position and there have been occasions where his lack of natural defensive instincts have been exposed.
Such competition is only healthy, however, and those assuming that Fabinho's arrival will signal the end of Henderson's time as a regular starter at Liverpool might be in for a surprise.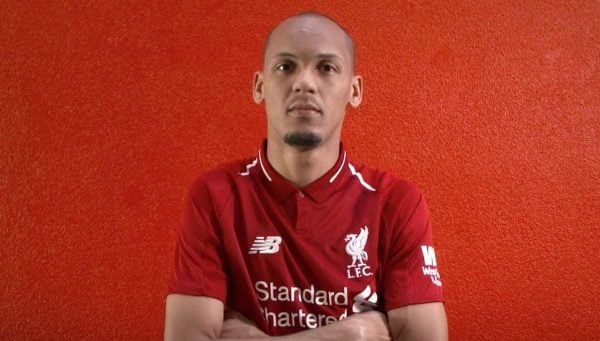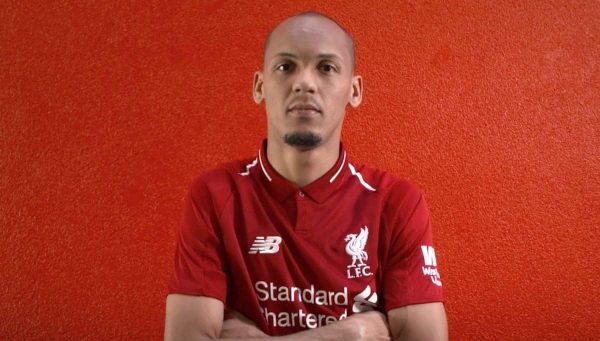 As Klopp demonstrated with Alex Oxlade-Chamberlain and Andy Robertson last season, he is not afraid to be patient with new signings and gradually ease them into the side, using time on the training ground to allow them to adapt to Liverpool's style of play and the role he demands from them.
Given the complexity of playing the No. 6 role in this Liverpool side, it's quite possible that Fabinho might also be slowly integrated rather than immediately thrown in as first-choice.
Meanwhile, Henderson's experience and know-how will still most likely see him start a significant number of games in that role.
As Fabinho settles in, Klopp will also have the option of potentially fielding Henderson in a more advanced role.
From there, he is able to break forward and use his energy and creativity in the final third, rather than operating in a more disciplined role at the base of the midfield.
The arrival of Naby Keita could also provide a very different type of option in that deeper role in certain games.
The £52 million signing from Leipzig—although more likely to play the majority of games further forward—has the ability to turn and dribble past opponents from deeper areas, in a way which isn't part of Henderson's game.
Tactical options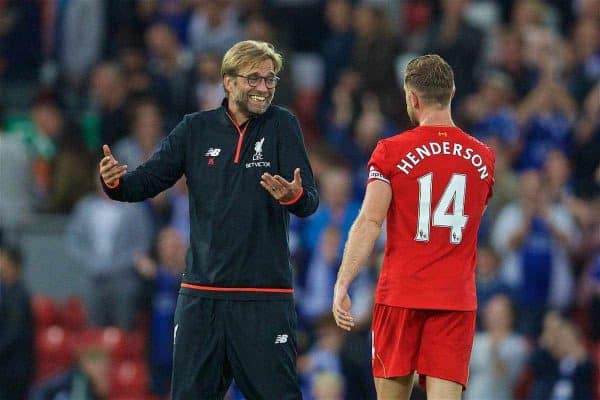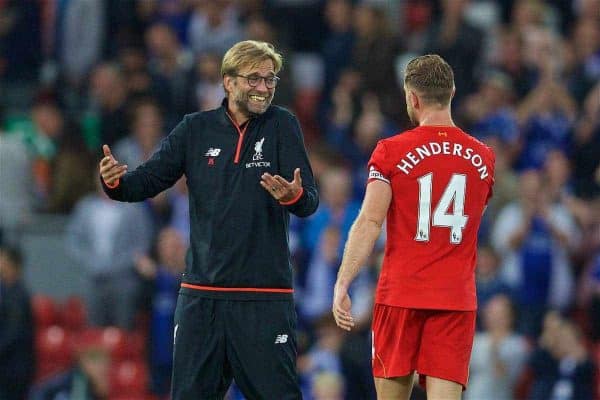 There might also be occasions where Klopp deploys more of a 4-2-3-1 shape, as he did against Brighton in the final game of last season, in which he may opt to use a double-pivot.
Henderson alongside Fabinho would provide enough defensive cover to allow the boss to effectively field four attackers in front of them.
There were occasions last season where the combination of Henderson, James Milner and Gini Wijnaldum lacked variety and guile as a unit, despite their excellent energy and work ethic.
Therefore, having the contrasting skillsets of Fabinho and Keita to complement the existing midfield options, will give Klopp much more scope to find the right balance of creativity and solidity in his midfield set up.
At the age of 28, Henderson is one of the few experienced figures in this youthful Liverpool squad, having played in multiple cup finals and international tournaments throughout his career.
From everything you hear from Klopp and the players, he's a highly influential and universally well-liked figure in and around Melwood—a role which supporters don't get to see first hand.
Henderson will remain an important part of Liverpool's squad for the foreseeable future.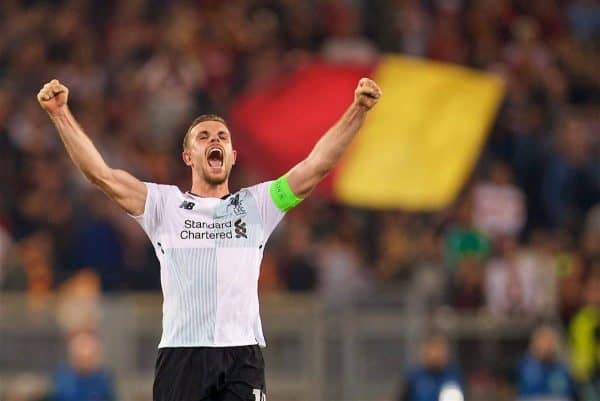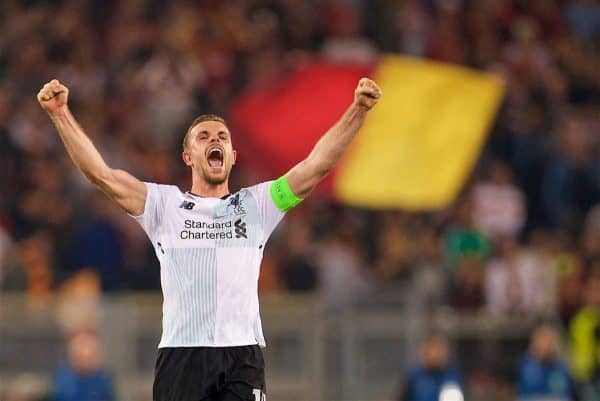 While in the long run, the likes of Fabinho and Keita will be expected to form an integral part of Liverpool's evolving midfield in seasons to come, there remains a very important role for Henderson next season, as these new arrivals bed in.
He can be expected to start a significant number of games as a result.
Both for club and country, he remains a player vastly underrated by many, but trusted and admired by team-mates, managers and experts working within the game.
Although not world class by any means—and not without his flaws—Henderson is a far better midfielder than he is often given credit for.
While his place in the Liverpool side will come under greater pressure than ever before with the arrivals of Fabinho and Keita, he will nonetheless continue to be an important figure for club and country for some time to come.