Liverpool were subject to a host of questionable refereeing decisions in 2017/18, so should Jurgen Klopp be putting more pressure on officials?
Football is a game defined by moments, many of which remain unpredictable. Indeed all the planning in the world cannot legislate for the wrong injury at the wrong time, a cruel bounce of the ball or a fateful slip.
The best managers in the world are recognised as such for a reason; the elite coaches seek to reduce the variables.
Player recruitment, endurance training, tactical drills, rotation and the like are all geared towards controlling your destiny. The more you dictate, the smaller the window for freak occurrences.
Still, however, unpredictability abounds, threatening to undermine title challenges like a Tory backbencher will a harassment bill.
Circumstances outside of Jurgen Klopp's control certainly played their part in Liverpool's 2017/18 campaign. An overcrowded treatment room just so to happened to coincide with the lead up to our biggest game in a decade, wherein our most important player was soon crocked. Of course.
But sit the German down and ask him to voice his biggest frustration of last term and the betting is he will lament officialdom—or rather a lack of it.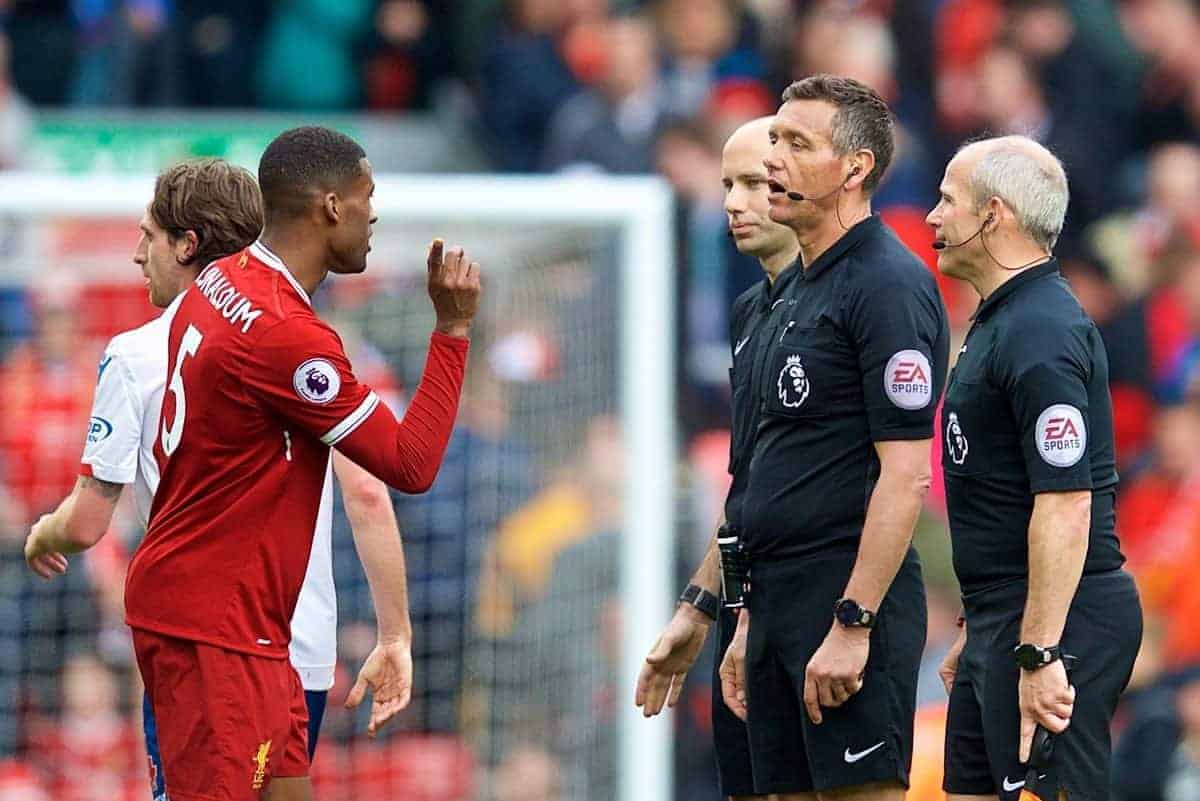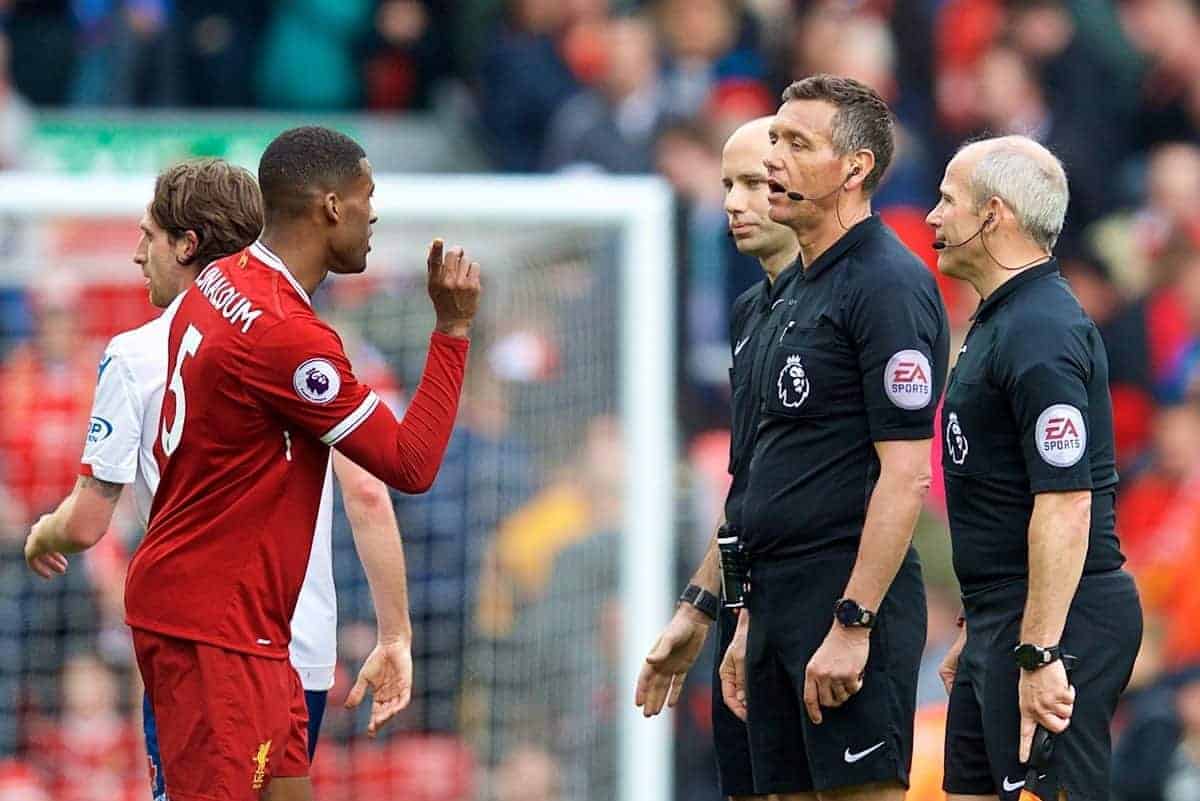 For while knockout football allows for the circumnavigation of bad refereeing a league season—with all its peaks and troughs—is less forgiving. Make no mistake; the old adage that decisions even themselves out is as big a myth as Paul Pogba. Almost, anyway.
Cry-arsing, though, is not the Liverpool way. As supporters we are all prone to criticising referees on occasion but accusing them of derailing an entire season is nonsensical. In fact, it is very Everton.
So while no one is foolish enough to think the occasional penalty would somehow have catapulted us into title contention there remains a sense of what could have been.
And while history is exactly that Klopp should be thinking of ways to reverse a debilitating trend heading into next season.
Doing so would first be to air a genuine list of grievances. Points of contention can be traced back to September and an ill-fated trip to the champions elect…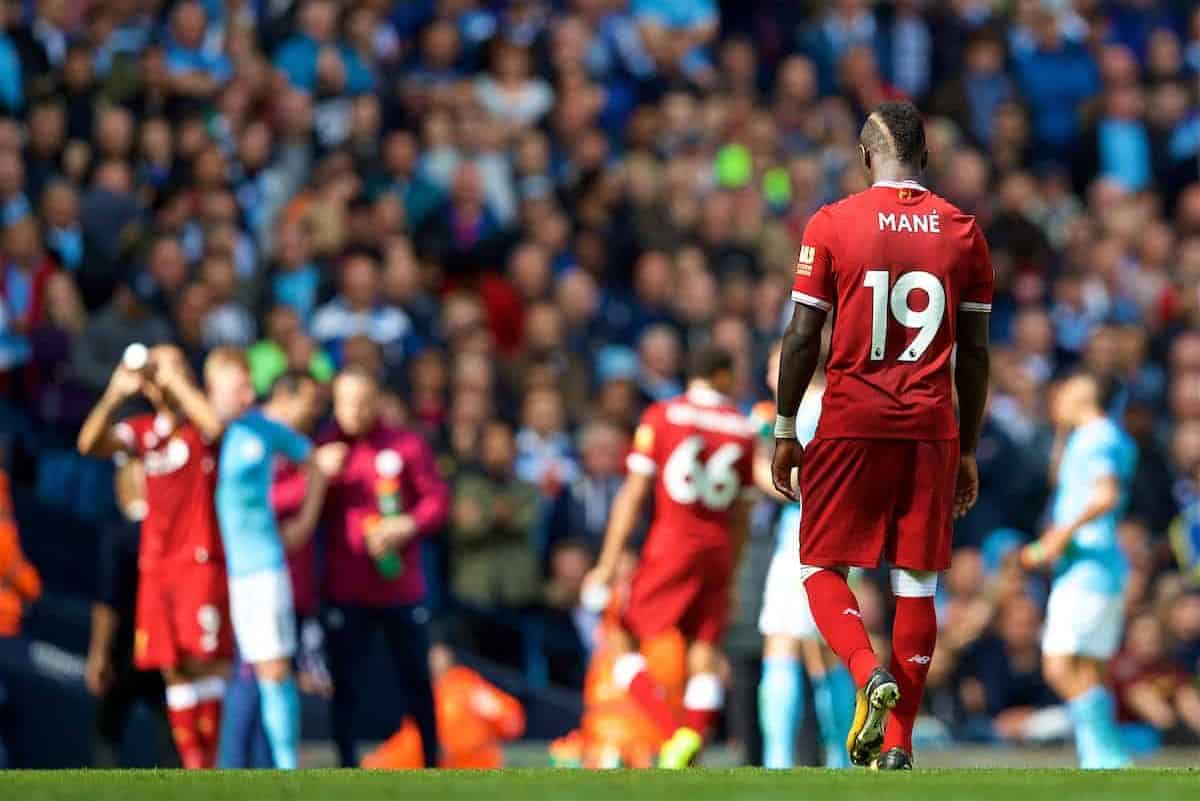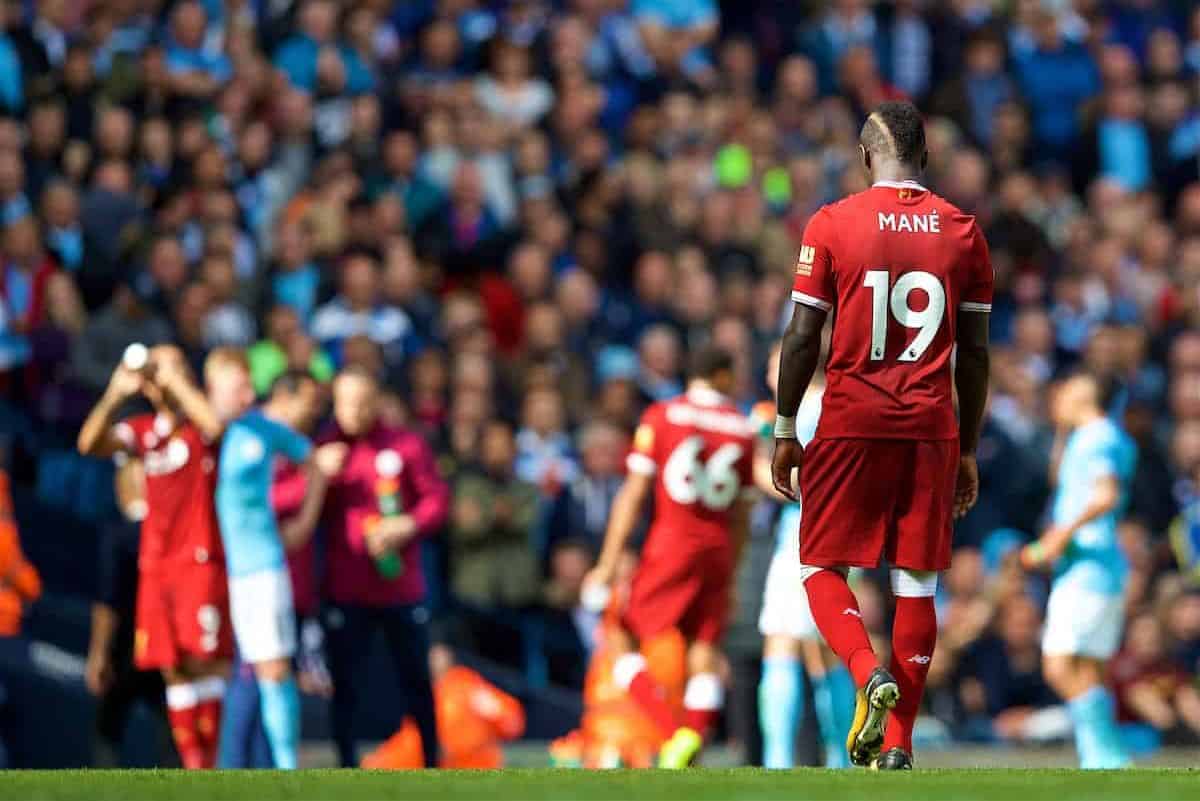 A now infamous collision between Sadio Mane and City 'keeper Ederson sparks debate to this day. Still no consensus can be found on a challenge that left the Brazilian stopper battered and Liverpool by extension well…battered.
Gary Neville of all people leapt to Mane's defence that day, decrying his 35th-minute dismissal.
"I don't think that is a red card," he reasoned. "His eyes are on the ball, it's ridiculous."
"He wins that challenge; the goal is there for him. It wasn't one of those where you think the goalkeeper is the favourite. He does well to get out, and his foot is high. Jon Moss you have just ruined the game. He didn't need to give a red card."
Neville went on to predict similar incidents would go unpunished and sure enough—that same weekend—Newcastle's Matt Ritchie escaped the walk of shame for an almost identical foul on Swansea's Alfie Mawson. Consistency and that.
Harking back to the importance of moments, City's trouncing of Liverpool—aided in no small part by Mane's red—followed up a 99th-minute winner against Bournemouth. These two successes spawned 19 consecutive league victories.
By contrast, Liverpool would win just one of their next five Premier League fixtures. A sliding doors moment if ever there was one.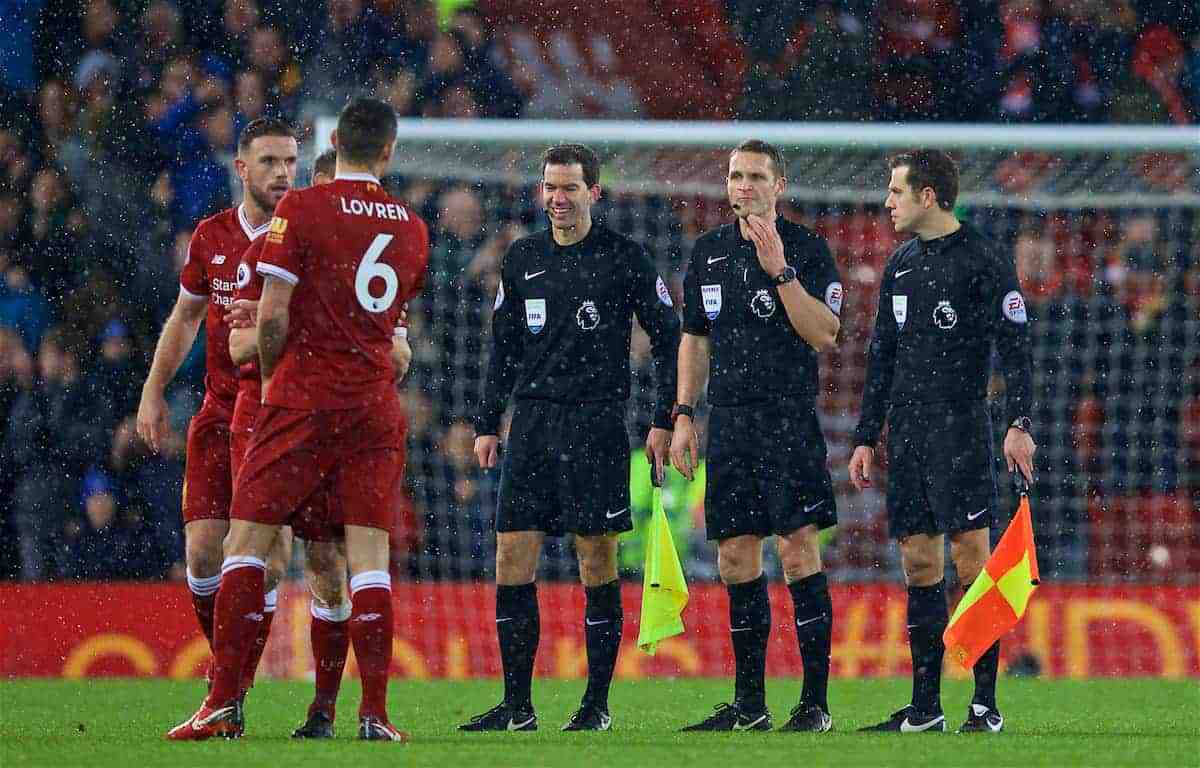 Fast-forward three months and our form had improved dramatically, to the extent where we were successfully negotiating a tough festive period.
Eighteen points from a possible 24 however could have looked better still were it not for Craig Pawson presenting Everton with a Christmas gift of his own.
Toffees substitute Dominic Calvert-Lewin needed no invitation to imitate Tom Daly when Dejan Lovren dared to get touch tight in Merseyside Derby. Replays showed contact was minimal bordering on non-existent yet Pawson appeared strangely adamant.
Wayne Rooney ensured the harshest of calls would leave a bitter aftertaste when levelling from the spot.
Later that month Dominic Solanke was denied a first goal in senior club football when Paul Tierney disallowed his late effort at home to West Brom.
Replays did indicate use of the hand but the striker later insisted the official bowed to player pressure, having initially approved the strike.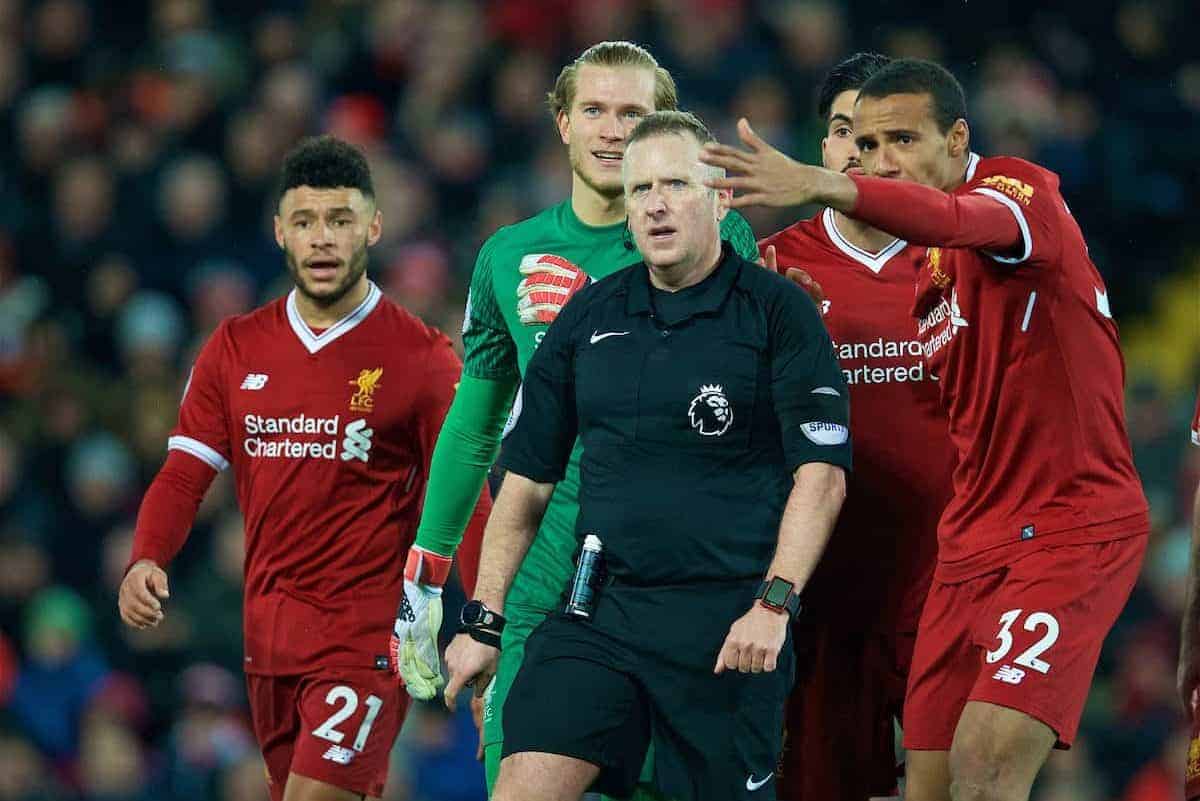 By this time you could be forgiven for thinking Liverpool were not getting the rub of the green.
Those suspicions were amplified when Spurs escaped Anfield with a point in early February. Having twice led the Reds were pegged back in stoppage time when Moss (yep, him again) ruled Virgil van Dijk to have floored Eric Lemela and thus awarded Tottenham a second penalty in 10 mad minutes.
Replays not only indicated the Dutchman had pulled his leg back as opposed to volleying his opponent but that Moss himself was unsighted come uncertain come unqualified.
Having originally allowed play to continue he then consulted linesman Eddie Smart, who was waving his flag furiously in a manner those eager to make a name for themselves tend to.
Cameras picked up audio of Moss admitting he was none the wiser before asking fourth official Martin Atkinson what replays indicated in a wholly unlawful move.
Remember VAR was not present in the Premier League at this time and will not be for at least another season.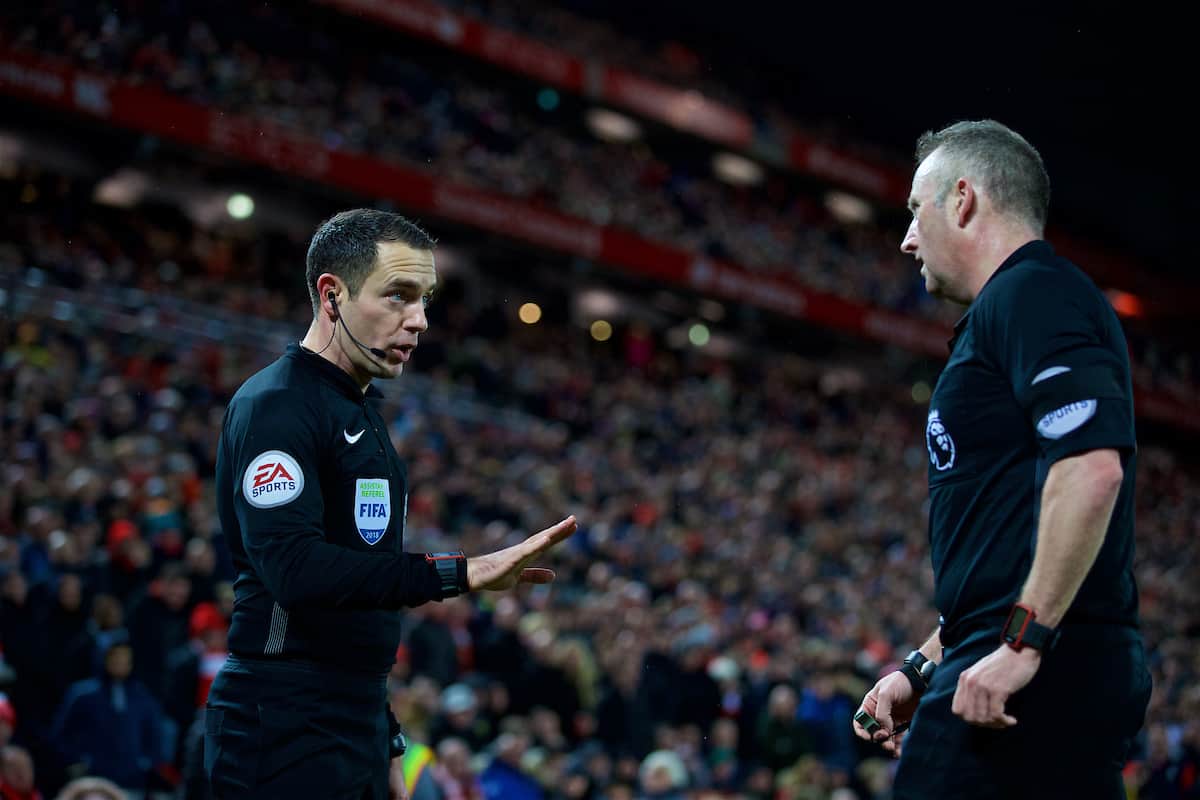 As if to underline Liverpool's misfortune clips emerged of Smart seemingly celebrating the decision by way of a fist pump.
The Professional Game Match Officials Limited (PGMOL) later admitted Moss was 'misguided' to have sought help from television, of little use to Liverpool then.
He was perhaps similarly misguided when awarding the Londoners their earlier penalty, this as Harry Kane benefitted from a Lovren mis-kick to round Lorius Karius.
In a move out of keeping with his poster boy image Kane appeared to hurdle the goalkeeper's challenge before assuming the hard-done-by position.
Predictably little was made of this act of simulation. He is English after all.
Had Liverpool held out against Spurs they would have finished third as opposed to fourth and pocketed an extra £2 million in prize money. Small change perhaps but John W. Henry's penchant for frugality must have left him reeling.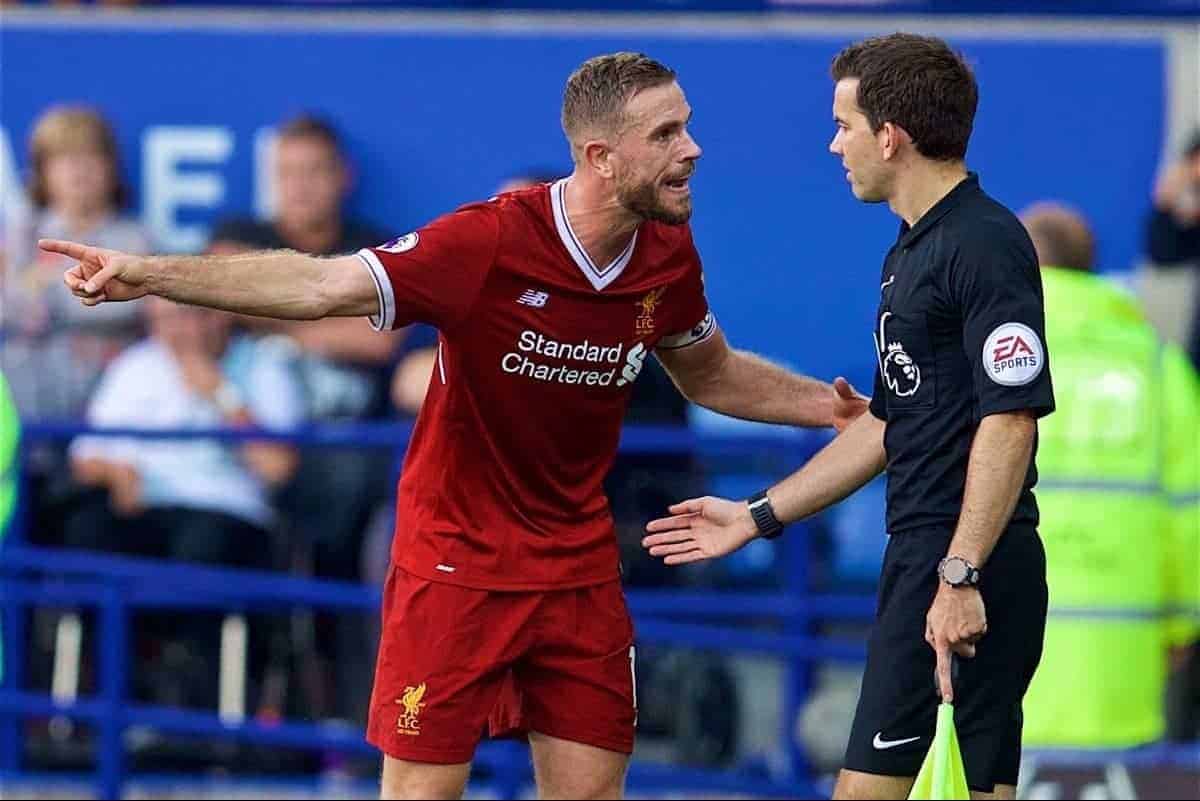 Regrettably the standard of referring would plummet further still. Last man Jamaal Lascelles hauled Mo Salah down in the dying embers of a 2-0 victory over Newcastle in March, an incident foolishly laughed off due to points being in the bag.
Graham Scott was the man with next to no idea that day.
Mane was again the centre of attention away at Crystal Palace when felled in the box by James McArthur.
Former Liverpool man Danny Murphy inexplicably labelled the Senegalese playmaker a 'cheat', an opinion made all the stranger given replays showed definite contact. Neil Swarbrick missed that one.
Into April and Bournemouth defender Nathan Ake fared better than most against Salah but still escaped the concession of a penalty when grasping at the Egyptian's shoulder late on. Chris Kavanagh maintained standards that day.
The Premier League's top scorer meanwhile was betrayed again at the Hawthorns as compatriot Ahmed Hegazi flung a not-so-careless elbow in his direction.
The fact Stuart Atwell branded no card was not wholly surprising given the same player had earlier punched Danny Ings without intervention.
In an eventful game Ings was also denied a clear penalty when Craig Dawson body checked his run into the box early on.
A somewhat familiar pattern had definitely emerged.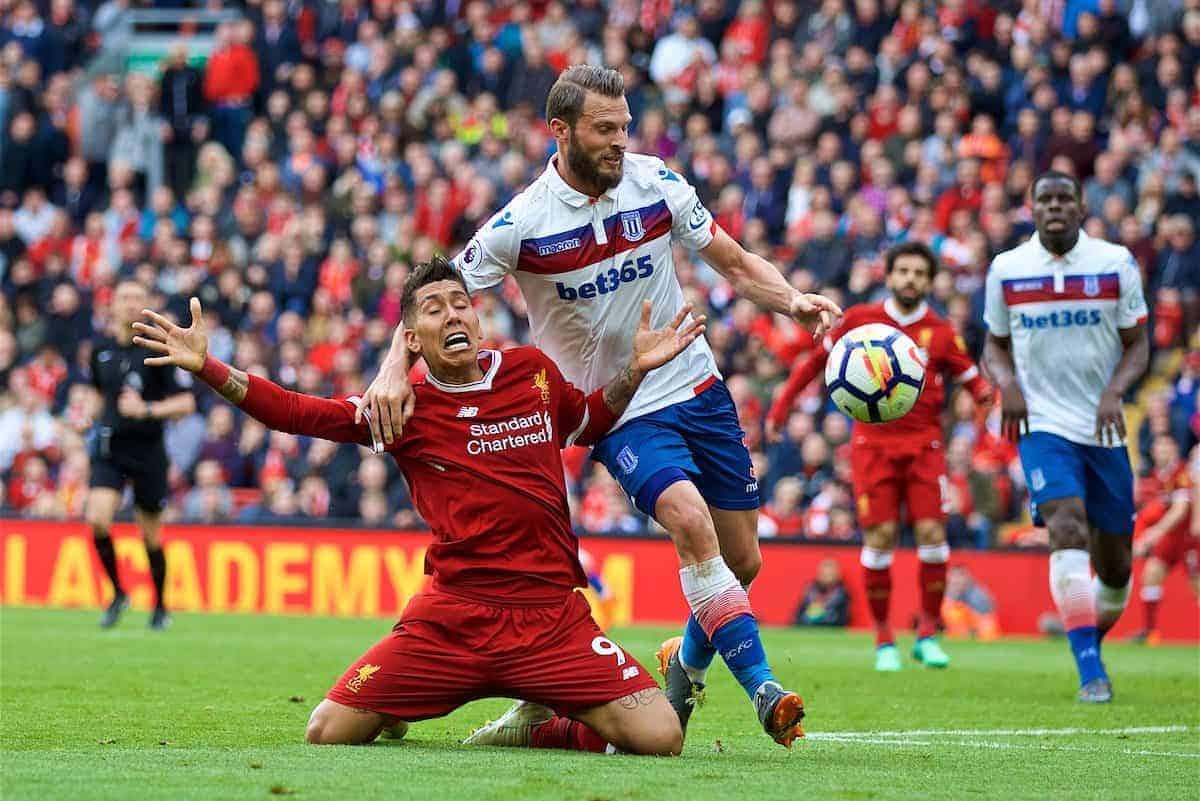 Then came Stoke, with Liverpool on their last legs in an embattled attempt to crawl over the line and secure Champions League football. A poor result could so easily have turned into a great one had Andre Marriner awarded one of the most blatant penalties of the season.
Eric Pieters handled a late Gini Wijnaldum cross destined for Roberto Firmino to not only deny the Reds victory but gift the bitter Paul Lambert something to crow about afterwards. Talk about a double injustice.
Top four was eventually secured on the final day against Brighton but not before Kevin Friend added his name to the long list of shocking performers at Anfield this term.
Before Salah eventually broke the deadlock Friend waved away two legitimate penalty appeals, beginning when Seagulls midfielder Anthony Knockaert handled a Lovren cross.
Soon after Salah tip-toed into the box only to be upended by the clumsiest of Shane Duffy challenges. Friend remained unmoved and was clearly in no mood to award Liverpool what would have been just a second home Premier League penalty.
And that in itself is a point worth emphasising: 19 games, one penalty.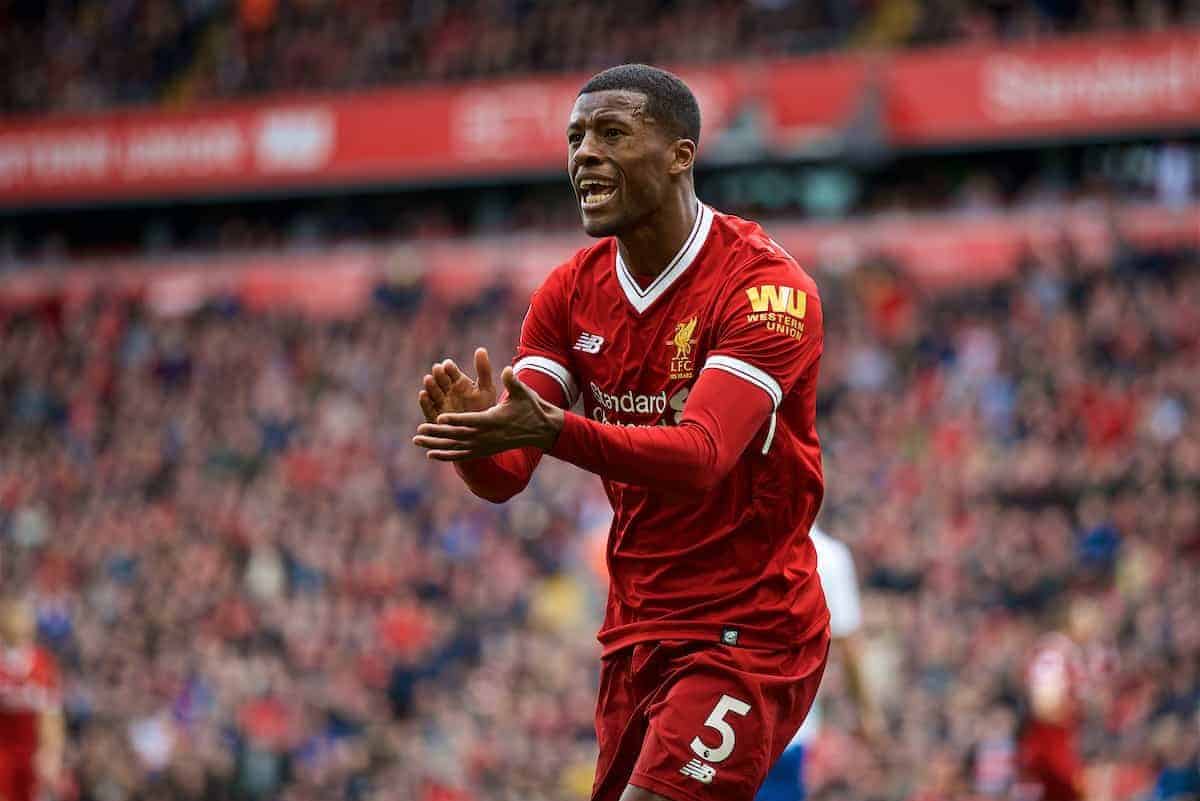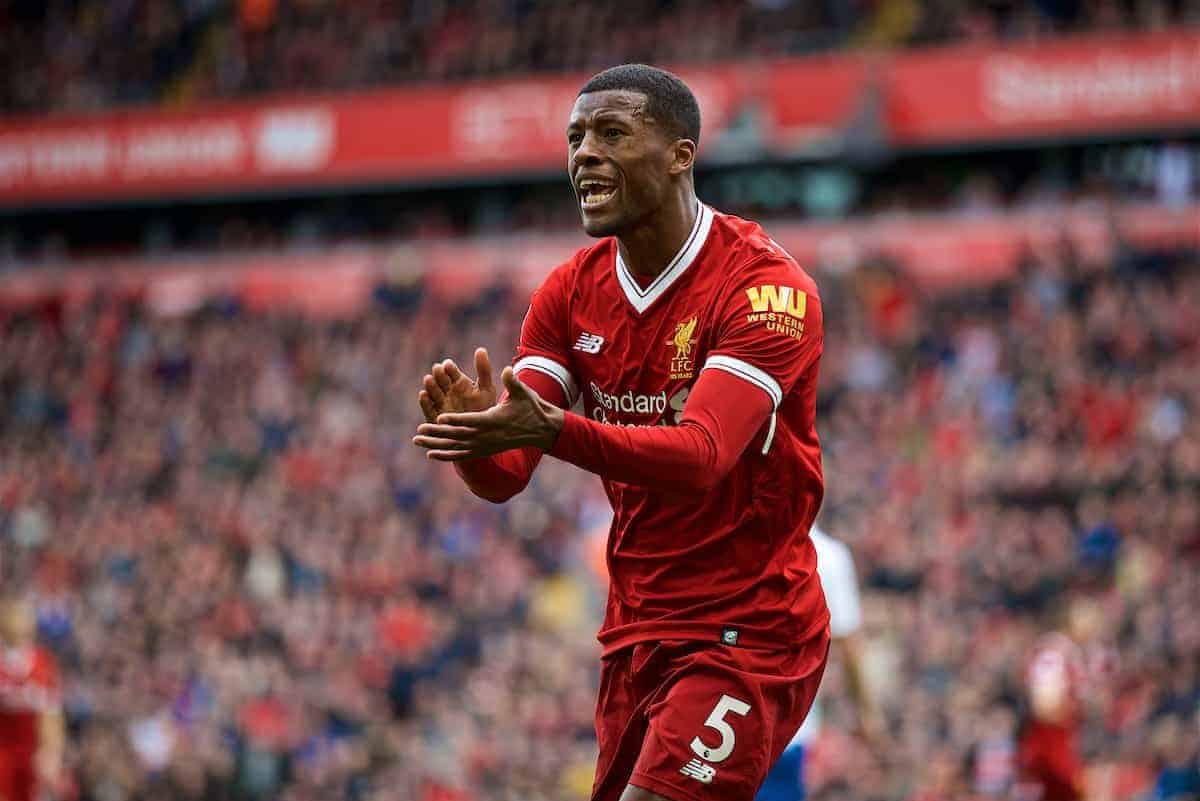 Consider this: only two sides had more possession in the opposition third than Liverpool last season, while only one side had more shots from inside the six-yard box.
Similarly just one team made more key passes and four sides attempted more dribbles. In short, Liverpool attack the opposition penalty area an awful lot.
Their very presence in those positions, never mind the pace and intricacy with which we play, dictates more than one penalty should surely have been awarded at Anfield.
So is a conspiracy at play? Probably not but in a definite shift referees are now acutely aware of public perception with none wanting to be seen as caving to the big boys.
Whereas Anfield may once have influenced decisions in our favour nowadays officials seemingly relish the chance to wave away protestations.
Why? Because denying Liverpool a penalty at The Kop End takes courage, apparently. The rights and wrongs of said decision pale into insignificance while such misplaced back-slapping ensues.
In a worrying trend Premier League referees are being praised for single-mindedness above competency.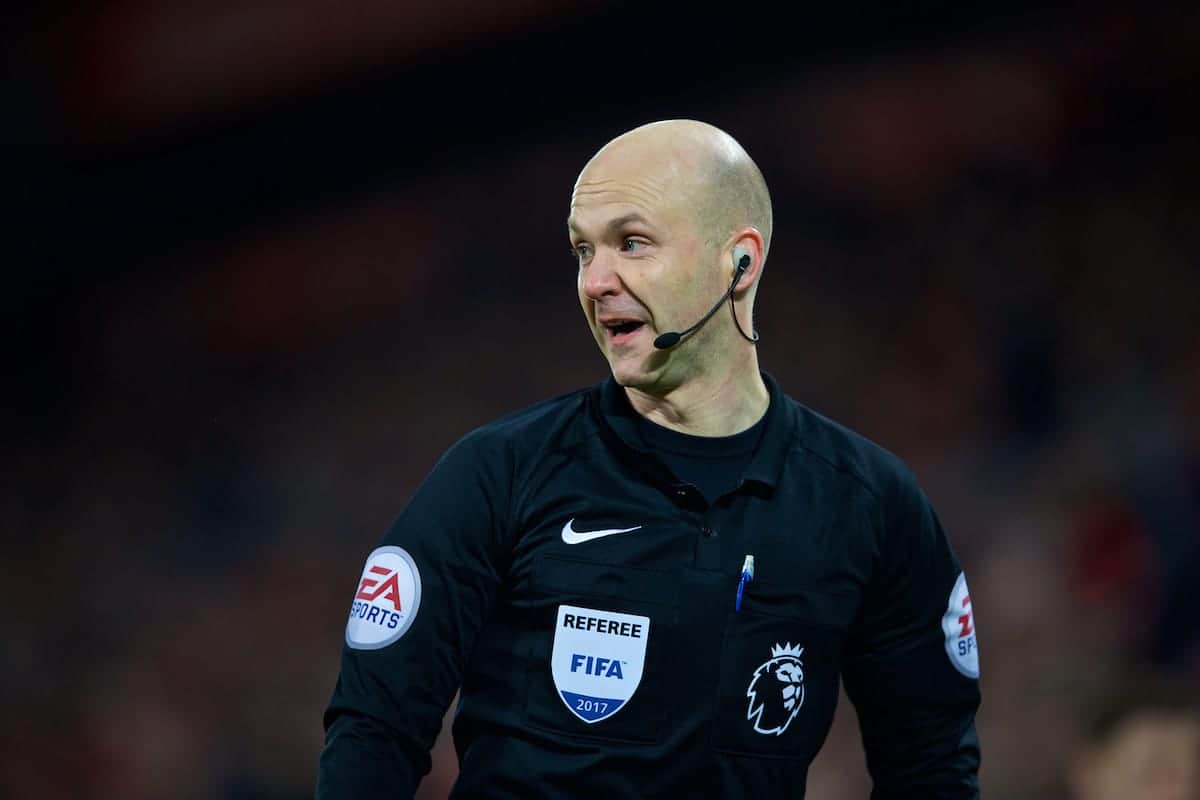 An about turn may actually have resulted in Anfield becoming a hindrance as much as a help.
Stand up to the Kop and make a name for yourself, at the very least Dermot Gallagher will back your judgement on BT Sport…
Moving forward Klopp knows that to close the gap on City he will need to enhance his squad and eke yet more out of them but even that may not be enough.
As such he would be wise to crank up the pressure on the Premier League before proceedings even get underway, seeking a different kind of advantage.
Reel off some of the above examples, highlight how utterly pathetic the standard of refereeing has been since he arrived and maybe even float the idea of a conspiracy against his beloved Reds.
He does not need to believe it, of course, but planting seeds may just give us more of an edge when it comes to those 50/50 calls and the variables he cannot control.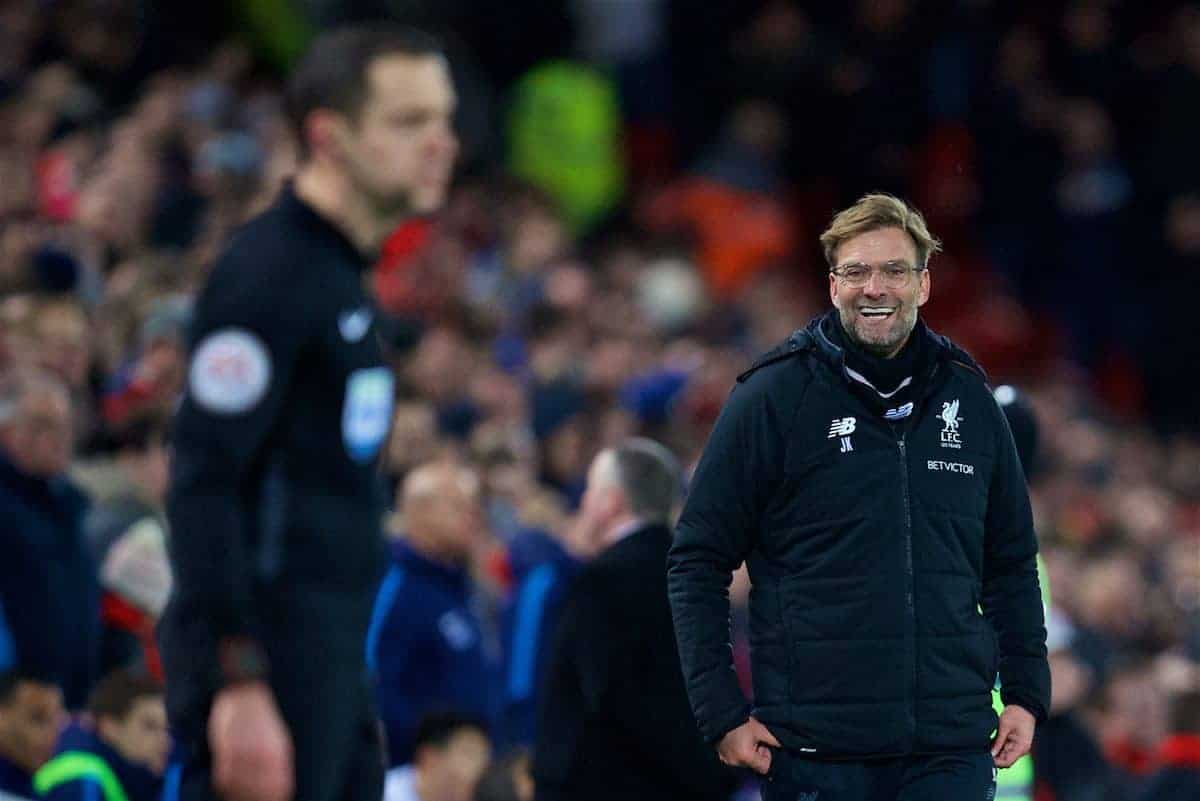 Make our paranoia back-page news if need be, just get people talking and referees dwelling. Let them know in no uncertain terms they will have a raging, 6'2″ German on their hands if this chaos continues.
Granted this may be a venture into dark arts territory, a field Messrs Ferguson and Mourinho so mastered but Klopp may feel uncomfortable with.
Nevertheless it is generally accepted intimidation has won that pair their fair share of points down the years, with nice guys all too often finishing last.
Asking for protection for his players will win Jurgen no friends in the league or media alike but prizes and not popularity should be the focus.
Recent history suggests they are becoming harder than ever to win, without referees complicating matters.