Sadio Mane and Mo Salah made impressive returns to action as Liverpool came from behind to beat Man City in New Jersey.
Man City 1-2 Liverpool
MetLife Stadium, East Rutherford
Pre-Season Friendly (6)
Goals: Sane (57′), Salah (62′), Mane pen (90′)
---
Alex Malone in New Jersey
Not quite the same as Charlotte
While the stadium in Charlotte was minutes away from the pubs and clubs, The Met Life stadium in New Jersey was exactly the opposite. Out in the middle of nowhere among sprawling freeways, it was accessible mainly by car, bus or train.
It took many by surprise just how difficult it was to get there. Add in a couple of downpours and New York rush hour traffic for good measure and it was all a bit of a zoo trying to get there.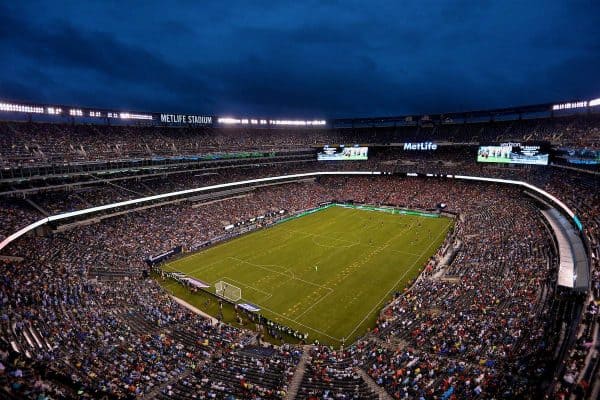 The game started with masses of fans still trying to get to the stadium. Whole areas of the Liverpool section were unoccupied. It looked initially like a very disappointing turnout, but it turned out to be anything but. Within 25 minutes of kick off the entire Liverpool end was full.
You will no doubt have seen it on TV, but for a world-class stadium hosting two world-class football teams, the pitch was nothing short of disgraceful. How on earth those in charge dropped the ball so badly, I do not know. Apparently, they laid the turf just yesterday. A cow-patch of a pitch combined with torrential downpours could have ended up in injury disaster. Thankfully, everyone came through unscathed.
The Liverpool fans do it again
Well, I said they were everywhere in Charlotte… here, they were literally everywhere. I met up with an old mate after seven years in a New Jersey pub three hours before the game. This wasn't anywhere near the city, or the stadium. It was well off the beaten track. But still, I walked in, and there they were; that mass of Red shirts, with not a single light blue one in sight.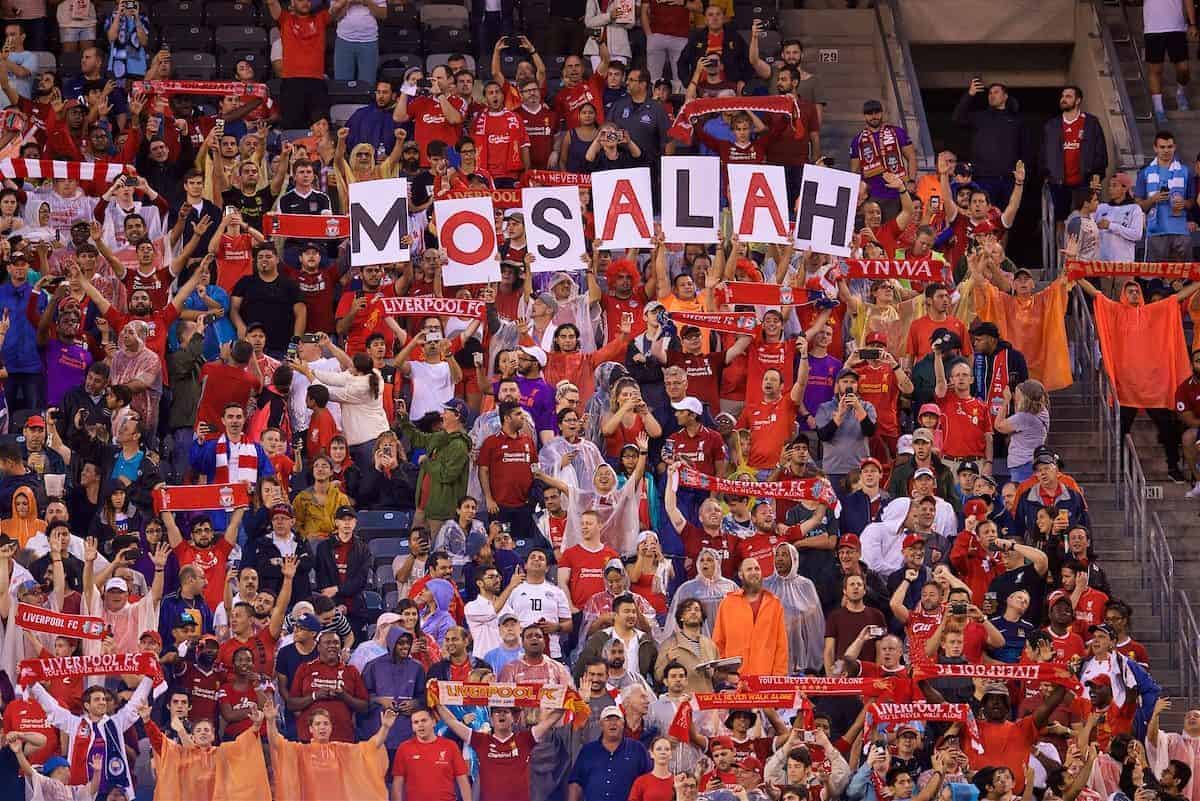 New York City, the evening before, there were masses and masses of Liverpool fans once again. What was apparent was just how many fans had flown across from the UK for this game. I met Scottish and Irish lads, as well as many from across all parts of England (it never ceases to amaze me just how well we are supported throughout England)… and of course, a boat load of Scousers!
In the stadium the Liverpool fans overwhelmed the City fans in terms of numbers. Against Dortmund, I would estimate 5:1, Liverpool to Dortmund fans. Today I would estimate 10:1 That is really quite incredible given City's recent success. The crowd was announced s 56,000. I would estimate it was made up of 50,000 Reds, and 6,000 Citizens.
A game of two halves
The first half was about as much of a stalemate as any game can be. It was rainy, wet, a late kick off, and they were playing on a farmer's field. How do you get motivated for that? Neither team looked on their game, the play was slow, ponderous and littered with mistakes.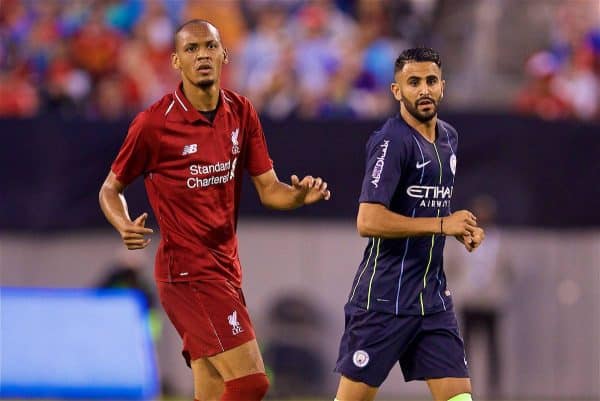 Klopp went with a rather unusual front three of Sturridge, Lallana and Jones. While none played particularly badly – and Jones was actually the pick of the bunch – they just didn't click as an attacking force. But then not much clicked for either team in that 45.
Halftime stats showed every measure; shots, shots on target, possession, corners, fouls etc. to be dead even. The game needed inspiration.
The second half was in complete contrast. Liverpool took the initiative from the get-go, with Sadio Mane shining like a beacon. He was irresistible.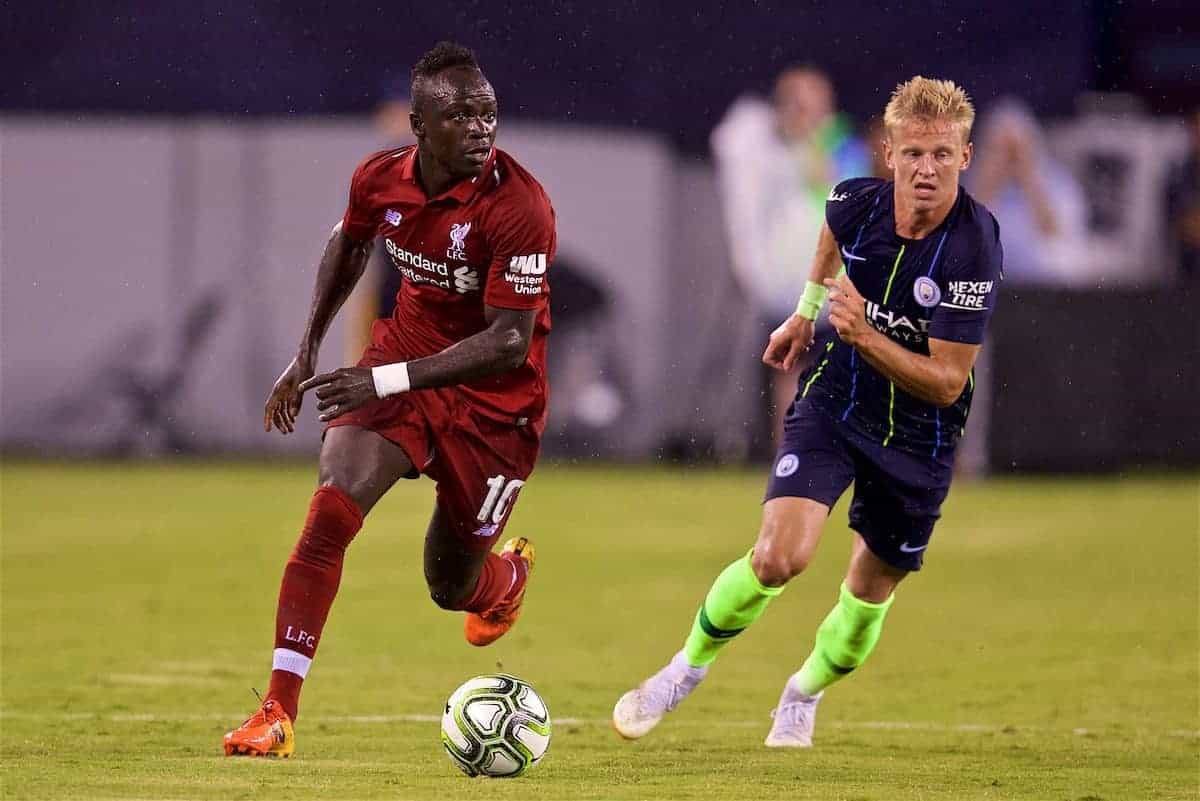 Each time he received the ball, his pace frightened the City back line to death. His movement had the added benefit of freeing up space for Dominic Solanke, who enjoyed a much-improved display. He needs to add goals though, and quickly.
But then, out of the blue, Leroy Sane broke free, beat Van Dijk a little too easily for pace, and slotted in to the far corner. As against Dortmund, just when we were controlling the game and dominating possession, the opposition score with a sucker punch.
Enter the Egyptian King
Ok, we all know he's special; but my word was this seriously special! 52 seconds after entering the fray, he bullets a header past the City keeper. Then he bamboozles a few defenders, runs riot down the right wing, then hits the bar. All in a matter of minutes. Chaos reigned in that City defence who really didn't know what had hit them.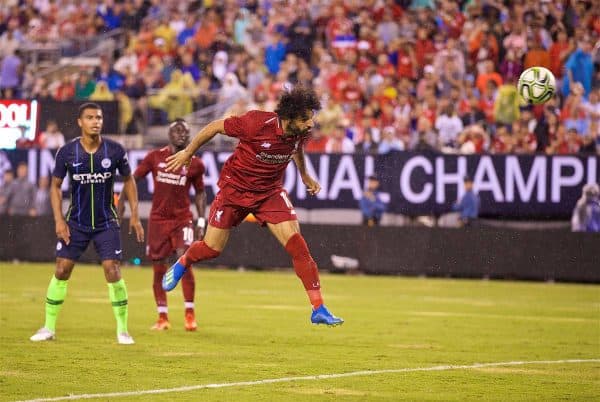 It was very noticeable – not for the first time, and it won't be the last – that each of the City defenders were terrified to mark him. I'm not sure who was assigned to Salah, but whoever it was failed in his duties as he took them to the cleaners. Two, three defenders were often close to him, but none dare go near him. Such is his aura now that he gets in to defenders heads.
Messi does that, and Mo Salah – I will say it without hesitation – is Messi-good.
Buoyed by the presence of Mo and Sadio, the entire team was sensational in the final 30 minutes of the second half. Pep Guardiola said as much in his press conference, admitting that Liverpool should have scored another two or three goals even before the penalty.
From five shots each at halftime, the final count was Liverpool 17 to Man City's 8, such was our domination in that second period.
The Young Guns
There were an awful lot of the young 'uns out there today, for both sides. And boy did the Liverpool kids do themselves proud. Not one of them looked out of place in this team and it would be churlish to criticise any of them. They were, to a man, excellent.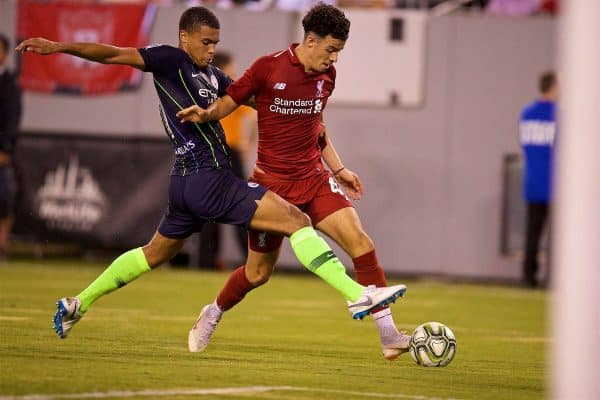 Nathaniel Philips was particularly impressive in defence; Curtis Jones excelled (again) for an hour of the game. Rafa Camacho had the honour of a pinpoint assist for Salah's equaliser. The others; Woodburn, Grujic, Chirivella and Kelleher in goal, all played their part in a thoroughly convincing second-half performance.
Joe Gomez
In my previous article I suggested that maybe Joe Gomez had plateaued. Today, he went a long way to suggest that he hasn't. He was excellent alongside Van Dijk, looking calm, composed and mature in the role.
I was able to ask Klopp in the press conference if Gomez was now considered more of a centre-back than a right back, especially with Joel Matip injured again. His response was that Joe can play either role and might just as easily play at right back in the next game.
But with Nathaniel Clyne back and Trent's superb form over the latter half of last season, perhaps it's time for Joe to prove he's the centre back we've all long hoped he could be; maybe even the long-term partner to Van Dijk? With Lovren a late arrival from the World Cup and Matip out injured, the time is his to shine.
Next, it's on to Detroit… yeah, it's that lot again.
Liverpool: Karius (Kelleher 45); Clyne (Camacho 62), Gomez (Klavan 45), Van Dijk (Phillips 62), Robertson (Moreno 62); Fabinho (Chirivella 62), Wijnaldum (Woodburn 45), Milner (Grujic 62); Lallana (Mane 45), Jones (Salah 62), Sturridge (Solanke 45).