Liverpool got their 2018/19 season up and running with a dominant and convincing 4-0 win over West Ham at Anfield on Sunday.
Liverpool 4-0 West Ham
Goals: Salah 19′, Mane 45′, 52′, Sturridge 87′
Premier League, Anfield
August 12, 2018
---
Naby's Brilliant Debut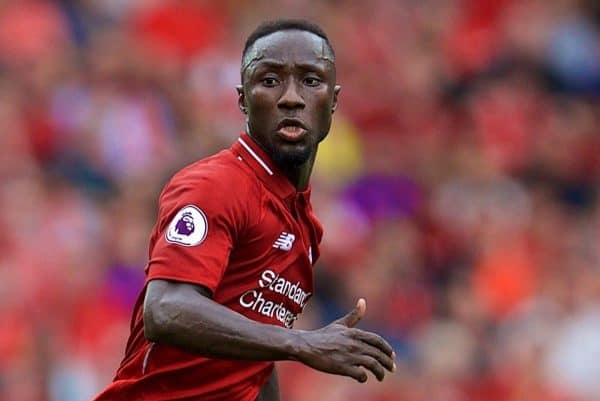 Jurgen Klopp gave competitive debuts to Alisson and Naby Keita from the start, and while the Reds' new keeper had little to do, it was a fantastic showing from the former RB Leipzig midfielder.
Keita was quickly on the ball in good areas, both passing simply and looking to open up the Hammers' back line when possible, and he immediately showed the capacity to link with the Reds' all-important attacking players.
One surge forward from between the lines led to the Reds' opener, after a finely weighted pass out to Andy Robertson, while his first real dribble in tight spaces almost led to another scoring chance.
As the game went on Keita shifted left side of the attack and was constantly able to drift in, find spaces and combine with his fellow attackers.
It bodes enormously well for the season ahead that he's already comfortable in the shirt, on the same wavelength as his team-mates and playing a key role on the ball.
And there's much more to come.
Mane Ready to Step It Up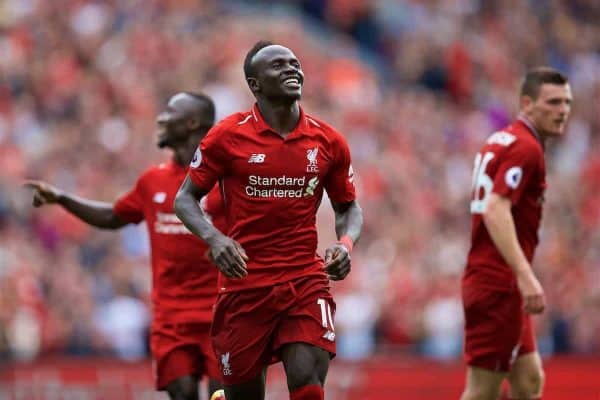 Understandably, much of the pre-season chatter was of whether Mo Salah could continue with similar form to last year—but Sadio Mane can take a big step forward this term.
The Senegalese attacker has matured, is showing better consistency than a couple of years ago and is able to show far more to his game now.
Against West Ham he was often the would-be 'second-assist' player, making the intelligent pass which led to another, quick-fire pass or cross for a shot.
But he also got himself into the box on several occasions, scoring twice—albeit once from an offside location—and going close another couple of times.
Mane looks confident, assured of his importance and completely sharp in and around the box, and can be one of the very most important players in Klopp's side this term.
Superb First Midfield Audition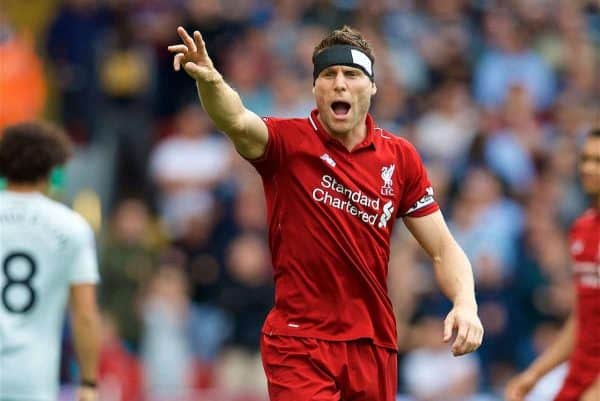 James Milner got the Man of the Match award on Sky Sports, while Keita was This Is Anfield's pick.
Gini Wijnaldum, alongside them, was similarly impressive and might also have been in the running on another day.
The Reds' attack is frightening, as we know, but the midfield have started in tremendous fashion and the importance of those in the second line cannot be understated.
They keep the gaps closed between defensive and attacking lines, they shut down the opposition and they make the quick transitions possible, and with more competition for places than any other season under Klopp, every game needs big performances.
It should mean that each player, in turn, knows they must be on top of their game to keep their place, while the others watching on—Adam Lallana and Fabinho unused, Jordan Henderson on as sub—know what they must match when they come on.
The centre of the park is where many games are won and lost, and at Anfield on Sunday the Reds won this one about 30 seconds in.
Gomez in the Centre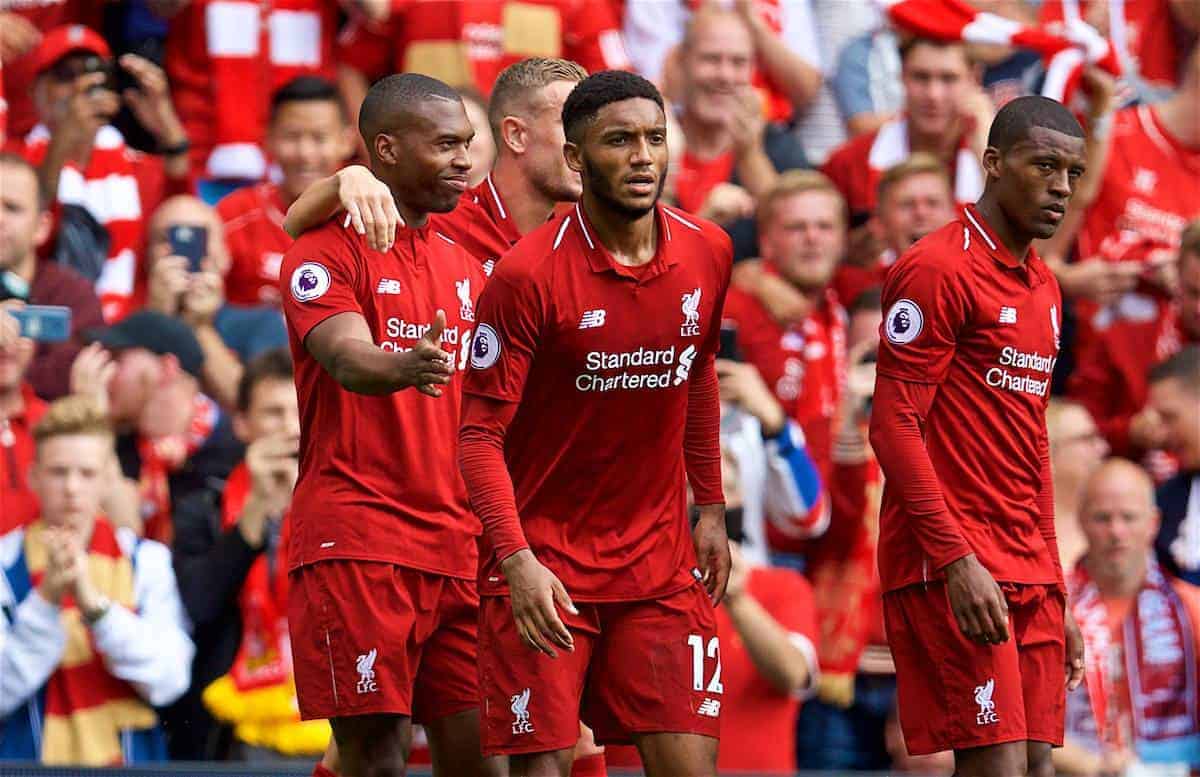 Many fans have been waiting to see Joe Gomez play centre-back for a long time, and here on the opening day they got their wish, partnering Virgil van Dijk and thus making his first appearance in his favoured role in the Premier League.
The Englishman coped very well with the occasion; despite the Reds being well on top, he had a tough opponent in Marko Arnautovic and largely kept the Austrian to a peripheral role.
Once he was caught by a long ball over the top, but even then his recovery pace shut down any clear opportunity for the West Ham man. His pace also allowed for the defensive line to be higher than when, say, Dejan Lovren alongside is alongside Van Dijk.
Elsewhere, the only issue Gomez had was a few fouls around the halfway line, trying to be too aggressive in unnecessary situations—the type of free-kick, in fact, which Lovren tends to give away.
On the ball he was solid and impressive though, pushing into midfield more than once to open up passing lanes, and he covered well when required in the channels.
A positive performance and should keep his place.
Off and Running and a Chance to Recover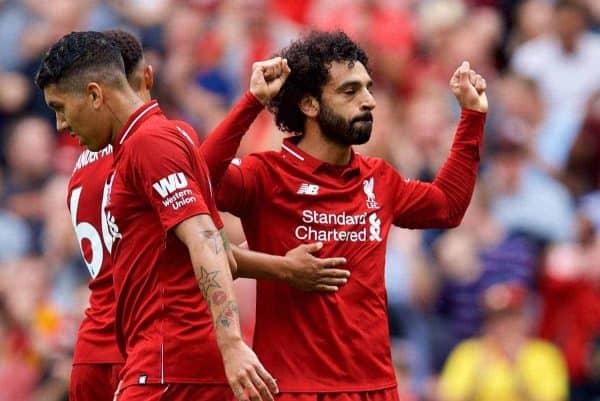 Four goals, three points, top of the table. Klopp couldn't have asked for much more from the opening day and Liverpool really do look ready for the season ahead.
Hitting the ground running, even after a good pre-season, is not always an easy step to take, but the Reds looked incredibly sharp and forward-thinking on Sunday.
Bigger tests will lie ahead but these seventh-to-15th teams must be put away with the minimum of fuss all season long, and this was a good start indeed.
Forwards on the scoresheet, returning players getting minutes and now nine days' training time to prepare for the next match: 2018/19 has begun in extremely satisfying fashion for the Reds.