While there have been suggestions that Mohamed Salah cannot replicate his remarkable form from 2017/18, the signs are already there that he will.
Ahead of a new Premier League campaign, the same doubts always crop up—and they're always pretty similar, too.
Is the squad strong enough to compete for the title? Should the club have signed X player before he went to X club? Where does X player fit into the starting XI?
However, this year it was a little different with Liverpool fans having something else to contemplate: could Salah repeat his goalscoring exploits from last season?
It's a question used by opposition fans to delegitimise any claims that the Reds might be challengers for the title in 2018/19, despite the fact the club have addressed clear and obvious weaknesses within their playing staff.
It's a query that has dominated the thoughts of many during pre-season.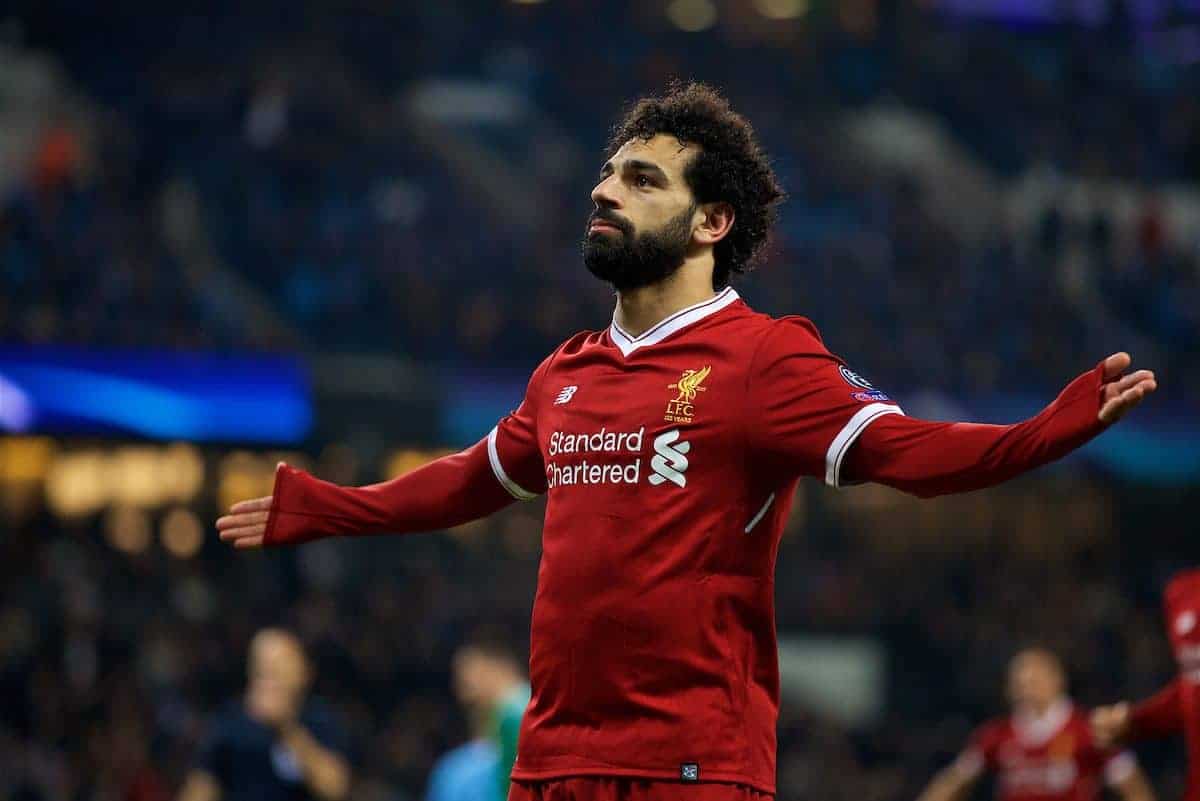 It's only natural. After all, the Egyptian King netted 44 times in all competitions during his debut campaign on Merseyside. He fired them to a Champions League final and played a huge part in the Reds securing a top-four finish for a second successive season.
He was often the game-changer, the match-winner and the difference-maker. He wasn't always at his electric best, but often put in a subpar performance before bursting into life in the penalty area when it mattered most.
And that's what Liverpool had lacked ever since Luis Suarez left: a ruthless individual who could turn a game on its head.
The fear for many was that Salah's form was nothing more than a purple patch. Teams will have worked him out now and he'll resort back to the norm.
But what some seemingly failed to realise was that this was the norm for the Liverpool No. 11, and this team assembled by Jurgen Klopp is essentially geared towards getting the best out of him.
Dread it. Run from it. Destiny still arrives.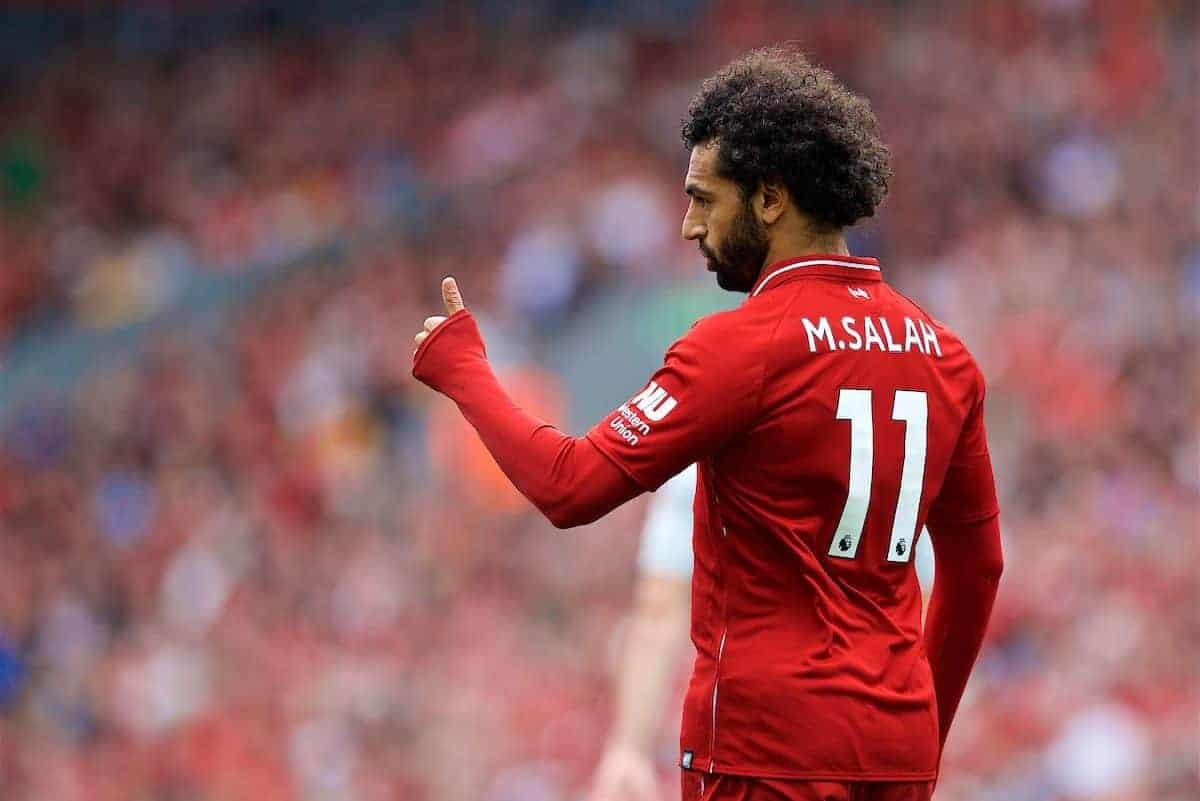 There's a belief that Salah isn't the most clinical forward and while he does miss a fair few chances, his conversion rate of 22 percent couldn't be bettered by Harry Kane, Lionel Messi or Cristiano Ronaldo.
Furthermore, in each of the last four seasons, he's outperformed his expected goals (xG) total by an average of 3.86, and that includes his over-performance of 6.86 during the 2017/18 campaign.
He's been honing his craft and coming into his peak years it, his finishing ability, was always going to improve and the gap between actual and expected goals was always going to widen.
On that premise alone, the fact Salah is spearheading a team which seemingly has a neverending supply of ammo means high-quality chances aren't going to run dry any time soon, and he's always going to have a fairly high xG.
If he keeps to form he's always going to outperform that and Liverpool have the reliable goalscorer they had so desperately lacked.
And if the performance against West Ham on Sunday is anything to go by, it could be another fruitful year for the former Roma star and his team-mates.
Repeatable Chances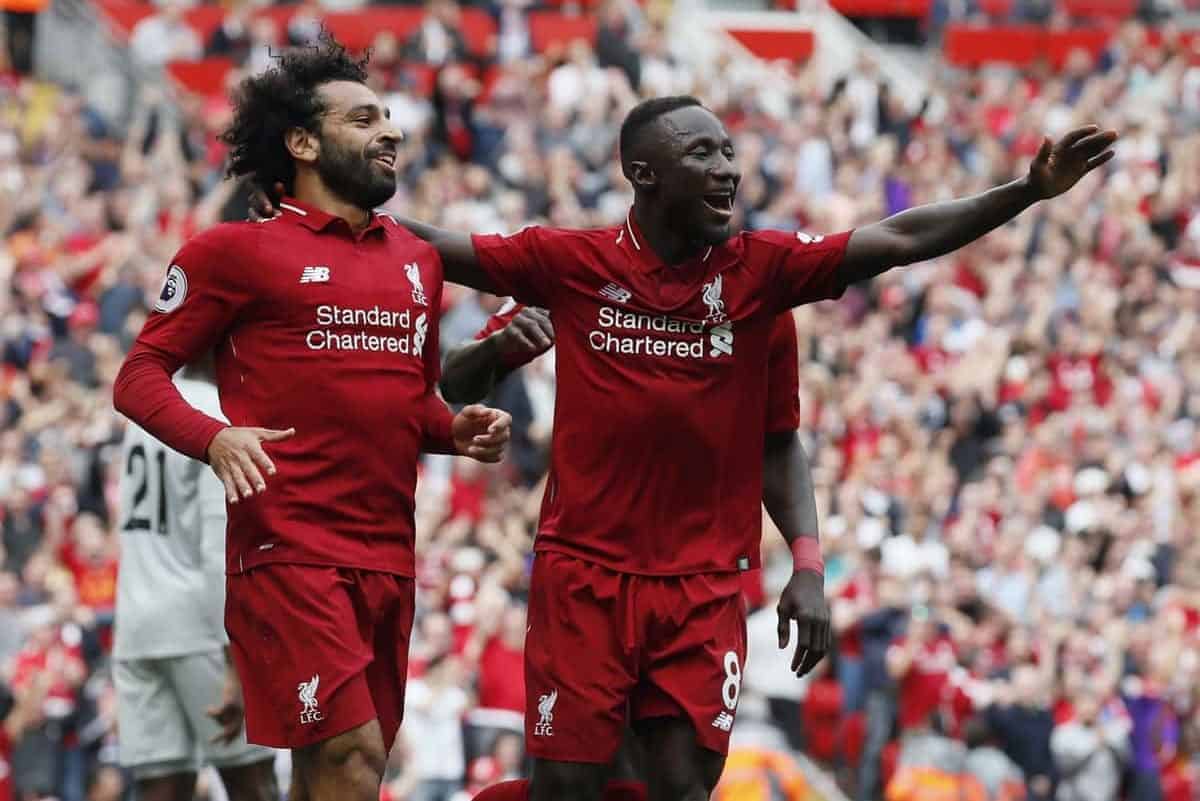 As basic as it may sound, the better the quality chances created by a team on a regular basis are, the more likely they are to score goals and win matches.
It sounds a lot simpler than it is and if it was easy all teams would be doing it. Man City mastered the manipulation of play to allow them to score what are viewed by many as tap-ins. It's a pillar of a title challenge.
It's no exaggeration to suggest Liverpool could have scored six or seven against Manuel Pellegrini's West Ham side. The Reds finished the match with an xG total of 3.88 and no other team in the opening round of fixtures managed to go above 2.5.
It shows Klopp's team created a number of quality chances. In fact, only three players had an xG of 0.80 or over and two of them turn out for the Reds, with Salah finishing the match with a 1.56 total and Sadio Mane coming in at 0.96.
It's not surprising when the opportunities created are analysed.
Liverpool have been busy on the training field coming up with patterns of play to carve out openings which allow them to work the ball into the penalty area.
Not only that, though, the forward line have clearly been working on the timing of their runs. It's an art to get into those dangerous areas with regularity.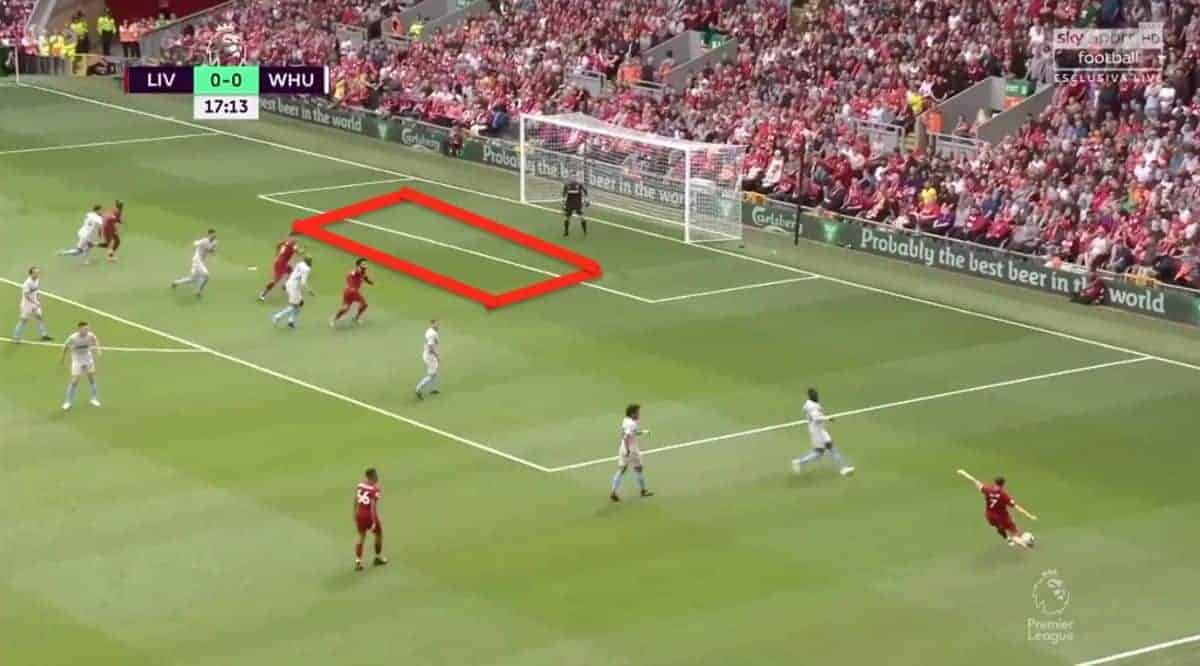 West Ham's plan from the off was to be compact and give Liverpool freedom in the wide areas. Bizarrely, they also played a high line and gave the Reds' wide men lots of space to hit when putting crosses in.
The picture above shows James Milner, under very little pressure, shaping to put the ball into the zone highlighted in red.
Liverpool have three men attacking the ball but all fail to connect with it and it's a let-off for the away side.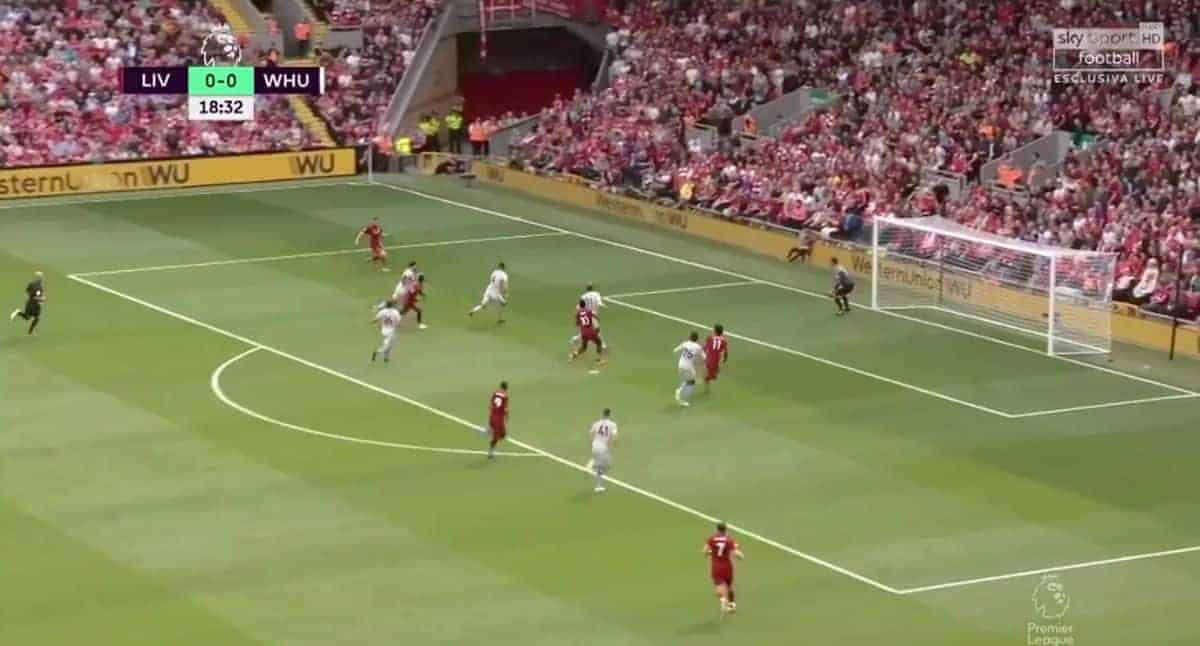 Just moments later, the Reds open the scoring. It's a different crossing position and scenario.
The first was a patient buildup and Milner could've been closed down while this time it was a quick break and the Hammers didn't have men back to pressurise Andy Robertson.
Despite the dissimilarity between the two chances in terms of how they come about, the outcome is identical—with the ball being played across the face of goal into an area defenders hate to be in and one 'keepers are reluctant to attack.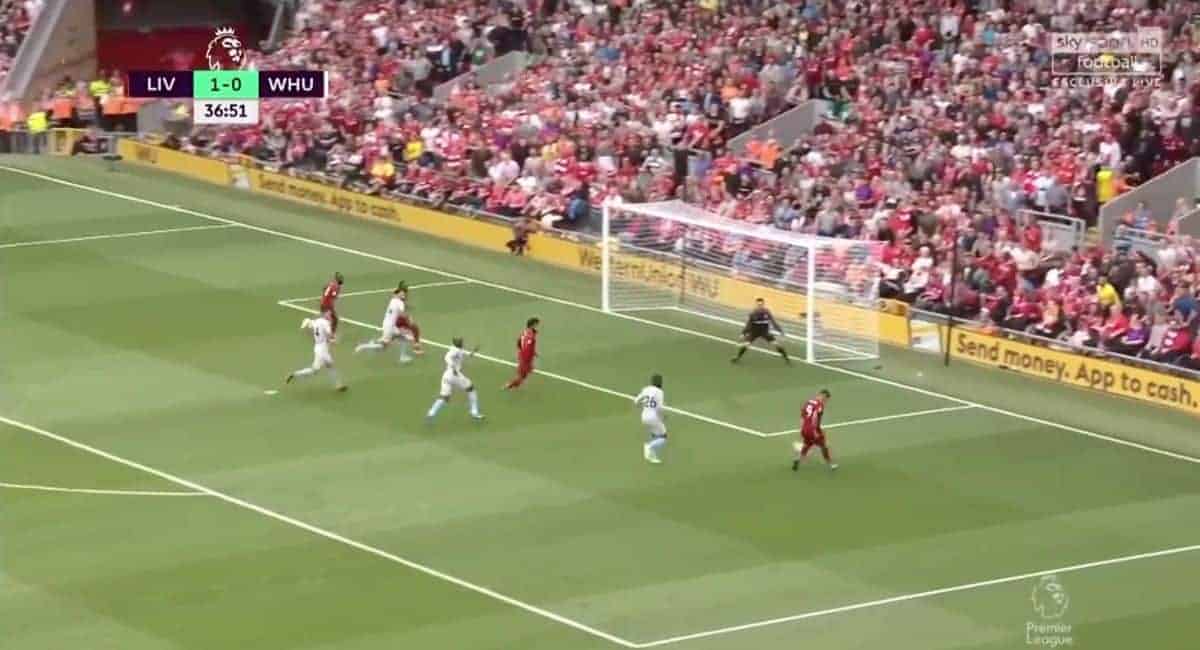 West Ham just couldn't deal with the movement of the front three and Naby Keita. The chance above is orchestrated by the new No. 8 after he picks up the ball in a deep area and carries it forward.
He plays a pass to Mane, positioned on the left of the area, and the Senegalese speedster cuts inside. He resists the temptation to shoot and instead finds Roberto Firmino.
The Brazilian takes a touch and instead of shooting like other forwards might in that area he picks out Salah with a pass across the six-yard box.
The Egyptian sees his effort saved by Lukasz Fabianski from point-blank range. But that's three chances for the No. 11 in the space of 20 minutes and on every occasion it was from six yards or closer.
The Reds have clearly worked on creating high-quality opportunities. Last Sunday, 33 percent of the chances came from within the six-yard area and on the day Liverpool had 18 shots.
The next best after that was Cardiff City, who had five shots in the match against Bournemouth with 20 percent (or one of them) coming inside that area.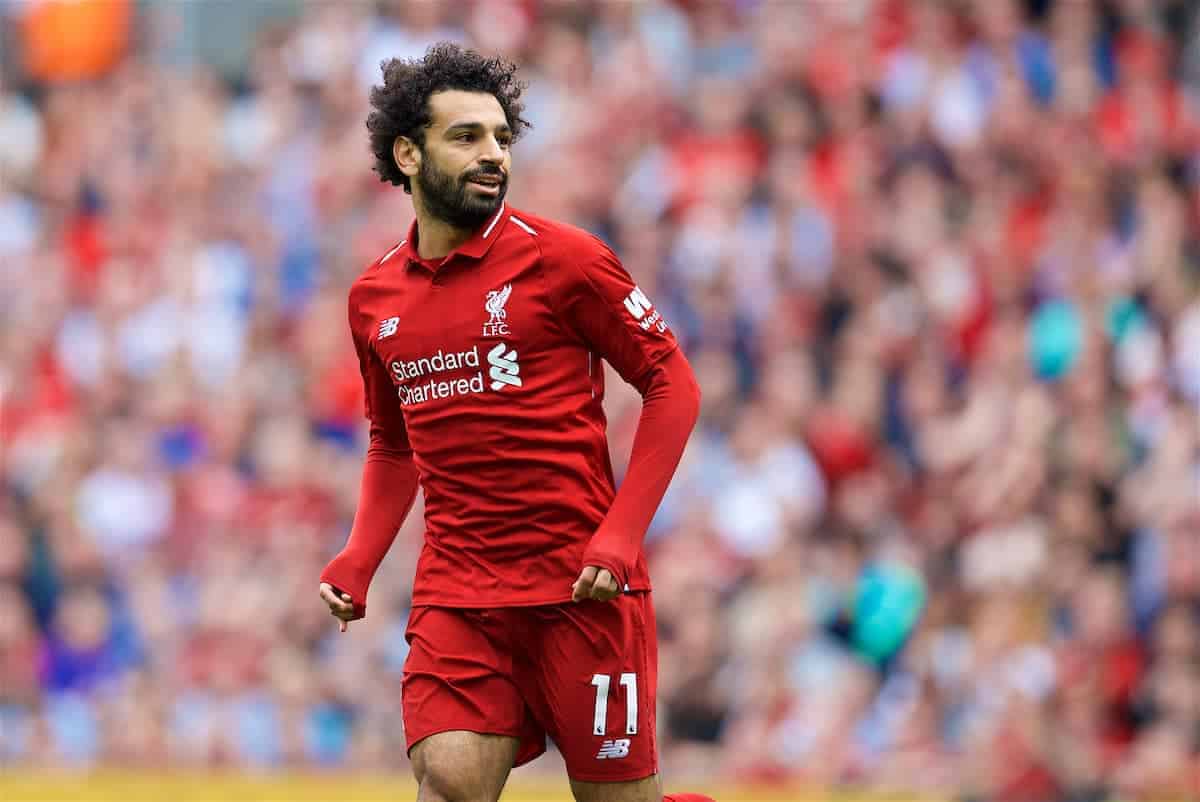 In his column for the Liverpool Echo, Andrew Beasley revealed Liverpool averaged just 1.2 shots from six yards or closer last season and champions City managed 1.5, the same as Barcelona.
It puts into context just how impressive Klopp's men were against Pellegrini's charges.
It's doubtful the Reds will be able to sustain those levels throughout the season but even if they average two shots from that area per 90 it increases the likelihood of them scoring.
And with Salah being the man furthest forward for the most part, he's going to be the one to benefit.
One match in isolation doesn't mean much but it should put to bed any doubts that last season's top scorer won't be able to repeat his heroics.
In fact, if anything it points towards him bettering what he achieved during the 2017/18 campaign due to Liverpool's attacking flexibility.