Jurgen Klopp has rejected claims Mohamed Salah is going through a goalscoring crisis after netting twice in his first six games for Liverpool this season.
Salah scored on the opening day of the season at home to West Ham, and then again with the winner against Brighton, but hasn't added to his tally since.
The 26-year-old still boasts a record of two goals and two assists in six appearances, averaging one every 128.3, but there have been suggestions he is off the boil.
While he certainly hasn't reached the heights of his record-breaking 44-goal debut campaign at Anfield, Klopp has insisted there is no "crisis" for Salah, having only scored three in his first six in 2017/18.
"We want him to score as often as possible, that's how it is. But that's completely normal that everybody expects that," he told reporters on Friday.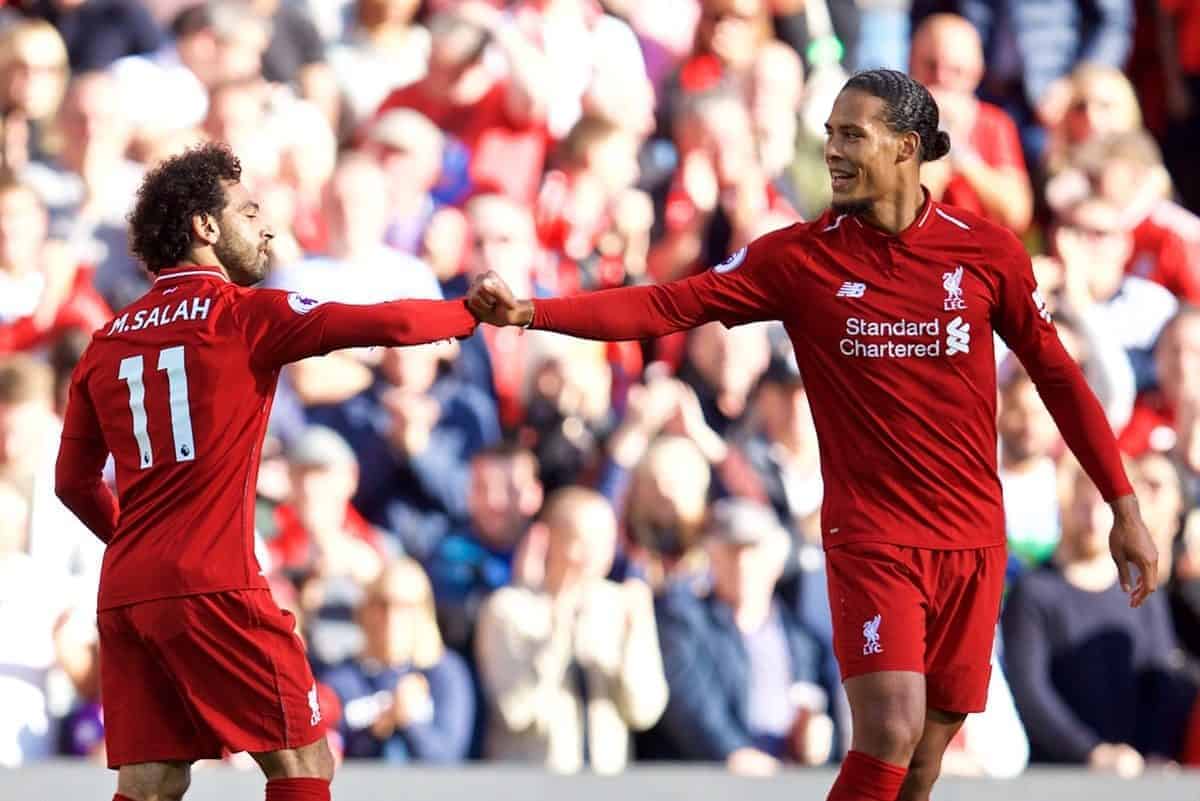 "Two goals in six games? Wow, that's a crisis! Nobody remembers [last season's start], it's really no problem.
"We constantly have to deal with new situations; people are very positive about this player or this player.
"I decide if I talk to him or not, leave him, but with Mo everything is fine.
"Yes, he lost the ball before we conceded the second goal [against PSG], but it was a very intense game.
"It was not the reason for taking him off. I'm fine with him, I think he's fine with me and the situation, that's all.
"At the end of the season we will see how it was, not at the beginning. At the start as a team it was good, and for him as well.
"He needed time last year like we all needed time, and we will take time this year, that's all."
There was speculation over Salah's reaction to Roberto Firmino's last-minute winner against PSG in midweek, with the Egyptian throwing his water bottle in the aftermath.
But this was clearly taking out of context, and blown out of proportion, with his relief and elation shared by every home supporter in the ground.
Klopp continued to insist that, despite his drop in productivity in front of goal, Salah's defensive contribution proves his attitude remains the same.
"On the defensive side, the last two games were outstanding, which is so important in these games especially," he explained.
"That says everything about him, that he's ready to work for the team in these.
"It's a pretty normal situation for an offensive player that they don't score [sometimes]. He is in a good shape, actually.
"Finishing is something you can never take for granted. I never do that, and the players never do that—only the supporters can do that!
"The most important thing is he's physically in very good shape and that helps."