Four games, maximum points, nine goals scored, one conceded and top of the pile. Ahead of the Reds' return this weekend, Alex Malone looks at what we've learned from the opening to the season.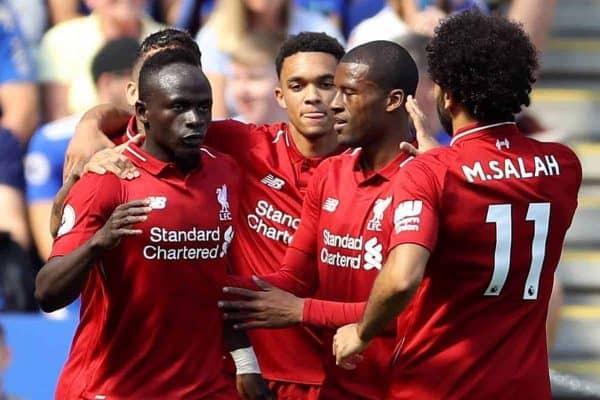 It doesn't get much better than that, does it? In fact the last time it was even equally as good as this was 28 seasons ago.
It has been the perfect start to the season in terms of results. The fixture list, it's true, has been somehwat kind, but away trips to Palace and Leicester can never be underestimated and plenty of top teams will drop points there. Both were navigated – just about – successfully.
To win the big prizes, it's vital to win games when not playing well, but it's also a requirement that such displays are the exception, not the norm; and we need to be honest in the assessment that two or three of these games could very easily have ended up in draws.
Had Pascal Gross headed the ball to his left instead of straight at Alisson; had Leicester's incessant pressure told with a second goal, we would not be looking at such a bright start to the season.
But the fact is they didn't, and we are – and that's what matters at this stage. The attack scored the goals and the defence, after season-upon-season of capitulation in similar circumstances, stood firm.
So, with the difficult task of Spurs away looming this weekend, what have the first four games told us so far?
The Defence
Ok, let's get this one out of the way for starters – Alisson, stop it!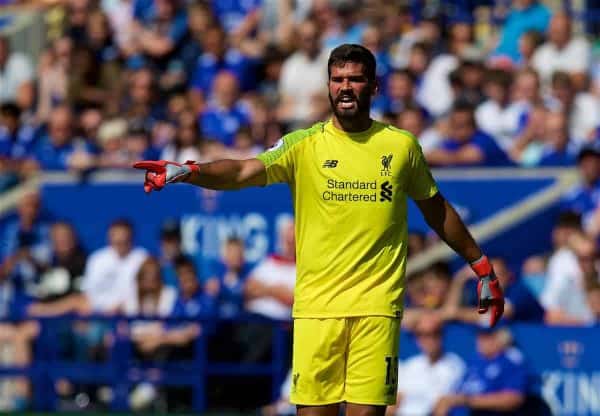 Just because we have a Brazilian goalkeeper does not mean he has to show off his 'learned on the beach as a four-year-old' footballing skills. His job is to keep the ball out of the net, and dicking around with the ball, taking unnecessary risks, is contrary to that aim.
His distribution is excellent, and that, and only that, is where we should be appreciating his skill with the ball at his feet.
Flicking the ball over an attacking player, or dribbling past strikers only yards from goal is plain ridiculous. Besides, if he was trying to show off his Brazilian footballing prowess, he failed dismally with his Norman Wisdom-esque Cruyff turn against Leicester. It was more Bobby Grant than Bobby Firmino.
That being said, as long as he is true to his word that he has learned his lesson, then it looks like we may have solved the far-too-long-standing goalkeeping problem.
When he isn't showboating, he cuts a commanding, composed presence. He has (so far) caught when he should catch and punched when he should punch; his kicking and distribution is superb and he's brought off a couple of cracking saves.
In front of Allison, we now have a title-worthy back four.
Rafa Benitez's 2009/10 team was the last to concede an average of less than one goal per game. This is the first back four since then that has even looked capable of a similar achievement.
At left-back, Andy Robertson has continued to excel and is now the undisputed first choice a mere 12 months after breaking into the squad.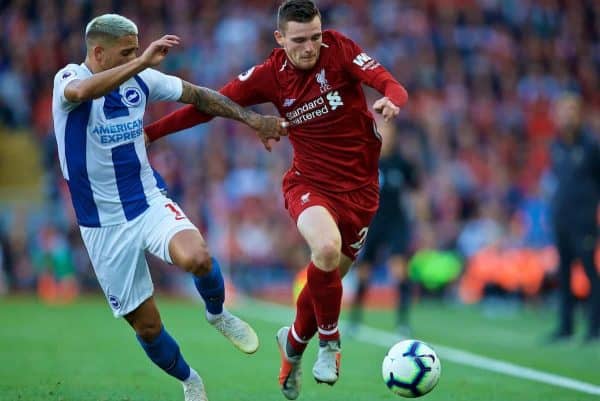 He's already exceeded last season's assists total and we've only played four games.
At only 24 years of age, Klopp may well have solved the left-back problem for many years to come. There's also something refreshingly reassuring about having a top-class Scotsman as part of our defence. We tend to win stuff with Scots in the team.
In the centre, we already know that in Virgil Van Dijk, we have one of the best, if not the best centre-back in England. He has been imperious back there and probably the most naturally gifted central defender we have had since the magnificent Sami Hyypia.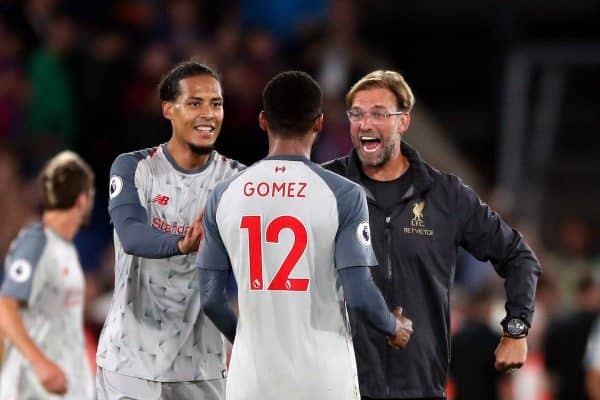 But it's next to him where the excitement is mounting. Joe Gomez, long used as an unnatural right-back, has finally been given the chance in his preferred position, and he has grasped it with both hands, both feet and his noggin.
He has undoubtedly been one of the shining lights of the first four league games, and if anything, his ultra-composed performance while under the cosh against Leicester was his best yet in a Liverpool shirt.
Trent makes up the final piece of what has been a superbly organised defensive unit to date.
While it's fair to say he's not yet hit the heights of last season in terms of his final ball, how can you argue with a single goal conceded in four games, while adding significant width and balance to both the defence and the attacking fluidity of the team as a whole? And he's only 19!
The back five is still in its relative infancy – aged 25, 24, 27, 20 and 19 respectively – this is a formidable defence for not only this season but for many seasons to come.
Midfield
Okay, this is a tricky one. It will also, I'm sure, divide opinion.
Yes, we've won every game; yes, we've scored nine and conceded only one, but there's a recurring issue with the midfield.
But before we get to that, let's start with a positive.
Naby Keita has taken to the Premier League like a duck to water. While not hitting the heights in every game so far, he's shown more than enough to confirm we have a real talent in the critical midfield engine role.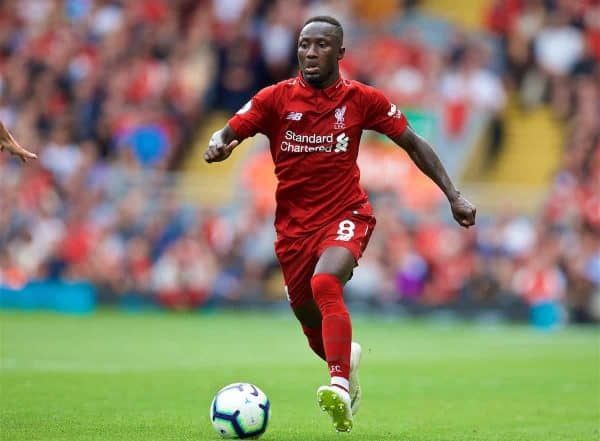 While Fabinho and Shaqiri are still being (rightly) eased in to their new clubs (and in the former's case, new league) it's been left to Keita, plus the 'old guard' of Milner, Henderson and Wijnaldum, to carry the team from the centre of the park.
So here's the issue: James Milner is as consistent as clockwork; Gini Wijnaldum puts in a decent enough shift – in home games anyway; Jordan Henderson – well, if anyone divides opinion, it's our captain.
But put these three together in any game, and especially an away game, and it doesn't work. It doesn't come close to working. It never has.
I rewatched the second half of the Leicester game – twice – focusing my attention specifically on the roles and performances of Wijnaldum and Henderson. Leicester, 2-0 down with nothing to lose decided to come out all guns blazing, threw caution to the wind and went for it.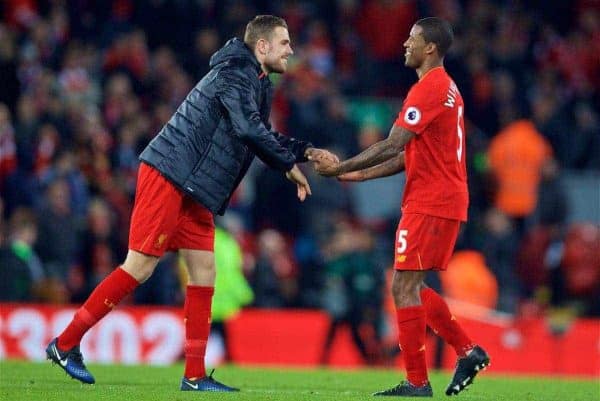 Miner gave us his usual performance with some crunching tackles and never-say-die attitude while his two midfield partners went completely and utterly AWOL. If you don't believe me, watch it again!
Henderson touched the ball five times in the 25 second-half minutes before he was substituted. Two of those were successive kamikaze balls back to Gomez and Van Dijk.
The first 25 minutes of that second half was as poor a midfield display as I've seen in quite some time – and it's becoming more and more apparent what the issue is: when Henderson and Wijnaldum are paired together against a team who get in their faces we lose the midfield.
The Henderson/Wijnaldum/Milner triumvirate has to be questioned. It has played together only twice this season. The first 70 minutes against Leicester, and the latter part of the game against Brighton at home.
Both times, it floundered.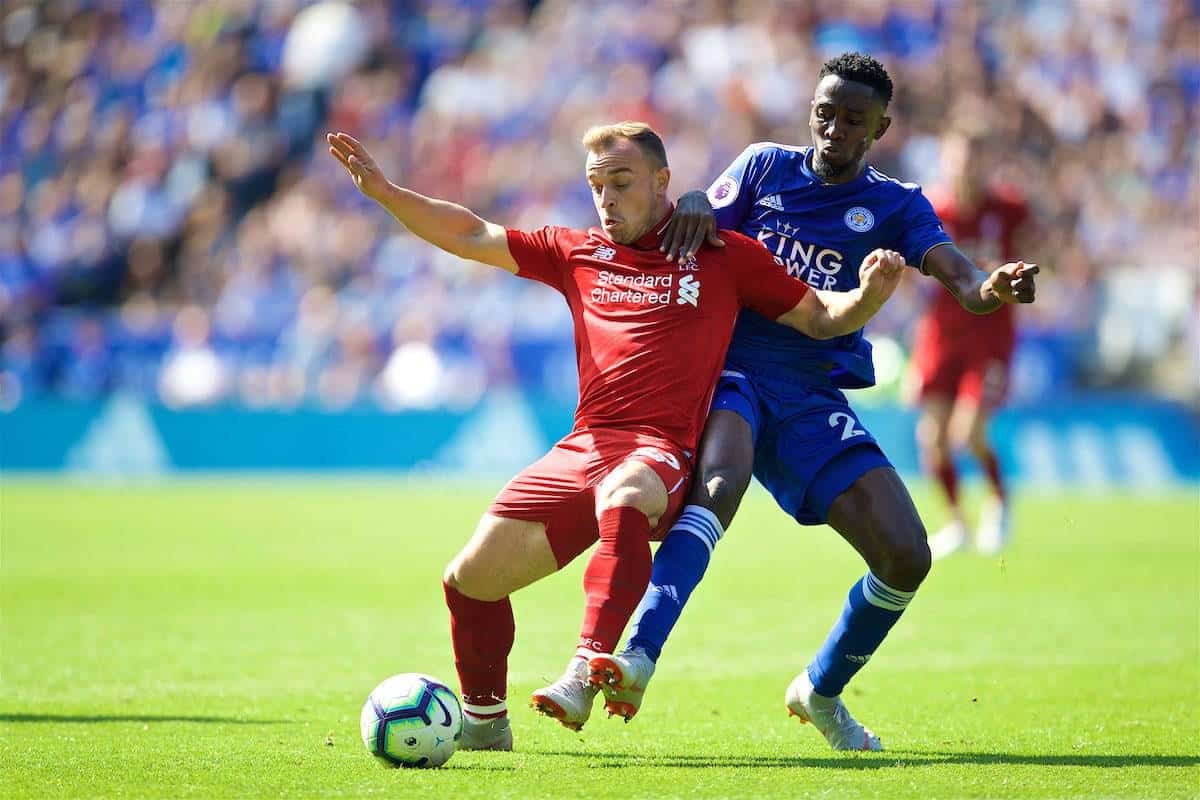 Only when Shaqiri and Keita came on against Leicester did we regain some semblance of control against Leicester. It was when Keita was taken off, replaced by Henderson (thus reuniting Wijnaldum, Henderson and Milner), that we were suddenly being bossed at home against Brighton.
There's a theme, and before I am accused of selective statistics in only two games this season, this is an issue that goes back several seasons when the three of them play together.
In all fairness, I believe Milner still has an essential part to play because he's been in the form of his life of late (when not paired with both Henderson and Wijnaldum), but the question is, are Henderson and Wijnaldum of the required quality and consistency – or indeed have the required impact – to play together in any three-man midfield combination? I'm simply posing the question.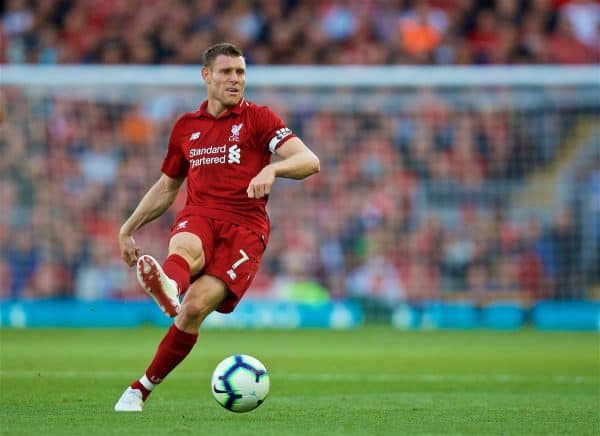 Thankfully, we have real options and a variety of alternatives now. The additions of Fabinho, Keita and Shaqiri were not merely to add depth; they were to add top-end quality. It will take time to bed all three in, but midfield options such as these only boost our chances of competing at the highest level.
The defensive five and the forward three are now seemingly set with not a single change made to those starting eight positions in four games.
It's in the midfield where it's not yet clear who will make up the first-choice trio, but looking at how Jurgen has reshaped both the attack and defence, it's only a matter of time before the new boys settle and all becomes apparent.
Attack
Europe's finest attacking trio has begun the season with seven goals between them in four games, carrying on a similar goals-to-games ratio as seen throughout their brilliant 2017/18 season.
And yet, truth be told, they've been anything like the tour de force on display throughout last season. Of the three, only Sadio Mane has hit the ground running and has been the livewire star of the attacking show with four goals in four games.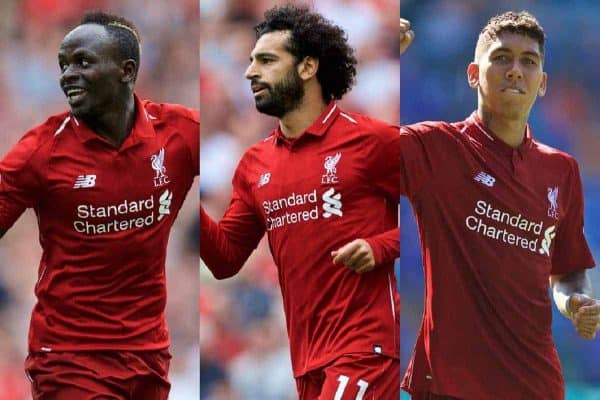 Roberto Firmino, whose effort can never, ever be questioned, has not yet hit his formidable heights, with his flicks, tricks and first touch each a little off. His radar is still in need of minor recalibration.
I have a sneaking suspicion it will be finely tuned for this weekend's game at Wembley.
Mo Salah meanwhile has bagged himself two goals and an assist already – but he too has just not looked quite himself of late; not just in his football, but in himself.
Maybe it's a result of the Ramos assault and the psychological after-effect of a serious injury? Maybe it's his disappointment with the Egyptian FA? Or, is it simply tiredness after an exhausting 12 months?
Maybe it's none of these and I'm seeing something that isn't there, but he does look like a player with a weight on his shoulders at the moment. It's a bit of a worry because a fully focused Salah is an essential element if we are to challenge for top honours this season. Get that smile back in your game soon Mo, we need you!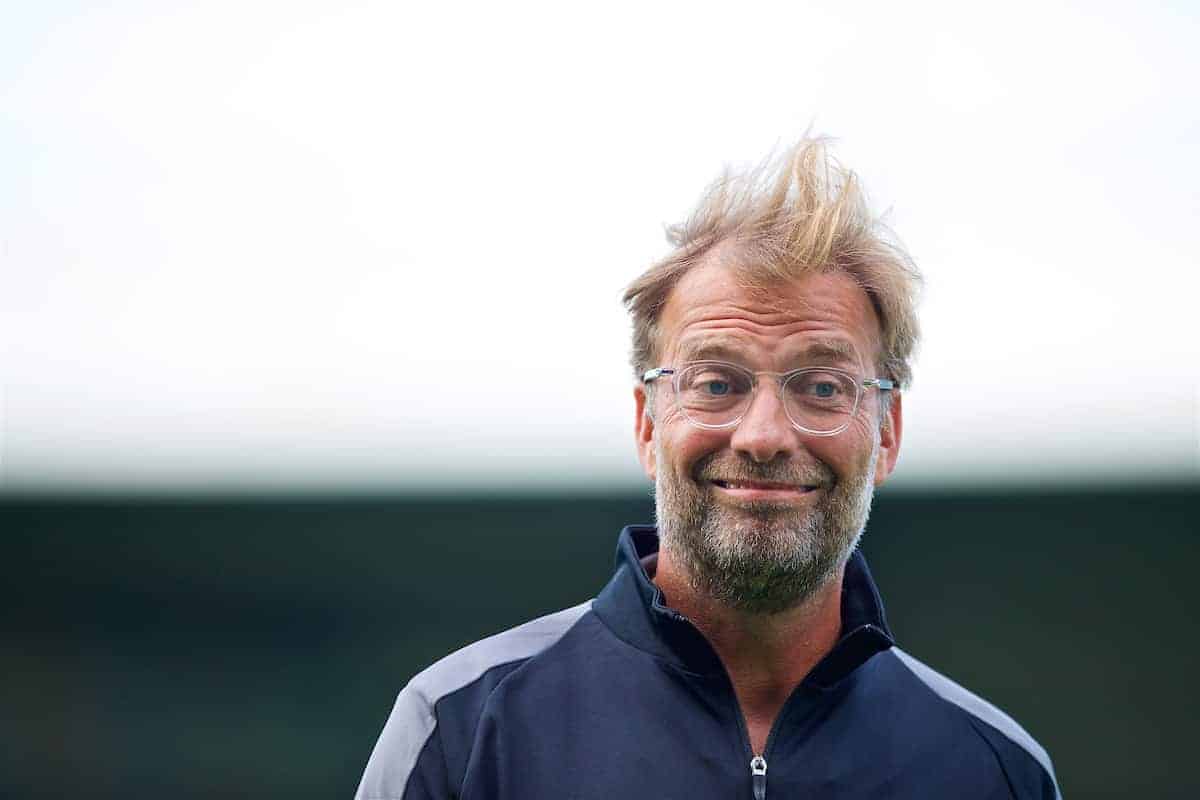 And yet, with two of our front three below their best, they've still bagged seven goals between them. Imagine the numbers when they start clicking again – and I have no doubt it will!
So, in summary, a fantastic start, the best squad we have had in many, many years, and top of the league without yet reaching anywhere near the heights this squad is capable of.
It goes without saying, a win at Wembley this weekend will make an excellent four-game start a sensational five game one.