Liverpool went out of the League Cup at the hands of Chelsea on Wednesday night, with a disappointing 2-1 loss.
Liverpool 1-2 Chelsea
League Cup, Anfield
September 26, 2018
Goals: Sturridge (58′); Emerson (79′), Hazard (85′)
The Reds hosted the Blues in the third round just days before the two sides meet in the Premier League on Saturday. Both sides made eight changes, showing their preference for three points in the league encounter, but defeat will still irk Liverpool.
Daniel Sturridge's expertly-taken overhead seemingly set Jurgen Klopp's side on their way to victory, only for the match to change late on.
Emerson poked home from close-range to equalise – VAR was again brought into question, with Ross Barkley potentially in an offside position – before a moment of Eden Hazard magic sent Liverpool packing, in front of a subdued Anfield crowd.
Here's how supporters reacted to Liverpool's League Cup exit on social media and our forums.
Klopp made eight changes in total, with fans giving their thoughts on the starting lineup…
Mad how we've made loads of changes and that's still the strength of the team. Not seen depth like it in ages!

— LFC Fans Corner (@LFCFansCorner) September 26, 2018
– "I can't believe that's our second team. We've come so far!!" – Nasir Ali on Facebook.
"Like the line up. Pretty much what I expected except for Milner starting instead of Hendo." – costared on the forums.
that 11 tho pic.twitter.com/HQ26txkZIE

— Gringo CDMX (@MexicoCityLFC) September 26, 2018
It wasn't exactly a vintage first-half performance, with shades of a few years ago about the Reds' performance…
Let me take you into my time machine to 2016

— Dinesh Kumar (@DHardayal) September 26, 2018
https://twitter.com/TheKopMagazine/status/1045033113934614528
Feels odd to see #LFC not completely dominating a game this season. Improved as the half wore on but have wasted some good chances and short of fluidity as a result of the changes. Klopp didn't seem to enjoy that 45 minutes.

— David Lynch (@dmlynchlfc) September 26, 2018
"Mane and Shaq working hard, Sturridge a couple good of chances missed and Moreno a target." – 20ATHLONE on the forums.
Moments of alright. Moments of meh. That heavily changed side started to click a little towards the end so there's hope for a better second.

— The Liverpool Offside (@LFCOffside) September 26, 2018
First-half thoughts:

-Chelsea totally dominant but haven't looked like scoring
-We've had much the better chances
-Think we're learning why we haven't seen much of Fabinho yet. The game's been passing him by at times
-Kevin Friend is a moron #LFC

— And Could He Play (@andcouldheplay7) September 26, 2018
That was a first half to underline – as if it is necessary – how good/ important Andy Robertson & Jordan Henderson are.

— Chris Bascombe (@_ChrisBascombe) September 26, 2018
Sturridge missed a sitter just seconds after the restart…
https://twitter.com/jacklusby_/status/1045037390329466881
Suffice to say Klopp couldn't believe that.

— Ian Doyle (@IanDoyleSport) September 26, 2018
"Omg! Danny, how could you miss that sitter!" – Maria on the forums.
https://twitter.com/Chris78Williams/status/1045037529026752512
https://twitter.com/ViewOfTheKop_/status/1045037430703886337
The striker made amends brilliantly soon after, however…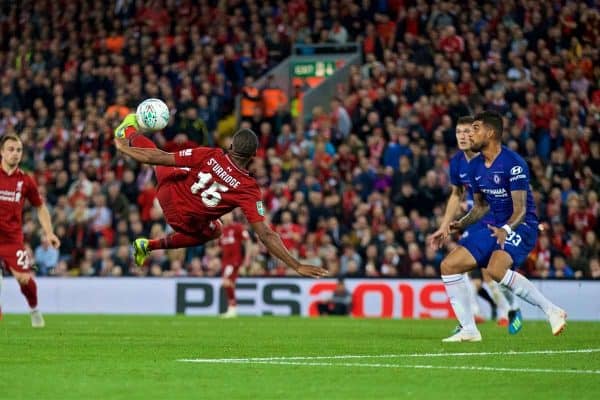 Liverpool brilliant in the build up to the goal, Sturridge outstanding with the finish, no sign of that earlier miss hitting his confidence.

— Jim Boardman (@JimBoardman) September 26, 2018
https://twitter.com/MoLFC5/status/1045041004112424960
"Boom, he makes up for the miss. And it comes from us actually pressing the ball in numbers again." – Herb on the forums.
Sturridge is making the most of his opportunities this season – he's scored every 51 minutes.

— Andrew Beasley (@BassTunedToRed) September 26, 2018
Three goals for Sturridge already this season. Excellent start.

— Jack Sear (@JackSear) September 26, 2018
Chelsea's late comeback stunned the hosts and supporters vented their frustration at the final whistle…
Wanted us to win that trophy so I don't agree that "it doesn't matter".

It's true that there are other, more important targets though, and thankfully half of that team are (rightly) now back-up players.

— Jason Roberts (@JaseRoberts_) September 26, 2018
Sooo….this is what losing feels like

— Dinesh Kumar (@DHardayal) September 26, 2018
Ah well Reds never mind. Thought we did enough in that 2nd half to win. If Sturridge scores instead of hitting bar it's a different story. Equalizer never a free kick, but can't doubt brilliance of the winner. Suck it up, shit happens. Move on #YNWA

— Jeff Goulding (@ShanklysBoys1) September 26, 2018
"Can honestly say I couldn't give two hoots about the league cup. Might as well go out early if you don't win it" – Bob Henry on Facebook.
"On the bright side we've got shit to argue about again" – Barnestormer on the forums.
https://twitter.com/thejamessutton/status/1045050440763797504
Had all we won this season was the Carabao Cup, I would have been disappointed. Result doesn't mean too much, other than Hazard is the most talented player in the league.

— Tom McMahon (@tomjpmac) September 26, 2018
https://twitter.com/_lfcleanne/status/1045050505356079118
Others focussed more on individuals, both good and bad…
Don't wanna see that back 5 ever again.

— Joseph Cousins (@JCuzzy1) September 26, 2018
Shaqiri has been good every game he's played for us including preseason games.

— Red (@TaintlessRed) September 26, 2018
"Bad game from moreno, both goals came from his side. He's such a liability…" – Raqib Sofian on Facebook.
"The real shame is that this competition could have provided an opportunity for Shaq, Fabinho and Keita to bed into the system." – T.C.B on the forums.
https://twitter.com/Andrew_Heaton/status/1045051457945456641
Thought Fabinho had a good second half tonight. Shaqiri very good on the ball but looks like Klopp still thinks he has things to learn. Possibly Keita's best game for us. Great for Sturridge to get another goal.

— Jack Sear (@JackSear) September 26, 2018
Let us know your thoughts on the game in the comments section.