Chris McLoughlin looks back at Wednesday's League Cup tie and ahead to Saturday's trip to Stamford Bridge – but first, he recalls a delusional West Ham fan…
I was driving up the M6 on Sunday evening – slowly, thanks to those 50mph roadworks that seemingly stretch from Cheshire to Chechnya – when a West Ham United fan phoned Alistair Bruised-Balls and Chris Sutton on BBC Five Live's 606 radio moan-in.
After seeing his side draw 0-0 with Chelsea the 'appy 'ammer declared that there was no reason why his team couldn't finish in the top four of the Premier League. I couldn't Adam and Eve what I was hearing.
It sparked a raft of follow-up calls from Hammers fans – most deriding him (although another suggested higher than fourth was possible!) – which provided much amusement until a Liverpool supporter came on air.
I didn't catch his name, and his accent was nondescript, but he went a step further, claiming the Reds have already got the Premier League title wrapped up and will outdo Arsenal's 'invincibles' by winning the quadruple. I've heard better predictions from the Met Office.
Wednesday's night's League Cup exit to Chelsea at Anfield was a wet kipper around the chops to that fella and everybody else that was getting carried away with Liverpool's seven-game winning streak at the start of the season.
I'd rather win the League Cup than be told going out of it is a blessing in disguise, but let's be brutally honest here, if you're going to lose a game there isn't a better competition to lose it in.
And Liverpool are becoming increasingly good at losing in the League Cup.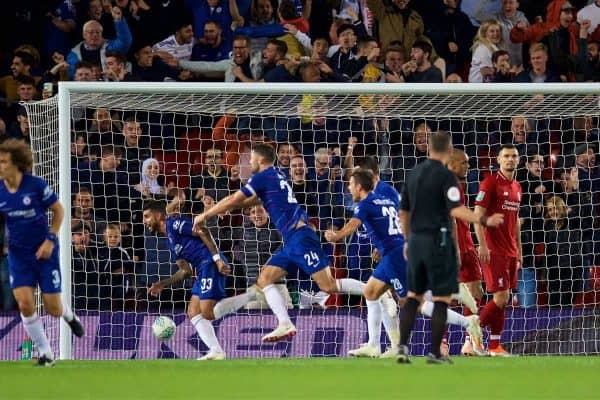 That's four straight defeats now in the competition and consecutive losses at home – both club records – although nobody can accuse Jurgen Klopp of not taking the competition seriously.
He took the Reds to the final in his first season, the semi-final in his second season and fielded relatively strong starting XIs against Leicester last season and Chelsea on Wednesday. So what went wrong?
Every time any big team loses a cup game after the manager has made loads of changes it is always put down to the same thing: the squad isn't good enough.
It isn't just a Liverpool thing, it's said about all the top clubs – and Man United – but when you look at the Reds specifically (which is why you're here) I think the reason for such cup exits isn't quite as simplistic.
In my opinion it's not that Klopp's squad players aren't good enough, more that those who haven't played for him often or regularly can't adapt to his style of play quickly enough when several such players all start together. For Klopp, cohesion is key.
It was blatantly obvious in the first half, particularly in the midfield where both new boys, Naby Keita and Fabinho, were unsure when to press and when not to.
That played a big part in a disjointed performance which allowed Cesc Fabregas to run the midfield, despite having to play alongside Ross Barkley, while when the Reds had possession the intuitive, incisive, instinctive link-up play that comes so naturally to Klopp's usual front three was absent with Mane, Sturridge and Shaqiri looking like they hadn't played together before. Which they hadn't.
Indeed, the best two chances (for Sturridge and Mane) before Liverpool scored came from Chelsea errors, as did Sturridge's goal after James Milner had pressed Andreas Christensen into yet another mistake.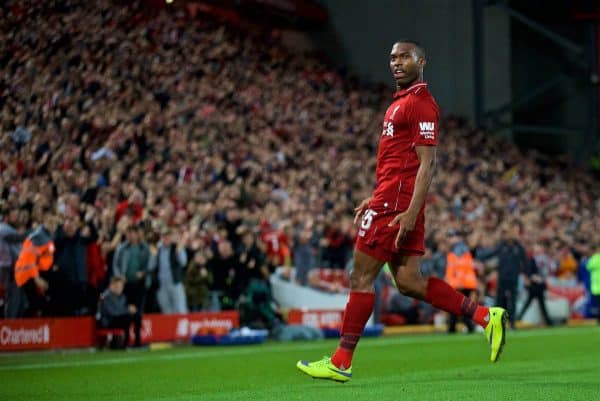 Of course a dubious equaliser and an Eden Hazard wonder goal – I wonder why nobody tackled him – gave Chelsea their first ever League Cup win at Anfield but I walked away from the ground feeling completely unconcerned about how we lost, more annoyed at who we lost to.
Klopp's whole system works by having a hardcore of eight or nine first-team regulars and slotting two or three others in around them to suit different games or opponents.
It functions far less well when he slots eight or nine players in around two or three regulars and that was evident again against Chelsea on Wednesday night… but won't be at Stamford Bridge on Saturday.
And winning that one, if we're all honest, is simply more important if we want to finish above West Ham in the top four…
---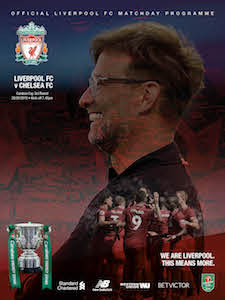 Chris McLoughlin writes for the Official LFC Matchday Programme and LFC Magazine.
You can get both at Anfield or by ordering from Sport Media Shop, here.