Jurgen Klopp has hailed the fitness of Daniel Sturridge, following the striker's goalscoring showing in Liverpool's 3-2 win over Paris Saint-Germain.
Given the importance of Roberto Firmino, there was immediate concern when it was revealed he would only be on the substitutes' bench, having picked up a nasty eye injury in Saturday's 2-1 win over Tottenham.
It afforded Sturridge the chance to prove his worth, however, with the 29-year-old given his first start of the season by Klopp.
He powered home a header to give the Reds a first-half lead at Anfield, paving the way for his side to win their opening European fixture of the season.
It was his overall contribution that caught the eye, however.
There was more speed and purpose to his play than we have seen in recent times, and his general involvement was also markedly improved.
Speaking to BT Sport after the game, Klopp admitted he was delighted with Sturridge's new-found level of fitness, and his overall influence:
"Daniel had a super, super game.

"I told him before the game I've never seen him, since I've come in, as fit as he is in this moment.

"He used that fitness—he was all over the park, he was everywhere. He helped left, right, kept the ball for us.

"And how we play it in these situations, a nine-and-a-half, a No. 10, whatever, being in the box when you need it, being in between [the lines]. He did that really well.

"Then that we could bring Bobby Firmino on, that helps a lot!"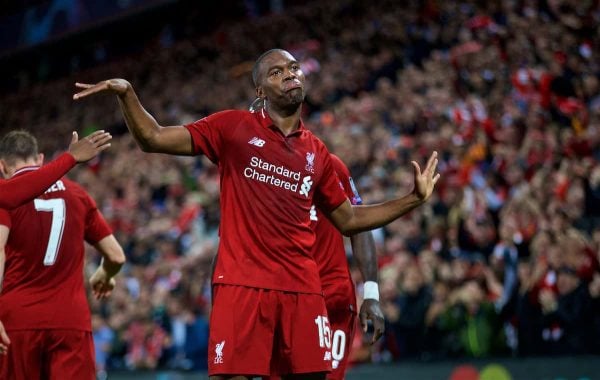 It was yet another excellent Champions League performance by Liverpool, who needed Firmino's last-gasp winner to eventually earn them all three points.
Sturridge's display was one of many undoubted positives on the night, with the striker proving that he is a good option to bring in this season.
While his finishing prowess has never gone away, and probably never will do, his physical capabilities have been the main thing holding him back under Klopp.
After being sent out on loan to West Brom last season, the end appeared close for Sturridge at Anfield, but he returned to pre-season in impressive shape and form, and is reaping the rewards.
It was certainly a memorable first Champions League start in six-and-a-half years for him.