Jurgen Klopp reflected on his best start to a season as a manager after Mo Salah's first-half goal sealed Liverpool's 1-0 win at Huddersfield.
Salah slotted home his fourth goal of the season and first in five games in the 24th minute as Klopp's side bounced back to winning ways to stay level on points with Premier League leaders Manchester City.
Klopp accepted it had not been pretty. Huddersfield went toe-to-toe with his title challengers for long periods and hit the woodwork in the first period, but the Reds boss was delighted his side extended their unbeaten run to nine matches.
"The basis we have created so far is brilliant—23 points," Klopp said.
"I don't think I [have] had that before after nine games. And still space for improvement—good as well. So let's get home and work on improving."
Klopp said it was also the first time in his managerial career that one of his sides kept winning when not at their best.
"It was not that bad," he said. "It's maybe the first period in my life that we are winning average matches. That's true.
"We cannot write a book tonight about how to win trophies. There is only one way, and that's to win football games. And for that there are different ways.
"To be honest, sometimes I prefer the spectacular way, but I take that today completely and I understand why it was like that.
"The main reason today was Huddersfield did well. They defended well and were very aggressive round the second balls.
"After this game, everybody knows how good they are and how good they will be in the future."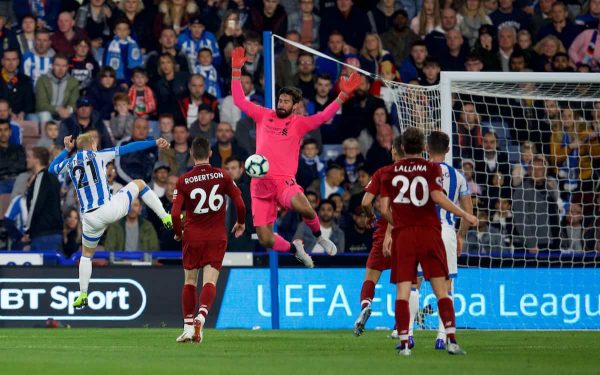 Jonathan Hogg's long-range effort struck a post and Huddersfield also had a first-half penalty appeal turned down by referee Michael Oliver when the ball appeared to have hit James Milner's arm.
"You don't want to use the post to defend, to be honest. If it happens you take it, but it's not defending, it's lucky," Klopp added.
"Then with the handball, another penalty, maybe they would have missed. You need luck to only concede three goals [in nine league games], and we have sometimes needed it."
Good fortune continues to desert Klopp's best friend, Huddersfield manager David Wagner, whose side remain without a win this season.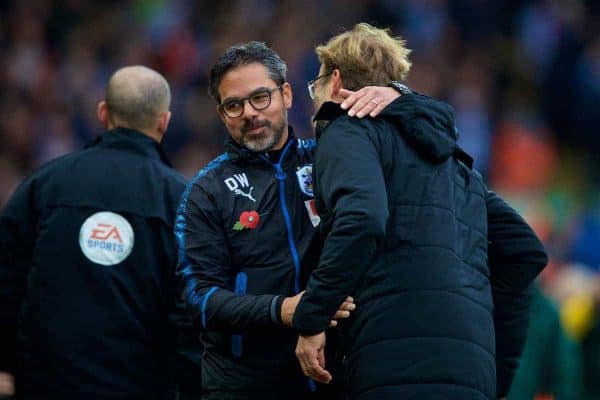 "If it's the case that luck over a season evens out, then we're going to have a lot of luck in the next 29 games," Wagner said.
"It's true we have problems scoring goals, but it's also true that we're performing at a very high level.
"We're creating opportunities and have the spirit and the passion and desire to limit an opponent like Liverpool.
"We have the bravery to play our football, to press them high and get in their faces. Everything from my side, performance-wise, was there."