Liverpool boss Jurgen Klopp thinks the Reds' season to date is "so far so good, nothing else."
Klopp's men are unbeaten in the Premier League and lie second, level on points with leaders Manchester City and two clear of Chelsea, Arsenal and Tottenham.
They have won seven of their nine games and scored 16 goals, while conceding only three.
In the Champions League, the Merseysiders – last season's beaten finalists – have opened their campaign with a 3-2 victory over Paris St Germain followed by a 1-0 loss at Napoli, and their next fixture sees them host Red Star Belgrade on Wednesday.
Klopp said after Saturday's 1-0 victory at Huddersfield "it's maybe the first period in my life that we are winning average matches" and added that while there are different ways to win, "sometimes I prefer the spectacular way."
He was asked at his pre-match press conference on Tuesday about talk of Liverpool not having reached top form so far this term and what more he felt there was to come.
And the German said: "I understand that, 100 per cent. Maybe it's because of one or the other post-match interview of mine, where I said things like that.
"But to be honest, the first job we have to do is to win football games, and we played really good stuff already this season.
"We can of course, like all teams in the Premier League probably, do a lot of things better than we did so far, but the basis we have created is a really good one, football-wise and point-wise, and now we have to build on that."
When it was put to him that he clearly felt Liverpool could go to another level, he said: "We have to prove that.
"We know it, we feel it. Probably everybody knows it. But then we have to show it, that that is how it is. I cannot sit here and say (clicks his fingers) and it will click.
"I don't have the feeling of being pleased – it's really that I think so far so good, nothing else."
He added: "What I liked was at the last game I was not the only one who felt a bit kind of average.
"We won the game so it was pretty strange. It was influenced in my case by the three big counter attacks we had – we didn't finish off one, we lost the ball.
"And then they have a half chance, and that's why I felt not really good after the game. But for the boys as well, they want to do differently, to be more in charge in a game like this."
Red Star, the 1990-91 European Cup winners who are in the group stage for the first time since the competition's Champions League rebrand, have so far drawn 0-0 at home with Napoli and been thrashed 6-1 at PSG.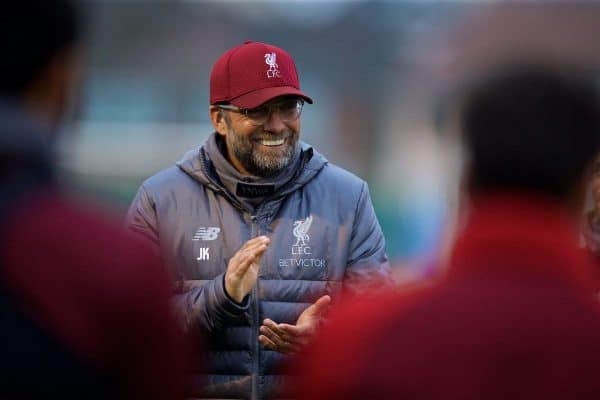 There will not be any of their supporters in Anfield on Wednesday night after UEFA banned the club from selling tickets to their fans for this game and the PSG one as a punishment for trouble at August's qualifier at Salzburg.
Klopp, who is expecting a "really difficult" contest, said on the ban: "Of course it's not nice for the people from Belgrade. We would have had no problem if their fans had been here, we'd still have had a fantastic atmosphere.
"Tomorrow we have to be really together. We are not now the most experienced player in the Champions League because we came to the final last year.
"We are still pretty fresh compared to a lot of other teams in the competition, and we have to make sure that this one advantage we can have in our home games, our crowd, is there 100 per cent."
Jordan Henderson and Naby Keita (both hamstring) will sit the game out but Sadio Mane (broken thumb) could make his return to action.