Liverpool scraped a win at Huddersfield, mixing things up in midfield before, during, and possibly after the game as they plan to face Red Star.
At this point most of Klopp's changes are being forced upon him by fitness issues and injuries rather than tactical scheming, but they still give him a chance to try players in different positions.
This can be useful going forward, but is only usually accepted if the team also pick up three points which they did, just about, in West Yorkshire t'other day.
74-75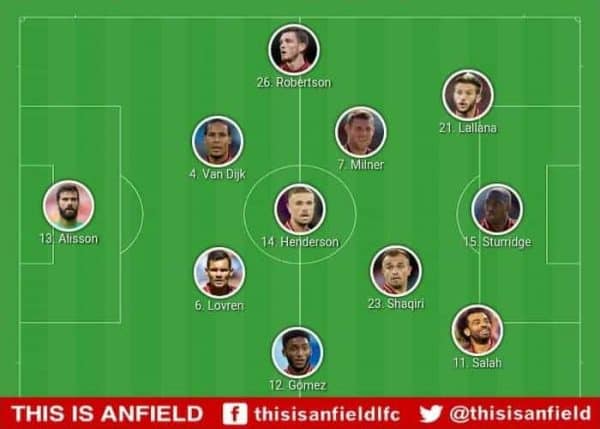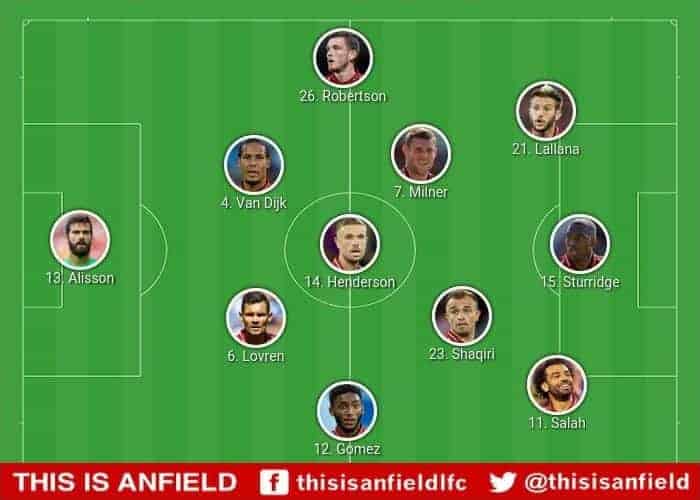 Liverpool's starting formation was a fairly attacking 4-3-3 which saw James Milner and Xherdan Shaqiri operating as advanced midfielders.
Milner was naturally the player more involved in the build-up play, but Shaqiri's creative presence, agility, and speed was vital in the centre of the park, and helped win Liverpool the game.
Both were the most involved in the game bar the full-backs, with 74 and 75 actions respectively.
One surprise in the starting lineup was the inclusion of Adam Lallana, not in midfield but as a wide playmaker on the left. This changed the dynamic of Liverpool's usually energetic and pacy wing-play.
Even though Salah has been off-form in front of goal, he has been one of the side's best players in terms of off-the-ball work, and though Lallana is a good presser he doesn't quite have the acceleration of the usual wide players, or Shaqiri.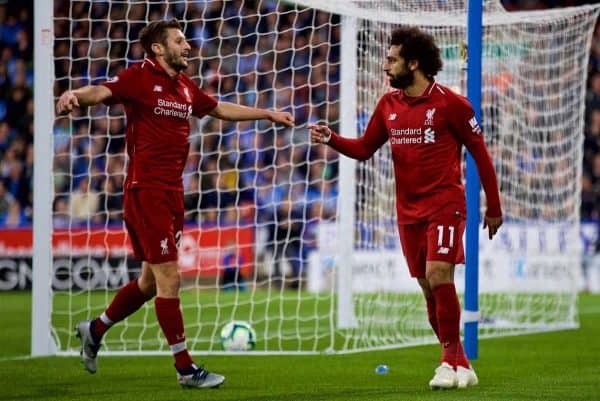 Liverpool also missed Sadio Mane for his ability to get something on Alisson's long balls, and eventually get them under control. He and Roberto Firmino are important when it comes to final-third control.
Not including the centre-backs, Mane is the player involved in the most aerial duels for the club this season, and even though he wins just 40 per cent of them at the first time of asking, he is also good at picking up second balls.
Loose Balls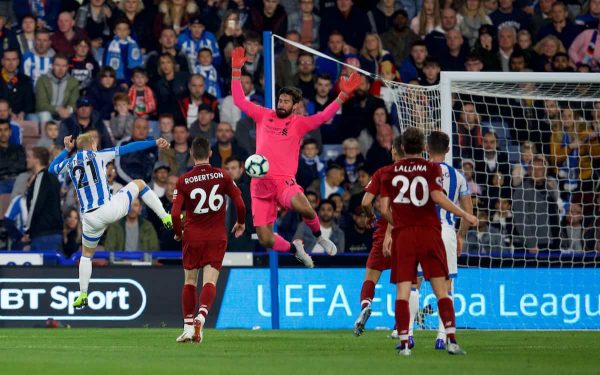 These loose balls are something Klopp has regularly spoken about, and he mentioned the issue again after the this game.
"Huddersfield did well for sure. They defended well very aggressively around second balls, and it's difficult to get into game if ball is in the air that often."

– Klopp
Klopp also often speaks about his side's pressing, and did so in some detail before this game when asked about the subtle changes to his system this season, but his buddy David Wagner mentioned the similar tactics used by his Huddersfield players in this game.
"It's the truth that we have problems scoring goals, but it's also the truth as well that we can perform at a very high level, and that we create opportunities.

"We have the spirit and passion and desire to limit an opponent like Liverpool. We have the bravery to play football, to press them high, go in their face, and go men against men in the last line."

– Wagner
Pressing and Space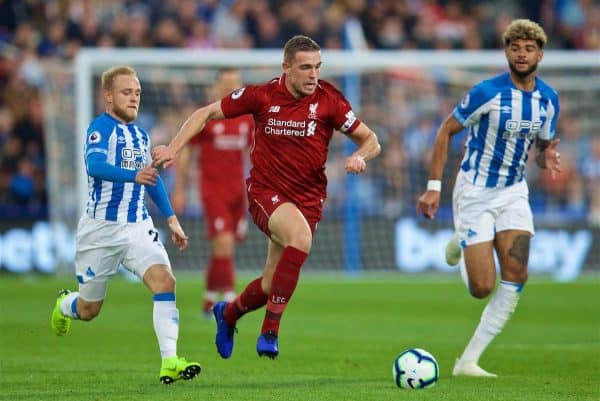 Pressing makes sure that the defender closest to the player in possession closes them down quickly while also blocking off passing lanes by angling their run accordingly.
The rest of the team will then either cut off other passing lanes by man marking, which is what Huddersfield tended to do, or wait in ambush, giving opposition players space in certain areas of the pitch and pouncing on them once they receive the ball—a ploy regularly used by Liverpool.
Tuchel: "There wasn't much space for Neymar. What #LFC do very well is to close the space down in that No.10 area, so our plan was to use the space down the wings and get our full-backs pushing on." #LFC #PSG

— Neil Jones (@neiljonesgoal) September 18, 2018
When both teams are using variations on these tactics it can make for a sloppy game if the players are not of a high technical standard, and even the best can struggle.
That was the case here, with only Shaqiri and Georginio Wijnaldum for Liverpool, and the impressive Philip Billing for Huddersfield, able to work their way through the game in this pressured environment.
Shaqiri's pass map is shown below, from StatsZone. He was tidy with the ball in midfield, and the one attempt at an incisive pass into the box which came off, led to the goal.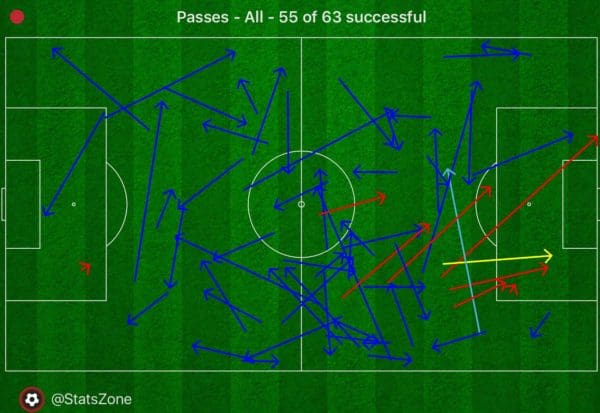 Huddersfield's press wasn't as full-on as Liverpool's and they often marked man-to-man in defence and remained fairly deep.
This meant there was lots of space for Liverpool due to the combination of this opposition press, plus a deep-ish defensive line.
Centre-backs would follow Sturridge into midfield leaving Salah one-on-one with lots of space, but either the passing was too sloppy or the Egyptian's touch was poor.
The image below shows the Liverpool shape, the pressure which was being put on them by the opposition and the large gap which regularly appeared in midfield.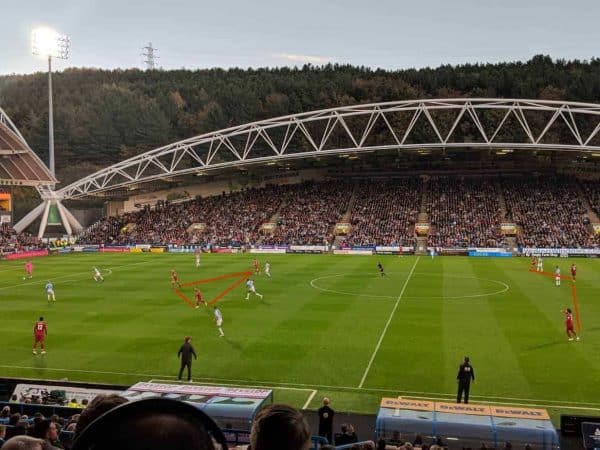 According to the data Salah was dispossessed four times and also had four unsuccessful touches.
Even once you look away from the Opta definitions of these things, it was evident to all watching that he and his team-mates were being wasteful in their build-up play in important moments, especially on the counter-attack.
To be fair to Salah, his goal was a more difficult chance than it looked on his weaker foot (xG of 0.09), and he made it look easy as he nestled it inside the far post.
Even though Shaqiri was the stand-out performer, Salah was still the match-winner.
'Sup xG?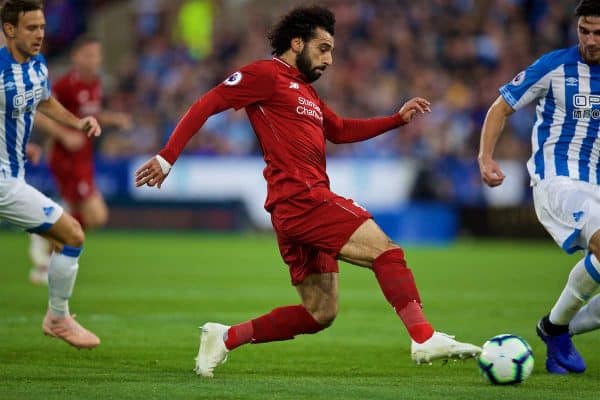 In the past two games, Liverpool's expected goals tally has been less than one.
This has dipped compared to their impressive chance-carving performances earlier in the season when this number was regularly up around two, and even three.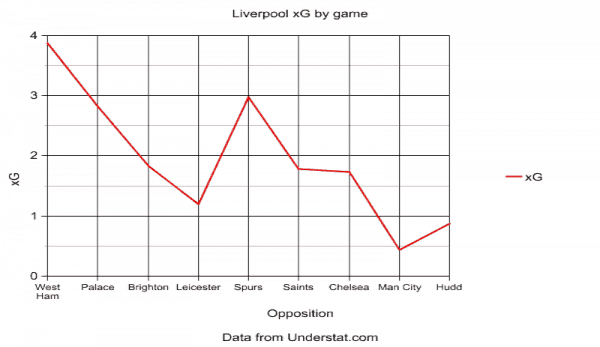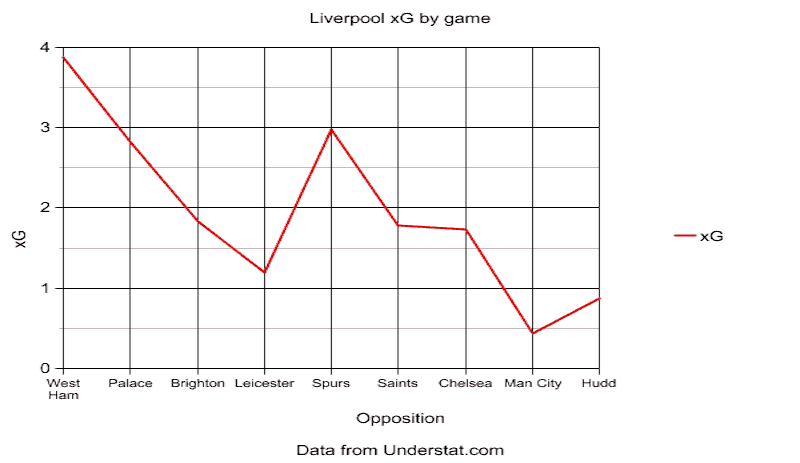 They have now dropped behind Chelsea into third in the xG column, for what it's worth, but remain second when it comes to the least xG conceded.
Man City are the top team for both, which is ominous for the rest of the league.
Who Will Star vs. Red Star?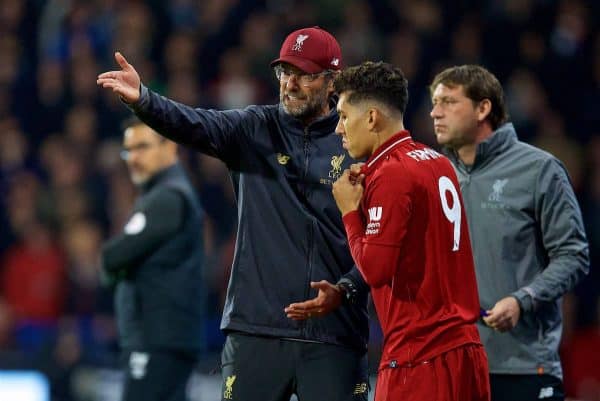 Liverpool used three different players in the holding role against Huddersfield, and even resorted to using the versatile Firmino in midfield by the end of the game.
They finished the match with a midfield three of Fabinho, Wijnaldum, and Firmino, even though the formation began to resemble 4-2-3-1 by that stage.
Klopp suggested that these moves were not tactical, and that Milner and Jordan Henderson picked up knocks, which could give him similar problems for the Champions League game against Red Star.
Curtis Jones wasn't involved with the under-23s this weekend, so they could have him lined up for a role, at least on the bench.
Fabinho will probably start, and Wijnaldum too given he only played 45 minutes on Saturday.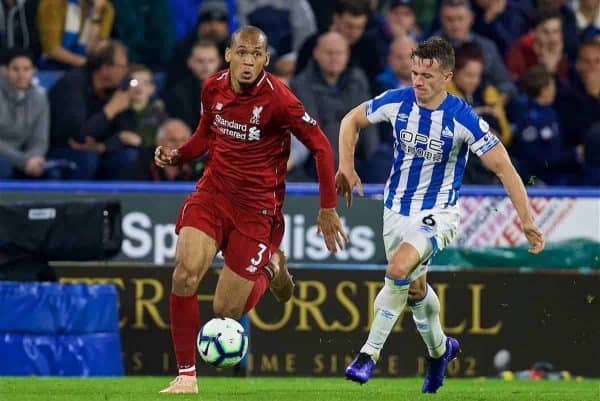 The third midfield spot is there for a recovered Milner or Henderson, Jones, Shaqiri again, or another tactical shift.
Klopp believes Wagner's Huddersfield are just getting started, and will improve, and was happy to take the win however it arrived.
"After that game everyone knows how good they are and how good they will be. I prefer [to win] the spectacular way, but I will take that today, completely."
Now he has to prepare for a different type of challenge, going from a game against a manager he knows the best, to a relative unknown quantity in the shape of Red Star and Vladan Milojevic.