Jurgen Klopp spoke to reporters at Melwood on Friday afternoon, to preview the following day's Premier League clash with struggling Cardiff City.
Cardiff have won just once in the English top flight this season, that being a 4-2 victory over Fulham last weekend, and sit 17th in the table.
Conversely, Liverpool are seeking their eighth win in the league on Saturday, as they look to leapfrog Man City into pole position ahead of the leaders' trip to Tottenham on Monday.
The Bluebirds' result last time out, and the experience of his opposite number, were the focus for Klopp as he rejected Neil Warnock's claim it would be "virtually impossible" for Cardiff to win.
"It would be so cool if that was the truth, but it's not, and they will try everything," he said.
"He's one of the most experienced managers in the world of football, so successful in the past it's unbelievable.
"Since I'm here my respect for the Championship grows, it's such a difficult league, and it looks like he can do what he wants in that league.
"We are aware of the quality of Cardiff, it's a challenge like it always is, to immediately adapt to a new situation.
"Cardiff and Neil Warnock are famous for the way he plays.
"The English boys knew it already, Marko Grujic played there last year and told us in pre-season about him and the way they play. It's all clear, but it makes it so difficult.
"Even all the games they lost were pretty tight or close, so they deserve all our respect. And they will get it."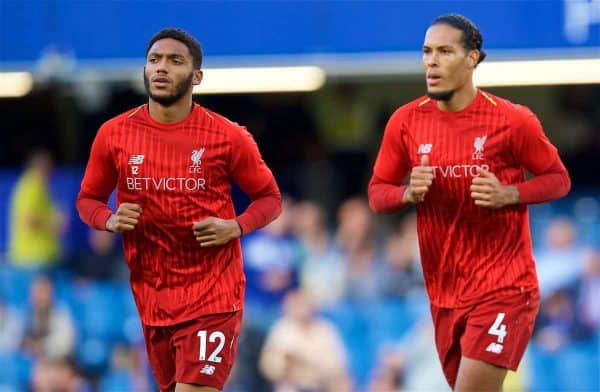 Klopp also addressed reports that Joe Gomez was in line for a new contract, saying "he has a big future here at Liverpool, no doubt about that."
Gomez's centre-back partner, Virgil van Dijk, was also on the agenda after he led the side to a 4-0 win over Red Star on Wednesday, revealing that the squad voted him stand-in captain.
The manager explained that Jordan Henderson and Naby Keita would again miss out due to injury, but praised the performance of his squad players in training, and most notably Divock Origi.
Fabinho, Liverpool's approach to set-pieces, his front three and the change to a 4-2-3-1 formation were also discussed in a very interesting press conference.