Xherdan Shaqiri has been the key creator for the Reds' last two games, and he should continue that role against Cardiff on Saturday.
I'm not sure what the Red Star supporters that infiltrated Anfield on Wednesday night we're calling Xherdan Shaqiri as I speak less Serbian than Dothraki but I'm guessing it wasn't the same as Jürgen Klopp who said the Swiss international was a "genius," following Liverpool's 4-0 win.
Unless Shaqiri is a secret member of Mensa, Klopp was affording him some serious footballing praise having given him an on-pitch telling off after the Carabao Cup defeat to Chelsea. Credit due? I'd say so. The Reds wouldn't have won twice last week without his contribution.
Charlie Adam suggested Shaqiri wasn't pulling his weight at Stoke (which was ironic coming from a player who could do with a shirehorse to pull his weight) and there was a general impression that the 27-year-old wouldn't put in enough graft to be used in midfield by Klopp.
Instead he was perceived by most, myself included, as back-up to Mo Salah on the right – an irony given Salah was signed by FC Basel to replace Shaqiri – and a game-changing substitute. Turns out he can play in both roles and makes contributions both as starter and a substitute.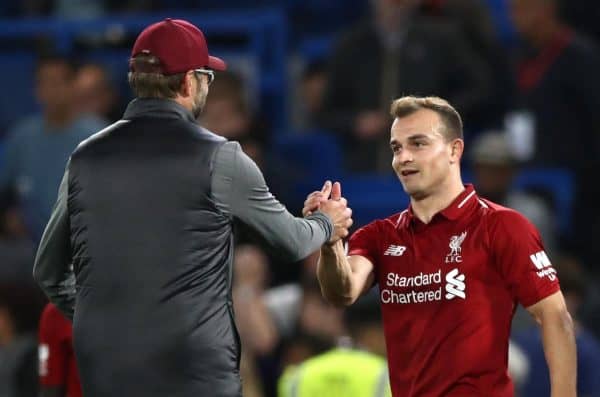 Daniel Sturridge's equaliser at Chelsea. Who played the ball through to him? Shaqiri.
Salah's winner at Huddersfield. Who played the ball through to him? Shaqiri.
Roberto Firmino's opener against Red Star. Who played the ball through to him? Andy Robertson, after being played in by Shaqiri who'd won the ball back.
Salah's first goal against Red Star. Who played the ball through to him? Shaqiri.
Gerard Pique's wedding day. Who walked down the aisle towards him? Shaqiri.
Whenever, wherever Liverpool need a goal it seems that Shaqiri is the man most likely to make it at the moment and his creativity is something that is much needed, particularly in games like the one at Huddersfield which was essentially a grim 0-0 with a goal.
I'd be surprised if Shaqiri didn't start in midfield again this weekend against Cardiff City. Whether Neil Warnock will park the dragon remains to be seen – the only guarantee with Warnock is that he'll blame the referee for everything before, during and after the game while citing a throw-in that went against him at Anfield when he was here with Sheffield United in 2003 – but we all know it'll be another one of those attack v defence afternoons that get more and more frustrating the longer Liverpool go without scoring. Shaqiri has already proved he can make the difference in such games.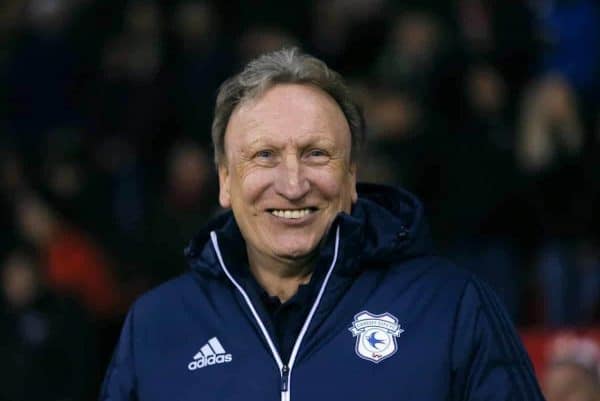 Think back to the Southampton match in September when Mark Hughes' negative tactics were completely flummoxed by Shaqiri playing in the hole behind the front three in a 4-2-3-1 – or was it a 4-2-1-3? – formation.
By half-time it was 3-0 and Shaqiri had made two of the goals with shots, one that was deflected in by Wesley Hoedt and the other that crashed down off the crossbar for Salah to knock over the line.
Job done and Klopp told Shaqiri to put his feet up at half-time, bringing on James Milner to sure up a midfield that had looked vulnerable, particularly on the left ahead of Robertson. Which makes me think that whatever happens against the Bluebirds we won't see Shaqiri start in midfield at Arsenal next weekend.
Or in any other game against the big six when Klopp will almost certainly use a more pragmatic midfield three (Fabinho/Henderson plus Wijnaldum and Milner until Alex Oxlade-Chamberlain is back).
"This is an interesting position for me," said Shaqiri after the Red Star win. "You can see I don't often play this position but maybe I have more of the ball and I can make good passes."
He certainly can and while it's a tad early to hail him as the creative genius that will break down every dogged defensive side that would happily take a point against the Redmen, it seems to me that doing such a job is precisely why Jurgen Klopp signed Xherdan Shaqiri. All he needs now is a few goals to go with the assists.
• Chris McLoughlin writes for This Is Anfield each Friday; he's also senior writer for the Official LFC Matchday Programme and LFC Magazine. You can get the LFC v Cardiff City programme here.