Brazilian midfielder Fabinho has only started one game for Liverpool so far this season, but this should be no cause for concern, explains Joel Rabonowitz.
Since his £43.7 million arrival from AS Monaco in the summer, Fabinho has yet to feature for the Reds in the Premier League, with Jurgen Klopp opting to play the long game by gradually integrating Fabinho rather than throwing him into action from the start.
Meanwhile, the outstanding form of both Gini Wijnaldum and James Milner has been key to Liverpool's impressive start to the 2018/19 campaign, with both players stepping up a gear and thriving with the increased competition for places in midfield.
Naby Keita, too, has been eased in more slowly than many might have expected, as Klopp has largely stuck with his tried and tested figures in the opening weeks of the season, allowing his new recruits ample time to settle in away from the spotlight.
Although it has come as a surprise to see Fabinho used so sparingly so far, fans need not worry about his low key start to life on Merseyside – and given Klopp's excellent record with transfers at Liverpool, there will be a long-term plan for Fabinho to become an increasingly prominent figure over time.
Learning a complex role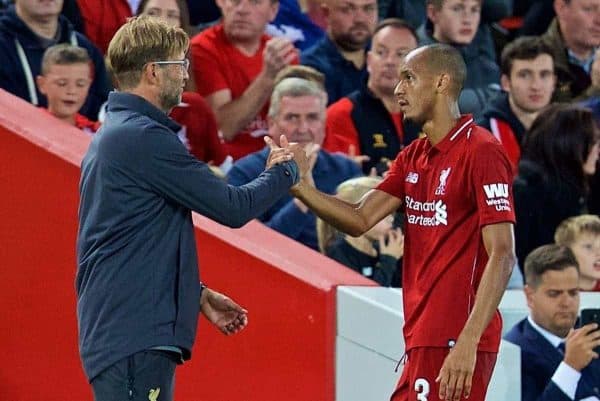 Liverpool haven't signed a specialist defensive midfielder for quite some time, and Klopp quickly made the move to convert Jordan Henderson into a No. 6 upon his initial arrival at the club to fill the deepest midfield role.
The captain has been Klopp's go-to choice in that position when available throughout the majority of his tenure, while Wijnaldum has increasingly been used as an alternative option there in more recent times to very good effect.
Fabinho, meanwhile, is very much a specialist defensive midfielder, which isn't to say he is limited in what he does, but his natural instinct is geared towards breaking up play with tackles and interceptions and protecting the back line through intelligence defensive positional play- while these are skills which have been learned by Henderson and Wijnaldum, who excel more naturally in other aspects.
However, the demands of playing the No.6 role for Liverpool is an entirely different prospect to doing so for almost any other club, given the unique style of play and sheer range of responsibilities the No.6 has to cover in Liverpool's attack-oriented system.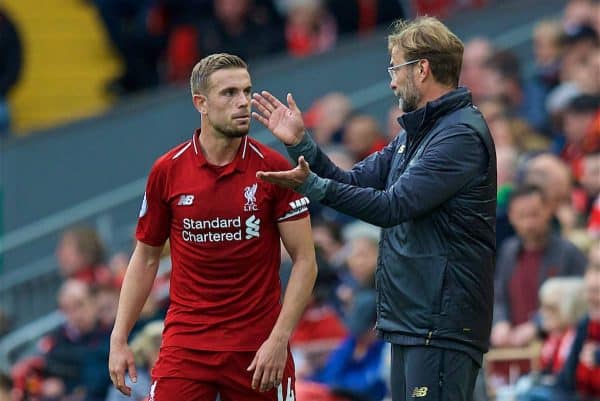 For Liverpool, the No.6 has to provide a platform for attacking moves by distributing the ball accurately and efficiently, cover for marauding full-backs when they push forward, and cover an enormous amount of ground out of possession to close down spaces and help win possession, often with the other two midfielders stationed much further up the pitch.
It's a highly complex job and one which naturally takes a considerable period of adaptation on the training ground. While Fabinho was ever-present throughout pre-season, playing the role in low-intensity friendlies is not comparable to doing it in high stakes Premier League and Champions League encounters.
As Klopp explained: "It's really not complicated, he just needs to get used to it. It's about positioning, it's about reaction, about spaces defensively, closing them, offensively using them.
"It's a football team with a specific way of playing. It needs time, and they were all used to other football teams."
Given that Fabinho was used to performing a different role with different demands in a different tactical system at Monaco, in a slower and less physically demanding league, it makes complete sense that it should take him a while to learn what is required to fulfil that role in Liverpool's system.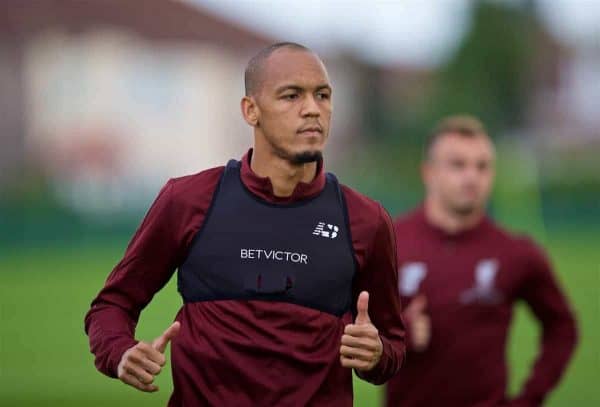 While a £40m+ price tag tends to place pressure and expectations on new signings, Klopp rightly doesn't feel a duty to force expensive acquisitions into situations before he feels they are ready. He could have selected Fabinho from the start of the season, attracting scepticism and perhaps unfair criticism should he have struggled to adapt.
Instead, by patiently putting time into coaching him into the role at Melwood, Klopp has allowed Fabinho to get up to speed with the stylistic and tactical nuances of his position in Liverpool's system out of the spotlight- and in doing so, he will be better prepared once Klopp decides he his ready to feature on a regular basis.
Lessons from the past
Fabinho is not the only new signing Klopp has eased into the side slowly, of course. The prime example from last season is Alex Oxlade-Chamberlain, who arrived from Arsenal for a similarly expensive fee and barely featured for weeks after joining, other than the occasional late cameo from the bench.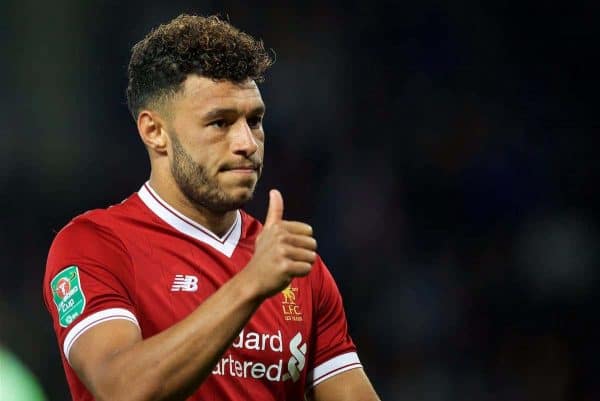 Chamberlain appeared unsure of his role, shorn of self-belief and struggling to make an impact whenever he did get a rare opportunity in the side to begin with.
Gradually, however, he grew into a pivotal figure throughout the season to the point where his eventual season-ending injury was seen as a devastating blow and had a significant detrimental impact on Liverpool's midfield.
His rise to prominence was a direct result of Klopp – and his coaching staff – working on the training ground to coach Chamberlain into the demands of the central attacking midfield role in which he eventually thrived, a position which enabled him to showcase his best attributes and influence games on a regular basis.
Andy Robertson, too, was another who hardly featured for months after joining, and only found his way into the side following an injury to Alberto Moreno in December.
During that time spent on the bench, however, the Scot had clearly developed rapidly in training and adjusted to playing left-back for a Liverpool side who dominate possession against the majority of opponents- with an onus on the full-backs getting forward and playing a key role in attacking patterns- as opposed to a relegated Hull City side who were used to spending most of the time penned back in their own final third.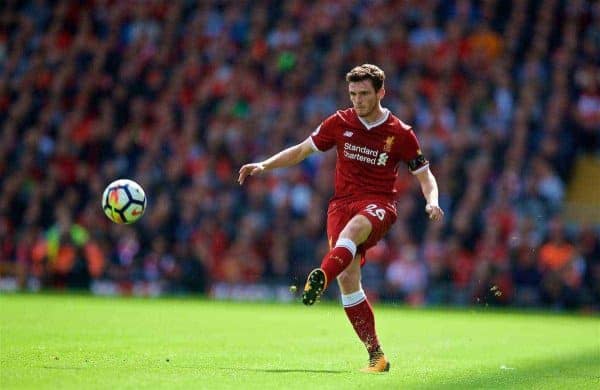 Again, Robertson grew from strength to strength and is arguably now one of the finest left backs in Europe and one of the first names on the team sheet every week for Klopp.
Of course, Fabinho is an entirely different type of player to both Chamberlain and Robertson and their success stories don't necessarily mean the Brazilian is guaranteed to succeed in the same manner.
However, these examples provide concrete evidence of Klopp's exceptional man-management and coaching skills, to improve players and bring them up to speed on the nuances of Liverpool's system so that they all buy into the same tactical blueprint, even if that means a gradual period of adaptation before they become first-team regulars.
The importance of strength in depth
Klopp has made relatively few changes to the side so far this season- with the main exception being in the League Cup defeat against Chelsea, in which Fabinho made his full debut with a mixed bag of a performance- the emphasis being on maintaining momentum and not disrupting the rhythm of a winning side.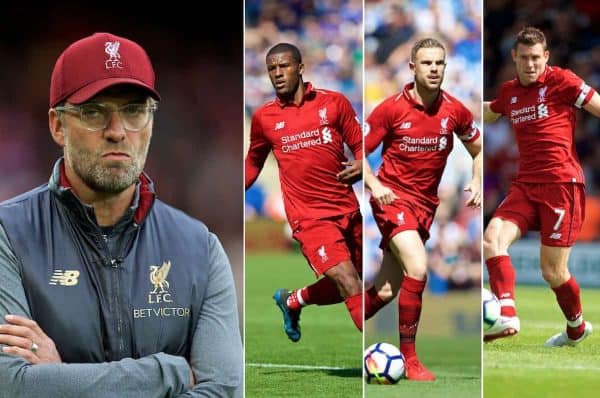 However, as the winter months draw closer and fixture congestion becomes a serious factor once more, with inevitable knocks and niggles likely to pile up at some stage, rotation will become a necessity.
The difference this season, though, is that Liverpool now have the sufficient strength in depth in the squad across most positions to make a substantial number of changes without a notable drop off in quality.
For Fabinho, this could be where he gets the opportunity to stake a claim for a more regular starting place in the side, as Klopp may opt to rotate two of his midfield trio for a weekend league game following a midweek Champions League tie, for instance.

Especially during the Christmas period, and even more so should Liverpool embark on a lengthy FA Cup run in the New Year, the number of rest days will diminish and fatigue will be on Klopp's mind.
To have the luxury of bringing in Fabinho to give Henderson or Wijnaldum a rest is a fantastic position to be in, and Klopp can now call upon three different No.6 options for different types of games.
There will therefore undoubtedly be ample opportunities for Fabinho to make his mark as the season unfolds.
And while his Liverpool career has been very much a slow burner so far, there is still every reason to believe that the 24-year-old will prove his value over time and deliver the type of performances which saw him gain a reputation as one of the best emerging midfielders during his time in France.