Jurgen Klopp has moved Liverpool gradually toward a 4-2-3-1 system this season, but says it's all about the players, not the system.
The Reds were famed for their front three last season as they tore defences to shreds all over Europe, but the 4-3-3 has been phased out somewhat this term.
Instead, Klopp has moved back toward a double pivot in midfield of late, with Roberto Firmino playing a more withdrawn role behind Mohamed Salah, now at centre-forward.
It's not an entirely new switch, as the boss says, and he's keen to point out that flexibility is key and changing tactical approaches are simply about giving the players the platform to perform.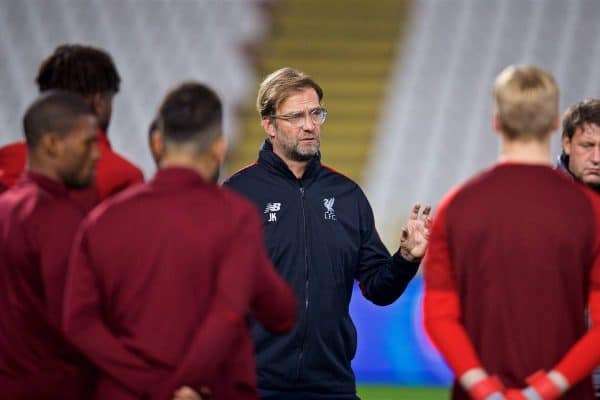 Talking to Premier League Productions, Klopp says 4-2-3-1 is just one of several systems he'll use according to need.
"We played [4-2-3-1] from time to time, we didn't only play it at the beginning when I came in.

"We played it last year, I think we played it in the last game. We played different systems.

"But I don't think too much about things like that, I'm always in the situation. I use my experience with only what I can remember – I don't go through my papers and think, 'What did we do in that situation?'

"I'm pretty sure we played a diamond because I played it always when I had the opportunity to do it, bringing in two strikers and stuff like that.

"Our system, when we play with all three up front, is something like a diamond; it can be a 4-5-1, it can be a 4-3-3."
The diamond variation of the Reds' 4-3-3 was seen earlier this term, with Firmino deeper than his partners in attack, but—aside from at Arsenal—it's the double-pivot midfield which has been on show recently.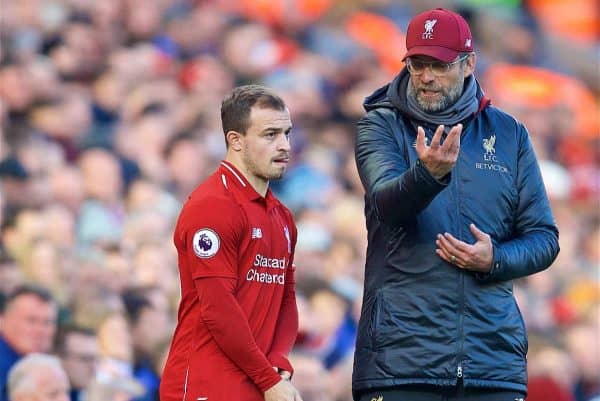 Klopp, though, reiterates that the players are more important and he simply gives them areas to operate in.
"Of course, 4-2-3-1—4-4-1-1 I'd prefer in most situations to name it—is a good system.

"But it's never about the system, it's all about the players.

"My job is to bring the players into the best position where they can help the team most with the things they can do.

"If I can do it with the system, I do it, but it's not that we go through the week and be very creative with things like that because, in the end, the players need to play [on instinct].

"If I need an hour or two to explain what I want from them, maybe I have got them [in the mind] but I don't get them deeper. That's the problem.

"Don't make football more complicated than it is; the game has enough demands for the players that we don't need a manager who asks more questions."
The boss also spoke about how he feels intensity before matches, but not pressure, and how he dismisses the notion of other peoples' comments affecting him.
An extremely forceful-minded coach, Klopp is absolute in his belief that a successful team is all about enabling those on the pitch in the best way possible.
For Liverpool, this season and going forward, it seems that will be by lining up in the 4-2-3-1 more often than not. Or, perhaps we should say, in a 4-4-1-1.