Everton did their city rivals Liverpool a big favour on Sunday afternoon, but Man United were unable to do the same as the Premier League title race continues.
The Reds played their part with a 2-0 win over Fulham in the Sunday lunchtime kickoff at Anfield, moving to the top of the table with both Chelsea and Man City to play later in the day.
Standing in their closest adversaries' way were their two biggest rivals historically, with Everton and United travelling to Stamford Bridge and the Etihad respectively.
Arsenal were also in action on Sunday evening, taking on a Wolves side beaten in their last three games as the Gunners looked to maintain their status as fifth best.
Goals from Mohamed Salah and Xherdan Shaqiri were enough for Liverpool by 1.50pm, but Chelsea's attack were unable to do the same for Maurizio Sarri.
Instead, Everton produced a spirited display to hold the Blues to a 0-0 draw, no doubt giving Klopp food for thought ahead of the Merseyside derby on December 2.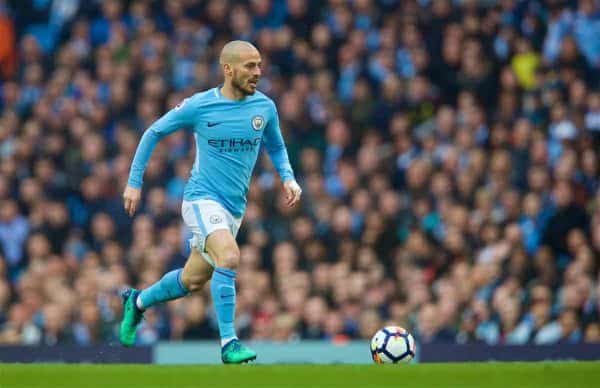 City and Arsenal kicked off simultaneously at 4.30pm, but enjoyed contrasting fortunes in the opening stages at home.
The champions went 1-0 up on 12 minutes through David Silva as United took a negative approach to the Manchester derby, while Ivan Cavaleiro opened the scoring for Wolves soon after at the Emirates.
After the break, Sergio Aguero doubled City's lead before the introduction of Romelu Lukaku led to United halving the deficit, with the striker winning a penalty, to be converted by Anthony Martial.
But the game was sealed by one of Jurgen Klopp's disciples, Ilkay Gundogan, who picked up the ball on the edge of the six-yard box to secure a 3-1 win.
This result means Liverpool head into the international break second in the table, two points behind City with a far superior goal difference (+18 to +31).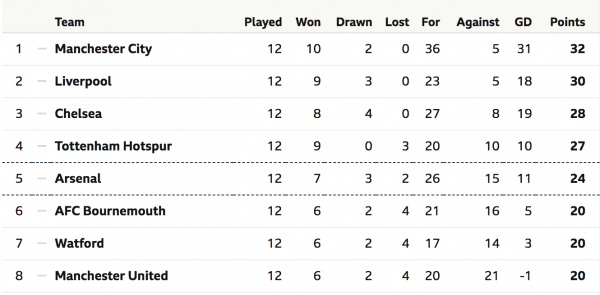 The silver lining, there, is that progress has been made by moving two points above third-placed Chelsea.
And despite Henrikh Mkhitaryan's goal ensuring a 1-1 draw with Wolves, Arsenal are now six points behind in fifth, with Tottenham's 1-0 win at Crystal Palace on Saturday keeping them fourth with 27 points.
Remarkably, three teams are still unbeaten in the Premier League after 12 games, and it is a testament to the ferocity of the title race that any points dropped could prove seismic.
Next up for Liverpool is a trip to Watford on November 24, while City head to West Ham (Nov 24), Arsenal make the trip to Bournemouth (Nov 25) and Tottenham and Chelsea face off at Wembley (Nov 24).