The media were critical of the Liverpool's performance, individual displays and Jurgen Klopp after the shock 2-0 loss to Red Star on Tuesday.
A woeful display from the Reds resulted in a deserved defeat to the Serbian outfit courtesy of Milan Pavkov's first-half brace.
Klopp's side came unstuck in the hostile Red Star stadium atmosphere, with Liverpool out-fought and, worryingly, outplayed by the hosts.
It's a bad defeat which saw Klopp's side surrender top spot in Group C and puts huge pressure on the final two heavyweight showdowns at PSG and with Napoli at Anfield.
Here's how the media assessed a night to forget in Belgrade.
Reporters reflected on a poor night for the Reds – with some feeling such a result had been coming…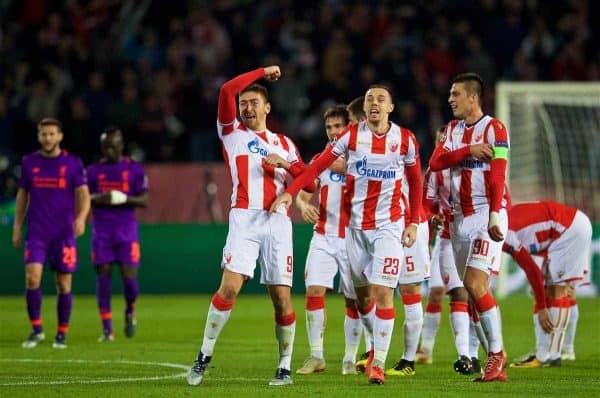 Writing for Goal, Neil Jones summed it up well, assessing that it was a result to match the performance for the first time this season:
"If Liverpool's results have generally not matched their performances this season, this was the night that changed.

"Dreadful performance, dreadful result. Dreadful evening."
The Telegraph's Chris Bascombe felt Liverpool were given a taste of their own medicine and labelled the performance "the most timid of Klopp's reign":
"This was Klopp's side suffering what they had inflicted on others last season – surrendering to the sound.

[…]

"It was a shocking performance, probably the most timid of Klopp's reign in a rowdy, unnerving arena where they had to be at their most resilient."
Our own Karl Matchett thought Liverpool's habit of winning ugly caught up with them, and feels the lack of form and big performances is now becoming a genuine concern:
"Of late, Liverpool haven't really shown many top-level performances at all, and wins haven't been as regularly forthcoming. It's now three wins in nine across all competitions: Huddersfield, Red Star and Cardiff those victories.

"There were tough teams throughout that run of course and, in isolation, not beating each of them in turn isn't anything to complain about, but when they are compounded by results such as this one it can quickly turn the mood."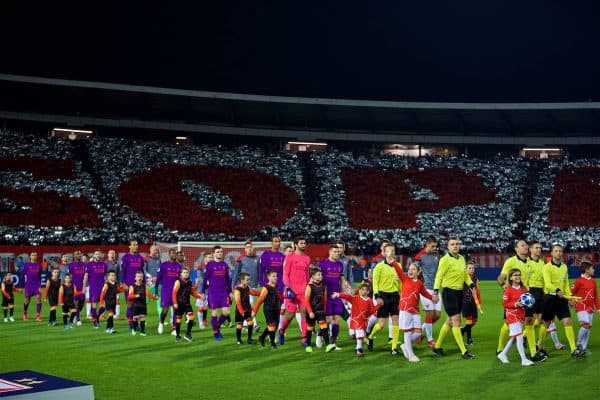 Offering an alternative view on the night, the Evening Standard's David Lynch made an interesting point on how the game showed why the European Super League should be a no-go:
"The Serbian champions would be among the clubs to suffer if a breakaway occurred but it is also worth noting that fans of so-called bigger clubs would miss the opportunity to travel to cities like Belgrade and witness the atmosphere its residents can produce.

[…]

"But levelling the playing field somewhat should be the first priority of everyone involved in the game, not securing an even larger chunk of the rewards – and nights like this show exactly why."
As expected, Liverpool's performance was heavily criticised and reporters discussed what went wrong…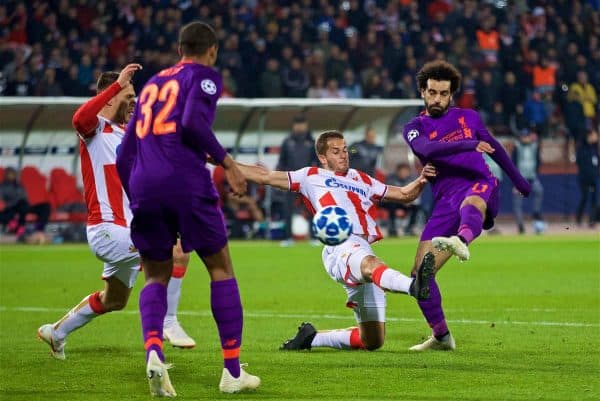 Analysing the display, Bascombe assessed the performance as "the antithesis" to that of a traditional Klopp team:
"The lack of character in those opening stages must have hurt most.

"This performance was the antithesis of everything Liverpool have stood for under this manager."
Perhaps most damningly, the Mail's Dominic King was critical of Liverpool's attitude, assessing Klopp's side gave off the impression they thought it would be a formality:
"Perhaps, deep down, Liverpool thought it was going to be a formality.

"Klopp would never entertain that suggestion if it was made to him, while the players themselves would deny it but this was a performance that invited such stinging criticism."
The Liverpool Echo's James Pearce thought the big issues were the lack of passion and fight, and assessed that out-battling Klopp's side was how Red Star made up for the gulf in quality:
"How was such a gulf in class bridged? The brutal reality is that Vladan Milojevic's side showed the greater heart, the greater fight, the greater passion."
ESPN's Glenn Price focussed on a growing, worrying trend with the Reds' failure to exert control in midfield in fast-paced games:
"On the pitch, Liverpool are clearly struggling to impose any sort of control in midfield in games when they are fast-paced. It was painfully evident against Huddersfield Town, Arsenal and now Red Star."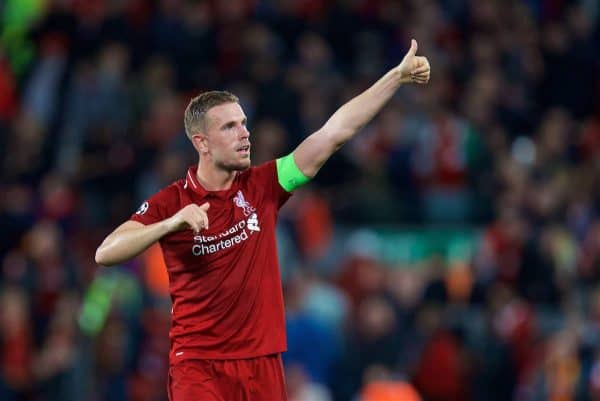 And discussing the midfield struggles, Bascombe felt Jordan Henderson's absence was highlighted:
"Those who still wonder why Klopp has so much faith in captain Jordan Henderson witnessed how he was missed here. His return from injury cannot come soon enough."
Matchett expressed concern with Liverpool's struggle to create of clear chances as well as the current inability to finish them when they arrive:
"Where has the ruthlessness gone? It's not just about beating teams by four and five any more, sometimes Liverpool are only getting one or two big chances in games.

[…]

"Quite aside from the fact we'd expect Liverpool to create more chances across 90 minutes, it's also incumbent on the front men to start putting away the opportunities which are created with more regularity."
On a similar note, the Mirror's Mark Jones dismissed criticism of Mohamed Salah and felt that the lack of supply to the Egyptian was a bigger problem than his performance:
"There was an alarming lack of creativity to help a player who was always getting swarmed around whenever he was near the goal, and this game surely has to serve as a reminder that others around Salah can't get away with underperformance for much longer."
Various reporters were also unimpressed with Klopp's work on the night…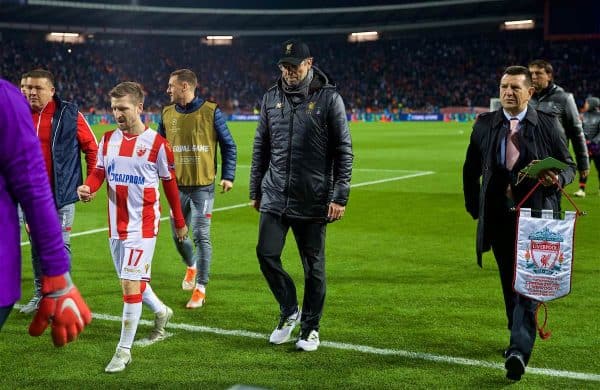 Our man Henry Jackson thought Klopp's changes backfired and questioned why the boss made any in the first place:
"Klopp made three changes to the team that drew at Arsenal but it didn't make too much sense and backfired in grim fashion."
The Guardian's Andy Hunter attributed Klopp's selection as the start of Liverpool's complacency on the night:
"Klopp's selection, having omitted Xherdan Shaqiri to avoid any political distractions, looked questionable and complacent from the start.

"Roberto Firmino's rare absence from the starting lineup was understandable, with the Brazilian fatigued of late, but the introduction of Daniel Sturridge, Adam Lallana and Joel Matip added to their disjointed approach."
Jones felt this was the wrong game for Klopp to rotate, assessing the German should have waited until Sunday's clash with Fulham to make changes:
"We all know that there are squad players, but there are also squad games for those squad players to play in.

"And while this could easily come across as trying to be wise after the event, an away game in a hostile Belgrade environment might not be one of those when it is compared to…say a home game against the side bottom of the Premier League on Sunday."
Discussing the specific switches, Lynch thought Klopp made the wrong call starting Daniel Sturridge in particular as the striker lacks the physicality needed for such a fixture:
"He falls short when asked to occupy defenders physically or hold up the ball before bringing midfielders into play – crucial elements of a forward's game away from home.

"And so Klopp may be minded to pick Sturridge's games more wisely going forward in order to avoid a repeat."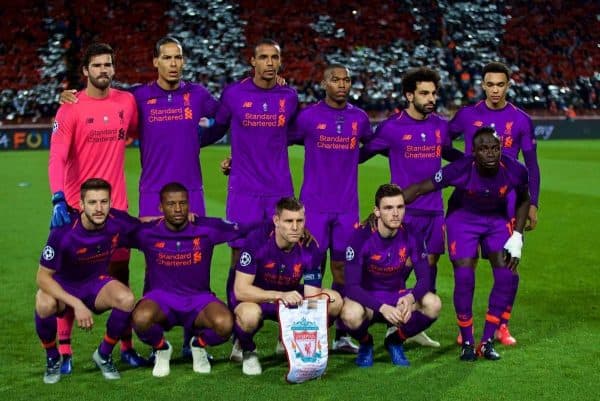 Finally, Lynch also thought Joel Matip failed to take his chance to impress and feels the Cameroonian could soon face the exit door if his stand-in displays don't improve:
"Even the typically positive Klopp would struggle to argue that the 27-year-old's ponderous first-half showing was up to scratch.

[…]

"If the former Cameroon international does not start grasping these chances and putting in commanding performances, Klopp will view a sale as the preferable option."