Steven Scragg assesses the win over Fulham, the perception of Liverpool this season and the fact the Reds are in a title challenge for real this time.
Twelve games in and still unbeaten. A win against Fulham that encapsulated the season so far, in one handy, bitesize, 90-minute portion.
Don't feel bad about being in contention, though.
Guilt trips are being demanded of us.
Oh, what temerity we have shown to reach this point of the season and still be within touching distance of the FFP renegades from the other end of the East Lancs Road.
The way some reds are almost apologetic for us keeping pace with the defending champions, you are left with a peculiar notion that we should perhaps feel guilty for being in the mere presence of the genius that is Pep Guardiola's Manchester City.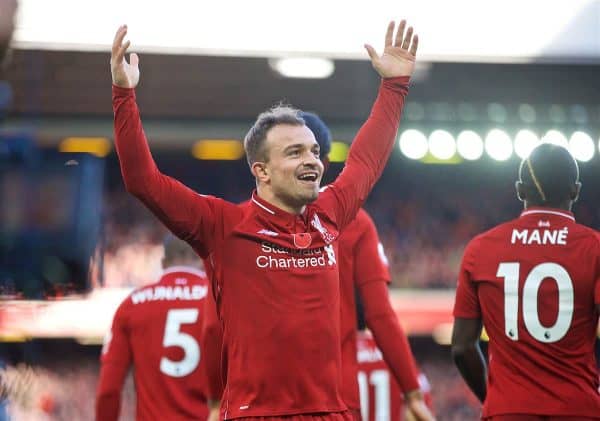 We should feel guilty because Aleksandar Mitrovic's disallowed goal could have easily been given—dependant upon where you decide to draw the 'line of proof' on your social media photo of the incident.
We should feel guilty because we ruthlessly put the ball in the back of Fulham's net just 14 seconds after Fulham thought they'd broken the deadlock themselves.
We should also feel guilty because the ball was moving when Alisson Becker released it swiftly, to set our first goal in motion.
I've never been one for doing what people tell me I should.
Enjoying our position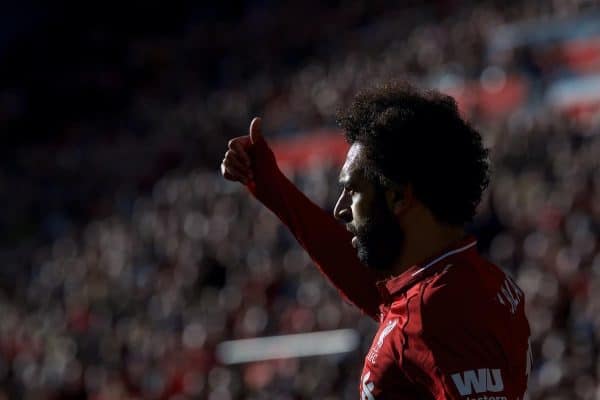 Clearly, we aren't firing on all cylinders yet. But, as much as looking at what that says about us, we should also look at what that says about our rivals.
We are plodding along. You can't argue with that. Sporadic spikes in artistic endeavour are occurring without us maintaining that high level of performance for entire matches.
A game or so ago I declared these 'plodding along' sessions as footballing power naps.
This game was an increasingly familiar oddity and Liverpool could have enjoyed a comfortable lead in the early exchanges. Profligacy seemingly is back in fashion and this invited Fulham to be brave for a spell, before we finally opened the scoring.
So far this season we have been sporadic, rather than consistent, in our attacking threat.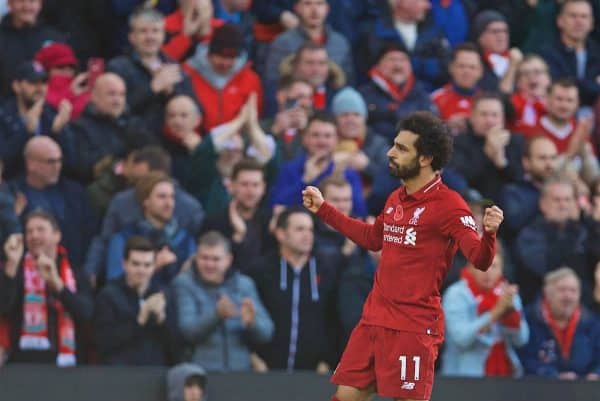 Mo Salah opened the scoring on Sunday, with his jet-heeled breakaway and finish, after the disallowing of Mitrovic's header.
His confidence is slowly being rebuilt and I expect him to be reaching the levels he was playing at last season within another month.
The cloud which has been following him around since Kyiv, a cloud which grew darker still during the World Cup, seems to be lifting.
Bit by bit, Salah looks like he is beginning to enjoy football again. That confidence is returning brick by brick, and this should worry our rivals.
We've got this far without the services of the Salah of 2017/18. Dare to imagine what we might do once that version of Salah is in full flow once more. He will get there. From is temporary, class is permanent and all that.
Roberto Firmino and Sadio Mane continue to flicker in and out of games too; rather than define or own them they are assisting in pick-pocketing them. Once we start to take a more convincing stranglehold of the pitch they will switch into on-mode more than they will flicker off.
Midfield minefield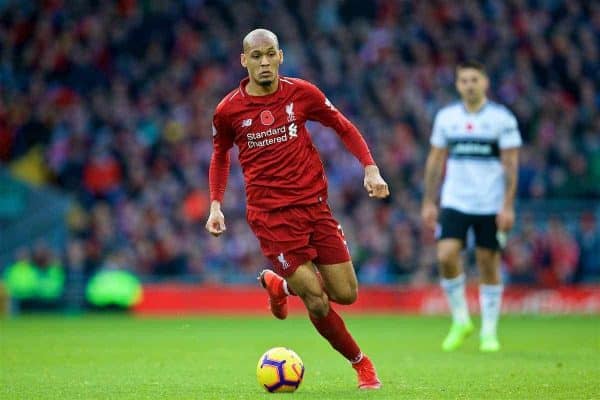 Is our 'flattering to deceive' position simply down to the flickering form of our front three, who have been 'enigmatic' at best, compared to the force-of-nature aspect they were last season?
No, of course it isn't.
I might be broaching 'no shit Sherlock' territory here, but our midfield is our main cause for concern.
The midfield is going to be the key element for us beyond the latest international break and the conundrum of finding the right combination of players continues to furrow the brow of manager and fans alike.
Xherdan Shaqiri was our best player on Sunday. Excellent movement, energetic, always available, outstanding touch, superb goal.
Drawn into a Twitter conversation about our midfield a few days ago, I stated we had enough midfield numerical options, without having enough aesthetic variation of options.
Do the sums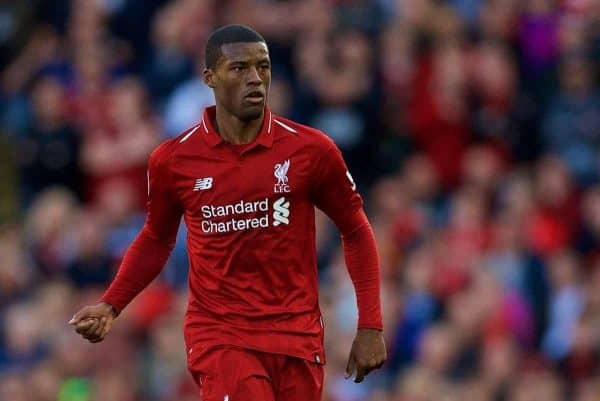 We deploy three midfielders.
Along with Shaqiri, we currently have the option to field Jordan Henderson, James Milner, Gini Wijnaldum, Fabinho, Naby Keita and Adam Lallana.
That is seven players for three positions no matter what you think of their individual capabilities.
Throw in the absent Alex Oxlade-Chamberlain and the fact that Trent Alexander-Arnold could cover the position and we aren't light of numerical options for midfield, as all of this doesn't even take the much-vaunted Curtis Jones into account.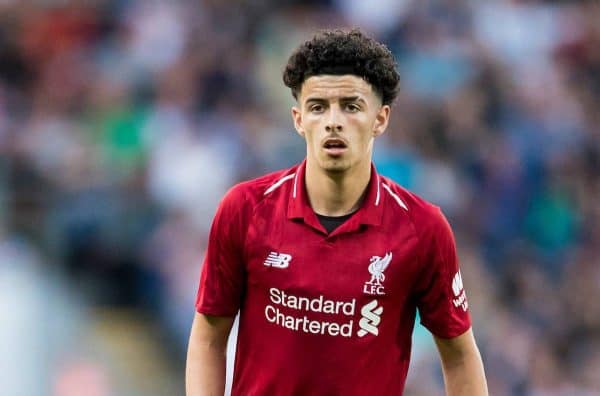 Maybe we have too many midfield options?
Ultimately, it isn't the number of midfielders we have, it is the collective we opt for.
The three we do select need to be able to link telepathically in the same way the front three can; the three we do select need to be balanced with respect to their individual talents.
Solve that puzzle and we'll be punching as hard as Manchester City.
Enjoy the rest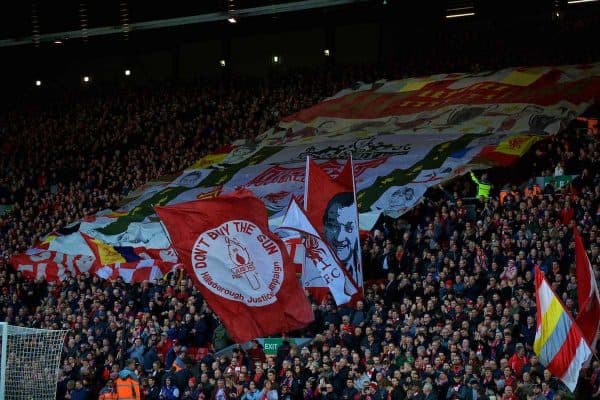 The last international break of 2018 is upon us.
A perfect chance to draw a deep breath and assess where we are and where we can go from here. Maybe Jurgen Klopp can do his sums and settle on a midfield which can click in the manner we need it to.
Domestically, we will emerge from the international break away to Watford, while December is overloaded with games, all of which are winnable.
We won't win them all, because fixture congestion catches everyone out eventually, but if we can find that consistency of performance to match our consistency of results, then we'll be apologising for keeping pace with Man City for quite some time to come.