Jurgen Klopp was full of praise for how his Liverpool side broke down a defensive Fulham outfit to seal a 2-0 victory at Anfield on Sunday afternoon.
The Reds moved back to the top of the Premier League, albeit possibly briefly, as goals from Mohamed Salah and Xherdan Shaqiri downed relegation candidates Fulham.
Salah's opener came in controversial circumstances, seconds after Aleksandar Mitrovic's strike was ruled out for offside, but Shaqiri made his count with a sumptuous finish at the far post.
Speaking to reporters after the game, Klopp said he was "completely happy" with Liverpool's performance, particularly after a 2-0 humbling at Red Star in midweek.
"I don't know exactly how many chances there were today, it's not too important," he said.
"We scored twice. Maybe a bit strange, one after quick restart, one after a set-piece.
"But that's very important as well, that you have these situations in your locker.
"I'm completely happy. Apart from [not] scoring more goals, it was a really good performance."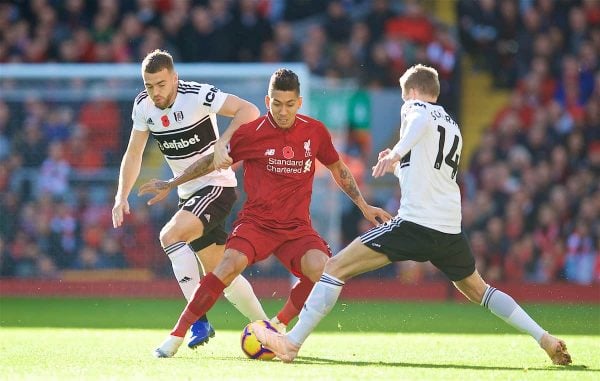 Klopp noted how Fulham took a different approach to previous games in the season, saying it was "the first time in the season they played like this, with four or five centre-halves."
The manager also gave his take on Mitrovic's 'offside' goal, opting to praise how his players reacted: "That was brilliant; Ally, Trent, Mo and done. That was a fantastic situation."
Interestingly, Klopp was asked about the upcoming international break, and Naby Keita's involvement for Guinea in particular after spending most of the recent domestic run out injured.
He advocated his No. 8's inclusion, despite playing just 90 seconds since returning, but in Jordan Henderson's case he conceded the club "are in talks" with England over his fitness.
Liverpool are next in action on November 24, when they make the trip to Vicarage Road to take on Watford in the league.