Jurgen Klopp believes that Liverpool couldn't "find their mojo" as they limped to a 2-0 defeat at the hands of Red Star in their Champions League tie on Tuesday.
Two first-half efforts from Milan Pavkov saw a front-footed Red Star side stun their high-profile opponents, with the Reds unable to respond.
The likes of Mohamed Salah, Joel Matip and Sadio Mane all had chances to at least net a consolation, but the biggest miss of the night came from Daniel Sturridge before the break.
Speaking to reporters after the game, the manager highlighted this as a clear sliding doors moment, while criticising the performance of his side on the whole.
"We had the first big chance, I think it was Daniel with a very big one, and each goal in a game like this leads the game in a specific direction," he said.
"We gave them too many set-pieces before they scored, so they could kind of train it, and then they scored with the header from a corner.
"The second goal was kind of out of the blue, we had the ball and gave it away.
"That's not cool in a game like this, in an atmosphere like this, in a situation like this."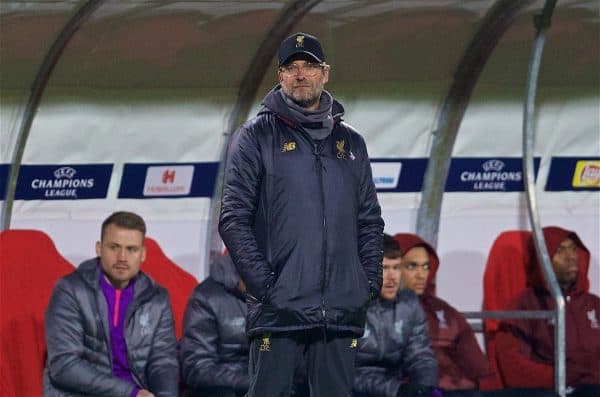 Klopp also discussed the atmosphere in the Marakana, and its effect on his side, saying "noise-wise it was not a problem, but after the second goal [Red Star] could smell it."
He insisted the Reds were "not surprised" by the hosts' aggressive approach, but said "if you saw the first game it was similar—wild and direct."
"In Liverpool we controlled the game, tonight we didn't," he added, saying "we made life a bit too easy tonight for Belgrade."
Klopp concluded that Red Star deserved the three points, and now it is back to the drawing board with Paris Saint-Germain to come at the end of the month.
Before then, however, comes the visit of Fulham on Sunday in the Premier League, and though they are currently struggling, the Cottagers could smell blood after this defeat.