Recent wins over Bournemouth and Napoli revealed the heavyweights Liverpool have become under Jurgen Klopp. Now they must continue to box smart.
And then, there was silence.
As the ball flicked into the area and Alisson rushed out, making himself broad and bear-like to thwart the late advance of Arkadiusz Milik, Liverpool chalked up another vital victory.
An exhale. A collective Anfield sigh of relief, followed by euphoria.
The last week has been a monumental, character-defining one for Klopp's side. And yet the hard times are far from weathered.
Mike Tyson once gave an interview in which he outlined the struggle of becoming a champion. It lay, he said, in reaching the summit and fighting tooth-and-nail to retain that position. The fight is never over—get to the top and it's only just begun.
With Liverpool's impressive 4-0 victory over Bournemouth, and Man City's faltering at Chelsea, Klopp's men now sit outright in the driving seat.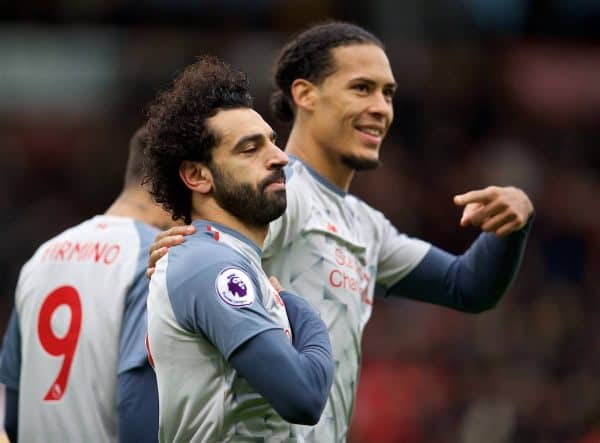 The south-coast slaughter was so much more impressive than it initially appeared.
Perhaps a week on we can appreciate more the difficulty in heading to a rigorous away ground—home to an in-form side—for an early kickoff, knowing anything less than victory would spell for painful repercussions.
Had Klopp's side lost that game, it doesn't take a clinical psychologist to say City would have taken to Stamford Bridge with a different, enhanced mentality.
The reality is this: should Liverpool not drop a single point from here until the end of the season, they become champions.
It's as simple as that. It won't play out that way, but there is the reality.
The cruelty, or rather fascination, of this season and the standard of football now in the Premier League means that, regardless, the Reds will still have to be near-perfect in order to carry their title charge through to the last.
Not for many years have fans seen a squad this well-equipped and accomplished all over the pitch—yet never before has a direct rival been as robotically consistent as City.
Still, their London meltdown proved frailties—leaving Liverpool the last man standing with an unbeaten domestic record.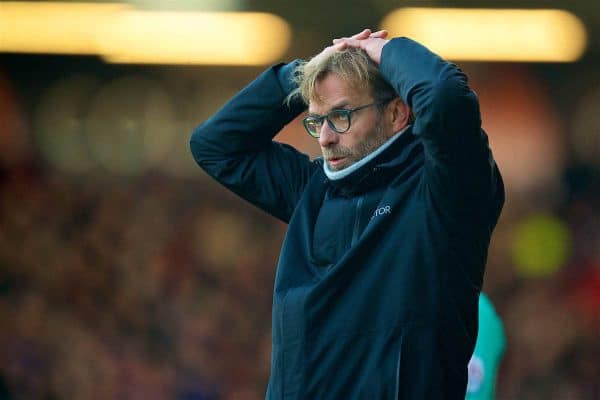 Two years ago, on the very same Dean Court turf, Klopp watched on as his side—decked out in florescent green shirts—took a healthy 3-1 lead.
They would lose that game 4-3, following a complete meltdown and a quick-fire double hit of goals in the 76th and 78th minutes—before a Nathan Ake winner deep into stoppage time.
This time around Klopp's men hit four of their own, without reply. Taking almost every chance on target and cultivating it for fruitful reward.
The importance lies in the methodology. Already this season Liverpool have been accused of not hitting top gear; not blowing opposition away and, the all-too-classic cliches 'winning games ugly' and 'grinding them out'.
It's not a case of lacking in full-throttle approach, but more an addition of—and a desperate need for—refinement.
It was seen at Anfield on Tuesday night when the Reds, knowing they needed a 1-0 victory or a win by two clear goals, adopted a specific approach.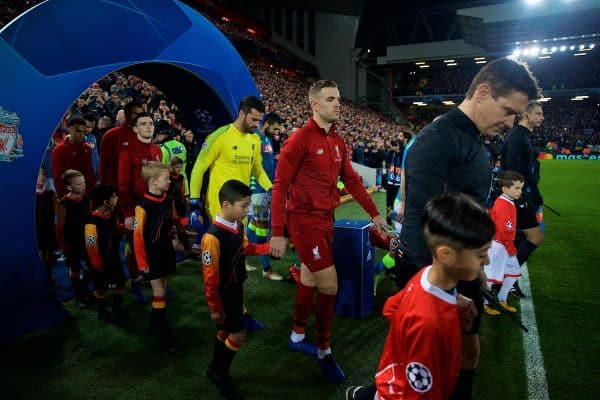 Liverpool of seasons gone by under Klopp would have lit the stick of dynamite early on, attacking with ferocity and outscoring to survive.
Not this time. The Reds carefully crafted opportunities and remained watertight. In the decisive moment, Mohamed Salah killed the game.
Sadio Mane's unfortunate mistake of taking to the field with two left feet pegged Liverpool back somewhat, but all the while they remained vigilant, knowing what the victory required.
Domestically every point now matters. It has from the start of the season and it does more so now the Reds are embroiled in, and currently leading, a full-bloodied title challenge.
The destruction of teams last season came when the Reds had only a top-four place to attain. No simple feat, of course, but not something which requires the same laser-like focus of claiming the summit for their own.
What was shown at Bournemouth however was how ruthless and effective this team can be when the forward line is on song.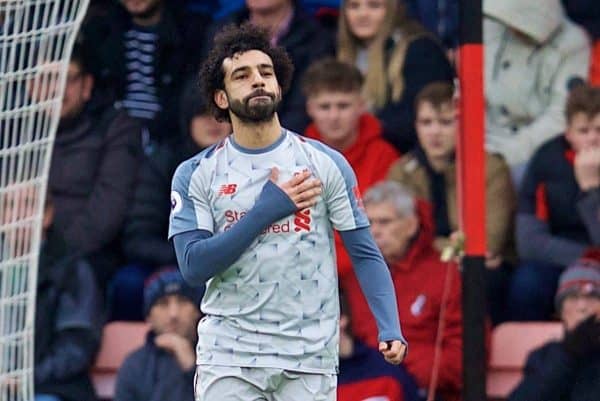 For the first game in a long while, Liverpool hit the back of the net at each time of asking. Chances were taken and the game got further and further out of reach for an opponent who, it has to be said, were not as poor as the scoreline suggested.
"It doesn't feel too good right now but sometimes we need it. Of course this can help us. No road is without rocks and stones," were the words of a heavily demoralised Klopp when the Reds were defeated by Bournemouth in December 2016.
Zip forward to December 2018 and, despite a resounding win, Klopp was matter-of-fact in his assessment.
"We had to keep the ball and win the ball back as quickly as possible. We did both very often but not always as they had their moments too, of course."
The similarity? Both times a solid Bournemouth side was put in front of the Reds. The difference? A cohesion and togetherness flowing through a solid team.
Upon the 2016 defeat, Klopp told reporters afterwards that "the title is not won or lost in December." The sentiment still stands.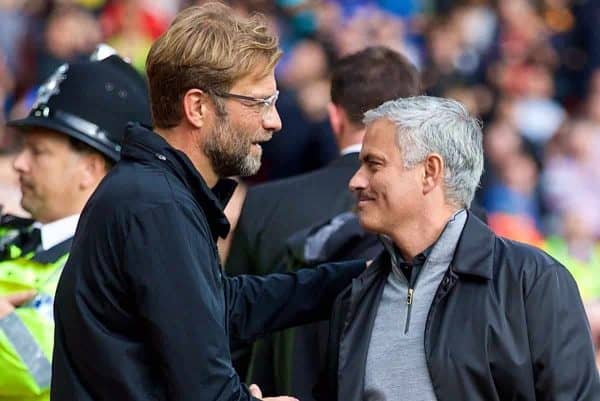 This was huge for the Reds, but could all matter for little when United visit Anfield on Sunday. The fixture list has this lovely habit of throwing multiple curveballs.
Mourinho too has his own habit of sailing a sinking ship to Anfield, as he did with Chelsea in 2014, and still getting a result.
With Wolves and Arsenal soon to follow, this could be the most arduous, yet most revealing, month of Klopp's tenure.
Sitting pretty in top spot is no luxurious task—the challengers will now come thick and fast, and Liverpool must bob and weave through what remains of this campaign with hardly a single misplacement of footwork.
Tyson had the power and was renowned for his ferocity yet, most importantly, knew when and how to use it.
Getting the victory chalked up, come what may, was always the objective.
Time for Liverpool to box smart.