Liverpool went four points clear at the top with a 2-0 win over Wolves, and after the game Jurgen Klopp remained hopeful over injury to Naby Keita.
The No. 8 was selected to start from the left of the Reds' 4-2-3-1 setup again, but it was a difficult evening for him.
Keita took a couple of heavy challenges early on and struggled to have a big impact on the game, though in fairness the Reds were rather sloppy in possession in a torrential first-half downpour.
The team picked up as a whole after the break—but Keita's night was cut short, subbed off after less than an hour after going down injured.
He was visibly struggling to race back and help out the defence just moments earlier, and when Liverpool eventually cleared the ball, Keita went to ground and it was clear he'd need replacing.
Fortunately, Klopp was asked about Keita's condition after the game and told reporters he "should be good," but was frustrated at two tackles in particular.
"Did you see it back the first two situations? Was it a penalty or not?" he asked.
"Because he had a proper cut on the foot and everyone said 'diver!', but you don't get a cut from a dive I would say.
"Then he had another one on his ribs, so that's obviously [why] it didn't work out.
"But it should be good. Two things which are a bit painful but I don't think will be a problem for him."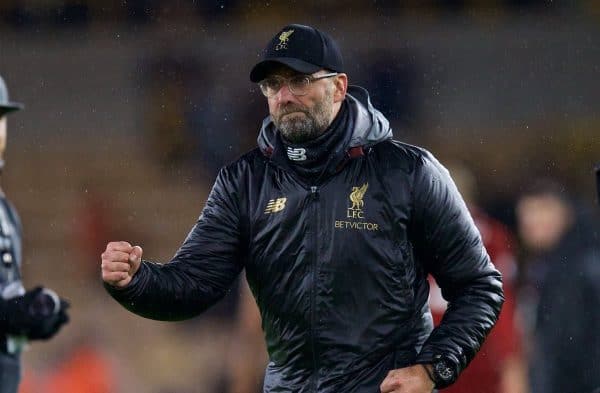 The Reds now have a five-day break until their Boxing Day fixture at home to Newcastle, with Arsenal at home on December 29 the following game.
If Keita is sidelined, Xherdan Shaqiri would be an obvious replacement option, at least for the first game, while Adam Lallana replaced him at Molineux and would be a more midfield-like option for Klopp to consider.
Alternatively, the Reds could revert to a three-man midfield, though there's no immediate suggestion that would be the case, given Keita had been in a specialist role outside of the centre of the park of late.
Joe Gomez (leg), Joel Matip (collarbone), Trent Alexander-Arnold (foot), Alex Oxlade-Chamberlain (knee) and Rhian Brewster (ankle) are already out.