Liverpool players celebrated their position at the top of table and lauded the performances of one another in the aftermath of the 2-0 win over Wolves.
Liverpool's trip to Molineux raised alarm bells for some as Wolves have proven a tough team to conquer on home soil on their return to the Premier League, a tricky fixture which needed to be successfully navigated if the Reds were to remain league leaders over Christmas.
The opening half hour saw the Reds take the line share of the ball but sloppy play invited unwanted pressure onto the back line as Wolves looked to exploit space on each flank with raking diagonal balls.
At the other end of the field Liverpool were starting to work through the gears and were duly rewarded with a breakthrough after an exquisite outside of the foot finish from Mohamed Salah.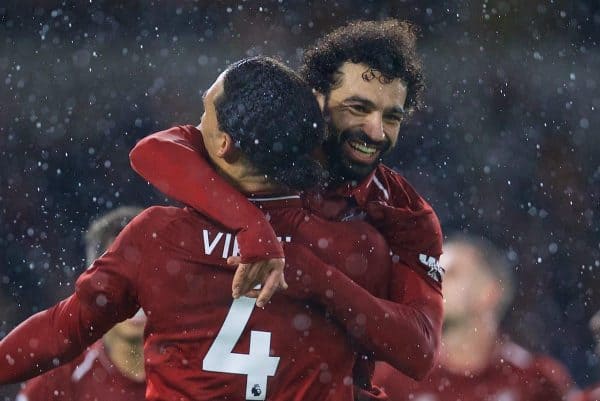 The second term saw the Reds dictate the tempo of the game with renewed discipline and maturity, severely restricting Wolves' ability to get on the scoreboard which proved to be reserved solely for Liverpool as Virgil van Dijk's first league goal for the club took the game out of reach.
The 15th win of the season ensured the Reds will remain at the top of the Premier League table for Christmas but, for Van Dijk, there is still "a long way to go yet" as he explained to LFCTV that his goal was only a bonus on top of another crucial victory and clean sheet.
"Not at all (frustrated about his lack of goals), I'm more happy that I'm keeping clean sheets with my team and winning games.

"Obviously scoring a goal is a bonus and obviously a very proud moment and hopefully there's more to come, but I'm more focused on winning games.

"[There is] a long way to go yet. It's a position that everyone wants to be in and we are in it at the moment. That's the only thing it is and we need to keep going.

"The next game is Newcastle United on Wednesday and then Arsenal and Manchester City, so it can change but we are not going to think about that. We take it game by game.

"That's a credit to the whole team and the hard work we put in day in day out. We do it all together and it's a good time to be a Liverpool player."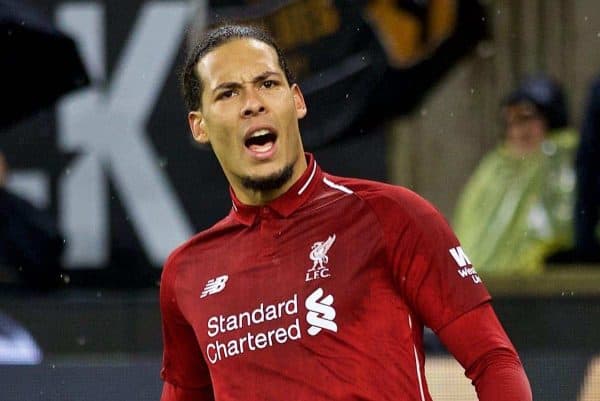 The Dutchman's centre back partner on the night, Dejan Lovren, was on the same wavelength as he reiterated to LFCTV the need to take it "game by game" after praising Liverpool's ability to learn from their mistakes from seasons gone by.
"It's brilliant (the 3 points), especially when you go on top of the league for Christmas and it's good to see us up there. But, it doesn't mean, it's game by game. Today was another tough game but we showed our quality and our experience.

"I'm sure if we played here a couple of seasons ago we would've struggled, so we have learned from all these previous seasons how to play in these difficult games and we did it quite well.

"In some difficult times we kept the ball and sometimes we just showed a matureness, like the boss said, and a readiness when we lose the ball to be there and to stay hungry until the end of the game because we know what we are playing for, it's the three points and that's all that matters.

"But, no time to celebrate for anything as Newcastle Wednesday and then the weekend again. Lets keep this momentum and just focus game by game."
Taking to Instagram following another "big three points", Jordan Henderson, Lovren, Roberto Firmino and Fabinho all expressed their joy over keeping a clean sheet and the performances of their team-mates:
James Milner and Andy Robertson were similarly pleased, but they each looked to add a touch of humour – with Van Dijk the centre of their attention:
The win presented an early Christmas gift to the Liverpool faithful and, despite not featuring on the night, both Simon Mignolet and Trent Alexander-Arnold were quick to spread the festive joy.
The victory on Friday evening extended Liverpool's winning streak in the league to seven as momentum continues to roll for the 'top of the table' Reds.
It is a run of form which Liverpool will look to pick back up when they host Newcastle at Anfield on Boxing Day.