Liverpool grabbed a stoppage-time win over Everton to remain two points off the top in the Premier League table—here's our post-match debate from another incredible derby victory for the Reds.
Liverpool 1-0 Everton
Premier League, Anfield
December 2, 2018
Goals: Origi 90+6′
---
The Reds enjoyed a much more evenly matched Merseyside derby fixture than has been the case in recent seasons, with Everton attacking Alisson just as much as Liverpool looked to score themselves.
Both goalkeepers made big saves in the first half—but it was Jordan Pickford who eventually made a telling error, allowing Divock Origi to emerge as the improbable hero by scoring deep into injury time.
The late three points had Jurgen Klopp sprinting onto the pitch, such was the intensity and fervour around the match and the late goal.
A win it might have been, but the match had plenty of positives and negatives from a Liverpool point of view—as has often been the case this season, even as the Reds remain undefeated in league play.
Karl Matchett (@karlmatchett) spoke with Matt Ladson (@mattladson) and Jack Lusby (@jacklusby_) to get their thoughts on the biggest talking points from the game, including the form of Mohamed Salah up front.
The good…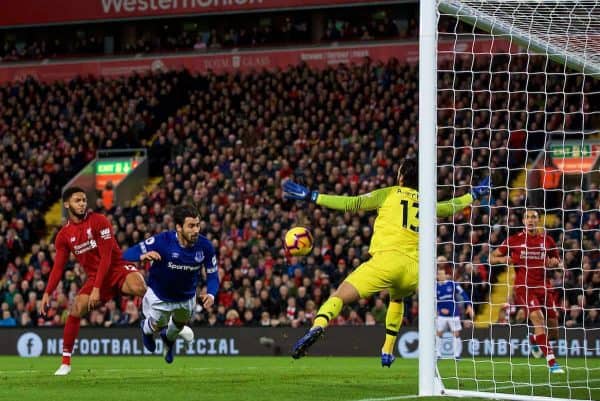 KARL: Well, the goal! Late drama in a Merseyside derby is always extra emotional and it's nice to add Origi to the ranks which already includes Mane, Van Dijk and Gary McAllister.
Other than that, Alisson was absolutely superb—on the deck and with his goalkeeping. Another great example of why investing in the right option is so important in that position.
Mane's start to the game and his movement was good, Shaqiri and Robertson both had great moments and Fabinho was excellent in winning back possession—they were the individuals who impressed.
Above all else, the team-wide intensity in possession and pressing early on was something we've missed this term. It didn't last long, but it was nice to see.
Overall it was one of the most enjoyable 90 minutes of a derby game we've seen in recent years, given how open it was for the first hour or so.
MATT: Like Karl says, it was an entertaining match. Klopp said pre-match that this was the best Everton side since he's been in charge and it's probably their best team since long before Klopp was here.
Alisson's save/tackle at the feet of Walcott was incredible, superb goalkeeping.
It was nice to have Gomez back in the centre, with him and Fabinho playing more of the vertical balls to forwards that we miss when they aren't in the side.
I'm putting Klopp's celebration, and the post-match celebrations, firmly in the 'good' category here too.
Three late winners in 12 months against Everton. Merry Christmas lads.
JACK: It was great to see an end-to-end game in the Merseyside derby after so many where we've been expected to just be patient and carve out chances behind a deep-sitting defence, and Everton deserve credit there.
As mentioned, Alisson was superb, and I thought the midfield two were brilliant too—especially Fabinho, who broke up play consistently and used the ball really intelligently.
Mane was a real livewire but the finishing just wasn't there from him, Salah or Shaqiri, but fortunately we had the perfect ending from the most unlikely of sources.
Klopp spoke after the game about how that goal was the end of a miserable chapter for Origi, and while I can't see him salvaging his Liverpool career after so long in the wilderness, that will be a real boost for him.
Given we're likely to see rotation throughout the winter, it's good to see Origi build confidence, as he could be called upon to start in the weeks ahead.
The bad…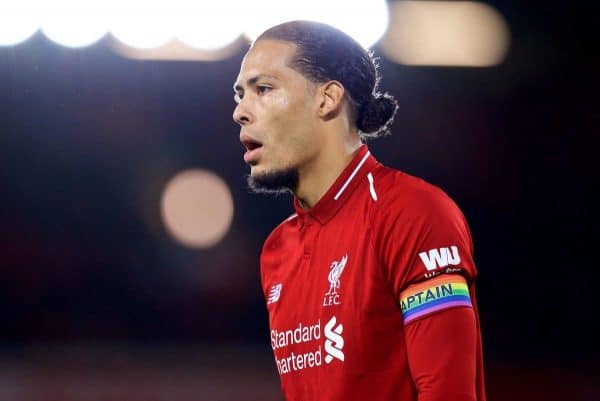 KARL: Have to say, that was Virgil's worst game in a Liverpool shirt! He was caught square a few times, made the odd bad decision on whether to tackle or not and his use of the ball was pretty dire in the first half.
Trent's delivery was poor from set-pieces too, for the main, though of course the very last one eventually led to the winner.
The biggest negative again, though, was the ongoing form of Salah and Firmino up front: rarely linking with each other, neither a goal threat, too few runs in behind from either one.
MATT: I don't know about Van Dijk's worst game as he wasn't great vs. PSG…hopefully he picks his form up again soon though.
Set-piece delivery was awful again, yes, but not just Trent. Salah and Shaqiri both failed to clear the front post in the first half and Trent provided the one good corner delivery.
Did we work on them earlier in the season but stop about a month ago?!
The form of Salah and Firmino in their respective changed roles is a concern, as is their fitness perhaps—Klopp rarely rotates/rests his forwards and I really hope one gets the night off at Burnley at least.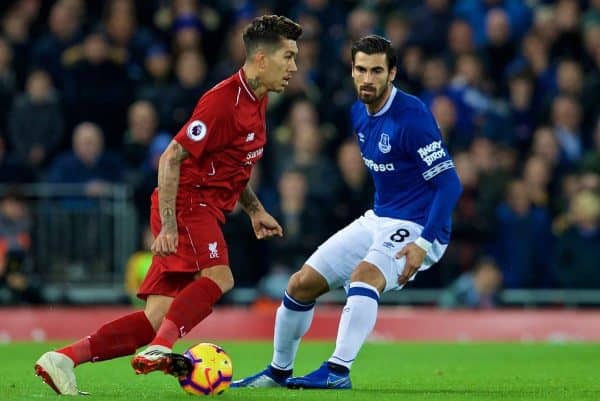 JACK: As both Karl and Matt have covered, neither Firmino or Salah were at their best and it's clearly due to the system they're required to work in.
Another win and another clean sheet suggests it's not too big of an issue, with this approach giving us more stability—but at the cost of nullifying our two best attacking threats?
The centre-backs struggled with the Everton's overlapping attacks, but again perhaps that's testament to how the Blues have come on under Silva.
…and should Salah continue as the Reds' No. 9?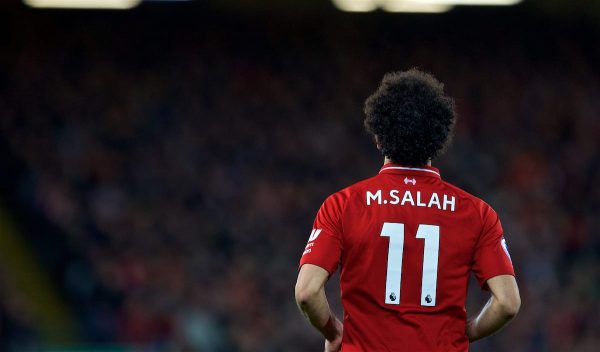 KARL: Not in the current setup. It's clear what Salah's best strengths are and he doesn't get to show them in this position often enough.
It's one thing to leave him at centre-forward late on to lead a counter when we're winning and under pressure, but totally different to play a full 90 there leading the line.
He doesn't get to go one-on-one often enough, can't be an outlet down the channel 20 times a match, doesn't have runners ahead of him to play those quick one-twos with which are so effective with his acceleration and movement.
Salah's one clear effort was a curler from outside the box which was after receiving the ball almost with his back to the goal, which just shows the difference in shot type he's having right now, if any shots at all.
If we want him centre-forward, it should be with him and Firmino as a proper two, not with Firmino dropping so deep he's effectively at centre midfield.
Leave the two high, tuck the wide men in a little narrower and deeper if necessary, and we'd get much better effectiveness out of both the No. 9 and No. 11 shirts.
Firmino will still drop and rove and scheme in spaces but in much more effective areas than he is right now.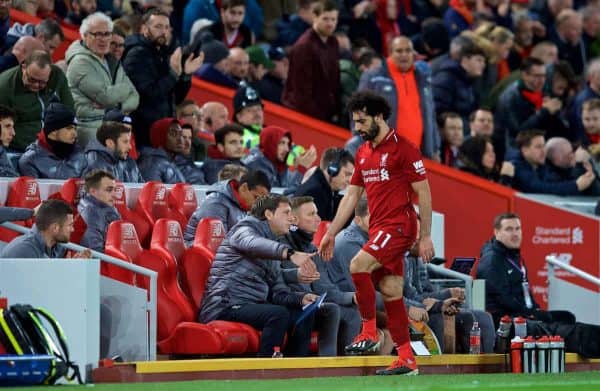 MATT: I think I've written it here before, but I cannot understand the role changes for Salah and Firmino.
Salah just had the most incredible season by any Liverpool player in the history of the club, why on earth would you change his role?!
Firmino looks tired and confused from being played as No. 10 one day and No. 9 a few days later, then back to No. 10 again all in the same week. It can't be helpful for him.
We're going to see a lot rotation in the coming weeks so it will be interesting how this plays out, I'd prefer to get back to 4-3-3 for the time being, using Firmino or Sturridge as the No. 9, meaning Shaqiri, Salah and Mane can rotate wide so that each gets a game to make an impact from the bench if required.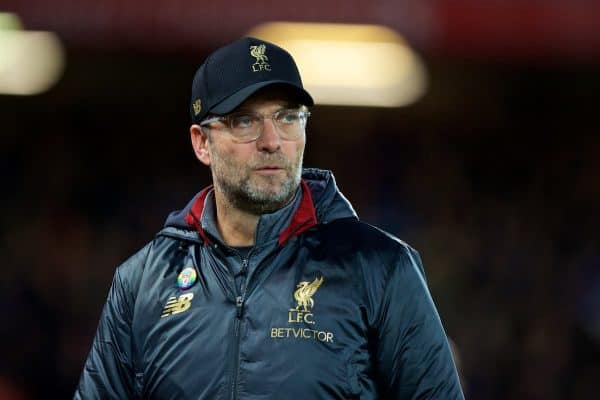 JACK: No. I'm not a fan; while I can see the theory behind Firmino pressing as the No. 10 and having another forward ahead of him, it doesn't play out that way in reality.
The suggestion is that Klopp and the players felt they were becoming too predictable, but I'd definitely argue against that.
I like the 4-2-3-1, but Firmino should be the No. 9 and Salah out wide.
Clearly, if we'd signed Fekir that would still be the case, but a lack of faith in Shaqiri as the No. 10 has changed things for the worse.