Liverpool stretched their lead at the top of the Premier League on Friday with a 2-0 win at Wolves, where their mature performance was a key talking point for fans.
The Reds travelled to Wolverhampton in the knowledge that three points would secure their place as leaders over Christmas and extend their lead over Man City to four points ahead of their clash with Crystal Palace.
Mohamed Salah and Virgil van Dijk found the net in each half as a disciplined Liverpool outfit navigated a rain-soaked Molineux and a valiant Wolves side to seal a seventh successive league victory and the 15th of the campaign.
It was a clash where Liverpool were not at their best, but the positives far outweighed the negatives as Jurgen Klopp's charges continue to show constant signs of development.
This Is Anfield's Joanna Durkan (@JoannaDurkan_) spoke with Jonathan Higgins (@Jhiggins3) and Jack Lusby (@jacklusby_) to discuss the key highs and lows from the game and the Reds' ever-growing maturity.
The good…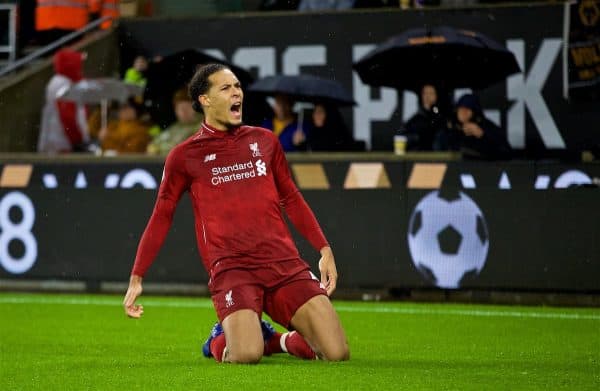 JOANNA: Another win on the board, another clean sheet and top of the table at Christmas—there's not much more you could ask for.
Van Dijk was as dominant as ever and it was pleasing to see him finally land on the scoresheet after teasing fans for so long. He was the authoritative figure in both boxes and was a cut above the rest—as per usual.
Salah was immense throughout and he had a swagger about him all night: menacing signs for clubs who lie in wait.
And plaudits must also be given to Fabinho who I thought stood up to the test superbly at both ends against a physical Wolves outfit.
JONATHAN: Almost getting boring isn't it, yet another colossal performance from Van Dijk.
We are almost running out of superlatives to describe the impact he has made to our defence. The strength, speed and composure he showed to easily beat Traore on the hour mark was just jaw-dropping. Not a bad finish for the goal either!
Just seven goals conceded this season is remarkable, even more remarkable when you consider we had conceded more (eight) after the first four games of the 2017/2018. That's 11 league clean sheets this season also.
Salah was very impressive again tonight, yet another key goal and his movement caused havoc to the Wolves defence. He offered a constant out-ball in the second half especially as Liverpool took a more compact deeper shape.
Speaking of shape, I thought both Fabinho and Henderson excelled in the dual No. 6 positions. Despite being outnumbered both were strong and aggressive and controlled the midfield battle.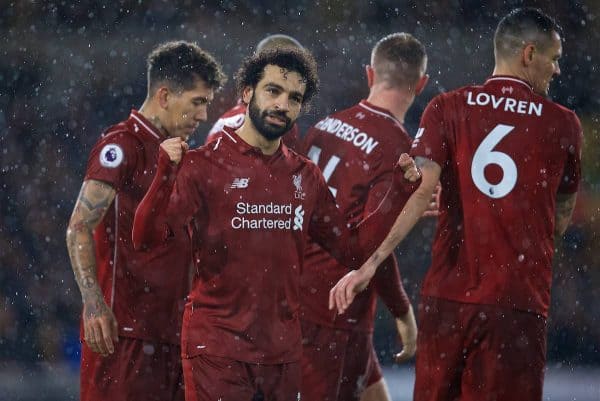 JACK: Salah was outstanding; he's clearly out of the malaise he suffered from earlier in the season, and those ghosts of Kyiv and the World Cup seem to be spurring him on.
That's five goals in his last four starts in all competitions, three of which were 'match-winners', while his assist for Van Dijk's cherry-on-the-top strike was top class too.
Aside from the goals, it was another increasingly dominant performance that highlighted the influence Klopp is having tactically.
The manager was also able to rest Gini and bring off both Firmino and Mane as the game went on; perhaps Robertson and Salah are next in line for rotation, as two more of Liverpool's most-used players this season.
Beyond that, as Jonathan says that burst of pace from Van Dijk to stop Adama was the highlight for me.
The bad…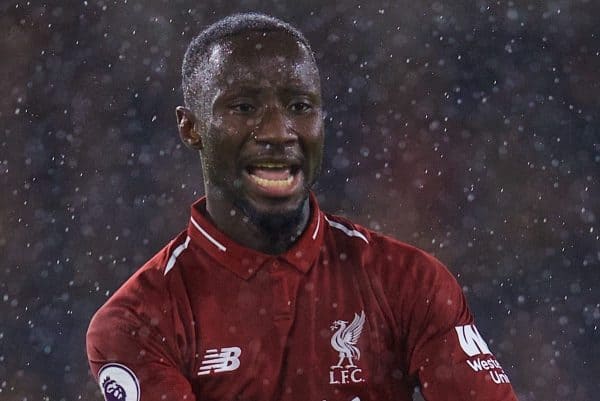 JOANNA: Lovren and Keita both struggled. Keita failed to have an influence and looked uncomfortable on the left, and Wolves looked to take full advantage.
Similarly, Lovren was not quite at the races. He had a handful of sloppy moments which fortunately for Liverpool went unpunished, but with limited options at centre-back the Reds need him to tighten up his game.
On the whole, however, with the exception of sloppy ball disposal in the first term, there are few negatives to pick out in terms of overall performance.
JONATHAN: Liverpool were unusually sloppy in possession, particularly in the first half.
There was a period of the game just before half-time where it seemed like it was one mistake after another. It, in turn, led to Wolves' most dangerous attacks.
Aside from that, you would have to be super critical to point out a couple of wasted attacks but that would be nitpicking at extreme levels.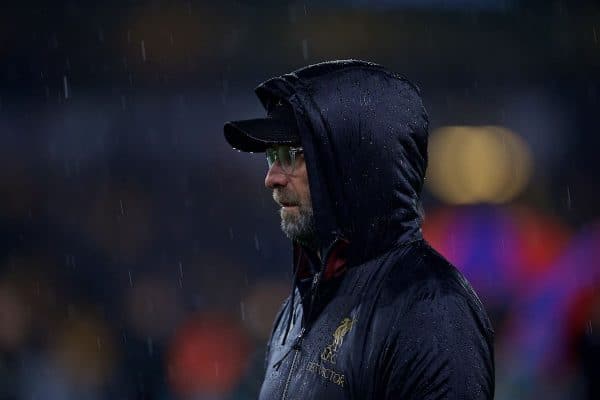 JACK: It was a difficult start, and I think both full-backs, both centre-backs and Alisson struggled to cope with Wolves' aggressive approach and the conditions early on.
But I feel that's more a testament to the quality of Nuno's side—and they'll certainly finish in the top half this season—than any weakness for Liverpool.
The biggest concern for me was Keita, who clearly shrank after a few hard challenges, and while Klopp explained after the game he was dealing with blows to his foot and his ribs, other players may have been able to shake those off.
Fielding him out on the left doesn't help, but we're not seeing the Keita from Leipzig yet.
Oh, and that light show before the game…what?!
…and is the team's growing maturity key to the title challenge?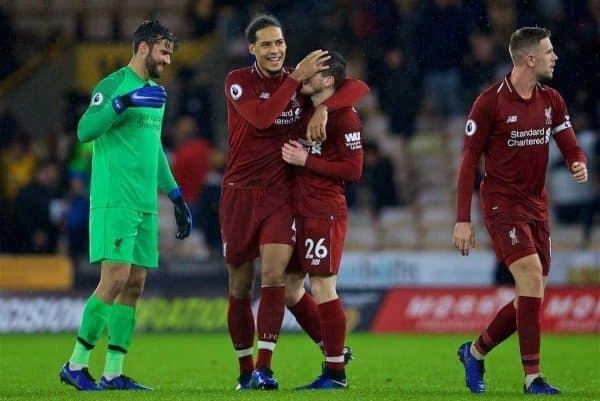 JOANNA: Facing Wolves away from home always stood out as a tricky fixture having already seen rivals stumble against them this season, but Liverpool navigated the game with precision and a maturity which made it appear straightforward.
The first half conjured up a number of anxious moments but the Reds adjusted in the second to seize all control and take away any joy Wolves had experienced earlier in the game.
I thought it was another example of how Liverpool have evolved from last season to now. Far from their best the Reds of yesteryear would have made hard work of it all, but this is now a well-rounded team who refuse to panic.
The mentality and maturity of taking control and being resilient at the back was always the missing link, but now it is what what will sustain the title challenge—and so far, so good.
JONATHAN: Klopp described it as perfect football, but it was a particularly mature performance in the second half.
Liverpool dominated possession and sucked all the life out the game. A number of counter-attacks could have resulted in even more goals and Liverpool were dominant in all areas of the pitch.
Having taken points off both City and Chelsea already, this was seen a potential banana skin, but Klopp's men secured another massive three points and will sit pretty on top of the table on Christmas Day.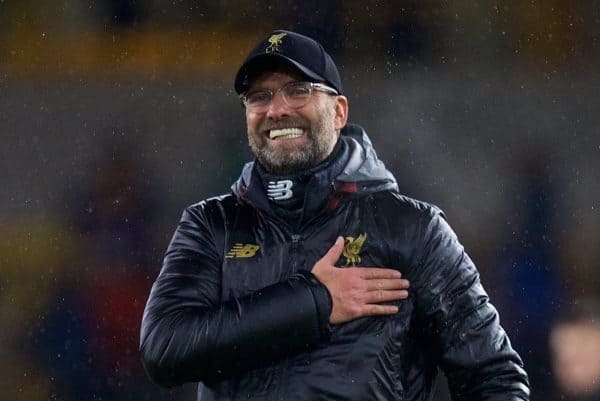 JACK: There just seems to be a lot more control to things this season—not just on the pitch, but there is a clearer plan of how the campaign will play out.
The stability in the defence is allowing Klopp to rotate the rest of his squad to suit the demands of a particular game, and this is seeing almost every player on form as we near the halfway stage.
Whether this shows more 'maturity' than in recent seasons is open to interpretation, but this new approach is certainly better suited to a title challenge.
Recruitment and management have coalesced perfectly: Liverpool now have more players and better players, and Klopp is able to utilise this improved situation to set up a convincing bid—even without Zeljko Buvac…