Liverpool need a huge performance to make the last 16 of the Champions League on Tuesday night—and they've been in this position before.
The Reds' away-day struggles means they need Fortress Anfield to really prove a stronghold for them against Napoli, needing either a 1-0 win or a two-goal margin of victory to progress.
Jurgen Klopp's side have already dispatched of Paris Saint-Germain and Red Star Belgrade on home soil in Europe, while domestically the Reds are flying.
Confidence couldn't be higher going into the crunch match after moving top of the Premier League at the weekend, so optimism among supporters must be similarly strong.
But a European campaign always comes down to a single evening somewhere along the line, and for this Liverpool team, it's December 11.
Here's how the Reds have fared on every occasion they've needed a last-night result since the inception of the Champions League—with memorable occasions for good and bad reasons aplenty.
01/02: First Group Stage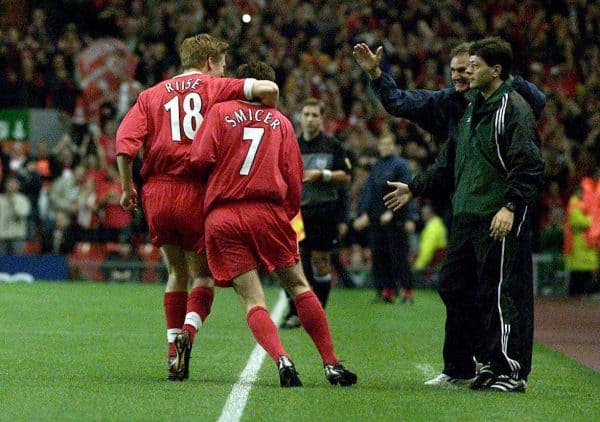 Back in the early 2000s, UEFA saw fit to include not just one, but two group stage phases.
It meant fans were treated to fixtures including Sparta Prague vs. Spartak Moscow and the likes all the way up to November, but it was all exciting for Liverpool who were back in the European Cup for the first time since being runners-up in 1985.
Grouped with Boavista, Borussia Dortmund and Dynamo Kyiv, Gerard Houllier's men went into the last round of games just one point clear of both the former two clubs and facing the Germans.
A defeat, coupled with a Boavista win in Ukraine, would have sent the Reds into the UEFA Cup—but Vladi Smicer and Stephen Wright secured a 2-0 win, and progression in top spot.
Liverpool 2-0 Borussia Dortmund: Progress!
Liverpool XI: Dudek, Wright, Henchoz, Carragher, Riise, Smicer, Hamann, Murphy, Gerrard, Heskey, Owen.
01/02: Houllier Returns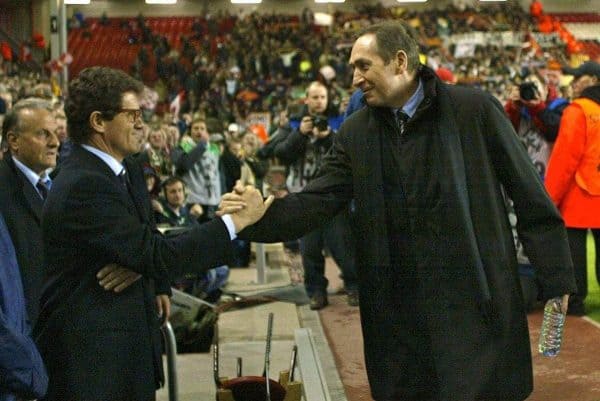 Later that season, after Houllier had fallen ill and needed heart surgery, the boss returned to the touchline on an emotional evening at Anfield.
Group B was in the balance: Roma were top on seven points, Barcelona with six, Liverpool four and Galatasaray five—anyone could go through, but a win for the Reds would guarantee progression.
Houllier's appearance spurred on the Reds and a first-half penalty from Jari Litmanen settled any early nerves.
Emile Heskey wrapped up the 2-0 win and sent the Reds into the knock-outs, second in the group.
Liverpool 2-0 AS Roma: Progress!
Liverpool XI: Dudek, Xavier, Henchoz, Hyypia, Carragher, Murphy, Smicer, Gerrard, Riise, Litmanen, Heskey.
02/03: Gerrard's Downturn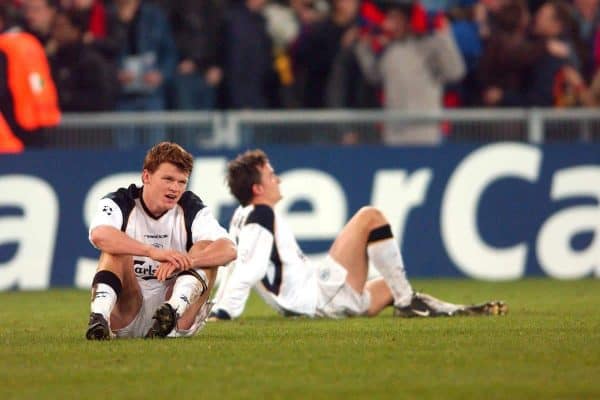 Houllier had a brilliant midfielder by the name of Steven Gerrard completely running his team by 02/03, but he was suffering a real downturn in fortunes at this point.
Indeed, with the Reds needing a win in Basel to qualify for the knock-outs, he was subbed off at half-time for Salif Diao, of all people, as Liverpool trailed 3-0.
Danny Murphy and Smicer led the fightback and Michael Owen scored a late equaliser after missing a penalty, but a 3-3 draw wasn't enough and the Reds finished third.
Basel 3-3 Liverpool: Exit.
Liverpool XI: Dudek, Carragher, Hyypia, Traore, Riise, Murphy, Hamann, Gerrard, Smicer, Owen, Heskey.
04/05: Olympiacos and Gerrard's Redemption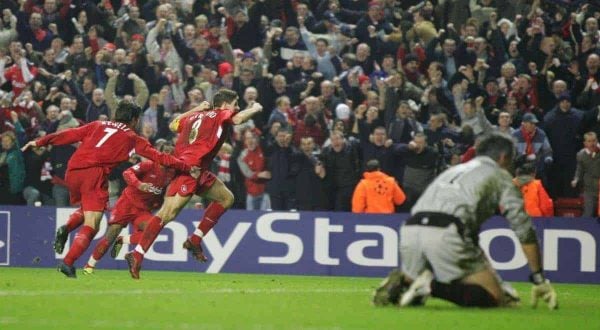 Fast forward two years and Gerrard inspired perhaps the most dramatic, and important, comeback in Liverpool history.
You all know the story: Rafa Benitez's debut campaign, Liverpool needing to beat Olympiacos by two clear goals to progress.
Rivaldo put the Greeks ahead but super subs Florent Sinama-Pongolle and Neil Mellor turned the tables—before Gerrard's spectacular, unforgettable and so very late intervention.
Liverpool came second, went through…and won the lot!
Liverpool 3-1 Olympiacos: Progress!
Liverpool XI: Kirkland, Finnan, Carragher, Hyypia, Traore, Nunez, Gerrard, Alonso, Riise, Kewell, Baros.
07/08: Three-match Comeback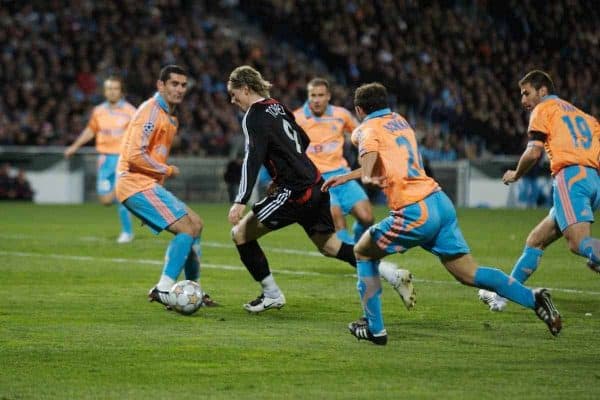 Having taken one point from their opening three group games, the Reds couldn't afford to miss a step in the second batch of three.
An 8-0 win over Besiktas and a 4-1 win against Porto meant Benitez's side simply needed to win in Marseille to go through.
Gerrard, Fernando Torres, Dirk Kuyt and Ryan Babel ensured that was the case and second place assured.
Marseille 0-4 Liverpool: Progress!
Liverpool XI: Reina, Arbeloa, Carragher, Hyypia, Riise, Mascherano, Gerrard, Kuyt, Benayoun, Kewell, Torres.
09/10: Rafa's Demise

Benitez's era with the Reds had been glorious, but it came to a painful end for all involved.
His final season saw Liverpool crash out of the Champions League at the first hurdle, a real indication of the team's failings considering he'd always performed well in Europe.
There was a lot to do on the final night: they needed to beat Fiorentina and hope Lyon lost at home to Debrecen.
Neither happened as Anfield was silenced by La Viola late on, with third place and the Europa League beckoning.
American owner George Gillet watched on from the stands as the Kop protested his and Tom Hicks' reign. Dark times.
Liverpool 1-2 Fiorentina: Exit.
Liverpool XI: Cavalieri, Darby, Skrtel, Agger, Insua, Aquilani, Mascherano, Benayoun, Gerrard, Dossena, Kuyt.
14/15: Rodgers Fails in Europe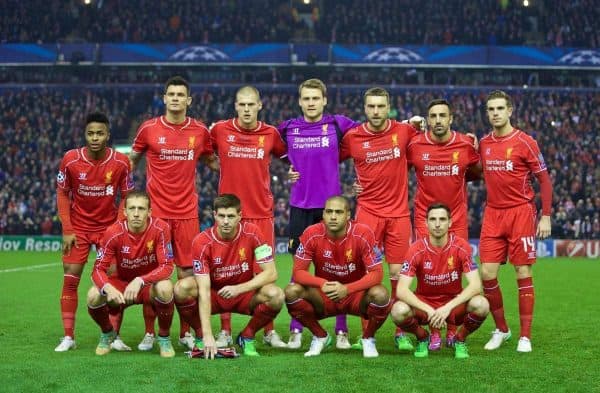 Klopp's Reds will hope to fare better than the last couple of times the club has needed a final-night result.
Last time this scenario came about was in 2014/15, with Brendan Rodgers in charge and Liverpool needing to beat Basel to progress, having really underperformed in a poor group.
Real Madrid were the clear winners with a 100 per cent record, but Ludogorets at home was Rodgers' only win.
Basel took the lead at Anfield and, despite a late equaliser, there was little inspiration on show as the Swiss side frustrated Liverpool once more and the Reds ended up with Martin Skrtel up front.
This was a match which started with Gerrard and Rickie Lambert in attack, with the latter subbed along with Jose Enrique at half-time.
Lazar Markovic was sent off less than two minutes after coming on at the break. Dire.
Liverpool 1-1 Basel: Exit.
Liverpool XI: Mignolet, Johnson, Skrtel, Lovren, Jose Enrique, Lucas, Sterling, Henderson, Allen, Gerrard, Lambert.