Liverpool's win at Brighton was pivotal in several ways and Steven Scragg writes it's one-third of a key 'job done' in the quest for the Premier League title.
I can understand the anxieties some are feeling. Many Liverpool fans have never seen their team win a league title before.
Keeping sight of the wider concept; scanning across the span that is the 'bigger picture' can be difficult when you find yourself nervously watching Jurgen Klopp's men nurse a 1-0 lead five minutes into injury time.
This was a huge test of Liverpool's title-chasing credentials.
Questions, answered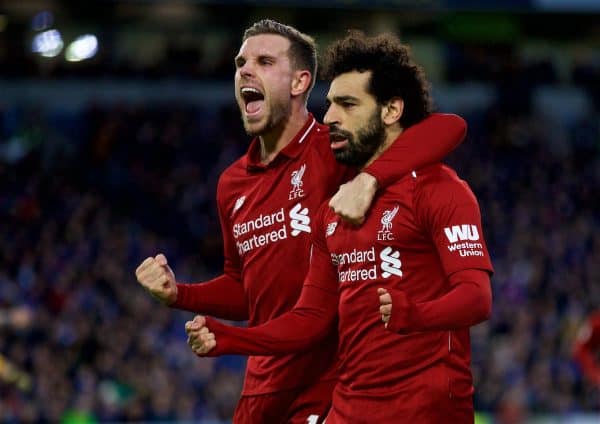 Questions had been asked about how we would absorb the blow of losing at Manchester City, of how we would file the disappointment of fumbling the opportunity to go nine points clear at the top of the Premier League.
Questions had been asked about the 'ethics' behind going out of the FA Cup, at Wolves last Monday, of the blasé nature with which some Liverpool fans have embraced the end of this season's domestic cup commitments.
It has all been about eggs and baskets.
Take the FA Cup game out of the equation—and given how many changes were made to the starting line-up at Molineux, I think that isn't an outlandish suggestion—then the trip to Brighton was the true continuation of our season, beyond the defeat at the Etihad.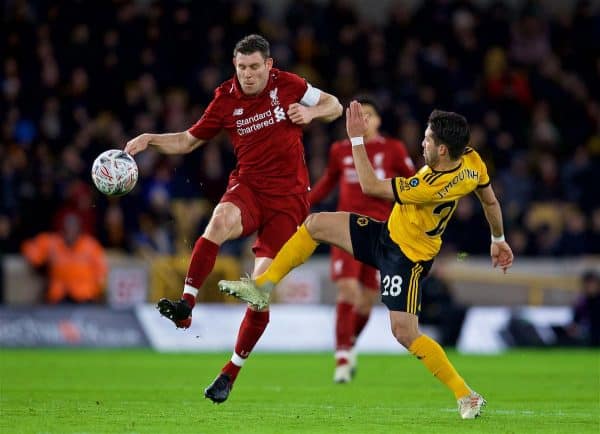 Certainly, to me, the trip to Wolves felt like we were stepping out of the main body of the season, into some sort of adjoining room, to take an unexpected phone call off an old friend I've not heard from for a decade or so.
In a way, this provided a 10-day hiatus. A winter-break, almost.
Two weeks had passed since we dismantled Arsenal, and this meant that my main concern had been about us regaining the momentum of December.
In the wake of the loss to Man City I suggested that our next three Premier League games were entirely winnable ones: Brighton away, followed by Crystal Palace and Leicester City at home.
I went on to speculate that if we could win those three games, then we would be champions in May.
Context

It is here where context is everything.
I was challenged over just how 'winnable' the Brighton game was going to be, considering Chris Hughton's team have proved to be stubborn opponents for all their fellow Premier League clubs this season.
We had had to work hard for a 1-0 win against them at Anfield during the early weeks of the campaign and Brighton had scored in all their home games so far this season.
This is where you must measure the velocity of each individual and bespoke task which is placed in front of us, against the talent and mentality that Klopp has engendered within his 2018/19 side.
Having suffered only one Premier League reversal this season, Liverpool have yet to drop a point against a side which isn't classed as being a member of the Big 6.
That. Is. Nuts.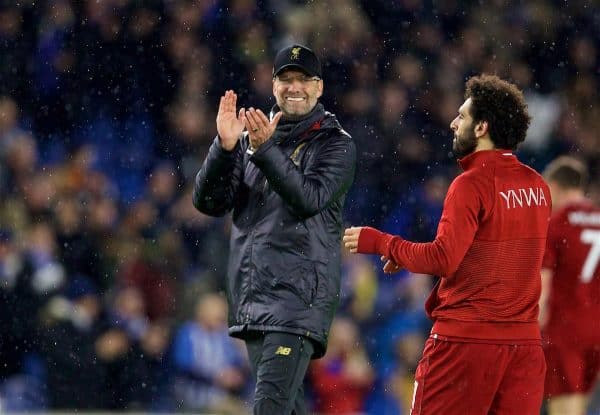 While Brighton away wasn't going to be easy, this is a version of Liverpool that must feel like it can win every game it plays.
Just as in August, we had to work hard for the three points on offer. Every time we had possession of the ball Brighton dropped deep. A line of four defenders, only slightly to the north of their 18-yard line, protected by a line of five midfielders positioned around 10 yards further forward.
Whenever we managed to breach the Brighton midfield line, one of their midfielders would then swiftly fall back into the defensive line.
This was intensive, protective organisation from Hughton. It embossed everything Klopp had said about Brighton during the build-up to the game.
It also bestowed upon us a huge amount of respect. Too much respect to be able to create a serious threat in front of Alisson Becker. Brighton didn't manage a shot on target throughout the entire game.
Three times this season we have edged 1-0 wins in the league and two of those have been gained against Brighton.
I'm glad we won't have to face them again this season and I'm reassured that should it come to a dramatic final-day finish in this title race, then Man City will instead be travelling to the Amex Stadium on Sunday, May 12.
Subtle plus points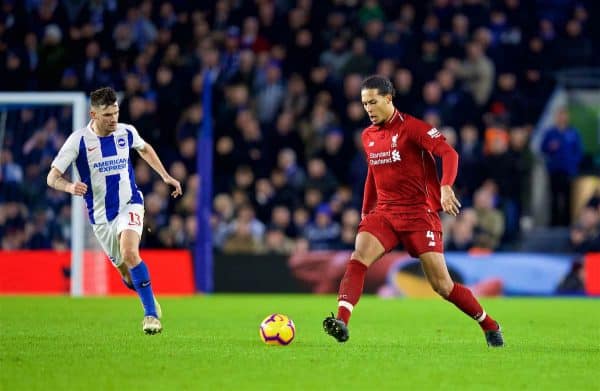 Another penalty obtained by Mohamed Salah; another penalty scored by Mohamed Salah. So soon after the restart, it undid all of Brighton's hard first-half work. The wind only returned to their sails during the last 10 to 15 minutes.
Salah, of course, should have made it 2-0, which would have saved a few fingernails being chewed, but Brighton remained off-target in their attempts to equalise.
Fabinho confirmed that he can play centre-back.
Suggestions that he is a better option alongside Virgil van Dijk than Dejan Lovren and Joel Matip are, however, massively premature.
Brighton had 29% possession and I'd still rather have a career centre-back in there, with Fabinho going back into the midfield.
That said, centre-back should be a natural position for a disciplined midfielder to cover.
In other news, Alisson has now kept more clean sheets this season than Arsenal, Everton and Manchester United combined.
Home comforts

Crystal Palace and Leicester City at Anfield it is, then.
Be ruthless, make no mistakes, pick up two wins and we will head into February in rude health, safe in the knowledge that our direct rivals will have a fixture congestion that we do not share.
Our fate is our own to dictate.