The media thought Liverpool's 1-1 draw with Leicester was a big opportunity missed but noted the Reds still maintain a great position in the title race.
The lead over Man City is extended to five points but frustration is the overriding feeling as a big chance to create a seven-point gap was passed up.
Sadio Mane's early strike seemed to set the Reds on the way to another victory, but Harry Maguire's tap-in on the stroke of half-time earned the Foxes a deserved point.
It was a frustrating night as Liverpool struggled under the pressure of the occasion, but composure must be retained to ensure of a return to winning ways at West Ham on Monday night.
Before attention turns to that next outing, here is how the media assessed the frustrating stalemate at Anfield.
The watching journalists felt Liverpool missed a big opportunity in the title race…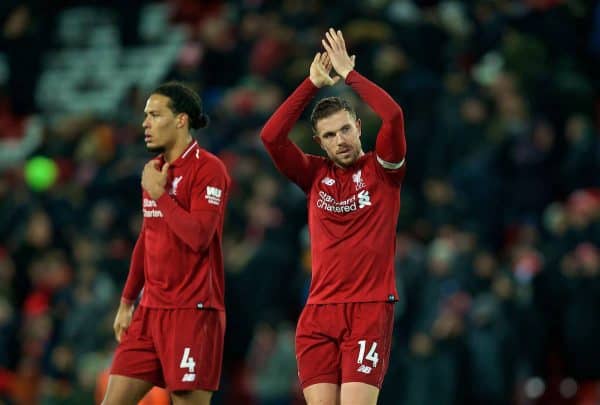 ESPN's Glenn Price regretted that the Reds let Pep Guardiola's side off the hook for defeat at Newcastle:
"City defeats are rare and they need to be fully capitalised on."
The Telegraph's Jason Burt thinks the result will have given City a lift and feels the fixture order between the two title rivals could work to their advantage:
"Victory may well have demoralised Manchester City who will now feel re-energised as they have been thrown an unlikely lifeline after their loss away to Newcastle United and not least because they play again, at home to Arsenal on Sunday, before Liverpool are back in action the next day away to West Ham United."
The Independent's Miguel Delaney took a sensible view of the result and noted that Liverpool's response to the frustrating draw will be vital:
"The reality is that run against the 'other 14' was never going to be sustainable, and a drop like this always going to come at some point.

"The true test of their title credentials will now be how they respond to this."
Meanwhile, the Mirror's Andy Dunn thought the game showed a sign of things to come, with many more nervy 90 minutes to take place as the title race unfolds:
"A fraught, nervy night was surely a taster of things to come over the next three and a half months."
However, reporters rightly assessed there is no need for panic with the Reds still in a great position…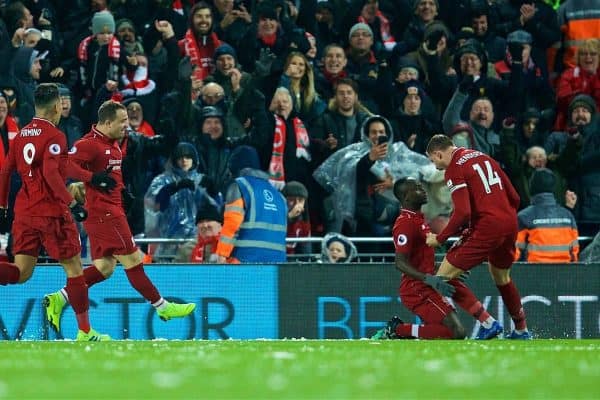 The Liverpool Echo's James Pearce led the way, focussing on the positives of the gap being extended and the Reds still holding "a position of immense strength":
"Yes, they didn't cash in on Manchester City's shock defeat to Newcastle but the gap has still widened. Five points clear with 14 games to go is a position of immense strength."
The Mirror's Alex Milne believes Liverpool can take comfort from an easier run in upcoming fixtures compared to City:
"The fixture list over the next week or so seems to favour the Reds too. Next up they have two relatively comfortable looking games, with West Ham away on Sunday and Bournemouth at home next Saturday.

"Manchester City, on the other hand, host Arsenal on Sunday before travelling to Liverpool 's bitter rivals Everton on Wednesday night and then face another tough test with a home game against Chelsea the following Sunday."
Dunn thinks Liverpool's exits from both domestic cup competitions will work to their advantage during the run-in:
"Whatever your take on the trophies debate, one thing is indisputable—Liverpool's early exits from the EFL and FA Cups has given them a considerable physical advantage over their title rivals."
Meanwhile, the Liverpool Echo's Ian Doyle thinks City's mental fragility, inflicted by the Reds' relentlessness, could prove decisive in the title race:
"Win a game. Win another game. Then another. That relentless, ruthless, single-minded approach is why City have fallen behind and are starting to lose points where seemed unlikely mere weeks ago.

"Liverpool have corrupted their minds, giving Pep Guardiola's side a psychological problem that just wasn't there when they strolled to the title last season."
The media felt nerves got the better of Liverpool and assessed the midfield as a problem area…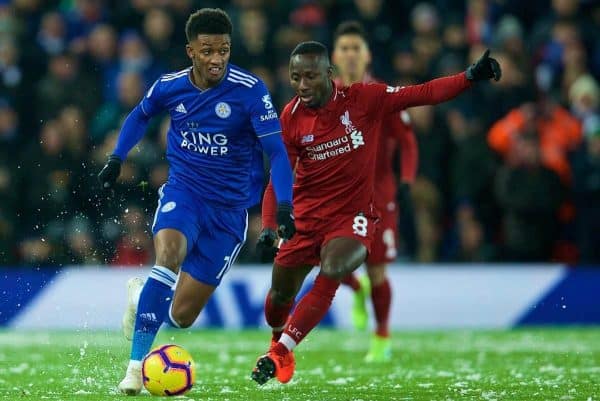 The Guardian's Daniel Taylor felt Liverpool froze under the extra expectation and singled out Mohamed Salah as one of the main strugglers on the night:
"Liverpool, in turn, seemed to be feeling the pressure in a way that could not be said of any other time this season.

"It was rare, for example, to see Mohamed Salah so ineffective. It was not that Salah played badly, just that he did not get close to his most exhilarating levels."
Delaney bemoaned Liverpool's failure to push on after taking the lead and the weak response to Leicester's equaliser:
"The most galling part of this game was how they didn't respond well to their own fine start.

"Sure, goalscorer Harry Maguire might have been fortunate to even be on the pitch by the moment of his strike, but these are the kind of moments champions have to adapt to and react to, and why the league is such a measure of resilience."
Our man Karl Matchett thought the Reds were too safe in possession and lacked runners from midfield to break through Leicester's stubborn defence:
"There was little space to operate in, but that didn't matter a whole lot: no passes were attempted behind the Leicester back line, few midfielders committed themselves forward and it was an easier than expected evening for the Foxes."
On a similar train of thought, the Evening Standard's David Lynch felt the midfield was too unbalanced with both Naby Keita and Xherdan Shaqiri:
"Fabinho's impact could also perhaps be credited to the fact that his introduction alongside Adam Lallana broke up a midfield containing Naby Keita and Xherdan Shaqiri.

"It isn't that the starting pair played particularly poorly, but that both are forward-thinking players whose ability to press and cut off passing lanes is inferior to those who replaced them."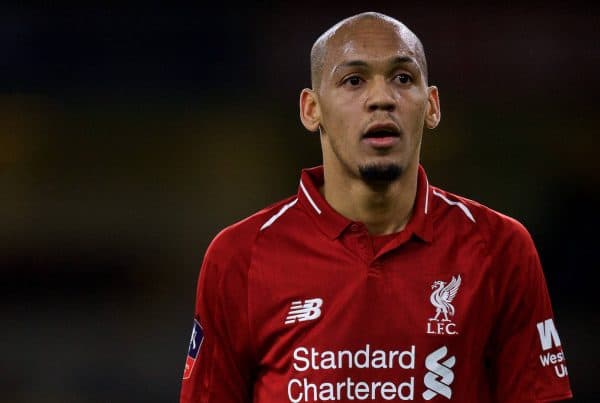 Writing for Goal, Neil Jones thought the Reds lacked control in midfield without Jordan Henderson and Fabinho, and believes the pair should start together at West Ham:
"Jordan Henderson filled in at right-back here, and did an admirable job all things considered, but Liverpool lacked control and presence in midfield and were troubled by Demarai Gray and Co. on the break.

"The captain, and surely Fabinho too, will start in their natural positions in London."
Lynch thinks Klopp may need to move away from 4-2-3-1 as Leicester showed those watching on the route to success against Liverpool's system:
"Klopp may need to have a rethink over using both in a 4-2-3-1 given the ease with which Leicester launched counterattacks down the flanks and through the middle.

"Solidity has been key to what the Reds have done so far this season and they lacked it in the first hour here."
Matchett also thought Klopp was too conservative in his setup and should have been braver when chasing the victory:
"The boss clearly wanted more from his side overall with their passing and his double sub came fairly early for Klopp—just after the hour mark—but the team didn't appear to be set up to go all-out at any point."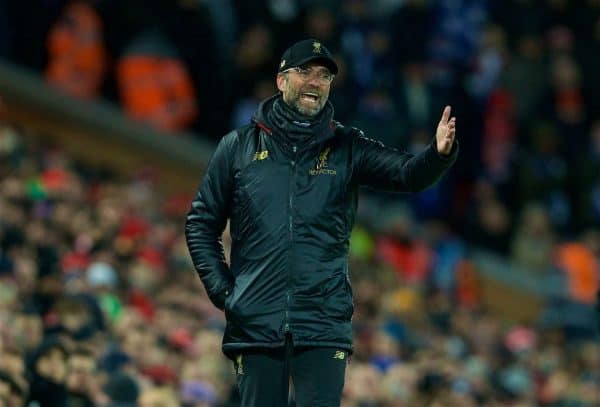 Finally, Lynch felt the nervy Anfield crowd made things extra difficult, transmitting anxiousness to the players:
"If Liverpool are going to lift the Premier League title this season, they perhaps need a little more help from the Anfield crowd. Although the nerves among the home fans were perhaps understandable given the stakes, they were too eager to transmit their negativity to the players.

[…]

"The Reds crowd must try harder to bury their concerns over the club's lengthy wait for a league title to create the sort of atmosphere witnessed on European nights here."