Liverpool returned to winning ways on Saturday with a victory over Brighton, allowing fans to take pause and assess the Reds' chances in upcoming fixtures.
The Reds bounced back from two successive defeats to notch their 18th win of the Premier League season against Brighton, stretching their lead at the top of the table to seven points, at least temporarily.
A second-half penalty converted by Liverpool's leading goalscorer Mohamed Salah ensured Jurgen Klopp's men left the Amex with all three points, where they were made to work for their latest win by a stubborn and disciplined Brighton outfit.
It was a game which threw up a number of discussion points, both positive and negative, but eyes were quickly cast towards the next batch of games which stand in the Reds' way.
This Is Anfield's Joanna Durkan (@JoannaDurkan_) spoke to Karl Matchett (@karlmatchett) and Jack Lusby (@jacklusby_) to delve into the highs and lows of Liverpool's latest victory and the expectations for the Premier League fixtures which lie in wait.
The good…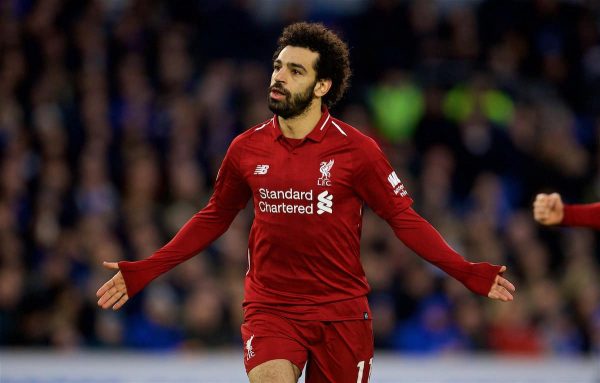 JOANNA: Firstly, the result. In seasons gone by it would have been a game that Liverpool succumbed to the slightest bout of pressure late-on or let the frustration over Brighton's stubborn setup get the best of them.
Instead the performance and three points showed Liverpool's growth in maturity and composure when managing a lead.
Virgil van Dijk was as imperious as ever, key in keeping Brighton off the scoreboard in the league for the first time on home soil this season, while his defensive partner in Fabinho was equally superb as he continued to show how versatile he can be.
Andy Robertson remained the Reds' 'Mr. Consistent' and Mohamed Salah's free role in the second-half breathed new life into the team after a tame opening term across the board.
Liverpool have now established a seven point lead atop of the table, at least for the time being having played before their closest rivals, and what's not to like about that!
KARL: Seeing out another game in the relatively calm and assured manner we did was once more pleasing.
The two centre-backs played largely well together; Fabinho was pretty good after one cross which caught him out early on.
And getting back to winning ways was all-important after that rarest of occurences: a league defeat!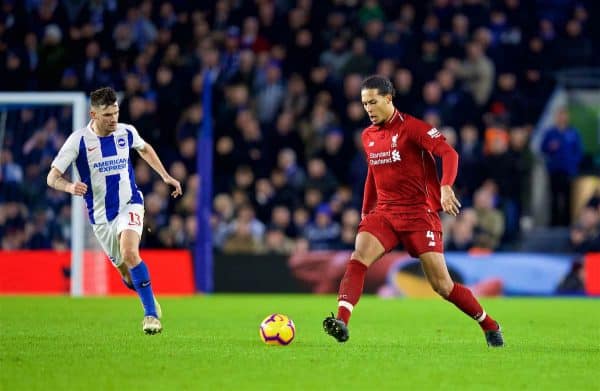 JACK: It wasn't the most aesthetically pleasing win for sure, but the three points, and how Liverpool saw the result through, are the overriding positives.
The willingness to switch things up tactically was, again, welcome, as long balls towards Salah and Mane weren't working in the first half, and I thought our No. 11 was brilliant after the break when given more freedom.
Fabinho coped very well at centre-back after a tough start, Robertson was brilliant again in his persistence and I thought Wijnaldum was central to keeping control in the middle of the park.
It was also great to see such a big contingent of Reds make the four-and-a-half-hour trip down to the Amex—it was a record attendance for the stadium and they played a big part in that.
Most importantly that's another victory and, at least temporarily, seven points clear of City. I'll take that.
The bad…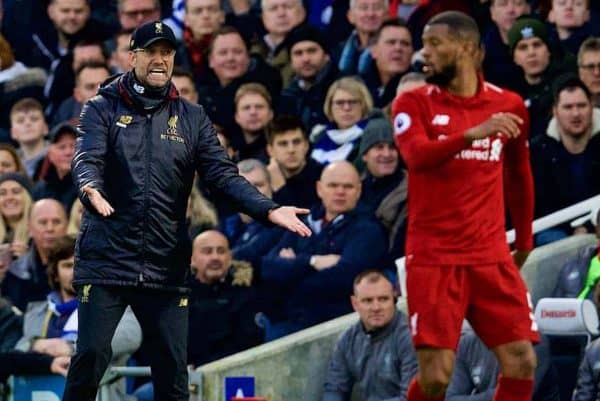 JOANNA: Although the first half was not disastrous, our start left a lot to be desired – and Brighton do deserve some credit for that.
Zero shots on target was the result of a midfield pairing lacking forward impetus and our insistent use of balls over the top only played into the home sides' hands.
For me, it again showed Jordan Henderson and Gini Wijnaldum's limitations when paired together and once the centre-back injury crisis clears up I expect Fabinho to take the reigns with others rotating around him.
Liverpool as a collective were not at their best, but overall there is little to take a disliking to having notched our 18th win of the season.
KARL: Some poor stuff was played in the first half, but rather than the long passes or lack of creativity in the middle I'd point to a lack of movement up front.
It was all too static and predictable and Liverpool never fare too well when there aren't off-the-ball options to move it quickly.
Salah's miss at the end was pretty bad as an isolated incident, too!

JACK: I feel like Joanna and Karl have covered the main negatives in terms of our structure and personnel (even though I disagree on Wijnaldum) so I'm turning my focus elsewhere.
My previous experience of Brighton fans has been wholly positive, and there were bright moments from the stands on Saturday—enjoyed the chants at seagulls who flew into the stadium—but I thought they had their priorities wrong this time.
I can't be completely objective as a Liverpool fan but from my view in the nosebleeds it looked as though Kevin Friend got the majority of decisions right, and their 'woe is me' approach was tiresome.
But that's not my main gripe—every set of fans does that—it was the groans from the stands when a Brighton player attempted anything other than direct pass into attack.
Their style of play may not be the most attractive, particularly in games such as this, but it baffled me as to what many were expecting from a starting lineup put together for less than Naby Keita.
…and with the schedule easing up, how many points do you expect Liverpool to take from their next four league fixtures?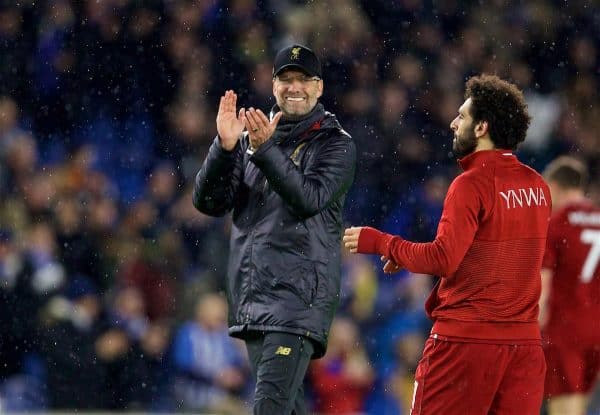 JOANNA: Having faced eight games in 28 days throughout December, Liverpool now only have four to contend with in the same amount of time with Crystal Palace (H), Leicester (H), West Ham (A) and Bournemouth (H) all awaiting the league leaders.
They're all positioned ninth and below and, having failed to drop any points against teams outside of the top five so far this season, I expect Liverpool to come out unscathed.
The four Premier League games which lie in wait prior to the return of the Champions League make for a quarter of the games remaining this season and, having three home games put the Reds in a strong position to maintain their position atop of the table for the foreseeable future.
Being afforded a timely break to Dubai should also work wonders for the squad as the season enters its most pivotal stage.
KARL: Three wins from three at home. We're absolutely capable of beating West Ham away, too, but I think there will be the biggest test.
The Hammers have been a bit better of late, look well-structured and just sometimes lack fluidity and composure in attack, so our defence should take care of them enough to get something from the game.
I think that could be another grind, though, so a 1-1 or one-goal margin of victory wouldn't be a surprise.
Four wins from four though and we'd be another huge step toward the title.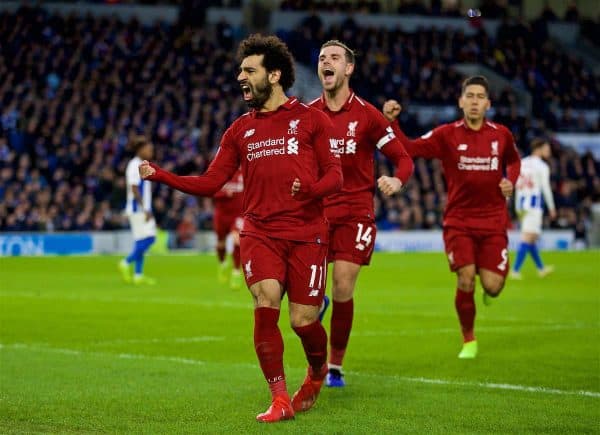 JACK: I have every confidence they can take maximum points.
As suggested, the decreased schedule should be a major benefit, as should the planned warm-weather training camp in Dubai; it'll be less riding on momentum, more preparing for each task at hand.
It would be disrespectful, and wrong, to claim these won't be difficult games, but Liverpool have made a habit of grinding out results against 'lesser' sides this season—with this latest win case in point.
Two home games are the perfect double salvo next, and I think it'll be a great test to see how we cope with the pressure of City playing before our meetings with Leicester and West Ham.
The injuries are a concern, of course, but Klopp should have the squad to see us through.