Andy Robertson has become a firm fan favourite—now he deserves inclusion among the Scottish greats in Liverpool's history, writes Samuel Cox.
In light of Andy Robertson's recent contract extension and the continuation of his rich vein of form, already providing his sixth Premier League assist of the season, Robertson merits a place in the illustrious company of Liverpool's influential Scottish connection.
Robertson has become Liverpool's flying left-back, a defensive rock and attacking machine, worthy of the renowned company he keeps as Liverpool's latest Scottish stalwart.
In comments following Robertson's recently signed new five-year deal, Jurgen Klopp declared Robertson "might be from Glasgow originally, but everything about him screams Liverpool."
Indeed, given the panoply of Liverpool FC legends to have hailed from Scotland, Robertson's Glaswegian heritage might be considered why he screams Liverpool, representing an adopted son.
Bill Shankly's Scottish heritage, hailing from the tiny mining town of Glenbuck, and 'King' Kenny Dalglish stand as the two most iconic and influential Scots in Liverpool FC's history.
So ingrained in the club and city did the two men become, that calling them anything other than Liverpudlians, of Scottish origin, feels wrong.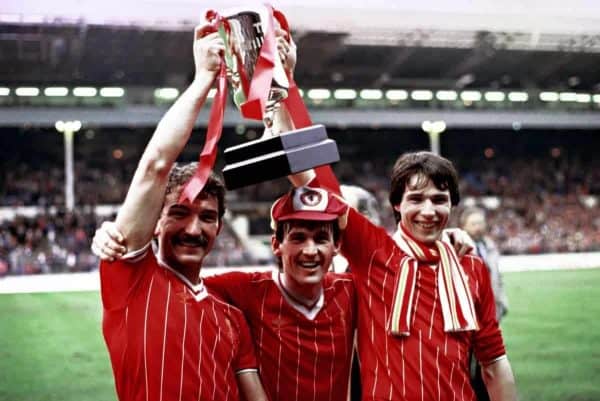 Indeed, rattling off Scottish names from Liverpool's dominant eras could easily be confused at first glance with simply a list of Liverpool's greatest players.
Dalglish is joined by names such as Hansen, Souness, St John, Lawrence, Yeats and Nicol, yet the list of great players of Scottish origin to play for Liverpool reaches far beyond the Shankly era and includes earlier titans such as Billy Liddell, Donald Mackinlay and Billy Dunlop.
If ever a tapestry of Liverpool's history is woven, the tartan has earned its place alongside the club's red, of which Robertson represents just the latest thread.
In many ways, Robertson reminds Liverpool fans of what they have been missing, with Gary McAllister the last Scottish player of any great influence to play for the Reds.
Robertson's tireless work ethic, no-nonsense attitude and stunning footballing ability recall some of Liverpool's other great Scottish players, but in truth he has forged his own identity.
Mo Salah might have the song about running down the wing, but no one covers more ground on Liverpool's flanks than the flying Scottish left-back.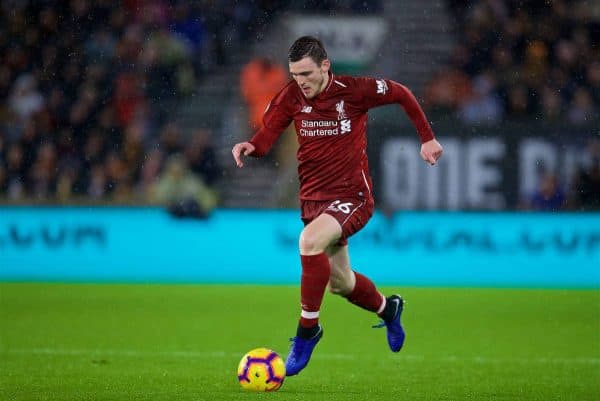 Whilst ostensibly playing at in defence and defending as such, Robertson generally operates as wing-back and Liverpool's widest attacker.
Jose Mourinho, usually perpetually enveloped in moody dark clouds, offered a rare glimpse of sunshine when describing Robertson's rampant, rampaging, almost superhuman efforts earlier this season:
"I am still tired just looking at Robertson! He makes 100-metre sprints per minute, absolutely incredible, and these are qualities."
Drawing such praise from Mourinho could be compared to drawing blood out of a stone, such is its rarity.
Indeed, Robertson appears every bit a manager's player and, if there is a player from Liverpool's history who aligns most readily with Andy Robertson, it may not be one of the many legends from north of the border—but rather Liverpool's record appearance holder, the legendary Ian Callaghan.
Bill Shankly regularly described Callaghan as "a managers dream" who was "a model man and model player," who had to be told to "simmer down in training because he drove himself."

Indeed, one imagines Klopp must hold a similar opinion of Robertson: he is reliable and dependably excellent, offering an unparalleled attacking threat with defensive quality.
Following his most recent assist against Bournemouth, Robertson is the most prolific Premier League defender in terms of assists (11) since his Liverpool debut in August 2017.
At club level, he is the joint-leading assist provider in all competitions, with eight, alongside Salah.
In terms of raw chances created this season he ranks behind only Salah, Sadio Mane and Roberto Firmino, representing a vital cog in the attacking machine.
In this sense, too, the left-back is reminiscent of the right-winger Callaghan (perhaps showing how the modern game roles have changed) in that he feeds the forwards with crosses and assists, rather than being a great goalscorer.
Yet Robertson is also Liverpool's leading tackler this season and is a supremely clean defender, rarely gifting away fouls.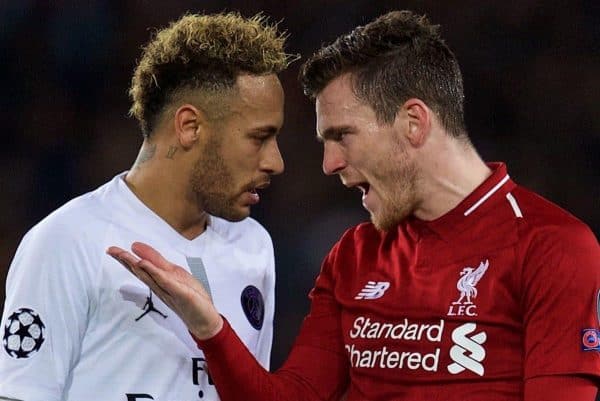 There is a no-nonsense attitude and style to Robertson which means that he is unlikely to ever earn the acclaim he truly deserves in the wider football world, but which is also likely to only further endear him to manager and supporters alike.
In a title-chasing team and a one primed for success, this year and beyond, Robertson represents more than a standout cog in the machine, he is also something of a good-luck charm.
Remarkably, of Liverpool Football Club's 18 league titles, just one has occurred without a Scotsman in the side. Even if we turn to look at more recent successes for the club, Gary McAllister arrived at Liverpool in his mid-30s to play an unexpectedly key role in Gerard Houllier's treble-winning team.
Liverpool's Scottish connection may not have the flash or cache of, say, Arsenal's French influence, but it has arguably produced better players and certainly led to more outstanding results than anything comparable within English football.
As we close in on this season's finale, armed with the knowledge that history invariably repeats itself, we can perhaps be thankful for not only Robertson's outstanding qualities—but also his comfortingly familiar heritage.
---
* This is a guest article for This Is Anfield. If you'd like to contribute a piece for consideration please see this page. Follow Samuel J. Cox on Twitter, @samueljessecox.