Andy Robertson insisted Liverpool's back-to-back draws with Leicester and West Ham are "nothing to do with nerves" as they seek a response in the title race.
A frustrated atmosphere has been evident in the Reds' last two games, unable to break down deep-sitting opposition and conceding soft goals that they had worked hard to stamp out previously.
Monday night saw a frailty in set-piece situations come to the fore, as Michail Antonio cancelled out Sadio Mane's opener and Declan Rice wasted a clear opportunity to seal a winner for the Hammers.
Speaking after the game, West Ham captain Mark Noble explained how he could "even feel it sitting at home" watching the Leicester draw that the pressure of setting the pace at the top of the Premier League was "feeding into the players."
But in an interview with Sky Sports, Robertson refuted suggestions Liverpool were growing anxious, pointing towards a much different reaction to when Man City drop points.
"I wouldn't say nerves are showing. Did anyone say that when City picked up no points at Palace and Leicester?" he argued.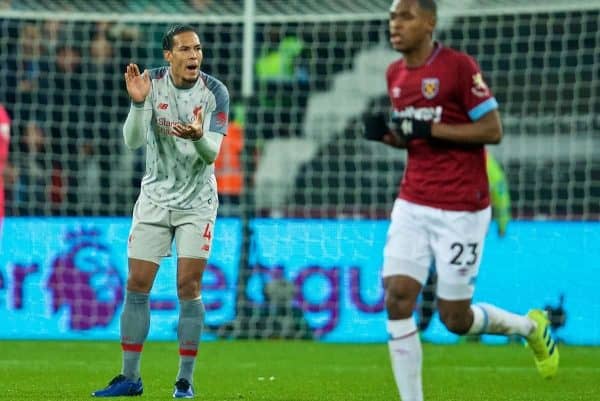 "I don't think they did. It's no different for us.
"A lot of people talk about pressure because we've not been in this position, but it's February.
"I think everyone needs to try and relax, enjoy the run-in if you're fans or if you're a spectator from another club or whatever you can watch.
"I'm sure many other teams would want to be in the position that we're in just now.
"So nerves aren't showing in the changing room. It's just been two poor results and two poor performances.
"It happens during a long season, we might look back on it as a good point, but we don't know that just now.
"We need to get back to playing the better football that we can, but it's nothing to do with nerves."

In his assessment, Virgil van Dijk stressed that Liverpool "need to enjoy" the pressure of the title race, and they are still three points ahead of City, who play Everton on Wednesday night.
Robertson echoed this, also adding to Jurgen Klopp's assertion that things would be considered much different had Divock Origi not squandered a big chance in the last minute.
"It's about us, we need to get back on track by winning games and playing better football," the left-back continued.
"We can't worry about them. They're in a good moment just now, but we are in a wee blip.
"We need to just try and get over the line in a couple of games, obviously today Divock had a chance in the 92nd minute, if it goes in we're talking about it differently.
"But we keep going, we dust ourselves down and there's still a long way to go.
"So the run-in will be exciting, and it's time to enjoy it."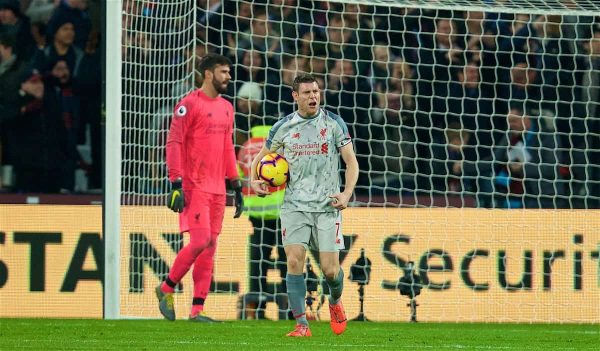 However, the left-back did acknowledge that conceding from a set-piece was "very disappointing," and added that the Reds need to reclaim the defensive strength shown in the first half of the season.
"Antonio's made a good run, and they've obviously worked on it because Noble's blocked Naby and he's not been able to react, and it's a good finish," he said.
"But from us it's got to be better. In the first half we gave away too many free-kicks we didn't deal with them well at all, they probably could've scored another.
"It's something we need to look at. We need to be stronger, we need to win the ball in our box more importantly.
"Of course, in the other box we need to be an attacking threat but defensively it was what we were so good at and we need to try and get back to that."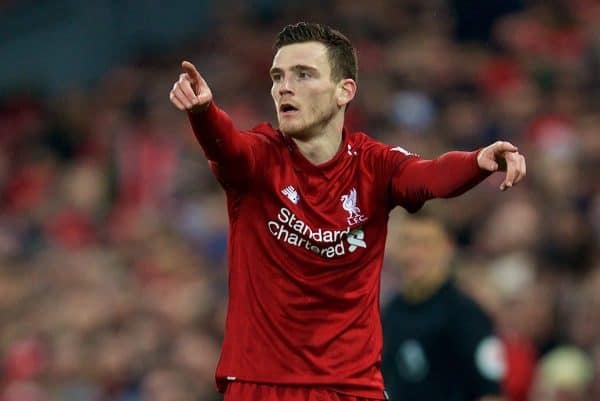 When questioned on the atmosphere in the dressing room, Robertson provided an encouraging response, with the squad knowing what they have to do to improve.
"Of course [Klopp] wasn't happy with the way we played but it's another point," he added.
"He doesn't say much after games, he's more one to sleep on it, gather his thoughts and say tomorrow.
"Because I think he gets a better picture, so we'll see what he says tomorrow.
"But I don't think anything needs to be said: the lads know, we spoke about it ourselves.
"It was just a poor performance, we didn't take our chances and probably gave them too much space sometimes as well."