Bayern Munich prevailed 3-2 against Augsburg in their final fixture before the Champions League last 16 tie against Liverpool—but didn't impress.
Chasing down Borussia Dortmund at the top of the Bundesliga table, Bayern will perhaps feel that three points were all that mattered on this occasion.
And that's about all they can take from the performance on Friday night, along with taking three points after coming from behind twice, as they put in a largely poor display away from home.
With the Anfield first leg yet four days away, manager Niko Kovac named a strong side for the trip to Augsburg.
It didn't go to plan early on, though, with Bayern actually falling behind direct from kick-off—just 13 seconds were on the clock, in fact.
And despite levelling soon after, Augsburg re-took the lead midway through the first half.
Kingsley Coman was the Bayern rescuer-in-chief, netting his second goal of the night and Bayern's second equaliser right on the stroke of half time.
But Bayern's best player on the night took a significant knock to his ankle in stoppage time at the end of the game and Kovac admitted his winger will have to be assessed over the weekend before he's confirmed as fit for the first leg at Anfield.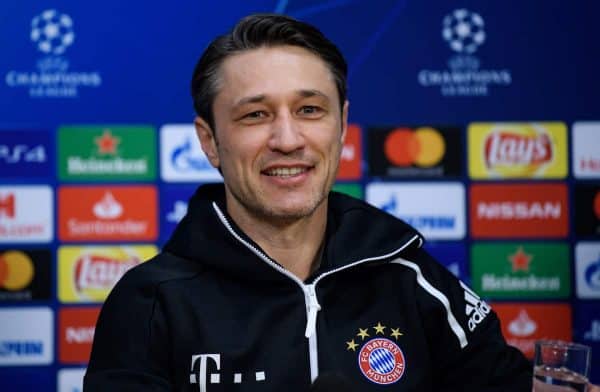 Boss Kovac will be relieved that his team came through the second half largely unscathed, with David Alaba putting Bayern ahead soon after the restart and the 3-2 result sending Bayern just two points behind Dortmund in the league.
Despite the win, it was a performance littered with mistakes, confusion and poor defensive work from Bayern.
Both goals they conceded came down their right flank, with Joshua Kimmich well below his usual standard on and off the ball all night.
Elsewhere the likes of Thiago Alcantara, Robert Lewandowski and James Rodriguez were all similarly poor, both with link-up play and with creating dangerous chances.

The big threat all night came from wide duo Coman and Serge Gnabry, while Franck Ribery made an appearance off the bench as he continues to work his way back to full fitness.
There was no sign of the injured Arjen Robben, who is likely to miss both legs against Liverpool, but Manuel Neuer returned in goal after his own injury absence.
A similarly poor defensive performance at Anfield on Tuesday night will surely lead to far more problems for Bayern than Augsburg managed to take advantage of—here's hoping that's the case!
Bayern XI: Neuer; Kimmich, Hummels, Sule, Alaba; Goretzka, Thiago (Martinez); Gnabry (Ribery), James (Muller), Coman; Lewandowski.
Subs not used: Ulreich, Sanches, Boateng, Rafinha.