The media assessed that Liverpool's 1-1 draw at West Ham showed the Reds are feeling the pressure of the title race and top form must be rediscovered.
Two valuable points were dropped for the second game running against non-top-six opponents as the Reds were held by the Hammers.
It was a similar story to the first of those games against Leicester, as Liverpool surrendered a lead to drop points through shoddy defending on a set-piece.
Sadio Mane again opened the scoring with a superb finish, but Michail Antonio cancelled out the Senegalese's strike to earn the hosts a deserved point.
The results means Liverpool sit just three points ahead of Man City, and it's vital that a return to winning ways is made against Bournemouth on Saturday.
Before attention turns to that game, here's how the media assessed another frustrating draw.
Many thought it was a point gained for Liverpool and discussed the balance of the title race

First off, the Liverpool Echo's James Pearce urged for Kopites to keep perspective citing how Liverpool are still in control of their own destiny:
This isn't the time for knee-jerk reactions. Don't reach for the panic button.

[…]

It's February and Jurgen Klopp's side have lost one league game all season. Their fate is still very much in their own hands. A sense of perspective has to be retained.
But the Mail's Martin Samuel thinks the pressure of having to set the pace as league leaders has got to Klopp's side:
Nonetheless, there is the potential for momentum shift. A week ago, losing at Newcastle, some thought City had blown it.

Now their challenge seems more alive than ever as the strain of being front-runners – and a lengthy list of injuries in defensive positions – take a toll on Liverpool.
The Telegraph's Jason Burt insists there is no reason for Liverpool to panic, but thinks the Reds must make sure this downturn does not become a season-derailing slump:
There is no need to panic as long as they can get their players back, soon, and do not allow their nerves to control them.

They need to make sure this wobble becomes nothing more than that, for their own sake.
Reporters weren't impressed by various aspects of the performance and especially the midfield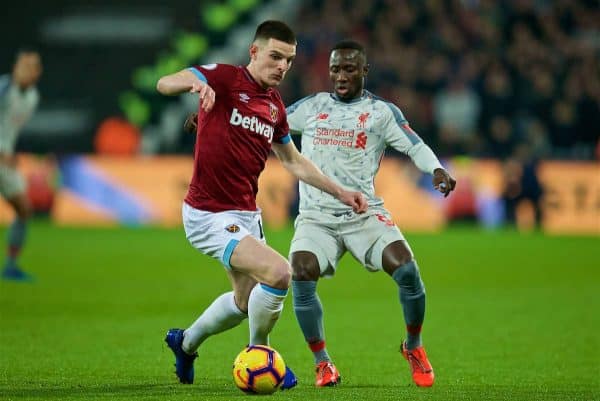 Taking a tactical viewpoint, ESPN's Glenn Price thought Klopp's decision to switch to 4-3-3 back-fired, with Liverpool "horribly out of sorts":
The shift in personal led to a change in system, with last season's 4-3-3 making an appearance but Liverpool were horribly out of sorts in all areas of the pitch.
The Independent's Miguel Delaney thought Manuel Pellegrini won the tactical battle against Klopp as West Ham exposed Liverpool from set-pieces and down the flanks:
It was impossible not to conclude that Pellegrini and his staff had spotted a clear vulnerability within Klopp's side down the flanks at set-pieces, so often did they go for it and get joy from it.

[…]

Manuel Pellegrini also out-thought Jurgen Klopp, but of greater concern for the German in the long-term should be how depleted and lacking in sharpness his injury-afflicted side looked.
The Liverpool Echo's Ian Doyle dismissed suggestions of pressure getting to Liverpool and instead insisted it was more a case of a rotated team failing to perform:
Yet this was a Liverpool line-up that should have had legs and energy.

[…]

This was instead a matter of a much-changed side simply not playing particularly well, and that will be the greatest concern. Another iffy performance.
And on this point, the Evening Standard's David Lynch feels Liverpool's lack of squad depth is being exposed and assessed that it is not strong enough to compete with Man City's:
The fact is this: if the Reds are forced to rely on their back-ups for any length of time, they have zero chance of seeing off the champions.
Writing for Goal.com, Neil Jones thought Liverpool were far too sloppy in possession, singling out Roberto Firmino and Naby Keita as the main offenders:
They lacked quality here, unable to muster too much by way of clear-cut chances and far too sloppy with their passing, particularly in the first half.

Roberto Firmino had a nightmare, Naby Keita fused promise with alarming carelessness in possession.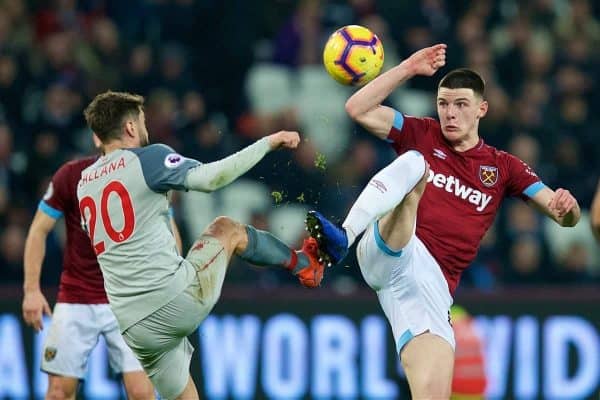 There was in fact a lot of criticism for the midfield, and the Telegraph's Sam Dean thought Liverpool lacked spirit and fight in that area:
But what they lacked as a midfield was togetherness, a sense of unity.

[…]

It was not a performance of champions, and it was not helped by a second-choice and occasionally second-rate midfield.
The Guardian's Jacob Steinberg thought Liverpool badly missed the leadership of Jordan Henderson and the energy Gini Wijnaldum:
Liverpool suffered without the leadership of Jordan Henderson and energy of Georginio Wijnaldum in midfield, where Keita struggled to assert himself against Declan Rice and Mark Noble, and West Ham should have led at the break.
There was particularly a controversial opinion from the Mail's Dominic King, who thought Adam Lallana shone on his starting XI return and proved he can play a role going forward:
From here, all that matters is finding a way to win and to do that, Klopp is only going to turn to people who he can trust, and 30-year-old Lallana is someone in whom the manager retains tremendous faith.

[…]

To fend them off, everyone will need to make their presence felt. Lallana, more than anyone last night, showed he is ready to do so.
The watching journalists offered plenty of thoughts on what is going wrong for Liverpool currently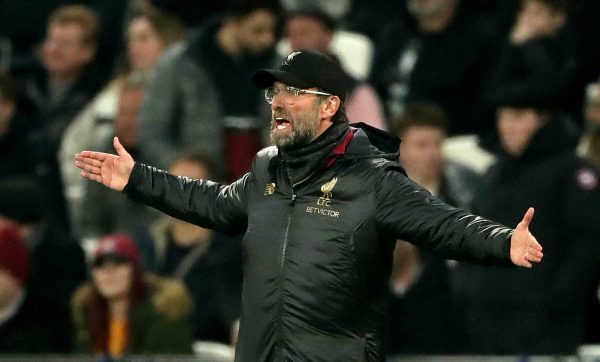 Jones simply believes the pressure of the title race is getting to the Reds, with this contributing to Liverpool losing the basics of their success so far:
Pressure, it seems, can do strange things to a football team.

An easy assumption? Perhaps, but how else to explain the way the Reds' basics have deserted them of late. They got to the top through solidity, security and composure, but it has been lacking since the turn of the year.
Price thinks Liverpool's form and confidence has been impacted by the defeat to Man City at the beginning of January:
Liverpool's quality of performances have dipped alarmingly following that defeat at Man City at the start of the calendar year.
Lynch feels the key issue is the loss of the defensive solidity, and assessed that without it Liverpool become "an inferior version of Man City":
The most worrying aspect of Liverpool's recent performances is that they have lost the defensive stability that launched their title challenge.

[…]

Without a watertight defence to fall back on, Liverpool are just an inferior version of a Manchester City team that can give up goals occasionally but still easily outscore opponents. And that bodes terribly for their title hopes with such a slender advantage at this point of the season.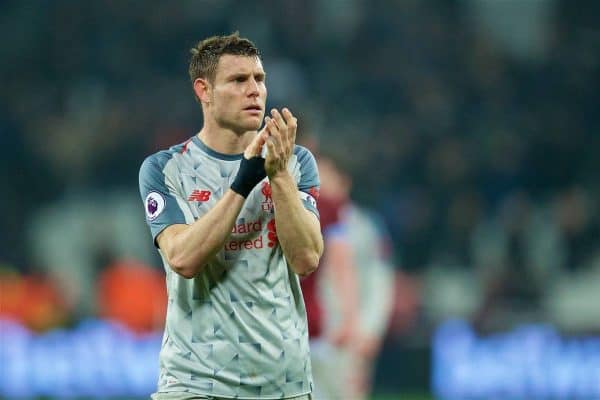 Pearce rightly and sensibly noted how the loss of several key players has contributed to Liverpool losing their A-game and fear-factor:
This was Liverpool with a veteran midfielder at right-back, their fourth choice centre-back on duty and two-thirds of their first choice midfield missing and it showed.

The swagger they had before the turn of the year has disappeared in recent weeks and Klopp needs to rediscover it fast.
The Mirror's Rich Jones thinks the Reds are badly missing Joe Gomez and Trent Alexander-Arnold in defence, with the back-line nowhere near as solid without the pair:
They're still a solid defensive unit, but they'll be hoping Joe Gomez and Trent Alexander-Arnold are back as soon as possible.

[…]

They are key members of their strongest defensive unit, and they'll need to keep things as tight as possible to minimise pressure on their front three in the run-in.
Finally, Lynch, interestingly, thinks Klopp's side are missing James Milner's presence in midfield:
But, while injuries to the former pair have not caused huge issues on the right-hand side of defence of late, they are beginning to show elsewhere – namely midfield.

Milner has largely done well as a makeshift right-back, but he has been a big miss in the centre of the park. How much more convincing would the Reds have been with their No.7 in the central line-up?