Reds' goalkeeper Alisson spoke to the media at Bayern Munich's Allianz Arena on Tuesday, discussing VAR, Virgil van Dijk, Manuel Neuer and becoming the world's best goalkeeper.
The Brazilian has been in sensational form since joining Liverpool from AS Roma in the summer, and has played a key role in reaching this stage of the Champions League.
Wednesday night brings a last-16 decider against Bayern, and after a 0-0 draw in the first leg at Anfield, the Reds will likely need to score at least once to progress.
Alisson's role will be keeping the likes of Robert Lewandowski, Serge Gnabry and Franck Ribery at bay, with the Munich outfit having scored 11 goals in their last two games.
Doing so would be another step towards being considered among the top stoppers in world football, along with his opposite number in midweek, but speaking to reporters on Tuesday, Alisson dismissed claims he was close.
"I can't compare myself with him, he's one of the best in the last 10 years, maybe the best," he said.
"He's won everything and I'm just starting. He's a reference for me, to play against him is a pleasure for me—a dream come true.
"I know I have to work hard, I'm part of a big club with big plans and big goals. I need to take this responsibility and take care of it.
"For this I need to give 100 percent on the pitch. To be the best in the world would be a consequence of this."
Alisson's cause will be aided by the returning Van Dijk, who missed the first leg due to suspension, and the 26-year-old was in no doubt this would be a boost.
"It's great to play with him and all my team-mates. Van Dijk is a very very important player for our team," he explained.
"He gives consistency, defending high balls, corners, set-pieces."
The threat of Lewandowski will be key one to deal with on Wednesday, and Alisson praised the Pole and insisted the Reds' back line would need to be "very concentrated" to do so.
"He's a great striker, maybe one of the best in the world," the No. 13 added.
"We need to be very concentrated to try to stop him and the other players. We are prepared for it."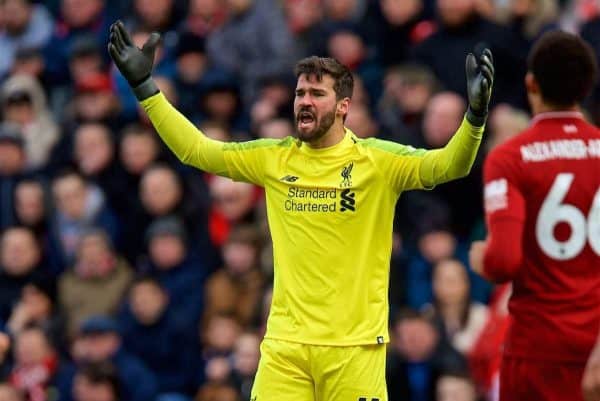 VAR will be in place for the second leg, and following a push on him for Burnley's opening goal in the 4-2 win on Sunday, Alisson was asked whether this is a benefit.
He described James Tarkowski's contact as a "clear foul," and welcomed the introduction of VAR at the top level.
"It's here to help everyone, to help the ref on his decision," Alisson continued.
"But he needs to take the decision, so I don't know what he thought about that moment—for me it was a clear foul. I think for most people it was a foul."
Alisson will make his 38th appearance for Liverpool on Wednesday night, having kept 20 clean sheets and conceded just 24 goals in the previous 37.