Jurgen Klopp has expressed his excitement as Liverpool enter "the only period in the whole season without interruptions," with a possible 12 games left to play.
Klopp's squad are back from the March international break and now face their final seven games in the Premier League, along with a quarter-final against Porto in the Champions League.
Heading into the weekend top of the table, two points clear of Man City having played a game more, the Reds are in an excellent position as they eye the title.
Victory over Tottenham at Anfield on Sunday will be a tough task, however, but speaking in his pre-match press conference Klopp took a positive view.
"It's about enjoying it. Before a season starts there are a lot things you expect, that you think could happen, what you want to achieve," he told reporters.
"For a club like us it's qualifying for the Champions League, that's the most important thing, we said it before.
"The only period in the whole season without any interruptions is this one.
"Now it's really, until the final matchday, go for it.
"And that's exactly the situation you want to have: that you are still fighting for a lot of things, and we are fighting for two things.
"That's brilliant. We will do everything we can to be as successful as possible. Like I said, we created a basis, now we have to work with it.
"You can enjoy things in a different way. Enjoying with your legs on the table and watching it is one thing, we enjoy to work for it, to fight for us and from that point of view yes, we should enjoy it, 100 percent."
City play Fulham at Craven Cottage on Saturday afternoon, meaning Liverpool could be back to second by the time they kick off the following day.
But assessing the situation the manager remained calm, and insisted his players should "not [be] going nuts," as they seek their first title since 1990.
"I'm OK, I'm all good. I wanted to have this situation, and now we have it so that's brilliant, and now we work," he said.
"It's nothing to think about, I don't think back, I don't think too far ahead, it's just that we are in the situation.
"The boys come back, we train, we prepare the session, we do the session, we are happy with the session or not that happy with the session, or whatever happens.
"Then you go into games, and I know how difficult these games are and now in the moment people think about our situation, 'seven games, you have to win all of them because City will win all of theirs'.
"Then you face Tottenham. Why should we give Tottenham an advantage and say 'OK, we have to win, maybe you're happy with a point'?
"I don't think they are. It's just an open game before it starts, and that's what we have to make sure that we are really ready for.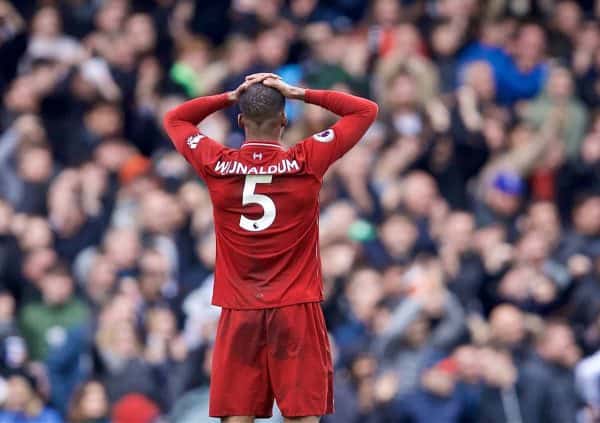 "Not going nuts, accepting that we will have problems in the football games, like we had at Fulham.
"It would be fun, eh, if in all living rooms in the world where Liverpool fans sit, when the equaliser [came], this wonderful goal from Ryan Babel, in that moment who thought 'yeah, we will be champion at the end of the season'?
"These moments will be there, in the next seven games and hopefully in five Champions League games.
"That's how it is, but we have to be ready to sort that, if you expect not to have problems then you will be really surprised.
"But if you know that you will have some then you are prepared for that.
"So let's face the problems and use the opportunities and fight for each yard on the pitch, use each fibre of your body and go. That's it."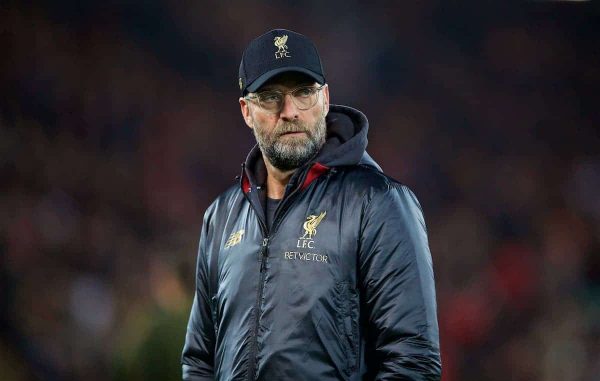 Klopp was asked as to whether Liverpool have an advantage in the title race due to playing four of their final seven games at home, but he was quick to dismiss this.
"Two of these opponents are Tottenham and Chelsea," he argued.
"Of course home games are an advantage for us, but it's not an advantage that will let us win a game with 60 percent or so.
"We love playing at Anfield, it's a wonderful place and the boys are full of joy, we go out, everything is like we want, people are on their toes, brilliant atmosphere, so that's all good.
"But we still respect the opponents of course. It's Tottenham, Chelsea, Huddersfield and Wolves, they all have their own reasons to fight for points and results, and that's what we respect.
"I don't see a massive advantage. We had teams in the past that were pretty good, we were not too bad away.
"Next game is at home, let's do that, and then we go to Southampton. Unbelievably difficult place, Ralph is doing a brilliant job there."