Jurgen Klopp labelled Mohamed Salah "the best player on the pitch" after a 4-2 win over Burnley that served as a statement from Liverpool in the title race.
The Reds were required to take all three points at Anfield on Sunday to keep the gap between them and Man City to just one point, and did so in a difficult game.
Burnley opened the scoring through Ashley Westwood only for Roberto Firmino to strike twice and Sadio Mane to add another, with Mane then netting late on to cancel out Johann Berg Gudmondsson's stoppage-time effort.
After a heavily criticised 0-0 draw with Everton, this was an excellent display from Liverpool reminiscent of the 5-0 mauling of Watford in the previous game.
And Klopp referenced the scrutiny of his conservative approach in the Merseyside derby as he delivered a message that his side "have no problem with confidence."
"Today was important. Two weeks ago we scored five goals, then we don't score against Everton and everyone asked me about more offensive lineups," he laughed.
"I think next time if we don't score you will ask that again, and that's how it is.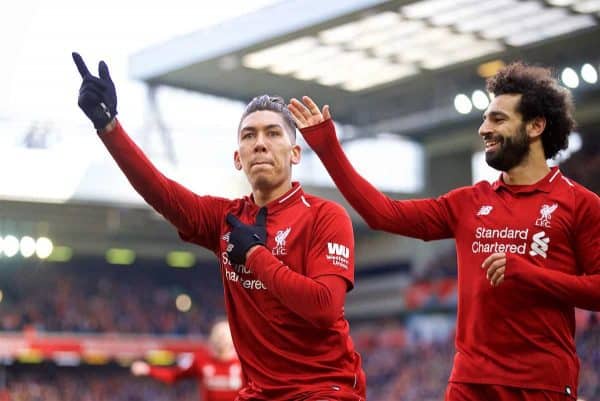 "Of course, four goals are very important. We have no problem with confidence, we didn't have problems with confidence after the Everton game, you don't have to think that all that you write really has an influence on us.
"It's not like that. Most of the things are not interesting to us—that's the truth.
"So you make a big fuss of us scoring five, and we're the best attacking side in the world, then we score nil and we have an offensive problem.
"Today, Mo Salah was for me the best player on the pitch and didn't score.
"I'm not sure you will see that in a lot of ratings, because he's a striker and didn't score, so you make of it what you want.
"But we have no problem with confidence. We're in a good moment, I've said it before."
Staying within touching distance of City is imperative, with the pressure back on the champions to win their next game and maintain their lead.
Klopp continued this confident line as he vowed that "nobody gets rid of us."
"We only have to make sure that we stay in the really interesting competition at the top of the table," he added.
"So the message for today is that nobody gets rid of us if we play as we played today.
"We had the perfect mixture of fighting the opponent, fighting the circumstances and playing football."