With Alberto Moreno set to leave in the summer, Liverpool fans are torn over whether Jurgen Klopp should promote from within or sign a new left-back.
Moreno will depart the club after five years when his contract expires at the end of June, and has been linked with the likes of Lazio, Arsenal and even Barcelona.
The long-serving Spaniard has proved a valuable influence in the dressing room, but having lost his place in the side first to James Milner and now Andy Robertson, is arguably wise to move on.
Robertson is established as long-term first choice in the role, but with Milner now 33 and a regular in the midfield, the Scot will require another deputy.
Adam Lewis has been widely reported as an option for Klopp, having impressed in his rise through the ranks at the academy and often training with the first team at Melwood this season.
But it can be argued that a more experienced backup to Robertson would benefit Liverpool, as they continue their push for sustained success.
This Is Anfield asked supporters on both Facebook and Twitter as to their ideal plan for Moreno's replacement, with a relatively even split.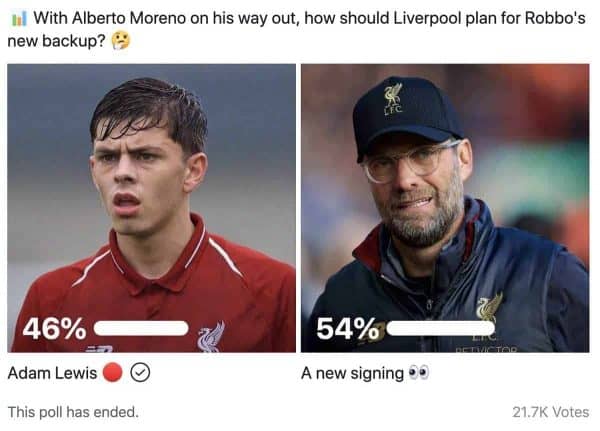 Of the 21,700 to vote on Facebook, 54 percent backed the idea of a new signing coming in to take the No. 18's place, with one prime candidate emerging.
"Easy answer," Daniel Brando suggested. "Ryan Sessegnon. Young. Brilliant future ahead of him. Boyhood Liverpool fan."
Elham Origi agreed, explaining that "he would be a huge signing, but it depends on him if he's willing to fight for a starting place or sign for another Premier League club."
And Roshan Liyanage added that Sessegnon would be a straightforward acquisition, as Fulham "will be relegated too."
Other names mooted were FC Koln's Jonas Hector, Ajax's Nicolas Tagliafico and Bristol City's Lloyd Kelly, though given the nature of the split, others were convinced Lewis is the solution.
"Lewis is better now than Moreno ever was or will be so I say get the lad on the bench and watch him grow just like Trent has," Alan Threlfall wrote, while Richard McGill rightly argued that there's "no point having a youth system if we do not use it."
Denis Altin Pedersen, however, is content with the first-team options remaining despite Moreno's impending exit, writing: "Renew with Milner for another year = problem solved."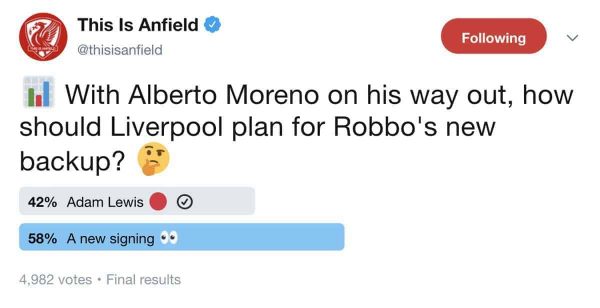 On Twitter, the results were similar, with 42 percent backing Lewis to take up the mantle and 58 percent pushing for the addition of a new second choice.
Unsurprisingly, similar names were also mentioned as possibilities, with @hitmanharj suggesting Sessegnon and @chun_matt backing Kelly.
Others touted were Porto's Alex Telles, Leicester City's Ben Chilwell and even Man City's Danilo, along with two already on the books in Milner and, strangely, natural right-back Nathaniel Clyne.
@Spankathon made an excellent point, however, in that "we need a player to rotate Robbo [and] let him rest," with Mohamed Salah (3,369) and Virgil van Dijk (3,385) the only outfielders to play more minutes than Robertson this season (3,307).
"And then the youngsters can be used from the bench and cup games or if needed loan moves," he added.
@burkov_p2005 elaborated further in arguing that Lewis may not be ready for the first team, writing: "Don't think he's really ready to step in? Especially if Robbo picks up a long injury?"
It would certainly be a gamble promoting Lewis, but the success of Trent Alexander-Arnold, effectively forcing Clyne out of the club due to his hold on the role, should be evidence that youth can be trusted.