Jurgen Klopp was full of praise for his Liverpool side ahead of the 233rd Merseyside derby at Everton in the Premier League on Sunday afternoon.
The Reds head to Goodison Park this weekend looking to score another double over their city rivals, after a dramatic last-minute victory in the home tie in December.
Liverpool do so on the back of a 5-0 win over Watford on Wednesday night, with Anfield witness to a brilliant all-round team display which restored confidence in the title challenge.
Form is likely to prove irrelevant in the derby, though, and Klopp acknowledged that Everton would be "really on their toes," but he did concede that thrashing the Hornets "carried [Liverpool] through the week."
"It's really good of course, when you play a good football game it's not like you leave it behind you an hour later, or whatever," he told reporters.
"It carries you through the week, that's how it is.
"But we are all long enough in the business to know that it's a good piece in our preparation for the next game, but it's only a little piece.
"We know we can do things like that, we knew it before and now we proved it again, and now we have to try everything to play a very, very similar game again.
"Because we play against a really good side which will be really on their toes, as you can imagine.
"It's a big one, for us and for them as well. So that's how we'll treat that game, we'll try to be perfectly prepared and play the best football we are able to play."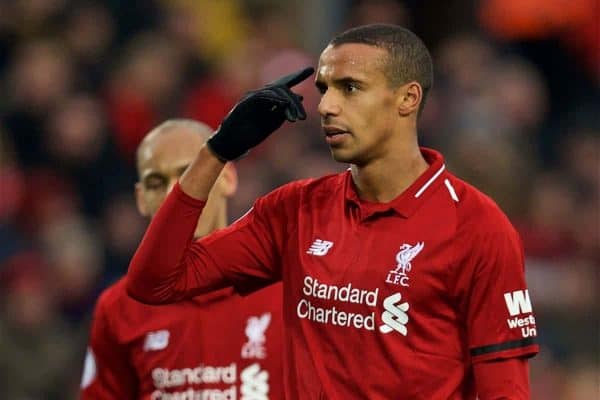 Klopp praised the form of Andy Robertson, Trent Alexander-Arnold and Sadio Mane, as well as Joel Matip, whose performances alongside Virgil van Dijk of late have perhaps been overlooked.
"Very impressive. I think we all know when he first came back, he was not the Joel we had before he got injured," he explained.
"Because when he got injured he was outstanding. It was outstanding what he did, especially the Napoli game where he got the injury, he played a really, really top-class game.
"He's just a really high, high, high-class player. He's doing the job, he's not asked for any credit or whatever.
"He's just there, he loves what he's doing. So it's really nice to have him around."
The manager mentioned Nat Phillips as his 'fifth' centre-back, with the 21-year-old "on the way back," having returned to full training.
Klopp also provided an update on the fitness of Roberto Firmino, saying the striker is "very positive" he can make his comeback on Sunday, but that the club's medical staff may not be so optimistic.