Jurgen Klopp has been performing hosting duties at Anfield, giving COPA90 a fascinating guided tour of Liverpool's world-famous ground.
Anfield continues to be a potent weapon for the Reds, having not suffered defeat there in the Premier League since way back in April 2017, against Crystal Palace.
Klopp promised to make the stadium a fortress again and he has delivered emphatically, with Wednesday's 5-0 win over Watford perfect proof of that.
During some rare downtime, Liverpool's charismatic manager showed Major League Baseball star Francisco Lindor around Anfield, as well as COPA90 presenter Eli Mengem.
The video begins with the German inside Liverpool's press conference room, before swiftly showing them the changing rooms where the pre-match magic takes place.
It is a far cry from the days of Bill Shankly and Bob Paisley, with everything in pristine condition and enough space to have a five-a-side game.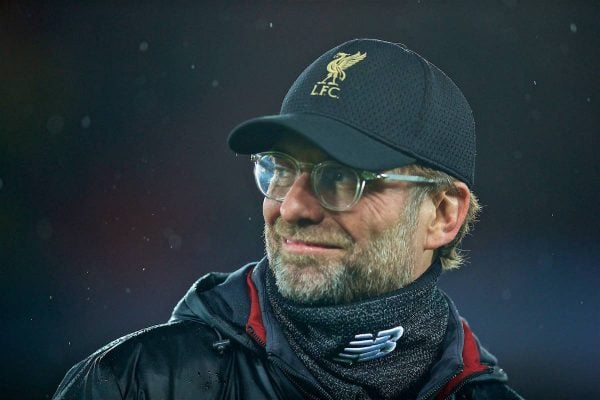 Klopp discusses the positive of having such a mix of nationalities in the squad, admitting that he never gets involved in the music choices, given his advancing years.
Lindor is shocked to hear that the players arrive just one hour and 20 minutes before kick-off, with baseball teams preparing long before that.
The players dining suite is next on the agenda, with Klopp admitting he will often sit in there and watch whatever match is televised after his side have played.
Several chefs will be cooking fresh food for the players, allowing them to re-energise—it's not a bad life, is it?!
Klopp reveals how he only touched the famous 'This is Anfield' sign before his Borussia Dortmund side played at Anfield in a pre-season game in 2014, which they lost 4-0.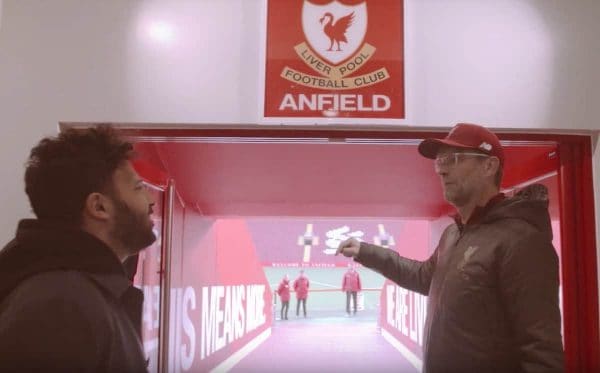 Speaking about whether he will do it in the future, the Reds boss said, "I will start touching it when we've won something."
Klopp jokes about the size of the technical area and how cold the seats in the dugout can get, before wandering towards the Kop end, which he calls "the most famous stand in the world".
The 51-year-old admits he would love to sit in the Kop and watch a match one day—something he has still never managed to do at Dortmund, in Westfalenstadion's intimidating Yellow Wall.
He finishes by discussing the magnitude of Sunday's Merseyside derby, saying it is a fixture that will be watched avidly around the world.
The video further shows what a unique character Klopp is and why he is the perfect manager for the Reds.
He understands everything that makes Liverpool so special and the team could not be in safer hands moving forward, as they search for a maiden Premier League title.